(1) BIGGER ON THE INSIDE. If you can't get somebody to give you this as a gift over the coming holidays you'll have to buy it yourself. Because how could you not own it? "Doctor Who: Limited Edition Complete New Who Blu-ray Set Is Up for Preorder" at IGN. There's a hell of a lot of content in these boxes.
…The Complete New Who limited edition collection is now available to preorder at Amazon and will feature every single episode from the modern era of Doctor Who in wonderful physical Blu-ray format. At $174.99, this looks incredibly affordable vs. buying each series on its own.

It's still a premium price, for sure, but you're getting a lot of TV-show for that price, with the collection comprising every series from the revival in 2005, to the Flux episodes (Series 13) in 2021, and every Holiday episode or one-off special along the way as well….
(2) BOOKS AS RARE AS UNICORNS. Or maybe you'd rather spend your money on one of the three limited editions of The Last Unicorn by Peter S. Beagle from Suntup Editions, announced today.
…Magical, beautiful beyond belief and completely alone, the unicorn has lived since before memory in a forest where death could touch nothing. Maidens who caught a glimpse of her glory were blessed by enchantment they would never forget. But outside her wondrous realm, dark whispers and rumors carried a message she could not ignore: "Unicorns are gone from the world." Aided by a bumbling magician and an indomitable spinster, the unicorn embarks on a dangerous quest to learn the truth about what happened to her kind….

The signed limited edition of The Last Unicorn by Peter S. Beagle is presented in three states: Classic, Numbered and Lettered. The edition measures 6" x 9" and features nine full color tipped in oil painting illustrations by Tom Kidd as well as a new exclusive introduction by the author. One of the nine illustrations is a presented as a fold-out appearing in all three states….

The Classic edition is limited to 750 copies, and is the only edition to include a dust jacket illustrated by Tom Kidd….
The Numbered edition of 250 copies is a Bradel binding with a cover design inspired by the famous Unicorn Tapestries of the late Middle Ages….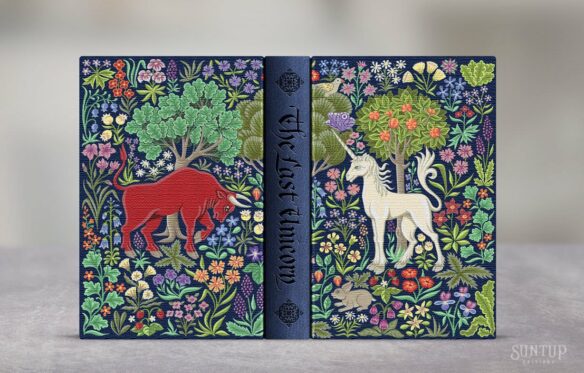 The Lettered edition is limited to 26 copies and is bound in full white goatskin with a unicorn and bull design by Laura Serra on the cover. …
(3) 57 SECONDS. The idea might remind you of the Omega-13. Gizmodo has an exclusive "57 Seconds Clip: Josh Hutcherson Discovers Time Travel". See the clip at the link.
…Presumably Franklin gets to the time jumps quick enough, considering the rest of the movie will see him team up with Burrell to use the ring on a mission of vengeance against a sinister pharmaceutical company that was responsible for the death of his sister. But for now, it's nice to see someone react just like we would if we discovered time travel: with a lot of anxiety, confusion, and some mild cursing…
ScreenRant posted its own, different exclusive clip a couple days ago.
(4) THE LAW AND MISTER WILLINGHAM. [Item by Jennifer Hawthorne.] "The Litigation Disaster Tourism Hour: Bill Willingham, DC, and the Fight Over Fables – no, really, WTF is going on?" on Twitch is a video of a law stream done by Mike Dunford. He's an actual professional copyright lawyer (did his JD thesis on it) and he was asked to address Bill Willingham's statement that he was placing Fables into the public domain as a means of striking back at DC comics who Willingham asserts has disrespected him. Mike D goes over Willingham's statement and explains why it's utter nonsense. Warning: Lots of colorful profanity, much of it directed at Willingham. TL:DR: Willingham is talking BS and Mike D's only concern is that some third party might believe WIllingham's statement, try to make a Fables creative product, and end up getting sued into oblivion by DC.
(5) YOU MUST LISTEN. [Item by SF Concatenation's Jonathan Cowie.] The British SF writer Nigel Kneale is possibly best known for creating the character Quatermass whose most famous adventure was the BBC TV series Quatermass and the Pit that gripped Britain back in 1958/9, so much so that it spawned a film version, the most successful of the four cinematic adaptations of the four BBC series (there were five Quatermass TV series in all).
Because much of Kneale's work was decades before the internet (a good portion even before the widespread adoption of the transistor and microchip) some of his works have been lost. However, a trawl through his personal archive has uncovered the script for one of his lost radio play's You Must Listen. This has now been re-made and premiered on BBC Radio 4 yesterday, September 20.
A solicitor's office has a new phone line connected, but the staff keep hearing a woman's voice on the phone. Engineer Frank Wilson is called to fix the problem, and gradually the disturbing story of the woman starts to emerge.
Originally broadcast in September 1952, You Must Listen was written by Nigel Kneale, one of the most admired English science-fiction writers of the last century. His Quatermass trilogy of science fiction serials continues to influence generations of admirers and filmmakers, among them Russell T Davies and John Carpenter.
But before The Quatermass Experiment established his television career, Kneale's radio drama You Must Listen paved the way for what was to come. It explores many of the same themes that he later addressed in Quatermass, The Stone Tape and The Road, of the paranormal coming into collision with modern science.
No recording of the original version of You Must Listen is known to exist, but fortunately Kneale kept a copy of the script in his archives, and this new version has been recorded to mark the centenary of BBC Radio Drama.
You can listen to it on BBC Sounds here for the next month.
(6) AUCTION WILL ASSIST UKRANIAN BOOKSELLERS. The Guardian has details: "Rare book donations sought for auction to help Ukraine booksellers".
Donations of rare books, artworks, manuscripts, photographs and ephemera are being sought for an auction aimed at raising funds for Ukrainian booksellers and publishers affected by the Russia-Ukraine war.

Authors are also being invited to donate signed first-edition copies of their books. The proceeds of the auction will go to Helping Ukrainian Books and Booksellers (Hubb), a group formed shortly after the war began, when thousands of publishing professionals suddenly found themselves out of work.

…Donations across "literature, poetry, history and science" are welcomed, said Avi Kovacevich, founder of Catalog Sale, a New York-based auction house that is facilitating the sale….

Hubb's proceeds will be distributed in Ukraine by the Ukrainian Publishers and Booksellers Association. So far, Hubb has raised more than $30,000 (£24,257), which has been allocated to booksellers, publishers and libraries in Ukraine.

A large portion came from donations made by customers at Brookline Booksmith in Boston, the bookshop visited by the late Ukrainian novelist Victoria Amelina when she lived in the city for a year. Amelina died in July from injuries sustained in a Russian missile attack on a restaurant in eastern Ukraine.

The auction will take place online in mid-November….

The call for submissions is open until 10 October. Those interested in contributing to the sale are asked to send images of up to 10 items to [email protected].
(7) SF TERMS IN NEW YORK MAGAZINE NEWSLETTER. [Item by Michael A. Burstein.] Unfortunately, this isn't available on the web, but New York Magazine is sending out a newsletter to subscribers who sign up called Queries, from copy editor Carl Rosen. (Information about the newsletter here.)
The issue that came out yesterday, Queries Week 2, includes this question from a reader and an answer from Rosen that I thought would be of interest (and does anyone know if Rosen was/is a part of fandom?):
A pet peeve: The new widespread usage of the phrase "I'm excited for …" applied to events instead of people. I believe that we all used to say "I'm excited for you, the bride-to-be, getting married next month!" Or, "I'm so excited about your wedding!" Now everyone says instead "I'm so excited for your wedding!" As though an event needs empathy. When did this start and why is it allowed to continue? —Callie
It started in the locker room at my middle school and followed the misuse of best for favorite that stoked my dudgeon in playground discussions of filk songs and FIAWOL (sci-fi fan terms). At least excited people talk in ways that favor empathy, as you point out, so let's extend our sympathies to them. But only in their quotations.
(8) PRONOUNS IN SPACE. Samantha Riedel says "A Gamer Tried to Remove Pronouns from 'Starfield' and It Turned Their Character Nonbinary" at Them.us.
No matter how many light years you travel, you just can't outrun pronouns.

Starfield, Bethesda Game Studios' new science fiction role-playing game, launched almost two weeks ago with its fair share of bugs and glitches — but for the internet's angriest hobbyists, one thing above all else had ruined the game: a drop-down menu in character creation that allows players to choose their own woke pronouns, by which we mean you can choose whether to be referred to as "he," "she," or "they." (Next you'll be telling us they let you have blue hair — aw, shit!)

Anti-trans gamer bros went on a comments-section rampage, led by one YouTuber who briefly went viral for a shrieking rant about Bethesda "tak[ing] everything we love" and shoving it full of "fucking pronouns." One person was so Large Mad about the pronoun selection option that they even modified the game's PC version to remove the option from character creation entirely. There's just one problem: the mod accidentally made the player's character gender-neutral….
(9) DEBORAH K. JONES (1948-2023). "Deborah K. Jones 1948–2023: In Memoriam" at the International Costumers Guild website is a personal tribute by Eleanor Farrell.
I am very saddened to report that Deborah K. Jones, respected and admired by all in the costuming community for her exquisitely crafted and thoughtfully choreographed masquerade presentations, passed away peacefully on July 8, 2023, following a three year bout with glioblastoma. Debby had struggled with a number of medical issues over several decades, but always with a positive attitude and quiet fortitude, and never lost her sense of curiosity and creative drive. She is survived by her husband Terry and their two children, Rhiannon and Bryan….
Continues at the link.
(10) TODAY'S BIRTHDAYS.
[Compiled by Cat Eldridge.]
Born September 21, 1895 — Norman Louis Knight. His most-remembered work is A Torrent of Faces, a novel co-written with James Blish and reprinted in the Ace Science Fiction Specials line. His only other writing is a handful of short fiction. Not surprisingly his short fiction isn't available at the usual suspects but neither A Torrent of Faces. (Died 1972.)
Born September 21, 1912 — Chuck Jones. Looney Tunes and Merrie Melodies creator (think Bugs Bunny). His work won three Oscars, and the Academy also gave him an honorary one in 1996. I've essayed him more that once here, so you know that I like him. What's your favorite one of his? Though perhaps culturally suspect these days, I'm very fond of "Hillbilly Hare". (Died 2002.)
Born September 21, 1935 — Henry Gibson. I'm going confess upfront that I remember best him as a cast member of Rowan & Martin's Laugh-In. In regards to his genre work, he showed up on the My Favorite Martian series as Homer P. Gibson, he was in Chitty Chitty Bang Bang as an uncredited dancer, in Bewitched twice, once as Napoleon Bonaparte, once as Tim O' Shanter, he was the voice of Wilbur in Charlotte's Web, in The Incredible Shrinking Woman as Dr. Eugene Nortz, and even in an episode of Star Trek: Deep Space Nine, the "Profit and Lace" episode to be exact in which he was Nilva, a ferengi. (Died 2009.)
Born September 21, 1947 — Stephen King, 76. I once saw him leaning up against a wall in Bangor outside his favorite breakfast spot nose deep in a paperback novel. That's how his native city treated him. Favorite by him? I'm not fond of his novels but I love his novellas and shorter fiction, so Different Seasons, Four past Midnight and Skeleton Crew are my picks.
Born September 21, 1950 — Bill Murray, 73. Scrooged is my favorite film by him by a long shot followed by the first Ghostbusters film as I remain firmly not ambivalent about the other Ghostbusters films. I'm also fond of his voicing of Clive the Badger in Fantastic Mr. Fox.
Born September 21, 1964 — Andy Duncan, 59. If I were to start anywhere with him, it'd be with his very excellent short stories which fortunately were published in two World Fantasy Award-winning collections Beluthahatchie and Other Stories, and The Pottawatomie Giant and Other Stories, and another WFA nominee, An Agent of Utopia: New & Selected Stories. I've read his novels, so what you recommend? He has garnered some very impressive Awards — not only World Fantasy Awards for the two collections, but also for the "Wakulla Springs" novelette (co-authored with Ellen Klages), and a Nebula for the novelette "Close Encounters" (2013). He has three Hugo nominations, for his "Beluthahatchie" short story (1998), the novella "The Chief Designer" (2002), and "Wakulla Springs"
Born September 21, 1974 — Dexter Palmer, 49. He wrote interesting novels, the first being The Dream of Perpetual Motion which is based off The Tempest, with steampunk, cyborgs and airships as well; the second being Version Control, a media-saturated twenty minutes into the future America complicated by time travel that keep changing everything. He wrote these and that was it.
Born September 21, 1983 — Cassandra Rose Clarke, 40. I strongly recommend The Witch Who Came in from the Cold, a serial fiction story she coauthored with Max Gladstone, Lindsay Smith, Ian Tregillis, and Michael Swanwick. It's quite brilliant. And The Mad Scientist's Daughter, nominated for a Philip K. Dick Award, is equally brilliant.
(11) COMICS SECTION.
(12) FINAL DOOM. TVLine brings news of "'Doom Patrol' Final Season 4B Release Date, Trailer — Series Finale".
…Max on Thursday announced that Doom Patrol's in-progress final season will resume on Thursday, Oct. 12. Two episodes will drop on premiere day, followed by one new episode every week through Nov. 9.

In Season 4B, "the Doom Patrol meet old friends and foes as they race to defeat Immortus and get back their longevities," according to the official logline. "Battling between saving the world and each other, the Doom Patrol are forced to face their deepest fears and decide if they are ready to let go of the past in order to take their future into their own hands — and away from the zombie butts."…
(13) WHAT'S COMING TO THE COMIC-CON MUSEUM. "Comic-Con Museum Announces Fall 2023 Exhibits Featuring Popnology, Artist Colleen Doran, More". The new exhibits debut October 4.
…This interactive exhibit looks back at how the pop culture of yesterday has influenced the technology of the future, exploring the fantasy and reality of driverless cars, robots, drones, 3D printers, and more.

Museum attendees will get to explore:

How We Play – The future of toys and games. Is virtual the new reality? Experience Oculus Rift and virtual projection games.

How We Connect – The revolution in communication technology, with concept drawings from the visual futurists who created the looks for Blade Runner.

How We Live and Work – Inventions and ideas that shape daily life, including interacting with robots.

How We Move – The future of transportation on Earth and beyond. Check out everything from a full-sized replica of the Back to the Future DMC DeLorean to the world's first 3D-printed car.

…The first of which is "Colleen Doran Illustrates Neil Gaiman", which features original artwork by the award-winning artist Colleen Doran. The new exhibit will focus on her work illustrating the stories of Neil Gaiman, including Chivalry, Snow, Glass, Apples, The Sandman, Troll Bridge, American Gods, Norse Mythology, and the upcoming Good Omens.

The centerpiece of the exhibit will be 20 hand-painted pages for Doran and Gaiman's Chivalry (Dark Horse Books), the Eisner-award winning graphic novel adaptation of Gaiman's short story which features the story of Mrs. Whitaker, a British widow who finds the Holy Grail in a thrift shop and the knight who offers her priceless relics in exchange so he can win the Grail and end his quest…
(14) SUPER STYLING. DC Comics' merch pages include "Batman & Superman Fashion Accessories" such as these "Batman Dark Knight Cufflinks".
And this reference to some super villains: "Arkham Asylum Lapel Pin".
(15) OCTOTHORPE. A belated Octothorpe episode 92 winging its way to you! Listen here: "Shouting From Inside the Room".
John Coxon went to Reno, Alison Scott went to San Francisco, and Liz Batty went to Chicago. We spend some time discussing ConFrancisco, which celebrated its 30th anniversary recently, before also discussing Glasgow and Chengdu. We read out some excellent letters of comment and discuss some science fiction, too! The cover art is by our own Alison Scott.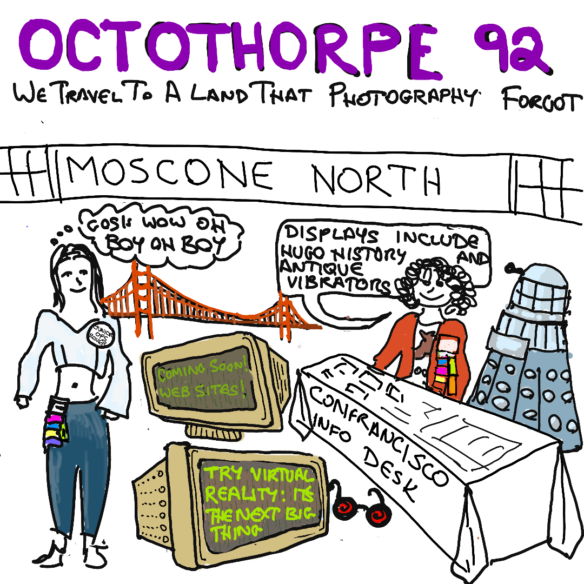 (16) SAMPLE CASE. Nature tells how "Bringing space rocks back to Earth could answer some of life's biggest questions".
At 8.55 a.m. local time on 24 September, a small and precious cargo is due to touch down in Utah's West Desert, ending a journey of more than two years and two billion kilometres. Released 100,000 kilometres from Earth by NASA's OSIRIS-REx spacecraft, the sample capsule contains roughly 250 grams of material transported from the near-Earth asteroid 101955 Bennu — the largest ever asteroid sample to be brought back to Earth.

…The imminent return of the Bennu samples by OSIRIS-REx reminds me of what an exhilarating time this is and the profound possibilities of these precious materials.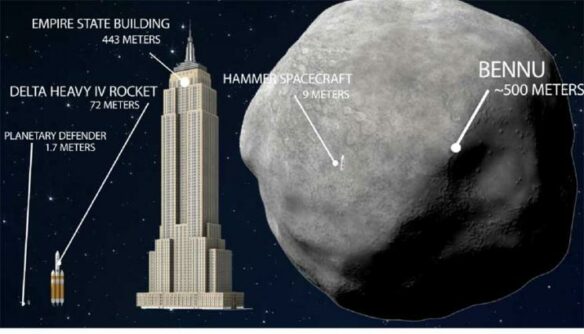 (17) SINGLE EBELSKIVER TO ORBIT. [Item by Steven French.] Space-faring Swedes! (Should the cosmos be worried about a resurgence of Viking tendencies …?!!) "Hidden in the Arctic, Sweden is quietly winning Europe's next big space race" reports the Guardian.
Once Europe's first successful launch is completed, the base aims to build capacity for "rapid launching" by 2030, where satellites would be ready to be thrust into orbit within a fortnight of notification. "To us, it's not a race to be first, it's a race to be successful," said Gustafsson, a former marathon canoeist with world championship medals to his name. But, he adds, "competition is good because it drives speed and cost effectiveness". Make no mistake, the Swedes have their eyes on the stellar prize.
(18) SLOW BURN. See the "Close-up Ignition of a Rocket Engine in Slow Mo" courtesy of The Slow Mo Guys.
Gav plops down the high speed camera next to a rocket engine with 45,000lbs of thrust and the results are epic. Big thanks to Firefly for allowing us to film at their facility and BBC Click for letting us use their behind the scenes footage from the day.
[Thanks to John King Tarpinian, Ersatz Culture, Chris Barkley, Jennifer Hawthorne, Steven French, Michael A. Burstein, Dariensync, Lise Andreasen, Cat Eldridge, SF Concatenation's Jonathan Cowie, Mike Kennedy, and Andrew Porter for some of these stories. Title credit belongs to File 770 contributing editor of the day Peer.]