(1) GAME OF THRONGS. Netflix has ordered a series covering all three books in Liu Cixin's trilogy — The Three-Body Problem, The Dark Forest, and Death's End — reports Variety: "'Three-Body Problem' Series From David Benioff, D.B. Weiss, Alexander Woo Set at Netflix".
There seem to be a lot of cooks hovering over the broth:
Benioff and Weiss executive produce under their Bighead Littlehead banner along with the company's newly installed president, Bernadette Caulfield. [Rian] Johnson, Ram Bergman, and Nena Rodrigue executive produce via T Street Productions. [Brad] Pitt executive produces with along with Dede Gardner and Jeremy Kleiner for Plan B Entertainment. [Rosamund] Pike and Robie Uniacke executive produce for Primitive Streak. Lin Qi, chairman of Yoozoo Group and The Three-Body Universe, and Zhao Jilong, vice president of The Three-Body Universe, also executive produce.

…Author Liu Cixin and accomplished sci-fi writer Ken Liu, who translated the English versions of the first and third books, serve as consulting producers.
The article quotes Liu Cixin:
"I have the greatest respect for and faith in the creative team adapting 'The Three-Body Problem' for television audiences," said Cixin. "I set out to tell a story that transcends time and the confines of nations, cultures and races; one that compels us to consider the fate of humankind as a whole. It is a great honor as an author to see this unique sci-fi concept travel and gain fandom across the globe and I am excited for new and existing fans all over the world to discover the story on Netflix."
(2) INTERNET ARCHIVE SUIT TRIAL SCHEDULED. Publishers Weekly is a fly on the courtroom wall when "Judge Sets Tentative Schedule for Internet Archive Copyright Case". All the benchmark dates are at the link.
…The parties, barring a motion that would moot the schedule, are to be ready for trial on 48 hours notice on or after November 12, 2021.

…The copyright infringement lawsuit against the Internet Archive's scanning and lending program was first filed on June 1 in the Southern District of New York by Hachette, HarperCollins, John Wiley & Sons, and Penguin Random House, and is being coordinated by the Association of American Publishers.
(3) VOTERS BY THE YARD. "Biden campaign launches official Animal Crossing: New Horizons yard signs" reports The Verge.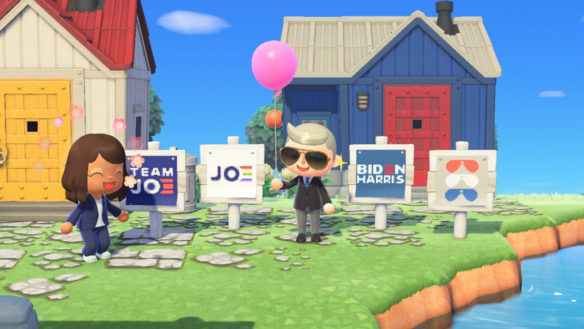 …Since the start of the coronavirus outbreak in the US earlier this year, campaigns like Biden's have been forced to entirely rethink how they organize voters. Instead of in-person rallies, Biden's team has opted for live-streamed events and fundraisers along with socially distanced productions and interviews. The entire Democratic National Convention was held virtually earlier this month, with most guests streaming in over video software like Zoom to deliver speeches.

The Biden-Harris campaign released four sign designs for players to download, featuring the official Biden-Harris logo, Team Joe logo, the "Joe" Pride logo, and an image of aviator sunglasses shaded in red, white, and blue. Players will be able to access the designs in-game by scanning the design QR codes through the Nintendo Switch Online app.

…Millions of people have picked up Animal Crossing: New Horizons since its initial release in March, and the Biden campaign is hoping to engage that large base with their new merch. "Animal Crossing is a dynamic, diverse, and powerful platform that brings communities together from across the world. It is an exciting new opportunity for our campaign to engage and connect Biden-Harris supporters as they build and decorate their islands," Christian Tom, director of digital partnerships for the Biden campaign, said in a statement to The Verge. "As we enter the final campaign stretch towards November, this is one way we are finding new creative and innovative ways to meet voters where they are and bring our supporters together."
(4) ZOOM IN BLOOM. Cora Buhlert wrote a NASFiC conreport and an overview of the growing phenomenon of virtual sff events: "Cora's Adventures at the Virtual 2020 NASFiC and More Thoughts on Virtual Conventions".
…The first panel I watched was "Fantasy for YA vs. Adults", featuring Alma Alexander, Farah Mendlesohn, Sherwood Smith and Kathryn Sullivan. I picked this panel over the horror panel going on at the same time, because I knew and liked the panelists. There was some concern in the chat that the panelists were all white. And indeed, more diversity would have been nice, especially considering what a diverse field fantasy in general and YA in particular is.

Talking of the chat, unlike other recent virtual conventions, NASFiC opted not to use the Zoom chat, but have the Discord chat side by side with the panel. From the POV of an audience member, this was a lot better than having to switch between Discord and Zoom in different tabs/windows. Though I'm not sure how it was from the POV of a panelist, since panelists and moderators can more easily see questions, when they are asked in the Zoom chat…
(5) MASTERING DUALITY. Sarah Gailey's Personal Canons series continues with "Abhorsen".
…When I first read the Abhorsen books, I was very young, and I was just starting to grapple with questions of identity, duality, and choice. Bound up in those questions was a larger, overarching question of worth. I felt certain that if I didn't answer those questions about myself correctly, I'd lose some degree of goodness. Bit by bit, parts of me would tarnish; I'd become Bad, and there would be no place in the world for me. That feeling was too much. I couldn't face it.

But in Garth Nix's books, I saw that perhaps the answers could be more complicated than I realized. In Sabriel, I saw that feeling afraid and unprepared didn't have to mean surrender, so long as I could be resourceful and stubborn. In Lirael, I saw that it's possible to survive the crushing feeling that life is unsurvivable.
(6) NYRSF 30TH SEASON. The New York Review of SF Readings Series, hosted by Jim Freund, kicks off its new season virtually on September 8 with a reading by Michael Swanwick. More info at the link: "NYRSF Readings: Swanwick/Dozois 'The City Under the Stars'"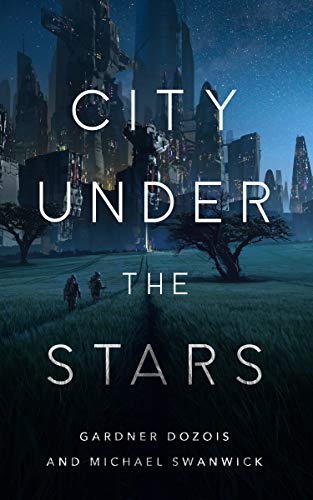 This reading marks the beginning of our 30th Season! Sadly, we cannot all join together for a fete, but over the course of time, we'll figure something out. We wish to experiment with simulcasting the reading on our traditional home here on Facebook, but also try simulcasting it on YouTube. We'll be testing this through the week so be sure to check back here to find out where to log in.

On Tor.com, Michael Swanwick wrote:
"Almost a quarter century ago, Gardner Dozois and I published "The City of God," now the first half of this novel. It ended with a slam, seemingly precluding any sequels. But over the decades Gardner and I talked over what might come next. We planned to write two more novellas, "The City of Angels" and "The City of Men," which would tell one long, complete story. One with a happy ending.

Don't laugh.

Yes, Gardner could be a bleak writer. Yes, the novella was dark even for him. But he had an uplifting idea for how the book would end. We discussed it often. We were midway through the second novella and aiming at that happy ending when, without warning, Gardner died.

I knew I would never write that third novella without his input, his genius. Nevertheless I wanted the world to see this genuinely happy ending. So I changed the direction of the work in progress, combined both novellas, divided them into chapters, and made of them a novel I think Gardner would have been pleased with.

The ending is exactly what Gardner envisioned all those decades ago. A happy one. For everyone.

When I wrote the last words of it, I cried."
(7) NOT TOO LATE TO TUNE IN. [Item by Martin Morse Wooster.]"Arthur Charles Clarke discusses science fiction" at the Studs Terkel Radio Archive is a 1959 interview Studs Terkel conducted with Clarke where Clarke discusses his novels Childhood's End and Earthlight, explains why he thought sf was not escapist, and said that "I'm a moral vegetarian, although I hate vegetables."
(8) OKAY BOOMER. "Can You Recognize These Guest Stars On Star Trek: The Original Series?" John King Tarpinian got 9 of 11. I got 10. It helps if you've watched too much Sixties television.
We gathered some of our favorite guest stars from Star Trek: The Original Series. They are famous faces from classic television. See if you can match them to their popular roles. Good luck!
(9) DINO MITES. "'Jurassic World: Camp Cretaceous' Trailer: Netflix Unleashes Look At New Dreamworks Animation Series, Launches Interactive Site" — Yahoo! Entertainment has the story.
…The series trailer (watch it above) sets up the premise of Camp Cretaceous: A group of six teenagers are trapped at a new adventure camp on the opposite side of Isla Nublar. When the events of the film unfold and dinosaurs are unleashed across the island, each kid realizes their very survival rests on the shoulders of themselves and their fellow campers. Unable to reach the outside world, the six teens will go from strangers to friends to family as they band together to survive the dinosaurs and uncover hidden secrets so deep they threaten the world itself.
Jurassic World: Camp Cretaceous premieres September 18 on Netflix.
The new interactive site, live now, invites users to experience a behind the gates look at Jurassic World: Camp Cretaceous. At CampCretaceous.com, users can tour the campgrounds, get up close with dinosaurs, check out tree top cabins and a zipline, among other adventures.
(10) GOSPEL OR BLASPHEMY? Chris Mooney, in "You Don't Have To Be A Genre Writer To Explore Genre" on CrimeReads, says his desire to put sf elements in a suspense novel led him to explore other works that combine sf and suspense, including novels by Colson Whitehead, Margaret Atwood, and Sir Kazuo Ichiguro.
…Sometimes when you mix things together, the results are amazing, even spectacular. As I was writing Blood World, I realized that almost of my all-time favorite books—the ones that had the greatest impact on me—were from authors who successfully incorporated elements from more than one genre. And now, it's mid-August, the height of vacation season, and if, like me, you find yourself stuck in your backyard on a "staycation," or lucky enough to live near a beach, you can do no better than these definitive, intelligent, page-turning, genre-bending classics.
(11) MEDIA BIRTHDAY.
September 1, 1950 — Dimension X's "The Roads Must Roll." Based on the Robert Heinlein story that first was published in Astounding Science Fiction in the June 1940 issue, it would first be broadcast on this date on NBC in 1950. It would win the Retro Hugo for Best Novella at MidAmericon II, the same year that OGH won another Hugo for Best Fan Writer. Jason Bolander, Norman Rose and Karl Weber were the cast. You can listen to it here. (CE)
(12) TODAY'S BIRTHDAYS.
[Compiled by Cat Eldridge and John Hertz.]
Born September 1, 1875 — Edgar Rice Burroughs. Bradbury declared him "the most influential writer in the entire history of the world." Now I'd not necessarily disagree or agree with that statement but I would note that he has largely fallen out of public notice once again. So what's your favorite works by him? The Barsoom stories are mine. (Died 1950.) (CE)
Born September 1, 1928 – Shelby Vick.  Edited Planetary Stories 2005-2017.  Edited a new (i.e. 2013, centuries after the original) volume of Sindbad stories (with E. Erdelac & E. Roberts; unable to resist the spelling "Sinbad"), writing one.  A score of short stories around then.  Leading fan since the 1940s.  Introduced Lee Hoffman (to some of us, after this incident, "Hoffwoman"), to Bob Tucker.  Started WAW with the Crew in '52 bringing W.A. Willis to Chicon II the 10th Worldcon.  Organized, if that word may be used, Corflu 16 (fanziners' con; corflu = mimeograph correction fluid, once indispensable); brought as a guest to Corflu 29.  Rebel Award.  (Died 2018) [JH]
Born September 1, 1942 — C. J. Cherryh, 78. I certainly think the Hugo Award-winning Downbelow Station and Cyteen are amazing works but I think my favorite works by her are the Merchanter novels such as Rimrunners. Anyone familiar with "Cassandra",  the short story she won a Hugo for at Seacon '79? What's it part of? (CE) 
Born September 1, 1943 – Filthy Pierre, 77.  So unassumingly and widely helpful for so long he was at length given the Big Heart (our highest service award) and more locally made a Fellow of NESFA (New England SF Ass'n; its service award).  With Marilyn Wisowaty (as she then was; also F.N.) compiled The Blackdex and Bluedex indexing SF prozines.  FP being a filker is often at hand during an SF con and, when waiting is, inspires song, accompanying us on the current version of the Filth-O-Phone.  Made the well-named Microfilk, an early filk index.  Filk Hall of Fame.  Invented the Voodoo Message Board.  Fan Guest of Honor at Albacon 2010, Baltcon 52.  Under a transparent pseudonym has conducted the SF Conventional Calendar for Asimov's since 1977.  [JH]
Born September 1, 1951 — Donald G. Keller, 69. Editor and critic. Co-edited Phantasmicom with Jeff Smith (1969-1974). A contributor to The New York Review of Science Fiction in the early Nineties which is where his "The Manner of Fantasy" essay appeared. He also edited The Horns of Elfland anthology with Ellen Kushner and Delia Sherman. Inactive genre wise for a decade now other than being a member of the editorial board of Slayage, the online Encyclopedia of Buffy Studies. (CE) 
Born September 1, 1952 – Brad Linaweaver.  Productive pro writer found lovable by many because of or despite proclaimed libertarian opinions.  A dozen novels, five dozen shorter stories, some with co-authors.  Artbook anthology Worlds of Tomorrowwith Forrest J Ackerman.  Interviewed William Tenn for Riverside Quarterly.  Two Prometheus Awards.  Phoenix. Heinlein's brass cannon bequeathed to him.  (Died 2019)
Born September 1, 1954 – Larisa Mikhaylova, Ph.D., 66.  Editor, critic; translator including Cadigan and Le Guin.  Editor-in-chief, Supernova.  Organizer of conferences on Ivan Yefremov, co-ordinator of preparing his Complete Works.  Biography of HE in J. Francaville ed., Harlan Ellison.  "Shore Leave Russia" on Star Trek fandom in Russia, Eaton Journal of Archival Research in SF.  Academic Secretary, Russian Soc. Amer. Cultural Studies.  [JH]
Born September 1, 1961 – Jacinta Escudos, 59.  Mario Monteforte Toledo Central American Prize for Fiction.  Collection, The Devil Knows My Name (in Spanish, i.e. El diablo sabe mi nombre).  Anthologized in And We Sold the Rain, Lovers and Comrades, You Can't Drown the Fire.  Widely known outside our field.  Blog here (in Spanish).  [JH]
Born September 1, 1964 — Martha Wells, 56. She's has won a Nebula Award, a Locus Award, and two Hugo Awards, one for the "All Systems Red" novella at WorldCon '76, and the other for her "Artificial Condition" novella at Dublin 2019.  Impressive. And she was toastmaster of the World Fantasy Convention in 2017 where she delivered a speech called "Unbury the Future". Need I note the Muderbot Diaries are a truly amazing reading? (CE)
Born September 1, 1967 — Steve Pemberton, 53. He's on the Birthday List for being Strackman Lux in the most excellent Eleventh Doctor stories of "Silence in the Library" and "Forest of the Dead" but he has other genre credits including being Drumknott in Terry Pratchett's Going Postal, Professor Mule in the Gormenghast series and Harmony in the Good Omens series as well. (CE) 
Born September 1, 1974 — Burn Gorman, 46. Best known for his roles as Owen Harper in Torchwood , Karl Tanner in the Game of Thrones, Philip Stryker in The Dark Knight Rises and also as Hermann Gottlieb in Pacific Rim and the sequel Pacific Rim: Uprising. Like so many of his fellow Torchwood performers, he's been active at Big Finish where he's been in nine Torchwood stories to date. (CE) 
Born September 1, 1978 — Yoav Blum, 42.  Software developer and author.  First novel translated (from Hebrew), The Coincidence Makers.  Ranks Guards! Guards! about the same as Winnie-the-Pooh.  [JH]
(13) COMICS SECTION.
(14) LIPTAK'S SEPTEMBER GUIDE. Andrew Liptak teases "22 science fiction and fantasy books to check out this September" on the Readling List.
….I've been in a bit of a reading rut in recent weeks, but one book that I've been enjoying is The Human Cosmos: Civilization and the Stars by Jo Marchant. It's out today, and Marchant takes a slightly different tack on the history of astronomy: she looks at not how humanity discovered the stars and planets, but how it impacted our development as a civilization. It's an excellent example of multidisciplinary history, looking at archeology, science, mathematics, and of course, astronomy. I highly recommend it.

If you're looking for other books coming out this month, here are 22 science fiction and fantasy ones hitting stores that you should check out.
(15) THE STICKS HAVE BEEN HEARD FROM. SF Concatenation's Jonathan Cowie, who has been without the internet most of the time during the pandemic, broke out of isolation to update "Concatenation Science Communication News".
CoVID-19 / SARS-CoV-2 Lockdown — Please Note Both Science Com and SF² Concatenation are in digital lockdown, but much is continuing as usual. So stakeholders and those who liaise with either should note the following carefully.

Prior to CoVID-19 / SARS-CoV-2, neither abode being connected to the internet was not a problem (not even required) as regular internet access was available at college, volunteer work offices as well as learned society Fellows rooms' and public libraries' cybercafes (plus even hotels when travelling). However, with SARS-CoV-2, access to these has ceased. This means no e-mail communication since 20th March 2020 and this will not resume until we get a vaccine and restrictions are lifted. So if you have e-mailed, now you know why you have not had a response.

All other (non-e-mail) communications are working fine…
More news at the link.
He also tweeted assurance that there will be an autumnal edition of SF2 Concatenation as contributors have been snail-mailing contributions in on memory sticks.
(16) C.S. LEWIS MOVIE TO COMMENCE FILMING. "Production Begins Next Month for New C.S. Lewis Motion Picture" reports Narniafans.
… The material that this movie is based upon is Max McLean's one man stage play that chronicles the Narnia author's journey from atheism to Christianity… Although a filmed from the stage version of this production is already available on DVD, the new movie version will be entirely different with a full cast shooting at historic locations from C.S. Lewis's life.

"The difference about this play is it's going to be on location all over Oxford. We have full access to Maudlin College, The Kilns, the church, [and] various other places that are mentioned in the play. Instead of it being a one person show, it's going to be a multi-actor show. I'll play the older Lewis, we'll have a boy Lewis, a young Lewis in his 20's, cast his mother, his father, Tolkien, Barfield, Kirk, among others, and that is going to begin shortly."

In March 2020 the entire world of Fellowship for Performing Arts came to a complete standstill. The New York based theatrical organization had been selling 2,000 tickets a week for their four productions, but that quickly dropped to 0 tickets a week and there is no expectation that live theater will resume until 2021. More than 30 FPA shows have been canceled because it is far too dangerous to hold any public gatherings in the United States.

"Since our plays have all shut down, we've moved up our feature film adaptation of C.S. Lewis's conversion story. That was designed to be a 2021/2022 project, well we've moved it up to September and October of this year. I'll be leaving tomorrow for the UK to begin shooting in mid-September (I have to quarantine for two weeks before we begin shooting)."-Max McLean

Norman Stone is the producer of this movie. This award-winning British director also directed Shadowlands (1985), C.S. Lewis: Beyond Narnia (2005), and The Narnia Code (2009).
(17) WILL CROWDFUNDING LET THEM MAKE THEIR TEASER TRAILER? The Kickstarter for "BAÏDIR – the animated series", a space-opera animated series, looks to be far from funding, having raised only $29,266 of its $35,968 goal and the appeal ending September 6.
This is an epic, modern, ecological, and family fable…

It tells the initiatory path of a hero willing to do anything to locate his sister, and thus restore the family's lost balance. It is also a story that echoes a much broader collective quest. At stake: restoring our planet's lost environmental equilibrium.

Baïdir is a series designed to span three parts, each composed of 8 episodes of 26 minutes. The genre varies from adventure to science fiction with a good dash of fantasy.

Born from the imagination of Slimane Aniss, then enriched by the graphic universe spun by Charles Lefebvre and Thierry Rivière, Baïdir got its first teaser in 2009. Several years later, in 2012, the concept for the series was purchased by a first production studio. This resulted in a second teaser being hatched. Then several years after that, Andarta Pictures managed to acquire the rights to the work. At long last, work could begin on building the narration and the universe, thus allowing it to take shape for the television screen.

Baïdir is a project that has garnered quite a lot of interest during its various development phases. There is a massive amount of fan art on social networks. This crowdfunding campaign will allow us to breathe life into this whole universe and to tell the story of Baïdir and his friends at last.
(18) ALIEN LIFE. The American Museum of Natural History will present online the "2020 Isaac Asimov Debate: Alien Life" on Wednesday, September 9, 2020.
Join Neil deGrasse Tyson, the Frederick P. Rose Director of the Hayden Planetarium, and a panel of experts for a livestream debate and question-and-answer session to discuss how life may have formed on Earth and explore what alien life might look like elsewhere in the universe.

What criteria do we use to classify life as we know it? Should the criteria be revised as we look for life on other worlds? The debate will bring together scientists from different fields–Nathalie A. Cabrol of the SETI Institute, Vera Kolb of the University of Wisconsin-Parkside, Seth Shostak of the SETI Institute, Carol Cleland of the University of Colorado, and Max Tegmark of MIT–to share their creative ideas for what forms life might take in an extraterrestrial environment and what these predictions can teach us about life on our own planet.
(19) HO, HO PHO. Archie McPhee has "Ketchup, Shiitake And Pho Candy Canes" ready for the holiday season – whatever holiday that may be. ("National Flash on Your Carpet Day"?) Wait – they seem to think it's Christmas!
This year's Archie McPhee candy canes are here! We've got three crazy flavors to make your Christmas more delicious than ever. Ketchup Candy Canes are fresh-from-the-bottle candy that tastes just like America's favorite condiment. Shiitake Mushroom Candy Canes have a mushroom flavor that will make Christmas morning even more fungus than usual. And, finally, Pho Candy Canes are un-pho-gettable!
I hope Santa leaves the antidote within reach!
(20) RU A ROBOT? Daniel Dern calls it "The best CAPTCHA I've seen to date". From FB's Concellation group.
[Thanks to N., John King Tarpinian, Lise Andreasen, Contrarius, Michael Toman, JJ, Cat Eldridge, John Hertz, Martin Morse Wooster, SF Concatenation's Jonathan Cowie, Mike Kennedy, Daniel Dern, and Andrew Porter for some of these stories. Title credit goes to File 770 contributing editor of the day O. Westin.]