(1) AI CONTENT CREATION. Brian Keene makes the argument that "The Machines Already Took Our Jobs".
…Now, you might not think that's a big deal, because who is reading those types of clickbait articles anyway? But there used to be a human writer churning out those things. And now that writer is just a little bit more financially insecure and scrambling to find another gig to replace it.

But stick around, because it gets worse. It is one miniscule step from A.I. writing that sort of content to then writing an article for a magazine or a newspaper. And indeed, I know of magazines and newspapers whose owners are already looking into this possibility. As one person at a fairly decent-sized outlet told me, "From a cost-cutting perspective, it costs as much to pay an editor to look over a machine's writing as it does to have them look over a human's writing. But the difference is we don't have to pay the human who wrote it. Just the editor. It's a game-changer."

That's not the only place you're reading A.I. generated content. I personally know of three companies that now use A.I. to write their posts for LinkedIn and Facebook. And because that sort of content is usually dry as a Saltine cracker anyway, it's impossible to tell that a machine wrote it rather than a human….
(2) FIGHTING FIRE WITH FIRE. Meanwhile, Camestros Felapton finds services are being developed to detect AI-generated text, and uses his own writing to evaluate the results delivered by one of them in "The robot arms race".
… With the text-generating services, the need to detect the role of these services in academic contexts has become an immediate issue. How does a teacher know that an essay is written by a student or by some GPT-fuelled website?

New online services intended to detect machine-learning generated text are appearing. I tried this one https://gptzero.me/…
(3) THE GUNN SF CENTER'S BOOK CLUB. For the month of January, the Center has chosen Rivers Solomon's The Deep, winner of the 2020 Lambda Literary Award. Join them on Friday, January 27 at Noon (Central Time). Register for the virtual meeting here.
Set in an underwater society built in the horror of the slave trade, the mermaids of this story must rely on their collective memories of the past in order to reimagine their futures. This novel, inspired by a rap song of the same name, is sure to captivate folks interested in the forthcoming live-action The Little Mermaid and other fantastical tales.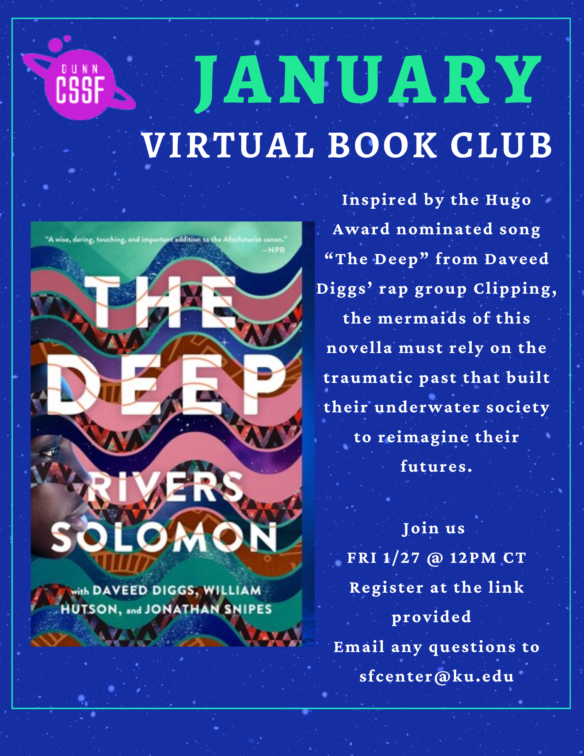 (4) TANGLED UP IN BLUE. NPR interviews James Cameron about the movies that are on the way: "Avatar 2 is taking over cinema, but how far away are we from upcoming sequels?"
On upcoming Avatar sequels and what exactly makes a good sequel

The shooting scripts are all written. We've already fully captured and fully photographed movie three. So, it's essentially in post-production.

We've done the first act of Movie four, and all we have to do is, you know, kind of add water, so to speak.

The audience want some degree of familiarity. They want to be grounded in that which they liked from the first film. And some sequels change too much. The trick is to find ways to make it pleasantly surprising, unexpected. You know, I feel like I was able to do that with a completely unexpected direction.
(5) MEMORY LANE.
1960 — [Compiled by Cat Eldridge.] An excerpt from Dr Seuss' Green Eggs and Ham
As you know by now, you know that I have an inordinate fondness for all thing things Seuss. Indeed in my bedroom on the nightstand sits Horton, Cat in the Hat and The Fish in His Teapot.
I have also watched the original How the Grinch Stole Christmas so many times that I'm sure I've memorized the entire delightful affair.
I thoroughly despised the twenty minutes I saw of the Jim Carey fronted How the Grinch Stole Christmas crap. But I am told that I should check out the newer Grinch animated film in which Benedict Cumberbatch voiced The Grinch. Any opinions here concerning it?
Did you know that on the twentieth of September 1991 following Geisel's death earlier that week, Jesse Jackson read an excerpt of Green Eggs and Ham on Saturday Night Live? Well he did. And here it is.
Now let's have the pleasure of an excerpt from it.
Do you like green eggs and ham?
I do not like them, Sam-I-am.
I do not like green eggs and ham.
Would you like them here or there?
I would not like them here or there.
I would not like them anywhere.
I do not like green eggs and ham.
I do not like them, Sam-I-am.
Would you like them in a house?
Would you like them with a mouse?
I do not like them in a house.
I do not like them with a mouse.
I do not like them here or there.
I do not like them anywhere.
I do not like green eggs and ham.
I do not like them, Sam-I-am.
(6) TODAY'S BIRTHDAYS.
[Compiled by Cat Eldridge.]
Born January 16, 1887 — John Hamilton. He's no doubt remembered best for his role as Perry White in the Fifties Adventures of Superman series. He also was in the Flash Gordon Conquers the Universe serial as Professor Gordon, and I see he played G.F. Hillman in the Forties Captain America serial film. (Died 1958.)
Born January 16, 1903 — Harold A. Davis. Notable as another writer of the Doc Savage novels under the pseudonym Kenneth Robeson. He was the first ghostwriter to fill in for Lester Dent on Doc Savage. Davis would create the character of Ham's pet ape Chemistry in Dust of Death. (Died 1955.)
Born January 16, 1905 — Festus Pragnell. Ok, he's here not because he had all that a distinguished a career as a writer or illustrator, but because of the charming story one fan left us of his encounter with him which you can read here. Festus himself wrote but three novels (The Green Man of Kilsona, The Green Man of Graypec, and The Terror from Timorkal), plus the wrote a series of stories about Don Hargreaves' adventures on Mars. Be prepared to pay dearly if you want to read him as he's not made it into the digital age and exists mostly in the original Amazing Stories only. (Died 1977.)
Born January 16, 1943 — Michael Atwell. He appeared in Doctor Who twice, first in a Second Doctor story, "The Ice Warriors", and later in the in the Sixth Doctor story, "Attack of the Cybermen ". He also voiced Goblin in the Labyrinth film, and had a recurring role in Dinotopia. (Died 2006.)
Born January 16, 1948 — John Carpenter, 75. My favorite films by him? Big Trouble in Little China and Escape from New York. His gems include the Halloween franchise, The Thing, Starman (simply wonderful), The Philadelphia Experiment, Ghosts of Mars and many other films. What do you consider him to have done that you like, or don't like for that matter? I'm not fond of Escape from L.A. as I keep comparing to the stellar popcorn film that the previous Escape film is.
Born January 16, 1970 — Garth Ennis, 53 . Comic writer who's no doubt best known for Preacher which he did with illustrator Steve Dillon, and his stellar nine-year run on the Punisher franchise. I'm very fond of his work on Judge Dredd which is extensive, and his time spent scripting Etrigan the Demon For DC back in the mid Nineties.
Born January 16, 1974 — Kate Moss, 49. Yes she's done SF. To be precise Black Adder which we discussed a bit earlier. She played Maid Marian in "Blackadder Back & Forth" in which as IMDB puts it "At a New Millennium Eve party, Blackadder and Baldrick test their new time machine and ping pong through history encountering famous characters and changing events rather alarmingly." You can watch it here.
Born January 16, 1976 — Eva Habermann, 47. She is best known for playing the role of Zev Bellringer on Lexx. She was succeeded in her role by Xenia Seeberg. Ok I'll confess that I've never seen the series which I know exists in both R and not so R versions. Who here has seen it in either form? She was also Ens. Johanna Pressler in Star Command, a pilot that wasn't to be a series that was written by Melinda Snodgrass. And she had a role in the Code Name: Eternity series as Dr. Rosalind Steiner.
(7) COMICS SECTION.
(8) THE HELICON SOCIETY. The 2023 "Helicon Awards" were announced January 14. It's time again for Richard Paolinelli to give awards to people he publishes through his Tuscany Bay Books imprint, such as his fellow Scrappy-Doo Declan Finn, which now has a distribution deal with Baen, plus a couple of real bestselling sff writers he hopes will pay him attention.
Paolinelli and Finn still relentlessly advertise their Dragon Awards Finalist status, from the first years when the Puppies cornered the market, but they have solved the subsequent problem with the Dragon Awards being voted to other people by starting an award where – the public doesn't have a vote!
(9) VIDEO OF THE DAY. Linoleum comes to theaters February 24.
Cameron Edwin (Jim Gaffigan), the host of a failing children's science TV show called "Above & Beyond", has always had aspirations of being an astronaut. After a mysterious space-race era satellite coincidentally falls from space and lands in his backyard, his midlife crisis manifests in a plan to rebuild the machine into his dream rocket. As his relationship with his wife (Rhea Seehorn) and daughter (Katelyn Nacon) start to strain, surreal events begin unfolding around him — a doppelgänger moving into the house next door, a car falling from the sky, and an unusual teenage boy forging a friendship with him. He slowly starts to piece these events together to ultimately reveal that there's more to his life story than he once thought.
[Thanks to Mike Kennedy, John King Tarpinian, Chris Barkley, Andrew Porter, Michael Toman, and Cat Eldridge for some of these stories. Title credit belongs to File 770 contributing editor of the day Daniel Dern.]