(1) '45 CALIBER. Ian Moore's "Where to find the 1945 Retro Hugo Awards finalists" on Secret Panda is a Homeric compilation of publicly available material and alternative sources for learning about the Retro nominees. And it ends with a great cat photo.
…But what of the 1945 Retro Hugo Awards finalists? There is unlikely to be a Voter Packet for these, so how are Hugo Awards voters to go about making an informed choice here? Fortunately, many of the works that will be on the ballot are available online, either on the Internet Archive or elsewhere. Below I have compiled links to as many of these as I could find, and provided information about whether items are in print or otherwise…. 
(2) RESIZING THE FELLOWSHIP OF THE RING. The Hard Times reports "Middle Earth Temporarily Bans Fellowships of More Than Five".
MINAS TIRITH — The White Council of the Wise issued a decree today that all fellowships in Middle Earth shall be no larger than five companions for at least the next quarter-age to help slow the spread of the Samund-01 curse that has already killed over 30,000 elves, dwarves, and men.
(3) BLACKOUT. Connie Willis blogged her "Journal Of The Coronavirus Year III".
…It does feel like we're living through another Black Death.

But in recent days, as the horrors of the coronavirus pandemic have begun to unfold,
I've also been reminded of similarities of this pandemic to the Blitz:

1. The disruption of our daily lives.
The orderly schedules of the British people was completely upended by the Blitz. People found themselves sleeping under the kitchen table or in basements or tube shelters. They went to work in the morning after a sleepless night with bombs falling overhead, only to find that their place of work was closed or bombed out, and when they went home, they found that had been bombed out, too. Everything changed in an instant. Theaters and museums were closed, and the way of life they'd always known disappeared overnight as if it had never been….
She comes up with three more parallels before concluding –
Everybody's rising to the occasion, and, in spite of my having occasional worried thoughts about all of us becoming the crazy characters in Shirley Jackson's WE HAVE ALWAYS LIVED IN THE CASTLE, we're doing great. When this is all over, we're going to be able to say, just like the British, "This was their finest hour."
(4) SEEKING DONATIONS. The Ray Bradbury Experience Museum (RBEM) asks for help to open 'The Martian Chronicles' exhibit area for the Ray Bradbury Centennial celebration in "Green Town" in 2020. The donation link is here.
(5) WHO MEMORIAL. "Farewell, Sarah Jane" on the official Doctor Who YouTube channel.
Today marks the anniversary of the passing of Elisabeth Sladen, who played the Doctor's friend Sarah Jane Smith. In a new video, scripted by Russell T Davies and narrated by Jacob Dudman, Sarah Jane Smith's closest friends come together to say "Farewell, Sarah Jane".
(6) MORE SARAH JANE. Coincidentally, SYFY Wire ran this story a couple of days ago — "Wire Buzz: Elizabeth Sladen's Daughter In Doctor Who Radio Drama".
Doctor Who is keeping it in the family.

Sadie Miller, the actress daughter of the late Elizabeth Sladen, is boarding the TARDIS in the role her mother made famous on the iconic BBC sci-fi series — that of intrepid investigative reporter Sarah Jane Smith — in Big Finish's highly anticipated audio drama Doctor Who: Return of the Cybermen.
(7) TODAY'S BIRTHDAYS.
[Compiled by Cat Eldridge.]
Born April 19, 1907 — Alan Wheatley. Best remembered  for being the Sheriff of Nottingham in The Adventures of Robin Hood TV series, with Richard Greene playing Robin Hood. In 1951, he had played Sherlock Holmes in the first series about him, but no recordings of it are known to exist. And he was in Two First Doctor stories as Temmosus, "The Escape" and "The Ambush" where he was the person killed on screen by Daleks. (Died 1991.)
Born April 19, 1925 — Hugh O'Brian. He was Harry Chamberlain in Rocketship X-M which you can see here. (It was nominated in the 1951 Retro Hugo Awards given at The Millennium Philcon but lost out to Destination Moon.)  He would later play Hugh Lockwood in Probe, the pilot for Search, and Search itself, an SF series. His only other genre appearance I think was playing five different roles on Fantasy Island. (Died 2016.)
Born April 19, 1933 — W.R. Cole. Author of A Checklist of Science Fiction Anthologies, self-published In 1964. Ok, I'm including him today because I'm puzzled. SFE said of this work that 'Though it has now been superseded and updated by William Contento's indexes of Anthologies, it is remembered as one the essential pioneering efforts in Bibliography undertaken by sf Fandom.'  Was this really the first time someone compiled an index of anthologies? I seem to remember earlier efforts though I can't remember precisely who. (Died 2002.)
Born April 19, 1935 — Herman Zimmerman, 84. He was the art director and production designer who worked between 1987 and 2005 for the Trek franchise. Excepting Voyager, he worked on all other live-action productions including the first season of Next Gen, the entire runs of Deep Space Nine and Enterprise, as well as six Trek films. As Memory Alpha notes, "Together with Rick Sternbach he designed the space station Deep Space 9, with John Eaves the USS Enterprise-B and the USS Enterprise-E. His most recognizable work though, have been his (co-)designs for nearly all of the standing sets, those of the bridge, Main Engineering (co-designed with Andrew Probert) and Ten Forward for the USS Enterprise-D in particular." Not surprisingly, he co-wrote the Star Trek: Deep Space Nine Technical Manual with Rick Sternbach and Doug Drexler.
Born April 19, 1936 — Tom Purdom, 84. There's very little on him on the web, so I'll let Michael Swanwick speak for him in the introduction to his Lovers & Fighters, Starships & Dragons collection: 'How highly do I regard Tom's fiction?  So highly that I wrote the introduction to the collection — and I hate writing introductions.  They're a lot of work.  But these stories deserve enormous praise, so I was glad to do it.'  He's written five novels and has either one or two collections of his stories. He's deeply stocked at the usual digital suspects. 
Born April 19, 1946 — Tim Curry, 74. Dr. Frank-N-Furter in The Rocky Horror Picture Show of course, but it's not his first genre appearance as he'd appeared a year earlier at the Scottish Opera in A Midsummer Night's Dream as Puck. And yes I know that he appeared in the live show which was at the Chelsea Classic Cinema and other venues before the film was done. Other genre appearances include playing Darkness in Legend, an outstanding Cardinal Richelieu  in The Three Musketeers, Farley Claymore in The Shadow (great role), another superb performance playing Long John Silver in Muppet Treasure Island and in Rosencrantz and Guildenstern Are Dead as The Player.
Born April 19, 1952 — Mark E. Rogers. Best remembered for the Samurai Cat series which in the first book, The Adventures of Samurai Cat, lampooned Tolkien, Lovecraft and Howard. Indiana Jones. Burroughs' Barsoom and Star Wars would also get their due. (Died 2014.)
Born April 19, 1967 — Steven H Silver, 53. Fan and publisher, author, and editor. He has been nominated for the Hugo Award for Best Fan Writer twelve times and Best Fanzine four times.  He's a longtime contributing editor to SF Site and has written that site's news page since its beginning. Over twenty years ago, he founded the Sidewise Award for Alternate History and has served as a judge ever since. He publishes his own fanzine, Argentus, and is a Hugo nominee this year for his work on Journey Planet.
Born April 19, 1968 — Ashley Judd, 52. Best known genre wise for playing Natalie Prior in the Divergent film franchise. She was also Carly Harris-Thompson in the Tooth Fairy film, and was Ensign Robin Lefler in a few episodes of Next Gen. She played Beverly Paige on several episodes of Twin Peaks as well. 
(8) GAULD Q&A. On NPR: "Scientists Are Human, Too: Questions For Cartoonist Tom Gauld".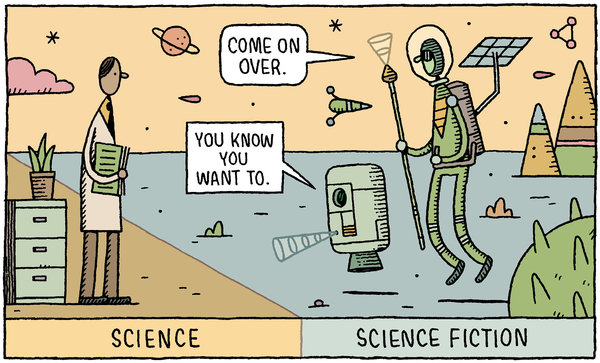 As a sci-fi and fantasy nerd, of course I love the cartoon of the scientist being tempted by science fiction. Where did that one come from?

I think the scientist character in that cartoon is a bit like me when I'm making these cartoons, because I have to resist the temptation to draw silly robots and over-the-top science fiction technology every week. I am a SF/F nerd myself and while that's one of the things that draws me to science, I have to remind myself to look in all the different areas of science to find cartoon themes.
(9) MARLOWE AND THE QUEEN. Francis Hamit, who frequently shared with File 770 readers his experience as a writer publishing via early indie platforms, and has spent years trying to get a movie made, sends this update.
I dissolved the Kit Marlowe Film Co, Ltd in February after five years and one month of trying to get CHRISTOPHER MARLOWE produced.  My recent surgery for spinal stenosis, (the first of two with the second on hold now because of the pandemic) makes it impossible for me to produce anything, even if our great producer Gary Kurtz hadn't died in September, 2018, the HMRC had not changed the EIS rules and Brexit had not changed all of the assumptions we had when we started the company in 2014.   I'm an old poker player.  I know when to fold a losing hand.  Rising from the ashes, however, is the five-time award-winning screenplay and the curious fact that BFI says our letter of comfort for the film tax relief can be used by any UK film production company.  That's a twenty percent rebate on the spend in the UK.  But coronoavirus has shut down the entire industry in the USA and UK.  Except for "development" and I have that script and two others out for consideration.  (Details on Facebook). 

I also have a few hundred copies of The Shenandoah Spy and The Queen of Washington left in the distributor's warehouse.  I am reducing the retail price to $12.95 and $14.95 respectfully.  This is slightly below my break-even point but will free up cash to get another book to market.  Regular publishing has ls shut down so it may be DIY for the one I'm working on now STARMEN, a multi-genre romp that begins in El Paso, Texas in 1875 with the Pinkertons, who investigated all sorts of strange things.  I might also do some crowd-funding. 

Anyway those who would like to buy a copy of either book should call Pathway Book Service at 1-800-345-6665.  The Shenandoah Spy is $12.95 plus shipping and handling and they take credit cards.  The Queen of Washington is  a hardbound at $14.95 plus shipping and handling.  Amazon has a few copies at the old prices but has stopped taking third party distributors' books to deal with the emergency.  Both books are in e-book at $9.99 on Amazon Kindle and as audiobooks at  Audible, Amazon and iTunes, sometimes for free. 

Anyone who wants a signed copy should contact me directly. ([email protected]). (My other books are also available but not discounted.)

Direct sales will be $27.50 per book, $50 for two plus $5.00 shipping each and these will be signed.  I'm running out of copies here and will have to order some from Pathway, which costs me for shipping.  If they are able. In the current emergency.  We can't be sure.   On the other hand they will be signed.

Gail Shalan and I are converting The Shenanoah Spy audiobook to a Young Adult title.  That simply means we are going to cut the more graphic sexual content. Probably less than a thousand words that won't be missed.  Times have changed since 2008 when the book was first published and we don't want to provide "triggers" that get some readers upset and detract from the story. That means the sexual content is still there but more is left to the imagination.  Gail's performance will be intact.  BTW the audiobook is "free" if it is a title used to sign up for Audible and Gail and I split a nice bonus.
(10) RABBIT TRACKS. Up for sale are "Charming letters and early drawings by a young Beatrix Potter showing Peter Rabbit from the 1890s" – Daily Mail has the story
An archive of early drawings and letters by children's author Beatrix Potter have emerged for sale for £250,000.

The charming illustrations date from the 1890s when the writer was honing her craft and had not yet become a household name.

One drawing from 1894 shows Peter Rabbit seven years before the first of his famous tales was published.
(11) A MONSTROUS REGIMENT. JDA shares another secret of his success.
(12) A WELL-DONE ENDING. Richard Paolinelli auditions as a script doctor.
(13) MIDDLE-EARTH'S BOTTOM LINE. "Here's how much money the Lord of the Rings franchise has made" – Looper added it up. (If only they'd had a good script doctor!)
.. The first three films in Jackson's Middle-earth franchise raked in nearly $3 billion worldwide. And no, that number doesn't account for DVD or memorabilia sales, or the sale of the trilogy's television broadcast rights.
(14) SFF ART ON THE BLOCK. Heritage Auctions' 2020 April 24 Illustration Art Signature Auction online sale includes two cover paintings for Weird Tales: Virgil Finlay's 'The Thief of Forthe' (July 1937) and Lee Brown Coye's 'The Vampire' (July 1947).
(15) FROST READS. The editors of the Beatles-themed anthology Across the Universe, Michael A. Ventrella and Randee Dawn, are posting videos of various authors in the anthology reading from their work. Here, Gregory Frost reads "A Hard Day's Night at the Opera."
[Thanks to Cat Eldridge, John King Tarpinian, Martin Morse Wooster, JJ, Chip Hitchcock, Mike Kennedy, Michael Toman, Steve Green and Andrew Porter for some of these stories. Title credit goes to File 770 contributing editor of the day Andrew.]