File 770's "all Bradbury all the time" coverage continues.
(1) ARTEMIS. John King Tarpinian picked up an extra ticket to make sure Ray will be on board.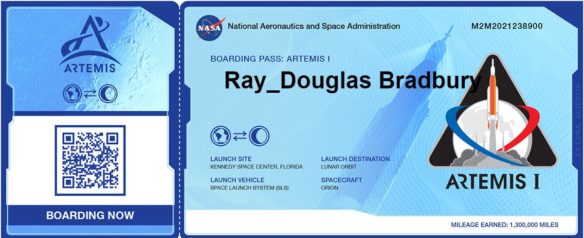 (2) TAKE NOTES. "'It Came From Outer Space' musical review: short on camp, storyline in stage musical translation" in the Chicago Sun-Times.
Almost 70 years before last week's landing of the world premiere musical "It Came From Outer Space" at Chicago Shakespeare Theater, the groundbreaking 1953 Universal International movie of the same name had audiences screaming and cringing from behind their 3-D glasses as meteorites, space debris and aliens seemingly hurtled directly at them.

You don't need much familiarity with Universal's first 3-D movie or its special effects to appreciate the 85-minute musical commissioned by Chicago Shakes from Joe Kinosian (music and lyrics) and Kellen Blair (book and lyrics). Inspired by that cult classic film (which was based on a story by Ray Bradbury, who also wrote an early version of the screenplay), "It Came From Outer Space" the musical is sheer silliness.

Both an homage and parody of the movie, the musical follows an alien invasion in the Area 51-ish desert town of Sand Rock. It falls to outsider John Putnam (Christopher Kale Jones) and local schoolteacher Ellen Fields (Jaye Ladymore) to save the townsfolk from their own ignorance and the predators from afar….
(3) A HARD DAY'S Q&A. This archival episode of Day at Night contains a 1974 interview with Ray Bradbury.
Host James Day speaks with Ray Bradbury about his career, the importance of fantasizing, his aspirations as a young child, his dislike of college for a writer, his idea of thinking compared to really living, and his love of the library. CUNY TV is proud to re-broadcast newly digitized episodes of DAY AT NIGHT, the popular public television series hosted by the late James Day. Day was a true pioneer of public television: co-founder of KQED in San Francisco, president of WNET upon the merger of National Educational Television (NET) and television station WNDT/Channel 13, and most recently, Chairman of the CUNY TV Advisory Board. The series features fascinating interviews with notable cultural and political figures conducted in the mid 1970's. Tape Date: 1/21/1974
(4) IN FOR A PENNY. Bradbury's story "The Tarot Witch" was Library of America's "Story of the Week" in March. The introduction includes the following quote from the author about his home town:
…I was amused and somewhat astonished at a critic a few years back who wrote an article analyzing Dandelion Wine plus the more realistic works of Sinclair Lewis, wondering how I could have been born and raised in Waukegan, which I renamed Green Town for my novel, and not noticed how ugly the harbor was and how depressing the coal docks and railyards down below the town.

But, of course, I had noticed them and, genetic enchanter that I was, was fascinated by their beauty. Trains and boxcars and the smell of coal and fire are not ugly to children. Ugliness is a concept that we happen on later and become self-conscious about. . . .

"In other words," he added, "if your boy is a poet, horse manure can only mean flowers to him; which is, of course, what horse manure has always been about."
(5) FITTING RAY'S STORIES TO THE SCREEN. GameRant has an opinion about "Ray Bradbury's Novels: Best & Worst Film & TV Adaptations".
Ray Bradbury is a famous name in literature, specifically science fiction, although his work touched on more than just this one genre. Several of his novels and short stories have been adapted for the small and big screen, and he had a hand in writing some of the most iconic science fiction and fantasy of the 20th century.

Not every adaptation has been perfect, of course, and even when the movie or show is a decent product other things can go wrong to make it less than successful.
There are six on the list, beginning with —
The Martian Chronicles (1980)

This BBC miniseries had all the marks of a successful adaptation, at least in the beginning. It had a cast with big names like Rock Hudson and Bernadette Peters, an original soundtrack with more than 30 songs, more than decent production values, and it was an adaptation of a novel of the same name by a popular author with literary clout.

However, things started to go awry when Ray Bradbury himself described the show as "boring" at a solo press conference. Although he and screenwriter Richard Mathieson had worked together on the adaptation, Bradbury was disappointed with the result, which deviated significantly from his original story. Even though the show was finished in 1979, this poor marketing was enough to delay the release for a year, but fans and critics ultimately gave The Martian Chronicles a positive reception.
(6) A MARTIAN CANAL? The Ray Bradbury Experience Museum in Waukegan, IL is closed for improvements.
Summer's here! But since winter, 2022, renovation work inside the RBEM building, including the installation of the "Rivers of Mars" flooring, caused RBEM to once again close temporarily.

 Now we're planning new, exciting exhibits to bring Ray Bradbury's imagination to life for all ages. Watch here for news of our summer opening! Then mark your calendars for another Ray Bradbury birthday celebration on Saturday, August 20, 2022 in Waukegan.
(7) SOMETHING WICKED BY THE NUMBERS. Mental Floss says you should know these "8 Facts About Ray Bradbury's 'Something Wicked This Way Comes'". Here is fact number four:
4. When Bradbury's publisher of 11 years didn't respond to Something Wicked This Way Comes as enthusiastically as he'd hoped, Bradbury took the book elsewhere.

By 1960, Bradbury had grown dissatisfied with Doubleday, which had published The Martian Chronicles and Dandelion Wine; the author didn't feel that the terms of his contracts were favorable for him, or that Doubleday was giving his books enough marketing support. Bradbury and his agent, Don Congdon, hoped Something Wicked This Way Comes would give them the leverage to renegotiate Bradbury's contract.

That didn't prove to be the case. Doubleday made a few concessions in terms of marketing Bradbury's earlier titles and giving him some control over promotional copy, but they only agreed to devote $3000 to promoting Something Wicked This Way Comes. Bradbury saw it as a lack of faith—not just in him and his new book, but in the genre he loved. "I think it is time for me to leave Doubleday and to try to find a new publisher who will see me and this fantastic and exciting new Space Age with the same high-spirits in which I approach it," he wrote to his editor.

Bradbury left Doubleday on friendly terms, and by the summer of 1960 he was working on a new draft of Something Wicked This Way Comes. In September of that year, Bradbury found the home he'd been looking for: Simon & Schuster editor Robert Gottlieb made an impassioned appeal to Congdon, promising that the publisher's advertising director was ready to tackle the challenge of "extending the cult-feeling about Bradbury to a much larger public" and identifying its marketing director as "a violent Bradbury-lover." By the end of the month, Bradbury was a Simon & Schuster author, and Something Wicked This Way Comes had a publisher that seemed truly excited about it.
(8) A NEW REVIEW OF AN OLD MOVIE. A contributor to The Suburban Times summons memories of seeing "Moby Dick – A Whale of a Movie".
I walked to the Lakewood Colonial Theatre in 1956 from our home on Maple Avenue to see the film Moby Dick. I would have been 11 or 12. I had read the CLASSICS Illustrated comic book before seeing the film and then read the Herman Melville book later. As a teenager I subscribed to a monthly mailing of famous authors. The two images that stayed with me from the film: Gregory Peck as Captain Ahab dead on Moby Dick's back, his body entwined in harpoon ropes with one arm flopping back and forth, beckoning to the sailors of the Pequod. The second image was that of Ishmael clinging to the floating coffin of his friend Queequeg….
(9) LOOKING FOR SOME LIGHT READING? Steven Louis Aggelis offers his Ph.D. dissertation "Conversations with Ray Bradbury".
Conversations with Ray Bradbury, edited by Steven Aggelis and published by the University Press of Mississippi in Spring 2004, is a collection of Ray Bradbury interviews from 1948 to 2002, with the last of these interviews being conducted by the editor. Besides the interviews, the University Press of Mississippi collection contains an introduction, chronology, and index.

…The interviews reveal Bradbury's recurring interest in science, an appeal to and reliance on emotion versus reason, censorship and tyranny, urban planning, comics and cartoons, death, education, Hollywood, love or passion as a creative force, magic, outer space, morality, myth, philosophy, politics, psychology, racial relations, technology, sex, the economy, the future, the horror genre, films, the media, the use of metaphor, war, writing and writers, religion, and more….
[Thanks to John King Tarpinian for many of these links!]