(1) UP AND COMERS. In the Washington Post, Christian Davenport surveys the new class of astronauts (chosen from 18,000 applicants) and says while some traditions haven't changed (the process of picking an astronaut remains mysterious) the new astronauts will now have the option of going to the International Space Station via two commercial spacecraft and possibly may fly back to the Moon in a few years. "As the possibility of going to space grows, U.S. astronauts still don't know how they get picked to fly".
…Now there is an array of flying options coming to fruition, all launching from Cape Canaveral, that could provide astronauts a variety of flight opportunities not seen in decades. There's SpaceX's Dragon spacecraft, which in May became the first spacecraft to launch NASA astronauts from United States soil in nearly a decade. Boeing is also working to get its Starliner capsule ready, with a first crewed flight set for sometime next year. And NASA hopes Lockheed Martin's Orion spacecraft will fly astronauts on a trip around the moon by 2023.

All of which means it's an exciting time to be an astronaut, especially as the highly coveted assignments for the 48-member NASA astronaut corps in Houston are being handed out. It's also a chance for NASA to showcase its astronauts and attempt to rekindle the national enthusiasm they once inspired. In the decades since Apollo, when astronauts were household names and revered as heroes, they are now largely anonymous.
(2) IN THE NEXT ROW. At LitHub: "Walter Mosley: When I'm Telling a Story I Imagine the Eavesdropper Over My Shoulder".
Who do you most wish would read your book?
I once explained my audience by saying that I imagined being on a train or a bus sitting side by side with my favorite older cousin, Alberta Jackson. I'd be telling her stories about Easy Rawlins or his murderous friend Mouse. She'd be all excited and worried about Easy.

Sitting behind us is some person we don't know and aren't thinking about. That unknown person is my audience. They're eavesdropping on my story and responding in ways I have no idea of. That way my writing, storytelling cannot be swayed by opinions external to the world I'm talking about.
(3) COMPARING VIRTUAL CONS ACROSS GENRES. Cora Buhlert has written a con report about the virtual Bloody Scotland crime fiction festival and how different it was from the SFF cons she's attended: "Notes on the Virtual Bloody Scotland Festival and the Differences Between SFF and Crime Fiction Cons"
… Part of the reason for the lack of Discord chats, kaffeeklatsches and a dealers room may be that crime fiction festivals seem to be more focussed on listening to well-known writers speak and read than on interacting with fellow members. And indeed, there were fewer themed panels and a lot more of "See these cool authors talking about their writing and life". It reminds more of literary festivals than SFF cons. Crime fiction cons also seem to be geared towards writers – the various British ones are often called "crime writing festivals", hence the masterclasses. It's simply a different con culture.
(4) IF YOU CAN MAKE IT THERE. Publishers Weekly examines how industry giant ReedPop is overcoming the learning curve to present virtual events in "New York Comic Con Goes Metaverse".
…ReedPop has been "pivoting into what all of this stuff will look like digitally," Armstrong says. "The Metaverse was our attempt to bring some content to fans, but also to figure this whole thing out a little bit. I don't think anybody has perfected it."

ReedPop event director and NYCC Metaverse showrunner Kristina Rogers agrees. She says the August event was a chance to see what worked and what would allow fans to get the most out of the event. "We said, 'Let's figure out how to get our content out there and see what the fans are really passionate about.' It feels like needs are all changing constantly, because everything moves very quickly."

One of the most popular features of the August Metaverse was live chat, Rogers says, noting that some of the panels were presented with live feedback on YouTube. "Fans told us they love being able to catch up with each other, and talking about a panel as it's happening and right after." Metaverse even included a "professional online con," an online meeting between publishers and retailers, which was hailed as a huge success by participants.

NYCC Metaverse will have much of the traditional content of NYCC's IRL editions, including media panels from CBS, FX, Hulu, and Star Trek and a significant amount of anime programming via anime distributor Funimation and manga publisher Viz Media. Traditional book publishers will be represented as usual, including Disney, Macmillan and its graphic novel imprint First Second Books, and Penguin Random House, with an emphasis on providing sneak peeks at trailers and covers, exclusive content, and author workshops, which are very popular with fans.

Looking to avoid still more talking heads on a computer screen, Rogers is searching for ways to offer conversations on fresh topics by dynamic participants. "We've seen a lot of iterations, and we're still trying to figure out what's actually going break through the noise," she says.
(5) MAN UNDERBOARD. A veteran stunt man and stunt coordinator, "Ernie Orsatti, Stuntman Who Took Quite the Fall in 'The Poseidon Adventure,' Dies at 80". The Hollywood Reporter profiled his most famous stunt.
…Ernie Orsatti portrayed Terry, the boyfriend of Pamela Sue Martin's character, in The Poseidon Adventure, produced by "Master of Disaster" Irwin Allen and directed by Ronald Neame.

On the day before the stunt was scheduled, Orsatti was informed that Allen "wanted him to do the fall. The actor replied, "'I'm not a stuntman. You want me to do that fall?'" he recalled in the 2006 video short The Poseidon Adventure: Falling Up With Ernie.

The stunt called for someone to cling to the edge of an upside-down table, let go and plunge 32 feet to land on his back onto a skylight in the doomed ocean liner's inverted ballroom. After some apprehension, Orsatti agreed to do it.

Stunt coordinator Paul Stader told him, "'Do not lean your head back, you'll break your neck. Pick a point, look at it and let go,'" he remembered. "I picked my feet up into what you call an 'L' so I would be falling straight away from the camera with my hands out — and then it knocked me colder than a cucumber."

They got the shot in one take. "They wanted me to register terror, and they surely must have gotten it," he once said. "I was scared to death.

"The actors who were off that day, like Gene Hackman and Ernie Borgnine, showed up with their families to watch the shooting. I asked Gene what he was doing here and he smiled and said, 'We've all come to watch you die.' He took pictures and everything."
(6) TODAY'S EASTER EGG.
Go to Google

Search for WIZARD OF OZ

Click on the ruby slippers to the right.

Then click on the tornado.
(7) MEDIA ANNIVERSARY.
September 1996 — The BBC Books edition of Neil Gaiman's Neverwhere was published. It was based off the BBC Neverwhere series, and it would be nominated for both the Mythopoeic Fantasy Award for Adult Literature and the Stoker Award for Superior Achievement in a Novel but would win neither. It would not be on the Hugo ballot for either the series or the novel. It would be the only version of the novel until William Morrow published Neverwhere: The Author's Preferred Text in 2015. This version was supposed to have been first published by Hill House who did other Gaiman works such as the Good Omens screenplay and American Gods: Author's Preferred Text but they went out of business before doing so. Neverwhere has been done in as least two audio dramas, a comic books series, several theater productions and one delightfully illustrated edition of the novel. The Jim Henson Company optioned Neverwhere but never exercised that option.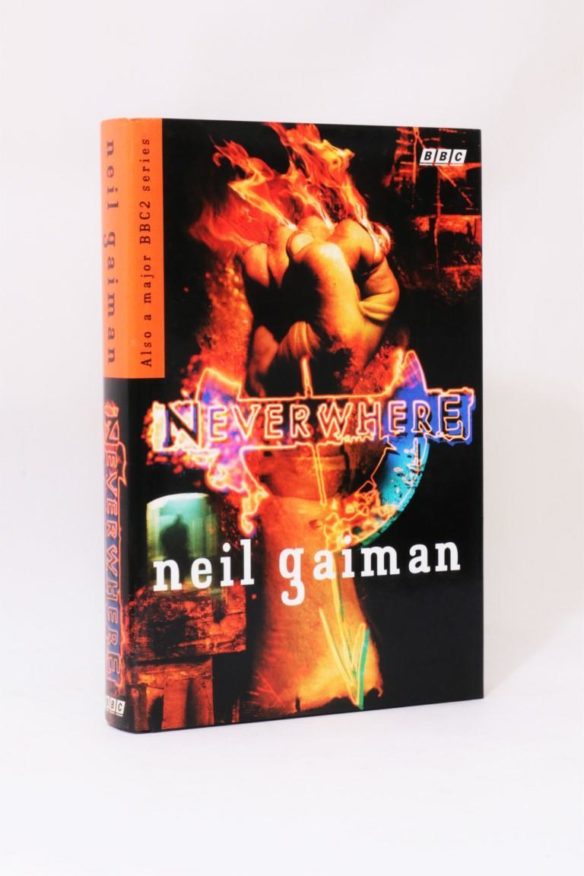 (8) TODAY'S BIRTHDAYS.
[Compiled by Cat Eldridge and John Hertz.]
Born September 20, 1886 – Charles Williams.   His seven novels, many of his plays and poems, having essentially spiritual elements, are in our realm.  David Bratman edited the three Masques of Amen House in 2000.  Note also CW's two books of Arthurian poetry, Taliessin through Logres and The Region of the Summer Stars.  Moving to Oxford during World War II he became an Inkling.  Dorothy L. Sayers called him the Master of the Images (in Dante's Divine Comedy).  (Died 1945) [JH]
Born September 20, 1888 – Margery Stocking.  By 1914, writing and illustrating her own feature column in syndicated newspapers; in 1922, first woman to receive the Beaux Arts Medal from the Yale School of Architecture.  Fourteen years illustrating for Blue Book.  One of only four women who did pulp-magazine covers; Margaret Brundage was another.  MS' forty-five covers for the best-selling Ranch Romances are beyond us, but here is a mermaid; here is hunting a saber-tooth tiger; here are some nymphs, here a satyr; here is "Moonlight Fantasy".  (Died 1993) [JH]
Born September 20, 1935 — Keith Roberts. Author of Pavane, an amazing novel. I'll admit that I've not read anything else by him, so do tell me about other works please. I've just downloaded his collection of ghost stories, Winterwood and Other Hauntings, with an introduction by Robert Holdstock, from one of the usual digital suspects where he's very well stocked.  (Died 2000.) (CE)
Born September 20, 1940 — Jonathan Hardy. He was the voice of Dominar Rygel XVI, called simply Rygel, once the royal ruler of the Hynerian Empire, on Farscape.  He was also Police Commissioner Labatouche in Mad Max, and he had a one-off in the Mission: Impossible series that was produced in his native Australia in the "Submarine" episode as Etienne Reynard. (Died 2012.) (CE) 
Born September 20, 1948 – George R.R. Martin, 72.  First Hugo 1975, four more; two Nebulas; one Stoker; one coveted Balrog (the only kind that can be coveted, aiee); Skylark; two Geffens (Israel), four Ignotuses (Spain); Phantastik Preis (Germany); Seiun (Japan); World Fantasy Award for lifetime achievement.  His multi-author, multi-volume Wild Cards, and his Song of Ice and Fire, were well under way when he was Pro Guest of Honour at Torcon 3 the 61st Worldcon (and there was a fine "Winter is Coming" in the Masquerade), but no one dreamed of Ice and Fire's fantastic success on television.  Now that he has pleased millions a misdeed looses lightnings.  [JH]
Born September 20, 1955 — David Haig, 65. He played Pangol in "The Leisure Hive" a Fourth Doctor story. He also showed up on Blake's 7  in "Rumours of Death" as Forres, and was Colonel Bonnet in The Adventures of Young Indiana Jones: Tales of Innocence. He's also General Vandenberg in the 2006 film remake of A for Andromeda. Finally I should note he's The Player in Rosencrantz and Guildenstern Are Dead done at The Old Vic a few years back. (CE)
Born September 20, 1950 — James Blaylock, 70. One of my favorite writers. I'd recommend the the Ghosts trilogy, the Christian trilogy and The Adventures of Langdon St. Ives whichcollects all of the Langdon St. Ives adventures together as his best writing, but anything by him is worth reading. (CE) 
Born September 20, 1963 – Elise Broach, 57.  Two E.B. White Read Aloud Awards, two Amer. Lib'y Ass'n Notable Children's Books.  When Dinosaurs Came With Everything was a Time #1 Children's Book of the Year; Masterpiece a New York Times Best Seller, five sequels.  Six more novels, nine more picture books. Yale alumna, three degrees including M.Phil. History.  "I can draw most animals, and I can tell the color of an M&M by its taste….  We had to drive a rental truck 3,000 miles across country….  I had an excellent record on greens and browns."
Born September 20, 1974 — Owen Sheers, 46. His first novel, Resistance, tells the story of the inhabitants of a valley near Abergavenny in Wales in the Forties shortly after the failure of Operation Overlord and a successful German takeover of Britain. It's been made into a film.  He also wrote the "White Ravens", a contemporary take off the myth of Branwen Daughter of Llyr, found in the New Stories from the Mabinogion series. (CE) 
Born September 20, 1978 – Tiphanie Yanique, 42.  Nat'l Book Foundation "5 Under 35" honoree, 2010.  Distinguished Teaching Award at the New School, 2015.  Now at Emory.  Amer. Acad. Poets Prize, Felix Dennis Prize for Best First Collection.  Boston Review Fiction Prize, Kore Press Short Fiction Award, Pushcart Prize, Bocas Prize for Caribbean Literature (fiction).  Land of Love and Drowning, which is ours, won the Center for Fiction First Novel Prize and the Phyllis Wheatley Award.  [JH]
Born September 20, 1982 – Emilia Dziubak, 38.  Here is her cover for A Tale Magnolious.  Here is The House of Lost and Found.  Here is Where Are You, Mama? (in Polish).  Here is Gogi's Gambit.  Here is Two Options (in Polish).  [JH]
Born September 20, 1986 — Aldis Hodge, 34. He played Alec Hardison on the Leverage series. Ok, I know it's not precisely genre but if there's a spiritual descendant of Mission: Impossible, this series is it. Both the cast and their use are technology of that series are keeping with the MI spirit. He's also had one-offs on Charmed, Buffy the Vampire Slayer, Supernatural, The Walking Dead, Star Trek Discovery's Short Takes and Bones (which given that it crossed over with Sleepy Hollow…) (CE) 
(9) COMICS SECTION.
Incidental Comics' Grant Snider offers this advice:
(10) ANIMATION AHOY. "Sailor Moon's impact on modern American animation remains undeniable" asserts A.V.Club.
Twenty-five years after its U.S. television premiere, the impact of Sailor Moon on Japanese and Western animation remains undeniable. With its distinct visual vocabulary, story structure, and defined character archetypes, the series not only served as the blueprint for the many Japanese magical girl anime series that would follow it, but also established a visual aesthetic so iconic, we see references, parodies, and direct homages to the series throughout various Western television series—including transformation sequences in Teen Titans Go! and Star Vs. The Forces of Evil, Lisa Simpson dressed as Sailor Moon in The Simpsons, and even an episode of South Park, where Kenny receives a Sailor Moon brooch from the CEO of Sony that turns him into "Princess Kenny," a play on Princess Serenity. Cartoon Network has even posted a video compiling multiple Sailor Moon references that have appeared across the various series that air on the network. The tropes established by Sailor Moon soon became common features of the magical girl genre: cute, talking guide animals, everyday objects that secretly double as magical transformation amulets, and a tight-knit group of friends represented by different colors and elements….
(11) CAN'T DRAG HIM OUT OF THE DUNGEON. "This game of Dungeons & Dragons has been going on for 38 years" reports CNN.
Stay-at-home orders due to the ongoing pandemic have upended a lot of plans—weddings have been postponed, concerts have been canceled, vacations have been pushed aside. But one thing that can't be kept down? Robert Wardhaugh's game of Dungeons & Dragons.

For the past 38 years, Wardhaugh has been playing the same game of Dungeons & Dragons in Canada. Dungeons & Dragons is a fantasy tabletop role-playing game that usually involves lots of miniatures, lots of imaginary worlds, and lots of high adventure. Starting in 1982, that might make it the longest continuously running Dungeons & Dragons campaign, ever. Or, at least the longest Wardhaugh has ever heard of….
(12) HE HUFFED AND HE PUFFED. [Item by Mike Kennedy.] Dwayne "The Rock" Johnson—who has been cast to play DC villain Black Adam—apparently got a little peeved when his front gate wouldn't open during a power outage. He was late to work, so he did what any super-strong villain would do. He ripped the gate off the brick columns & threw it aside: "The Rock Goes Full 'Black Adam' On Gate During Power Outage, ROCK SMASH!"
"I pushed, pulled and ripped the gate completely off myself," Johnson said.

"Ripped it completely out of the brick wall, severed the steel hydraulics and threw it on the grass."

"My security team was able to meet the gate technician and welders about an hour later — and they were apparently, 'in disbelief and equally scared' as to how I ripped it off"
(13) MAGIC METAL. "Metalhead's Mulligan: Seven Heavy Records Inspired By 'Magic: The Gathering" at Bandcamp.
…Of course, like most forms of geekery and high fantasy, the game's spurred some pretty kick-ass metal, largely thanks to the art, which presents an abundance of aesthetic comfort food: zombies, skeletons, demons, blood sacrifice, and the like. "Fantasy literature, swords and sorcery/barbaric pulp and films, and tabletop/role-playing games have had a strong impact on metal music's aesthetic direction since the genre's nascent stages, so it only makes sense that someone fascinated with metal album covers would be interested in immersive gaming experiences that provide a similar art direction, and vice versa," says Jake Rogers, lead singer of Visigoth and lifelong Magic player. "If you're someone who grew up playing games such as Magic: The Gathering, Dungeons & Dragons, or Warhammer, and then discover Michael Whelan's art adorning a Cirith Ungol album, or happen across Omen's Battle Cry—the art for which looks like it could have been taken from an early Magic: The Gathering set—it only makes sense that your interest in the music would be piqued." With that in mind, here are seven metal albums that pay homage, both directly and indirectly, to the first and best trading card game ever made.
(14) CATCHING UP WITH THE DINOSAURS. Although this Smasher--made Jurassic World 3: Dominion trailer dropped in June, I don't seem to have linked to it yet. The film is now scheduled for release in June 2021.
(15) VIDEO OF THE DAY. In Write Your Story on Vimeo, Willy Hajli and William Kirn explain what happens when an employee rebels against her AI overlords.
[Thanks to John King Tarpinian, JJ, Martin Morse Wooster, John Hertz, Cat Eldridge, Mike Kennedy, Michael Toman, Contrarius, N., Rob Thornton, and Andrew Porter for some of these stories. Title credit goes to File 770 contributing editor of the day Patrick Morris Miller.]