Get ready for Ray Bradbury's hundred candle blowout on Saturday!
(1) FIRED UP FOR THE READ-A-THON. The "First Annual Ray Bradbury Read-A-Thon" is a national reading of Fahrenheit 451 that begins at 4:30 p.m. Eastern on August 22, 2020 to mark the 100th anniversary of Ray Bradbury's birth. View the entire reading on: RayBradburyReadAThon.com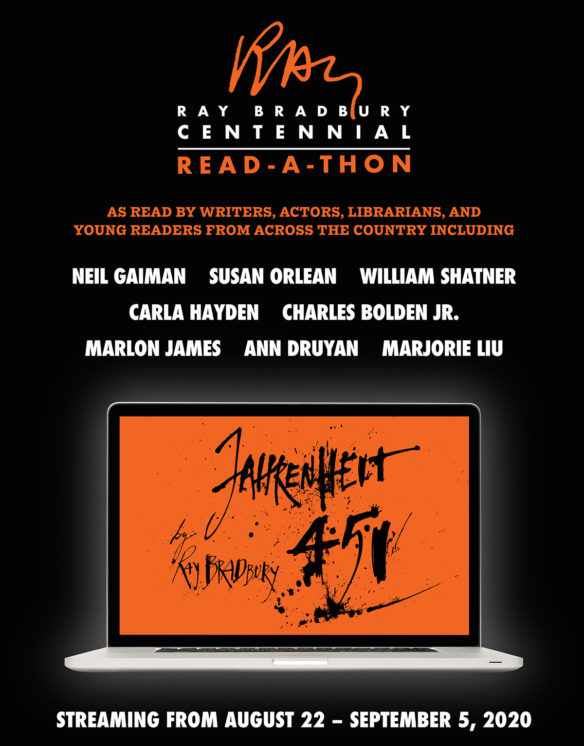 Readers young and old from across the nation will gather by their TV sets, computers, tablets, and phones to watch a historic reading of Ray Bradbury's classic novel Fahrenheit 451 streamed over YouTube, Facebook, and Instagram. The Library of Congress, the Los Angeles Public Library, and the Alliance for Young Artists & Writers, along with other public and university libraries nationwide have joined together to bring Bradbury's classic novel to today's audiences.

Carla Hayden, the Librarian of Congress, will introduce each of the three parts of Bradbury's book, while John Szabo (Los Angeles Public Library), Rachel Bloom (actress), Charles F. Bolden Jr. (12th NASA Administrator), and Ann Druyan (writer/producer/director) will offer additional introductions.

Readers from across the United States will join William Shatner (actor), Neil Gaiman (author), Marlon James (author), Marjorie Liu (author), P. Djèlí Clark (author), Dr. Brenda Greene (author), Alley Mills Bean (actress), James Reynolds (actor), Tananarive Due (author), and Steven Barnes (author) to bring this relevant work to social media. Susan Orlean (author) provides an afterword. 
(2) SEE RAY'S TYPEWRITER. The American Writers Museum in Chicago will admit visitors free on Bradbury's 100th birthday.
The American Writers Museum (AWM) welcomed visitors back one month ago with new safety measures including providing gloves and styluses to promote safe interaction with museum exhibits. On Saturday, August 22, the AWM will open its doors for free to mark the Centennial of Ray Bradbury's birth, giving visitors a chance to get an up-close look at Bradbury's typewriter that is on display in the Tools of the Trade exhibit and learn more about the upcoming exhibit Ray Bradbury: Inextinguishable, set to open in early 2021. 
(3) MARTIAN TAPESTRY. The Los Angeles Public Library kicked off the week with this brief biography — "A Week to Remember: Ray Bradbury".
…Bradbury was trying to get the second volume of stories published in 1949, but every publisher he approached told him they were looking for novels. He met at Doubleday with editor Walter Bradbury (no relation), who asked if his existing stories about the first human colony on Mars could be tied together into a novel; Walter even suggested a name: The Martian Chronicles. Ray wrote an outline for the connective material overnight, and Walter bought what was now a novel the next day.

The novel was a great success, in part because of another lucky accident. Bradbury happened to meet Christopher Isherwood in a bookstore shortly after the book was published. He gave Isherwood a copy, and Isherwood's glowing review of The Martian Chronicles helped bring the book to the attention of readers who might otherwise have ignored it. The book was so popular that Broadway composers Alan Jay Lerner and Frederick Loewe wanted to turn it into a musical. Bradbury declined, but did approve an operatic version several decades later.
(4) MASKED MAN. In the town where Ray was born – Waukegan, IL – the Ray Bradbury Experiene Museum is celebrating.
They're raising money, too, with RBEM logo masks.
(5) WAUKEGAN ACQUIRES CARNEGIE LIBRARY. And the officials of the City of Waukegan have a few things lined up: "Ray Bradbury Centennial". For example, they announced on August 13 –
In partnership with the Waukegan Historical Society, the Waukegan Park District is excited to announce that it has officially acquired the historic Carnegie Library from the City of Waukegan. The Carnegie Library, located at 1 N. Sheridan Road, was made famous by Ray Bradbury in a variety of stories, possibly most especially in Something Wicked This Way Comes. Designated as a Waukegan Historic Landmark and listed on the National Register of Historic Places, the Carnegie Library will become the new site for the Waukegan Historical Society's expanded history programming, archives, collections, exhibits, and research library. The building will also be used by the Waukegan Park District for programs, classes, events, and registrations.
(6) SEEING RED. John Grant, geologist at the Smithsonian National Air and Space Museum, reflects on Bradbury's impact on his career studying Mars: "Gaining Inspiration from The Martian Chronicles".
That I am a Martian is thanks in no small part to Ray Bradbury. As a child growing up in northern NY, I spent many nights reading and rereading his books. From Fahrenheit 451 to Something Wicked This Way Comes to The Illustrated Man and everything in between. But it was the Martian Chronicles that really captured my attention. After reading it multiple times, I'd play outside and imagine ancient Martian civilizations living on a drying Red Planet long before humans appeared on the Earth. 

This all happened at about the same time I was eagerly waiting for first the Mariner 9 and then Viking missions to reach Mars. Although prior missions had flown by the planet, these missions were the first to go into orbit and, in the case of Viking, successfully land on the surface of Mars. When Mariner 9 arrived at Mars, a global dust storm was largely obscuring the surface from view. As the dust slowly cleared and Mars was unveiled, a diverse landscape was revealed that included not only impact craters, but also giant volcanoes, ice caps, and even ancient water-carved channels. The Viking orbiters followed this up with even better and broader resolution images of surface features and the Viking landers revealed a landscape that to me looked somewhat similar to deserts on the Earth, sans vegetation of course. 
(7) RAY'S OLD HOME BY THE BEACH. The Friends of Venice (CA) Library are "Celebrating Bradbury's 100th Birthday" online – register at the link. This year's annual meeting will honor Ray Bradbury's Centennial with a showing of the classic Twilight Zone episode "I Sing the Body Electric," written by Bradbury. In addition, a visit by the LA Book Bike, and a joint display with the Venice Heritage Foundation will focus on Bradbury's life in Venice.
Venice news outlet The Argonaut explores his local roots in "Happy Birthday, Ray Bradbury!"
…Many may not be aware that Bradbury's life as a writer began in Venice. In 1942, he moved to a small house at 670 Venice Boulevard where he sat in a one-car garage and wrote short stories like "The Lake" and "The Wind" as well as the famed "Martian Chronicles." From "The Fog Horn" inspired by the shattered remains of the Venice Pier roller coaster to the decaying Venice Canals that set the scene for "Death Is a Lonely Business," Venice had a large influence on the stories he told.
(8) RAY'S FAMILY TREE. An article in Spanish at El Universal's Confablario – "Ray Bradbury, el hijo de Julio Verne" – "hijo" means "son" so you can figure out that part easily enough. It starts out quoting Ray's whole family tree —
En su prólogo a S is for Space Ray Douglas Bradbury escribió lo siguiente: "Julio Verne fue mi padre. H. G.Wells fue mi tío sabio. Edgar Allan Poe era el primo con alas de murciélago que guardábamos en lo alto del desván. Flash Gordon y Buck Rogers fueron mis hermanos y amigos. Ahí tienen mi linaje. Añadiendo, por supuesto, el hecho de que muy probablemente, Mary Wollstonecraft Shelley, la autora de Frankenstein, era mi madre".
(9) HERE'S A HEAD START ON THE BRADBURY READING. In 2018, LeVar Burton Reads gave fans "'The Great Wide World Over There' by Ray Bradbury".
A visitor's arrival delivers both wonder and heartache to a rural community. This story appears in Ray Bradbury's collection THE GOLDEN APPLES OF THE SUN. 
[Thanks to John King Tarpinian and Martin Morse Wooster for some of these stories.]