(1) TO QUIT, OR NOT TO QUIT. Four-time Bram Stoker Award winner Tim Waggoner reaches out to those who are thinking about giving up professional writing in "You Can't Fire Me!" at Writing in the Dark. He comes up with five reasons for quitting, but fourteen for not quitting.
…Don't worry. I'm not planning on quitting anytime soon. I still have four books that I've contracted to write, and I've always said that I need to write the same way I need to breathe. I don't think I could quit if I wanted to. But that doesn't mean I don't think about quitting sometimes. Hell, I've probably thought about it, to one degree of seriousness or another, hundreds of times over the years.

Quitting is viewed as one of the worst things you can do in American culture. It's giving up, showing weakness, proving you don't have what it takes to keep going, to keep fighting. But quitting writing – for whatever length of time – isn't necessarily bad. As a matter of fact, it could be exactly what you need.

Why You Should Quit Writing (or at Least Take a Break)

1)      You're not enjoying yourself. Writing isn't always fun and games, of course. There's a lot of hard work involved, not just in terms of craft but in terms of developing psychological resilience (to rejections, bad reviews, poor sales, etc.) But somewhere along the way, you should be getting some satisfaction from the process, and if you aren't, why do it? Writing might not always make you happy, but in the end, it should leave you feeling fulfilled….

Why You Shouldn't Quit Writing

1)      Your work is valued (by someone, somewhere). Maybe you don't have a zillion readers and aren't getting rich from your writing, but someone out there will read it and enjoy it. It might even change their lives in ways you'll never know. Your art is a contribution to the world, and the world is a better place because your work is in it.
(2) DREAMHAVEN HIT AGAIN. DreamHaven Books, the Minneapolis bookstore run by Greg Ketter that has already suffered so much from crime, has been broken into again. Ketter told Facebook readers "I'm not sure how much more I can take of this. Another fucking break-in at the store. Broke a window, glass everywhere. Took boxes of comics. Annoying and expensive."
DreamHaven has been repeatedly victimized. The store was vandalized during the May 2020 riots, with glass broken, bookcases turned over, and a failed attempt to set the place afire. Then, in November 2020, Ketter and an employee were attacked and robbed when they were closing for the night.
(3) STOKER AWARDS ADD CATEGORY. The Horror Writers Association announced a "New Bram Stoker Awards® Category: Superior Achievement in Middle-Grade Novel" which will be given for the first time in 2023.
For purposes of this Award, Middle-Grade novels are defined as novels (see clause IVe) intended for the age group 8-13 with word length beginning at 25,000 words. A Middle-Grade novel that is deemed to be a 'First Novel' according to Rule IVf may qualify for consideration in the 'First Novel' category (see Rule IVr) if the author insists in writing that the work be considered for 'First Novel' rather than 'Middle-Grade' novel; otherwise, said novel will remain in the 'Middle-Grade' novel category. The work may not be considered for both the 'First Novel' and 'Middle-Grade' novel categories concurrently.
Works published in 2022 will be the first year eligible for the award and will be presented at the Bram Stoker Awards ceremony in 2023.
(4) HELIOSPHERE MOVES DATES. HELIOsphere 2022 now will be taking place March 25 – 27 at the Radisson Hotel in Piscataway, NJ the committee announced today on Facebook. "This is due to an unfortunate but understandable double-booking by our hotel," the committee explained. And, "Because of the date change, Seanan McGuire and Chuck Gannon will unfortunately be unable to come this year, but we hope that they will be able to join us in the future. We are looking forward to Guests of Honor Peter David and Kathleen O'Shea David, and may have some other surprises in store, too."
(5) WHY 2023 SITE SELECTION SHOULD RESHAPE 2022 HUGO ELECTORATE. All the fans who bought supporting memberships in DisCon III so they would be eligible to vote for Chengdu in 2023 also acquired the right to cast nominating ballots for the 2022 Hugo Awards, creating an opportunity that the Hugo Book Club Blog discusses in "Hugos Unlike Any Previous".
The 2022 Hugo Awards seem likely to be unlike any previous Hugos, because the Hugo-nominating constituency will be unlike any previous.

As far as we are aware, there has yet to be a Worldcon in which the largest single contingent of the membership came from anywhere other than the United States. Likewise, as far as we can determine, there has yet to be a Hugo Awards at which the plurality of votes came from anywhere other than the United States.

… The vast majority of these memberships were bought by people who have never previously participated in voting on the Hugo Awards, as this will be their first Worldcon memberships. And excitingly, they will be eligible to nominate works for the Hugos in 2022. Given that there are usually little more than 1,000 nominating ballots cast in a given year, these supporting members of Discon III could have an enormous influence on what makes the ballot at the Chicago Worldcon. We encourage them to nominate…. 
(6) DALEK AT THE FRONT DOOR. "The Doctor Who treasure trove in a Northumberland village cellar" is what the Guardian calls Neil Cole's Museum of Classic Sci-Fi.
At first glance the Northumberland village of Allendale, with its pub and post office and random parking, is like hundreds of sleepy, charming villages across the UK. It's the Dalek that suggests something out of the ordinary.

Behind the Dalek is a four-storey Georgian townhouse. In the cellar of the house is a remarkable and unlikely collection of more than 200 costumes, props and artwork telling classic sci-fi stories of Doctor Who, Blake's 7, Star Trek, Flash Gordon, Marvel and many more.

Together they make up the collection of one of Britain's most eccentric small museums, one of many to be effectively forced into hibernation because of the pandemic.

Most are run on a shoestring. Not all of them will reopen. But Neil Cole, a teacher and creator of the Museum of Classic Sci-Fi, is cheerfully optimistic about the future.

"The closure has allowed me to restructure the museum and create more space," he says. "In a way it has been useful because it has given me time I don't normally get.

"I've made the best of it. I don't have a lot of money but I have got a lot of energy and I do everything myself."…
(7) BUSTED. Margaret Atwood was one of the authors targeted in this phishing scheme. "F.B.I. Arrests Man Accused of Stealing Unpublished Book Manuscripts" reports the New York Times.
They were perplexing thefts, lacking a clear motive or payoff, and they happened in the genteel, not particularly lucrative world of publishing: Someone was stealing unpublished book manuscripts.

The thefts and attempted thefts occurred primarily over email, by a fraudster impersonating publishing professionals and targeting authors, editors, agents and literary scouts who might have drafts of novels and other books.

The mystery may now be solved. On Wednesday, the Federal Bureau of Investigation arrested Filippo Bernardini, a 29-year-old rights coordinator for Simon & Schuster UK, saying that he "impersonated, defrauded, and attempted to defraud, hundreds of individuals" over five or more years, obtaining hundreds of unpublished manuscripts in the process.

…According to the indictment, to get his hands on the manuscripts, Mr. Bernardini would send out emails impersonating real people working in the publishing industry — a specific editor, for example — by using fake email addresses. He would employ slightly tweaked domain names like penguinrandornhouse.com instead of penguinrandomhouse.com, — putting an "rn" in place of an "m." The indictment said he had registered more than 160 fraudulent internet domains that impersonated publishing professionals and companies.

Mr. Bernardini also targeted a New York City-based literary scouting company. He set up impostor login pages that prompted his victims to enter their usernames and passwords, which gave him broad access to the scouting company's database.
(8) MEMORY LANE.
2008 — [Item by Cat Eldridge.] Fourteen years ago at Denvention 3, where Will McCarthy was the Toastmaster, Stardust won the Hugo for Best Dramatic Presentation, Long Form. The other nominated works that year were Heroes, season 1, Harry Potter and the Order of the Phoenix, Enchanted and The Golden Compass. It followed wins for American Gods for Best Novel at  ConJosé, "Coraline" for Best Novella at TorCon 3, "A Study in Emerald" for Best Short Story at Noreascon 4. It would hardly be his last Hugo but that's a story for another time, isn't it? Stardust, the novel, was not nominated for a Hugo but it did win a Mythopoeic Fantasy Award for Adult Literature.
There's a superb audio narrative of Neil reading Stardust that I must wholeheartedly recommend.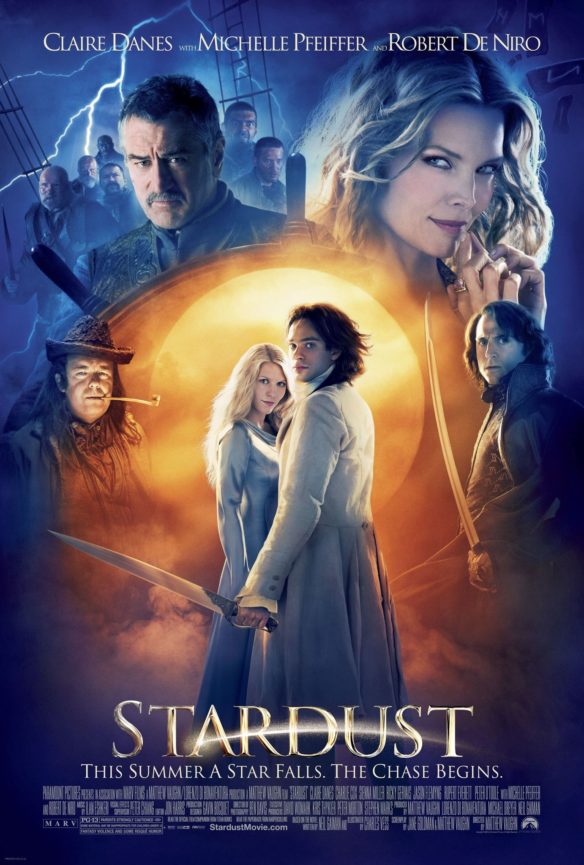 (9) TODAY'S BIRTHDAYS.
[Compiled by Cat Eldridge.]
Born January 6, 1895 — Tom Fadden. He's on the Birthday Honors List for the original  Invasion of the Body Snatchers where his character was one of the first victims to yield to the invaders. It wasn't his first SFF role as some thirty years before that role, he would make his Broadway debut as Peter Jekyll in The Wonderful Visit based off the novel of the same name by H. G. Wells, who also co-wrote the play. The last note of his that I'll not was that one of his first television roles was Eben Kent, the man who adopts Kal-El on the first episode of The Adventures of Superman series. (Died 1980.)
Born January 6, 1905 — Eric Frank Russell. He won the first Hugo Award for Best Short Story at Clevention in 1955 for "Allamagoosa," published in the May 1955 issue of Astounding Science Fiction. Sinister Barrier, his first novel, appeared in Unknown in 1939, the first novel to appear there. Most of his work has not made to the digital realm yet. What's you favorite work by him? (Died 1978.)
Born January 6, 1954 — Anthony Minghella. He adapted his Jim Henson's The Storyteller scripts into story form which were published in his Jim Henson's The Storyteller collection. They're quite excellent actually. (Died 2008.)
Born January 6, 1955 — Rowan Atkinson, 67. An unlikely Birthday perhaps except for that he was the lead in Doctor Who and The Curse of Fatal Death which I know did not give him the dubious distinction of the shortest lived Doctor as that goes another actor though who I've not a clue. Other genre appearances were scant I think (clause inserted for the nit pickers here) though he did play Nigel Small-Fawcett in Never Say Never Again and Mr. Stringer in The Witches which I really like even if the author hates.  
Born January 6, 1958 — Wayne Barlowe, 64. Artist whose Barlowe's Guide to Extraterrestrials from the late Seventies I still remember fondly. It was nominated at Noreascon 2 for a Hugo but came in third with Peter Nichol's Science Fiction Encyclopedia garnering the Award that year.  His background paintings have been used in Galaxy Quest, Babylon 5, John Carter and Pacific Rim to name but a few films. 
Born January 6, 1959 — Ahrvid Engholm, 63. Swedish conrunning and fanzine fan who worked on many Nasacons as well as on Swecons. Founder of the long running Baltcon. He has many fanzines including Vheckans Avfentyr, Fanytt, Multum Est and others. He was a member of Lund Fantasy Fan Society in the University of Lund.
Born January 6, 1960 — Andrea Thompson, 62. I'll not mention her memorable scene on Arli$$ as it's not genre though it was worth seeing. Her best genre work was as the telepath Talia Winters on Babylon 5. Her first genre role was in Nightmare Weekend which I'll say was definitely a schlock film. Next up was playing a monster in the short lived Monsters anthology series. She had an one-off on Quantum Leap before landing the Talia Winters gig. Then came Captain Simian & The Space Monkeys. Really. Truly. Her last genre role to date appears to be in the Heroes: Destiny web series. 
Born January 6, 1969 — Aron Eisenberg. Nog on Deep Space 9. Way after DS9, he'd show up in Renegades, a might-be Trek series loaded with Trek alumni including Nichelle Nichols, Robert Beltran,  Koenig and Terry Farrell. It lasted two episodes. (Died 2019.)
(10) COMICS SECTION.
Off the Mark finds an alternate-world Willie Wonka whose movie is going to be very short.
(11) SPOILER WARNING. Radio Times asks, "Doctor Who: Is Yaz's gay awakening too little too late?"
…It's easy to see why such a last-minute development could be seen as tokenistic – a way of keeping Queer fans happy without having to depict an actual romance between the pair, because there simply won't be enough time now. But could it be that a romantic attraction between Yaz and the Doctor was never planned by writer Chris Chibnall, and that it just emerged from natural chemistry between the actors? And if so, is that such a crime?…
(12) LOOKING BACK. In "Doctor Who spin-off writer on what made Sarah Jane show a 'big hit'", Phil Ford shares a key reason with Radio Times.
Premiering in 2007 and running for five series before wrapping up in 2011, The Sarah Jane Adventures (SJA) was created by Doctor Who's then-showrunner, the fan favourite Russell T Davies. From the second series onwards, Phil Ford was the head writer and co-producer on the Elisabeth Sladen-starring show.

Speaking to RadioTimes.com for our RT Rewind retrospective on The Sarah Jane Adventures, Ford summed up the show's broad appeal like so: "Russell always was of the opinion there was really no story that you couldn't tell kids, as long as you told it in the in the correct way."

"We never really pulled our punches so much on The Sarah Jane Adventures," Ford added, "and I think that's one of the things that made it such a big hit with kids and with their parents as well." Essentially, then, the show's ability to tell bold stories in an unfiltered way – even stories with hard-hitting, real-life topics – gave the series a resonance that appealed across numerous age groups.

Ford elaborated on that point with a specific example from one of his episodes: "In The Eye of the Gorgon [Ford's first script for the series], a lot of it is about a woman who has dementia. I remember, very early on, Russell talking about the responsibility that we had, because there would be kids who would have grandparents who were going through the same thing.

"We didn't want to magically take that away from her through the sci-fi story: it was important to Russell and to us that we were true to the condition. We didn't want to tell kids, 'It's okay, because your grandparents who are suffering awful conditions could be magically made well again'. Telling mature stories and finding the truth was something that we tried to do all the way through."…
(13) NAME YOUR PRICE FOR DE CAMP COLLECTION. The Publisher's Pick free ebook program this month is offering The Best of L. Sprague de Camp. "The cart will show the suggested price of $1.99. You may change it to any price including $0.00"
A science fiction collection by one of the all-time greats of science fiction, L. Sprague de Camp. These stories and poems exemplify de Camp's unique outlook on life and mankind and are told with a quiet but sharp irony that became his trademark. Bold, inventive and humorous, this collection is a must for fans of the writer.
(14) OCTOTHORPE. In episode 48 of the Octothorpe podcast "The Things You Nominate Are All Extremely Unpopular" —
John Coxon and Alison Scott are watching cutting-edge TV, and Liz Batty is hungry. We discuss the @HugoAwards, talk about how (not to) get sponsorship for your event, and discuss some upcoming NASFiC bids in the wake of the @chengduworldcon.
The Octothorpe crew also sent along a faux advertising slogan saying "Sponsored by Tyrell: More Human than Human" with the shield of the Tyrell Corporation.
(15) DECLAN FINN. White Ops, a new novel by Dragon Award nominee Declan Finn, will be released January 18 from Richard Paolinelli's Tuscany Bay Books.
The Pharmakoi rampaged across dozens of star systems, taking on the toughest races in the Galaxy in their campaign of conquest. But they are only the beginning.

Sean Patrick Ryan sees that another race is behind the Pharmakoi expansion; a race that wants to test our galaxy for weakness, and who needs to be eliminated from within. To fight the enemy in the shadows, Sean will put together a strike team to light up the darkness— with nukes if necessary.

They will get the job done at any cost.
Declan Finn is a NYC-based author of thrillers, urban fantasy, and sff. White Ops is available as an ebook from Amazon.com and Amazon.ca. Two more books in the series are on the way: Politics Kills on February 15, and Main Street D.O.A. on March 15.
[Based on a press release sent to File 770, which is happy to honor Finn and Paolinelli's request to help launch this book.]
(16) FRIENDLY GHOST. Darcy Bell tells about "The House That Was Haunted By Benevolent Ghosts" at CrimeReads. Here is the middle of her anecdote.
…Though the renovation wasn't finished, they invited friends for a weekend. They half hoped, half didn't hope, that they would all hear the music, so at least they would have witnesses. But no music sounded, no one heard anything.

Until the next Saturday night, when they were alone . This time it was a man singing "Nessun Dorma," from Turnadot.

Nessun dorma, said the husband, means: No one can sleep.

The husband wanted to tell someone, he even suggested hiring one of those people who get rid of poltergeists. They could just ask…The wife refused. She worried that if anyone knew she was hallucinating,  they'd think she wasn't fit to be a mother. She didn't tell her doctor. They didn't tell the contractor why they wanted extra insulation between their bedroom and the attic, and anyway, it didn't muffle the music….
(17) RUSSIAN SPACE MISSIONS THIS YEAR. Nature's list of "Science events 2022 to watch out for" includes a Russian Luna lander and also Russian–European ExoMars mission with UK Rosalind Franklin rover atop Russian Kazachok platform.
Another epic space journey to watch will be the joint Russian–European ExoMars mission, which is scheduled to blast off in September. It will carry the European Space Agency's Rosalind Franklin rover to Mars, where it will search for signs of past life. The launch was originally scheduled for 2020, but has been delayed, partly because of issues with the parachutes needed to touch down safely.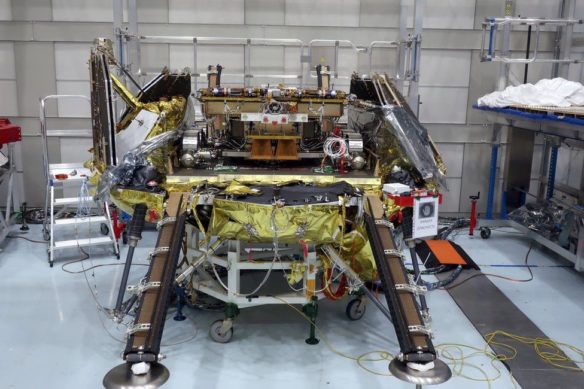 [Thanks to Cat Eldridge, Mike Kennedy, Chris Barkley, Ian Randal Strock, SF Concatenation's Jonathan Cowie, Martin Morse Wooster, JJ, John King Tarpinian, Andrew Porter, and Michael Toman for some of these stories. Title credit belongs to File 770 contributing editor of the day Andrew (not Werdna).]