(1) WELCOME WAGON. SFWA President Mary Robinette Kowal responded to the Romance Writers of America meltdown by tweeting, "As president of SFWA, please accept my invitation to consider our organization if you feel your work has a kinship with SFF, even a tenuous tie." Thread starts here.
Many interesting replies. A couple of them are –
(2) STAR POWER. Thomas Disch dominated the Galactic Stars awards presented by Galactic Journey for the best sff of 1964: [December 25, 1964] Stars of Bethlehem and Galactic Journey (Galactic Stars 1964).
Best author(s)

Tom Disch

This Cele Lalli discovery, just 24 years old, garnered three Galactic Stars this year.

He narrowly beats out Harry Harrison (and Harrison might have been on top, but he came out with clunkers as well as masterpieces this year).
And bless the Journey staff for recognizing newzines in this category —
Best Fanzine
Starspinkle gave up the ghost last month, though it has a lookalike sequel, Ratatosk. They were/are both nice little gossip biweeklies.
(3) CLASSIC IRISH FANWRITING. The Willis Papers by Walt Willis is the latest free download produced by David Langford in hopes of inspiring donations to the Trans-Atlantic Fan Fund.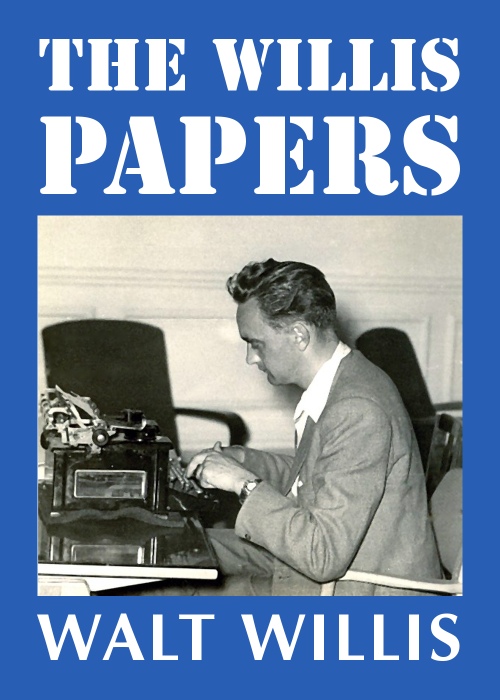 A collection covering the first decade (and a bit) of Walt Willis's fanzine writing, from his 1948 debut in Slant to 1959, edited by George W. Field and published by Ted Johnstone in August 1961. As well as twenty-two classic Willis articles, there are Prefaces by both editor and publisher, while Vin¢ Clarke and John Berry provide not entirely serious tributes to the great man.

The text of The Willis Papers was long ago transcribed into HTML by Judy Bemis for Fanac.org, and this Ansible Editions ebook is gratefully based on that version. The cover photograph of Walt Willis at the 1957 London Worldcon was taken by Peter West. (From the Ethel Lindsay photo archive, courtesy of Rob Hansen.) Ebook released on 25 December 2019. 31,500 words.

Walt Willis was born in October 1919, and his centenary in 2019 has been little remarked in science fiction fandom.
One small gesture is the simultaneous ebook release of Beyond the Enchanted Duplicator and The Willis Papers as a 2019 Christmas treat for fans.
(4) CASUALTY LIST. "China Blocks American Books as Trade War Simmers" — the New York Times has the story.
…Publishers inside and outside China say the release of American books has come to a virtual standstill, cutting them off from a big market of voracious readers.

"American writers and scholars are very important in every sector," said Sophie Lin, an editor at a private publishing company in Beijing. "It has had a tremendous impact on us and on the industry." After new titles failed to gain approval, she said, her company stopped editing and translating about a dozen pending books to cut costs.

The Chinese book world is cautiously optimistic that the partial trade truce reached this month between Beijing and Washington will break the logjam, according to book editors and others in the publishing industry who spoke to The New York Times.

… Still, publishing industry insiders describe a near freeze of regulatory approvals, one that could make the publishing industry reluctant to buy the rights to sell American books in China.

"Chinese publishers will definitely change their focus," said Andy Liu, an editor at a Beijing publishing company, adding that the United States was one of China's most frequent and profitable sources of books.

"Publishing American books is now a risky business," he said. "It's shaking the very premise of trying to introduce foreign books" as a business.

While China is known for its censorship, it is also a huge market for books, including international ones. It has become the world's second-largest publishing market after the United States, according to the International Publishers Association, as an increasingly educated and affluent country looks for something engrossing to curl up with.
(5) EATING THE FANTASTIC. Scott Edelman invites listeners to chow down on cannoli with author Bob Proeh in Episode 112 of his Eating the Fantastic podcast.
This time around, you get to take a seat at the table with Bob Proehl, who published his first novel in in 2016. A Hundred Thousand Worlds is about the star of a cult sci-fi TV show and her nine-year-old son making a cross-country road trip with many stops at comic book conventions along the way, and was named a Booklist best book of the year.

His latest novel, The Nobody People, about the emergence of super-powered beings who've been living among us, came out earlier this year…

We slipped away to Sabatino's Italian restaurant …where we chatted over orders of veal parmigiana and eggplant parmigiana. (I'll leave it to you to guess which of us was the carnivore, though I suspect that if you're a regular listener, you'll already know.)

We discussed how it really all began for him with poetry, the way giving a non-comics reader Watchmen for their first comic is like giving a non-novel reader Ulysses as their first novel, why discovering Sandman was a lifesaver, the reason the Flying Burrito Brothers 1968 debut album The Gilded Palace of Sin matters so much to him, why he had a case of Imposter Syndrome over his first book and how he survived it, the reasons he's so offended by The Big Bang Theory, what he meant when he said "I actually like boring books," his love for The X-Files, Buffy the Vampire Slayer, and the X-Men, whether it's hard to get a beer in New York at six o'clock in the morning, why he wasn't disappointed in the Lost finale, and much more.
(6) HECK YEAH. The DisINSIDER says "'Crazy Rich Asians' Director Wants To Tackle A Rose Tico Series on Disney+".
…Of course the tweet is simply just that a tweet, and doesn't mean anything will come it. However, Chu is a hot name in the industry after directing the 2018 hit Crazy Rich Asians, he would be a fantastic choice to develop a Rose Tico series. Chu is currently working on the film adaptation of In The Heights based on the hit broadway musical, and will return to direct China Rich Girlfriend.
(7) INSIDE SFF HISTORY. Jonathan Lethem interviews M. John Harrison at Literatura Inglesa. The English language version follows the long Spanish language one — scroll down. "Derribando los pilares de la ficción: una entrevista con M. John Harrison."
You also mentioned that your time at New Worlds was an exciting one as it provided you with the possibility to read the manuscripts of Ballard's stories even before they were printed. What's interesting to me is that, while writers like Aldiss or Moorcock, who loved SF and fantasy genre and helped revitalize it (although Aldiss later disowned his participation in the new wave "movement"), Ballard seemed to quickly abandon the genre (except, maybe, for Hello America).

I think it took Ballard a long time to "abandon" the genre, if he can be said to have done that, and that the process began much earlier than people admit. From the beginning his relationship to science fiction was modified by his personality, his needs as a writer, and his many cultural influences outside SF. So from the outset of his career he was working his way towards the idiopathic manner we associate with short stories like "The Terminal Beach" and novels like The Drought and The Atrocity Exhibition. It was not so much an "abandonment" as a steady evolutionary process. This happens with writers. They develop.
(8) SUPERCOLLABORATOR. CBR.com looks back on "When Superman Helped Kurt Vonnegut Write a Novel!".
Today, based on a suggestion from reader Stephen R., we take a look at the time that Clark Kent had to help Kurt Vonnegut finish a novel!

The story appeared in 1974's Superman #274 by Gerry Conway, Curt Swan and Vince Colletta, where Clark Kent and Kurt Vonnegut are both on a talk show together…

The "Wade Halibut" name is a reference to Vonnegut's famous fictional writer, Kilgore Trout, who appeared in many of Vonnegut's classic works, like Breakfast of Champions and Slaughterhouse Five…
(9) TODAY IN HISTORY.
December 27, 1904 –J. M. Barrie's play Peter Pan premiered in London.
December 27, 1951 — Captain Video: Master of the Stratosphere premiered on film screens. It was directed by Spencer Gordon Bennet and Wallace A. Grissel with a script by Royal G. Cole, Sherman I. Lowe and Joseph F. Poland. Judd Holdren, in what was only his second starring screen role, plays Captain Video, the leader of a group of crime-fighters known as the Video Rangers. This fifteen-part movie serial is unusual as it's based off a tv series, Captain Video and His Video Rangers. Like most similar series, critical reviews are scant and there is no rating at Rotten Tomatoes. It was popular enough that it aired repeatedly until the early Sixties. There's a few episodes up on YouTube – here's one.
December 27, 1995 — Timemaster premiered on this date. It was directed by James Glickenhaus and starred his son Jesse Cameron-Glickenhaus, Pat Morita and Duncan Regehr. It also features Michelle Williams in one of her first film roles, something she now calls one of the worst experiences of her acting career. The film got universally negative, if not actively hostile, reviews and has a 0% rating among reviewers at Rotten Tomatoes.
(10) TODAY'S BIRTHDAYS.
[Compiled by Cat Eldridge.]
Born December 27, 1888 — Thea von Harbou. She penned the novel Metropolis based upon her uncredited screenplay of that film for husband Fritz Lang. She also collaborated with him on other projects, none of which save her 1922 Phantom screenplay appear to be genre. (Died 1954.)
Born December 27, 1917 — Ken Slater. In 1947, while serving in the British Army, he started Operation Fantast, a network of fans which had eight hundred members around the world by the early Fifties though it folded a few years later. Through Operation Fantast, he was a major importer of American SFF books and magazines into the U.K. – an undertaking which he continued, after it ceased to exist, through his company Fantast up to the time of his passing. He was a founding member of the British Science Fiction Association in 1958. (Died 2008.)
Born December 27, 1938 — Jean Hale, 81. If you've watched Sixties genre television, you've likely seen her as she showed up on My Favorite Martian, In Like Flint (at least genre adjacent), Alfred Hitchcock Presents, My Brother the Angel, Wild Wild West, Batman and Tarzan.
Born December 27, 1948 — Gerard Depardieu, 71. He's in Kenneth Branagh's Hamlet which we all agree (I think we agree) is genre. He plays Obélix in the French film Asterix & Obélix and Asterix at the Olympic Games: Mission Cleopatra and is Cardinal Mazarin in La Femme Musketeer.
Born December 27, 1951 — Robbie Bourget, 68. She started out as an Ottawa area fan, where she became involved in a local Who club and the OSFS before moving to LA and becoming deeply involved in LASFS. She was a key member of many a Worldcon and Who convention over the years (she was the co-DUFF winner with Marty Cantor for Aussiecon) before she moved to London in the late Nineties.
Born December 27, 1951 — Charles Band, 68. ExploItation film maker who's here because some of his source material is SFF in origin. Arena was scripted off the Fredric Brown "Arena" short story which first ran in the June 1944 Astounding, and From Beyond which was based on H P Lovecraft's short story of the same name, first published in June 1934 issue of The Fantasy Fan.
Born December 27, 1960 — Maryam d'Abo, 59. She's best known as Kara Milovy in The Living Daylights. Her first genre role was her screen debut in the very low-budget SF horror film Xtro, an Alien rip-off. She was Ta'Ra in Something Is Out There, a miniseries that was well received and but got piss poor ratings. Did you know there was a live Mowgli: The New Adventures of the Jungle Book? I didn't. She was Elaine Bendel, a recurring role in it.
Born December 27, 1969 — Sarah Jane Vowell, 50. She's a author, journalist, essayist, historian, podcaster, social commentator and actress. Impressive, but she gets Birthday Honors for being the voice of Violet Parr in the Incredibles franchise. I say franchise as I've no doubt that a third film is already bring scripted.
Born December 27, 1977 — Sinead Keenan, 42. She's in the Eleventh Doctor story "The End of Time" as Addams, but her full face make-up guarantees that you won't recognize her. If you want to see her, she's a Who fan in The Five(ish) Doctors Reboot. Her final Who work is a Big Finish audio drama, Iterations of I, a Fifth Doctor story. And she played Nina Pickering, a werewolf, in Being Human for quite a long time.
Born December 27, 1987 — Lily Cole, 32. Been awhile since I found a Who performer and so let's have another now. She played The Siren in the Eleventh Doctor story, "The Curse of The Black Spot". She's also in some obscure film called Star Wars: The Last Jedi as a character named Lovey. And she shows up in the important role of Valentina in The Imaginarium of Doctor Parnassus. Not mention she's in Snow White and The Huntsman as Greta, a great film indeed.
Born December 27, 1995 — Timothée Chalamet, 24. First SF role was as the young Tom Cooper in the well received Interstellar. To date, his only other genre role has been as Zac in One & Two but I'm strongly intrigued that he's set to play Paul Atreides In Director Denis Villeneuve forthcoming Dune. Villeneuve is doing it as a set of films instead of just one film which will either work well or terribly go wrong.
(11) HEARING FROM THE EXPANSE. The Guardian books podcasts asks the authors of The Expanse, "When imagining our future, what can sci-fi teach us?"
This week, Richard sits down with duo Daniel Abraham and Ty Franck, who write science fiction together under the name James SA Corey. Their bestselling space-opera series, The Expanse, which started in 2012 and is due to end in 2021, is set in the middle of the 24th century, when humanity has colonised the solar system. Human society is now beyond race and gender, and is instead divided on a planetary level: those living on Earth, on Mars and on various asteroids, moons and space stations called Belters.

The eighth book in the series, Tiamat's Wrath, is the latest, while the fourth season of the award-winning TV adaptation [is] on Amazon Prime on 13 December.

And Claire, Richard and Sian discuss the 20 books up for the 2019 Costa awards shortlists.
(12) A RECORD RECORD. As Bruce Sterling said, new technologies don't replace old technologies. But how many of the old ones hang onto life so tenaciously — Billboard's numbers show "Harry Styles, Billie Eilish & The Beatles Help Vinyl Album Sales Hit Record Week in U.S."
Vinyl album sales hit yet another record week in the U.S., according to Nielsen Music.

In the week ending Dec. 19, the data tracking firm reports 973,000 vinyl albums were sold in the U.S. — marking the single biggest week for vinyl album sales since the company began electronically tracking music sales in 1991.
(13) NIGHT BLIGHT. "Satellite constellations: Astronomers warn of threat to view of Universe" – the Dave Clements mentioned in BBC's report is an SF fan.
From next week, a campaign to launch thousands of new satellites will begin in earnest, offering high-speed internet access from space.

But the first fleets of these spacecraft, which have already been sent into orbit by US company SpaceX, are affecting images of the night sky.

They are appearing as bright white streaks, so dazzling that they are competing with the stars.

Scientists are worried that future "mega-constellations" of satellites could obscure images from optical telescopes and interfere with radio astronomy observations.

Dr Dave Clements, an astrophysicist from Imperial College London, told BBC News: "The night sky is a commons – and what we have here is a tragedy of the commons."

The companies involved said they were working with astronomers to minimise the impact of the satellites.
And Clements occasionally writes sff – his story "Last of the Guerrilla Gardeners" originally appeared in Nature.
(14) OUT OF CHARACTER. Ganrielle Russon, in the Orlando Sentinel story "The Disney employees behind Mickey Mouse, Minnie and Donald Duck were violated by tourists", says that three Walt Disney World employees say they were inappropriately touched while in costume at Walt Disney World and have filed grievances.
…Another incident happened that same day at the Magic Kingdom, the world's busiest theme park.

It started innocently when a 36-year-old Disney employee who portrays Minnie Mouse posed for pictures with a man and his wife from Minnesota in the park's circus-themed meet-and-greet area.

Afterward, Minnie Mouse gave the man a hug. Then without saying a word, he groped her chest three times, according to the sheriff's incident report.

The employee alerted her supervisors. On Dec. 6, she identified pictures of the 61-year-old man from Brewster, Minn.

She decided against pressing charges.

It wasn't the first time the man had done something wrong at Disney World on his trip.

The man also had "an inappropriate interaction with a cast member" Dec. 5 at the Magic Kingdom, according to the sheriff's office incident report that didn't provide any additional details on what happened. Disney declined to elaborate.
(15) RAPPED GIFT. Bad Lip Reading dropped a bizarre "A Bad Lip Reading of The Last Jedi" on Christmas.
[Thanks to JJ, Chip Hitchcock, Hampus Eckerman, Mike Kennedy, Andrew Porter, SF Concatenation's Jonathan Cowie, Martin Morse Wooster, Cat Eldridge, and John King Tarpinian for some of these stories. Title credit belongs to File 770 contributing editor of the day Robert Whitaker Sirignano.]