(1) SETTING THE SCENE. For the premiere of First Man they turned the Cinerama Dome in Hollywood into the moon.
(2) TERRESTRIAL RAYS. The versions available today are much too big to work as phasers, however, Cosmos assures readers that "The ray-gun is no longer science fiction".
In the last decade we've seen spectacular advances in laser technology that may make the ray-gun practical again.

The Laser Weapons System (LaWS) is one of the first of a new breed of more compact systems based on the fibre laser. Fibre lasers can generate laser beams at efficiencies of 40%, far higher than conventional lasers, and achieve kilowatt powers. High power fibre lasers are already used in industrial cutting and welding machines, some with laser power of 100 kW and capable of welding blocks of metal parts 30 cm thick.

A 100 kW infra-red laser is exactly the 'heat-ray' that Wells imagined—equivalent to using a giant, kilometre-wide magnifying glass to focus the sun's heat energy onto a single point the size of your fingernail.

The objective for LaWS is to affordably shoot down cheaply made insurgent rockets and drones, without wasting absurdly expensive missiles. While an anti-air cruise missile might cost hundreds of thousands of dollars, a single shot from LaWS works out at about $1 in energy cost. In 2014, a LaWS prototype installed on the USS Ponce demonstrated it could shoot down drones and disable boats. The US Air Force plans to put a similar device, developed by Lockheed Martin, on a fighter jet by 2021.

One difference from movie sci-fi, these real ray-guns don't emit exciting 'Pew! Pew!' sound effects when they fire. They're silent. Wells' ominous words are more apt: "this invisible, inevitable sword of heat."
(3) CASTING CALL. For a Dublin 2019 production —
At the first Irish WorldCon, in Dublin next year, we're going to be staging "Jophan!," Erwin Strauss' musical adaptation of the great classic of Irish fanwriting, "The Enchanted Duplicator".

We are after people interested in being involved with the production. DM for details.

— Dublin2019 (@Dublin2019) October 2, 2018
(4) CAMPAIGNING AGAINST THE JEDI. The Hollywood Reporter boosts the signal — "'Star Wars: The Last Jedi' Negative Buzz Amplified by Russian Trolls, Study Finds". Or as Rainbow Rowell puts it —
"Overall, 50.9% of those tweeting negatively [about The Last Jedi] was likely politically motivated or not even human." NOT EVEN HUMAN. https://t.co/Qipps6ty9v

— Rainbow Rowell (@rainbowrowell) October 2, 2018
An academic paper finds that half of criticism aimed at director Rian Johnson was politically motivated.

Did Star Wars: The Last Jedi destroy the franchise and permanently rupture the fandom as its critics (melodramatically) have accused it of doing? According to a new academic paper by researcher Morten Bay, the answer is clearly no.

The paper, titled Weaponizing The Haters: The Last Jedi and the strategic politicization of pop culture through social media manipulation, examines the online response to 2017's Last Jedi, a movie that has come to be considered controversial amongst the larger fanbase of the franchise.

Bay suggests that reputation may not be earned, and instead "finds evidence of deliberate, organized political influence measures disguised as fan arguments," as he writes in the paper's abstract. He continues, "The likely objective of these measures is increasing media coverage of the fandom conflict, thereby adding to and further propagating a narrative of widespread discord and dysfunction in American society. Persuading voters of this narrative remains a strategic goal for the U.S. alt-right movement, as well as the Russian Federation."
(5) BLEAK GEEK. Variety discovered "The Connection Between the Brett Kavanaugh Hearings and Gamergate".
…Following the revelations regarding his potential involvement in the allegations against Kavanaugh, Judge deleted his Twitter account. However, what remains via screenshots and tweets from others shows regular interaction with other prominent figures in the alt-right, including Chuck Johnson and actor Adam Baldwin, who helped coin the term Gamergate.

In his first Gamergate story for the publication in 2015, Judge exclusively takes aim at Feminist Frequency founder Anita Sarkeesian, a frequent target of Gamergate harassment, labeling her arguments as "overly broad." While he suggests that the harassment campaign against Sarkeesian was "disgusting, sad, and intolerable," he quickly pivots to talk about how "gamers have absolutely demolished" her points….
(6) S&S. DMR begins a Wollheim retrospective with "The Sword and Sorcery Legacy of Donald A. Wollheim: Part One".
From the day he published the first part of Robert E. Howard's "The Hyborian Age" in the Spring 1936 issue of The Phantagraph, Donald A. Wollheim–at the ripe old age of twenty-one–began making his mark as an editor in the field of sword and sorcery literature. REH died soon after and Wollheim never published the entire essay, but his S&S cred had been established. To be able to claim the honor of publishing something Conan-related straight from the typewriter of Howard while he was still alive would be a horn on the helm of any heroic fantasy editor, but Don had much more to contribute in the decades to come.
(7) PIONEERING CHARACTERIZATION. Ira Galdkova's self-revelatory literary exploration, "Miles Vorkosigan and 'Excellent Life Choices': (Neuro)Divergence and Decision-Making in Bujold's Vorkosigan Saga", is featured at Uncanny.
But that very preoccupation with appearance is what I want to talk about. Miles spends so much more time and energy working to normalize the way he looks than normalizing the way he thinks that he can come off as downright anosognosic when it comes to his own neurodivergence. It is only halfway through the series, when Miles makes a disastrous decision while neither manic nor depressed, that he truly grapples with how he makes decisions and weighs choices. Miles is clearly meant to be seen as nonnormative, and psychological treatments are explicitly available in his world. His mother Cordelia advocates therapy in cases such as trauma but doesn't seek to pathologize Miles's brain or suggest any form of professional psychological treatment. Other characters also comment on Miles's mental state(s) but eschew the idea of therapy: "You mean psychiatric? Absolutely not. Real bad idea. If the psych boys ever got hold of him, they'd never let him go. No. This is a family matter."  In other words, Miles may not be aware of his own neurodivergence, but the text explicitly is, and the way Bujold plays with Miles's decision making is worth examining.

The narrative thrust of the Vorkosigan Saga is predicated largely on Miles's many questionable decisions, and decision making is a classic casualty of both bipolar disorder and ADHD. In sharing those conditions, I find Miles fascinating as a protagonist—as subject rather than object. Although recent works like Mishell Baker's Borderline and Rivers Solomon's An Unkindness of Ghosts feature neurodivergent protagonists, Miles predates them by decades. Society, and by reflection literature, has long framed neurodivergence as a problem to be solved, as a topic rather than a subjective experience. It's unclear how intentional Bujold was in her portrayal of Miles's psyche vis-a-vis our pathologized categorizations of conditions such as bipolar and ADHD, but she has consistently captured how those conditions affect the ability to make decisions, and the ability to live with them.
(8) DWYER OBIT. Award-winning set decorator John M. Dwyer has died at the age of 83. The Hollywood Reporter obituary recollected his work on Star Trek, crediting him with the creation of the tribble. (We'll set aside the role of David Gerrold and Robert Heinlein til another day…)
The 6-foot-6 Dwyer joined the original Star Trek for its second season in 1967, and the first episode on which he was employed was the legendary "The Trouble With Tribbles," where he got creative using puffy blobs of fur.

He went on to dress up sets for 38 installments of the NBC series, earning an Emmy nomination (shared with Walter M. Jefferies) in 1969 for their art direction and scenic design on the episode "All Our Yesterdays."

"In the original series we had to be really inventive, because we were dealing with stuff that nobody knew anything about," he said in "Designing the Final Frontier," a featurette for a Star Trek DVD. "There was no space shows, and we didn't have any money, so you had to scrounge; in effect, scrounge everything that you got."

Dwyer once noted that his budget was usually $500 per show, so he would squirrel away money from one episode to another when he could and picked through trash to use items like packing materials and plastic coffee lids for the Enterprise and alien environments.

"I'm not a scientist by any stretch of the imagination, but I keep in touch with materials that are going around," he said in 2002. "On the original series, we were the first ones to use refractive Mylar, because it had just come out … and I went crazy with the stuff. In those days, nobody cared what you put on the set, so long as there was something that looked right. I'd take a piece of Masonite and cover it with some adhesive Mylar, put a two-by-four on the backside of it and hang it on a wall."
(9) TODAY IN HISTORY
October 2, 1955 — Alfred Hitchcock Presents made its television debut.
October 2, 1959 — The world was changed with the first aired episode of The Twilight Zone
(10) TODAY'S BIRTHDAYS.
[Compiled by Cat Eldridge and JJ.]
Born October 2, 1906 – Willy Ley, Writer, Cryptozoologist, and Spaceflight Advocate who helped to popularize rocketry, spaceflight, and natural history in both Germany and the United States. He wrote a handful of SF stories as Robert Willey, but was best known for his non-fiction science articles for Astounding and Amazing Stories, and later for Galaxy Science Fiction, where he was the science editor for the 16 years before his death. He won two Hugo Awards and a Retro Hugo, and two International Fantasy Awards, for his space-related non-fiction writing. The crater Ley on the far side of the Moon is named in his honor.
Born October 2, 1909 – Alex Raymond, Artist, a cartoonist generally only known for creating Flash Gordon for King Features in 1934. The strip has been adapted into many media, from a series of movie serials in the 30s and 40s, to a 70s TV series and the 80s feature film — not to be confused with the American-Canadian TV series of the same vintage. Radio serials, myriad films, comic books, novels — any medium that exists has seen Flash Gordon fiction. There are at least fifteen authorized strips and a number of bootleg strips as well. Needless to say, there are bootleg films and serials too.
Born October 2, 1911 – Jack Finney, Writer of many short stories who had great success with the time-travel novel Time and Again, but is best remembered for The Body Snatchers, which has inspired numerous alien possession movies including Invasion of the Body Snatchers, a finalist for the 1979 Hugo for Best Dramatic Presentation. About Time is a collection of his time stories from The Third Level and I Love Galesburg in the Springtime. He was given a World Fantasy Award for Life Achievement in 1987.
Born October 2, 1944 – Vernor Vinge, 74, Writer and Mathematician whose numerous short stories and two novel series, both of which I consider excellent, Realtime and Zones of Thought, have garnered many Hugo, Nebula, Campbell, Clarke, Prometheus and Kurd Laßwitz Awards and nominations. He's done a handful of stand-alone novels; I've very fond of Tatja Grimm's World and Rainbow's End which won a Hugo. His novellas Fast Times at Fairmont High and The Cookie Monster also won Hugo Awards. He was Writer Guest of Honor at ConJosé, the 60th World Science Fiction Convention, in 2002.
Born October 2, 1948 – Persis Khambatta, Actor, a former Miss India who became famous for playing the bald Deltan Ilia in Star Trek: The Motion Picture, a role which garnered her a Saturn nomination. In 1980 she became the first citizen of India to present an Academy Award. Sadly, she died from cardiac arrest two months short of her 50th birthday.
Born October 2, 1948 – Avery Brooks, 70, Actor and Director best known to genre fans for playing Captain Benjamin Sisko on Star Trek: Deep Space Nine and lending his majestic voice to videogames in that franchise.
Born October 2, 1951 – Gordon Sumner, better known as Sting, 67, Actor, Composer and Musician from England who played Feyd-Rautha in David Lynch's version of Dune and Baron Frankenstein in The Bride, appeared in The Adventures of Baron Munchausen, and has lent his voice to several animated movies and TV episodes including The Simpsons, Captain Planet and the Planeteers, and Peter and the Wolf.
Born October 2, 1967 – Lew Temple, 51, Actor who has played numerous roles in supernatural and horror movies, including The Visitation, Deja Vu, Silent Night, Zombie Night, the reboots of The Texas Chainsaw Massacre and Halloween, and more recently, a part in the TV series The Walking Dead.
Born October 2, 1986 – Camilla Belle, 32, Actor who started young, playing genre roles in The Lost World: Jurassic Park, Annie: A Royal Adventure, Practical Magic, and A Little Princess and Back to the Secret Garden, the movie versions of Frances Hodgson Burnett's well-known childrens' fantasies.
(11) VINGE. Rich Horton celebrates with a post at Strange at Ecbatan — "Birthday Review: A Deepness in the Sky, by Vernor Vinge".
…As I said, I found the plot inspiring as well. This is a very long book, about 600 pages, but I was never bored. Moreover, as Patrick Nielsen Hayden has taken pains to point out, the prose in this book is quite effective. I believe Patrick used some such term as "full throated scientifictional roar". Without necessarily understanding exactly what he meant by that, the prose definitely works for me, and in ways which seem possibly particularly "scientifictional" in nature….
(12) WELLEN. Steven H Silver's winner in today's birthday sweepstakes was – "Birthday Reviews: Edward Wellen's 'Barbarossa'".
Most of Wellen's publications were short stories and he was more active in the mystery field than in science fiction, although he began publishing in the genre in 1952 with the non-fact article "Origins of Galactic Slang" in Galaxy.  In 1971, he published his only science fiction novel.
(13) COMICS SECTION.
(14) KEEP BIG BANGING ON. In "The Fourth Copernican Revolution" on Nautilus, Sir Martin Rees, in an excerpt from On the Future: Prospects for Humanity, speculates on if we are living in a multiverse, and if we are, why that would be "the fourth and grandest Copernican revolution."
At first sight, the concept of parallel universes might seem too arcane to have any practical impact. But it may (in one of its variants) actually offer the prospect of an entirely new kind of computer: the quantum computer, which can transcend the limits of even the fastest digital processor by, in effect, sharing the computational burden among a near infinity of parallel universes.

Fifty years ago, we weren't sure whether there had been a big bang. My Cambridge mentor Fred Hoyle, for instance, contested the concept, favoring a "steady state" cosmos that was eternal and unchanging. (He was never fully converted—in his later years he espoused a compromise idea that might be called a "steady bang.") Now we have enough evidence, especially from measurements of the primordial background radiation and the relative abundances of hydrogen, helium, and deuterium created in the first three minutes, to delineate cosmic history back to the ultradense first nanosecond—and to do this with as much confidence as a geologist inferring the early history of Earth. So in 50 more years, it is not overoptimistic to hope that we may have a "unified" physical theory, corroborated by experiment and observation in the everyday world, that is broad enough to describe what happened in the first trillionth of a trillionth of a trillionth of a second—where the densities and energies were far higher than the range in which current theories apply. If that future theory were to predict multiple big bangs we should take that prediction seriously, even though it can't be directly verified (just as we give credence to what Einstein's theory tells us about the unobservable insides of black holes, because the theory has survived many tests in domains we can observe).
(15) ABOUT THE FANTASTIC BEASTS 2 PUSHBACK. The Washington Post's Mili Mitra says in an opinion piece that the controversy over Nagini in Fantastic Beasts 2 shows that "fans are also right to ask for thoughtful representation that does more than haphazardly introduce underrepresented caricatures." — "Is 'Fantastic Beasts 2' racist? Not quite."
Twenty years after the first Harry Potter book was released in the United States, the franchise still has the power to amaze — and offend. To this day, J.K. Rowling's series is still banned in some schools and libraries for promoting "witchcraft." But with the release last week of a new trailer for the next film in the fictional universe, "Fantastic Beasts 2: The Crimes of Grindelwald," Rowling is facing a different sort of backlash. This one shouldn't be dismissed so easily.
(16) ANOTHER CENTURY OF AVENGERS. It's issue #700, and the story's set in another timezone "as the mystery of the 1M BC Avengers continues!"
There's no rest for the heroes who protect Earth…not even when it comes to the Avengers! Earth's Mightiest Heroes will find themselves facing some of their harshest battles yet – including Namor's fearsome new Defenders of the Deep and the reimagined Russian Super-Soldiers of the Winter Guard!

To celebrate this jam-packed, landmark 700th anniversary issue, Marvel is excited to reveal an all-new cover by legendary artist David Finch!
(17) FIRST OF THE UNCANNY AVENGERS. They're back….
This November, UNCANNY X-MEN returns with a new ongoing series, bringing together nearly every mutant left on earth in a story that threatens to destroy them. It's an epic tale of mystery and tragic disappearance, with an adventure so earth-shattering, it could very well be the X-Men's FINAL mission!

In celebration of the much-anticipated launch of UNCANNY X-MEN #1, Marvel is excited to reveal a new Hidden Gem variant cover from very own Chief Creative Officer Joe Quesada, with colors by Richard Isanove!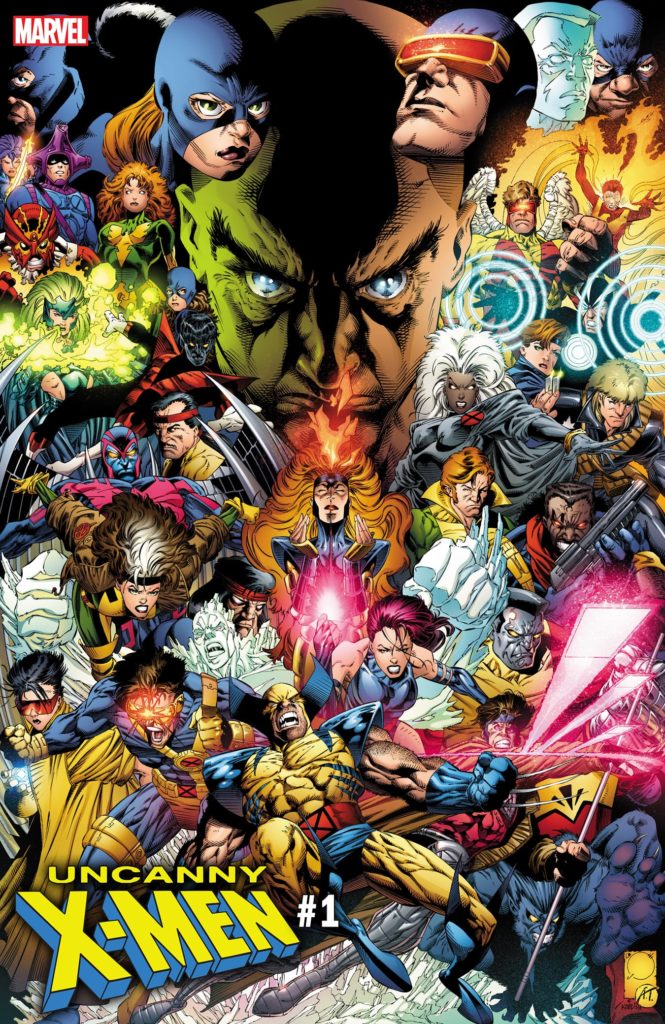 (18) WONDER WOMAN VARIATION. LAist studies "Wonder Woman's Latest Enemies: Nazis, The Patriarchy, And Pick-Up Artists" because Earth One, Volume 2 is being released this week.
WONDER WOMAN VS. PICK-UP ARTISTS

One of the book's villains, codenamed Doctor Psycho, was presented in his 1940s origins as an obvious bad guy. This time, Morrison's taken that early interpretation and infused it with the modern idea of the pick-up artist community.

Morrison spoke with a female expert on pick-up artist techniques to use them in the new interpretation of the character.

"The Doctor Psycho sequence where he sits and talks to Diana [Wonder Woman] is actually based on the script used by pick-up artists," Morrison said. "Even the movements he makes — he mirrors all her gestures, he makes these casting off gestures every time he talks about something that he wants her to perceive as negative."
Today's LAist post is based on a DC Comics blog interview published in April, "Morrison and Paquette Discuss Wonder Woman: Earth One Vol. 2"
For those of you unfamiliar, the Earth One graphic novels are special out-of-continuity stories that reimagine some of the DC Universe's most familiar heroes in a totally unfamiliar light, whether it's stripping Green Lantern of his willpower or imagining Bruce Wayne getting kidnapped for ransom rather than orphaned in an alleyway.

For Diana Prince, Earth One means a brand-new look at both the origin story of Wonder Woman, the culture of Themyscira altogether and her role as an Amazon ambassador to the world of man, something that gets further explored under the highest of stakes in the upcoming, eagerly anticipated WONDER WOMAN: EARTH ONE VOL. 2….
(19) THE HORROR. Are you and Goodreads still on speaking terms? If so, 'tis the season to find out if you've read the "50 Most Popular Horror Novels on Goodreads". I've only read 5 of these, so you're bound to score much higher.
From literal monsters to purely psychological terrors, these are tales of madness and pandemonium, retribution and absolution. Long heralded as the "Master of Horror," Stephen King reigns supreme, with five books on our list, but his son Joe Hill is not far behind, nabbing four spots. And along with classics from Mary Shelley and Edgar Allan Poe, Robert Kirkman's end-of-the-world comic, The Walking Dead, made the cut as well as an award-winning children's ghost story, The Graveyard Book, from Neil Gaiman.

And now we present the top horror books on Goodreads in alphabetical order. Proceed at your own risk—and then tell us how many you've read in the comments.
(20) TODAY'S THING TO WORRY ABOUT. It's being eaten alive! — "Is this the last chance to see the Titanic?" Rust-forming bacteria are rapidly consuming the Titanic. Experts predict it will last only a little more than 20 years. This is especially a problem if you were planning to visit in person.
At least 1,500 people died. Engulfed by deep-sea darkness, the wreck sat for more than 70 years while bacteria ate away at its metal hull, leaving behind millions of delicate, icicle-shaped formations.

"Now, there's more life on Titanic than there was floating on the surface," says Lori Johnston, microbial ecologist and a six-time visitor of the wreck.

These 'rusticles' are the by-products of bacteria that oxidise the iron they consume. The acidic, oxidised fluid oozes downward with gravity, forming fragile branches of rust. "The rusticles are unique because they're kind of the dominant species down there," Johnston says.
(21) WOMAN WINS NOBEL PRIZE. BBC brings word of "First woman Physics Nobel winner in 55 years" — "Donna Strickland: The 'laser jock' Nobel prize winner".
Donna Strickland, from Canada, is only the third woman winner of the award, along with Marie Curie, who won in 1903, and Maria Goeppert-Mayer, who was awarded the prize in 1963.

Dr Strickland shares this year's prize with Arthur Ashkin, from the US, and Gerard Mourou, from France.

It recognises their discoveries in the field of laser physics.

Dr Ashkin developed a laser technique described as optical tweezers, which is used to study biological systems.
(22) THEY BLINDED ME WITH SCIENCE. On the frontiers of research….
— Jelq Skellington, the Pumpin King (@33mhz) September 30, 2018
ULTRAGOTHA sent the background to the link: a New Scientist article about Gelada monkeys and wolves — "Monkeys' cosy alliance with wolves looks like domestication" — basically boils down to: (1) the wolves catch more rodents when the monkeys are present and (2) the monkeys will swarm a wolf that attacks a monkey and drive it away, so it behooves the wolf to not eat the monkeys. "Whether this is a precursor to domestication, I leave up to more research," says ULTRAGOTHA.
(23) ROSARIUM COMICS. Coming from Rosarium on October 16 – Super Sikh #3 – "If this is your vacation, then your job must be really crazy…"
The Sikh superhero comic book from Eileen Kaur Alden, Supreet Singh Manchanda, and Amit Tayal is now being published by Rosarium Publishing!

Meet Deep Singh. He loves Elvis and hates bad guys. By day he works at a tech company and lives with his parents. But that's just a front. For Deep Singh is really a top secret agent for the United Nations, fighting terrorism all around the world.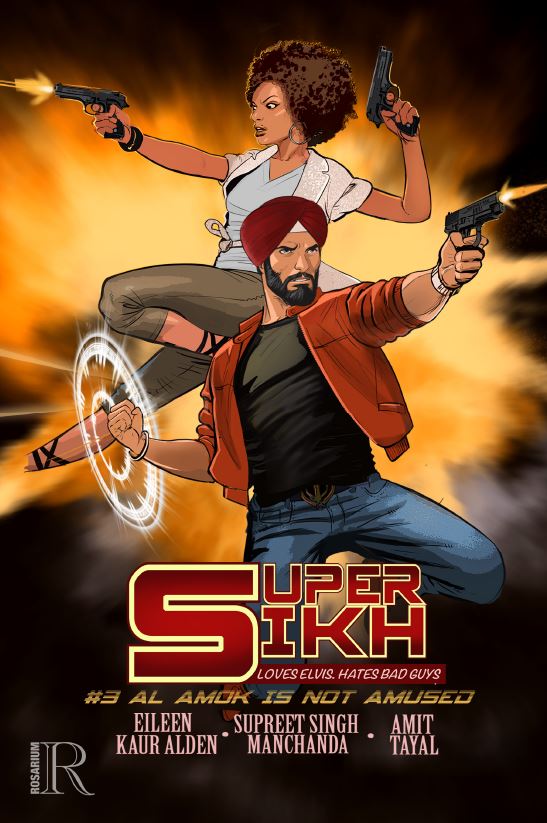 (24) STAR TREK: DISCOVERY. Season 2 poster –
Shiny new poster for Season 2! #StarTrekDiscovery pic.twitter.com/CtZCYMln7Z

— Star Trek Writers (@StarTrekRoom) October 1, 2018
[Thanks to JJ, Cat Eldridge, ULTRAGOTHA, Danny SIchel, Mike Kennedy, Andrew Porter, Chip Hitchcock, John King Tarpinian, Martin Morse Wooster, and Carl Slaughter for some of these stories. Title credit goes to File 770 contributing editor of the day John Winkelman.]