(1) THE SOURCE. Paste Magazine tells readers "If You Love Black Panther, You Have to Read Nnedi Okorafor's Books".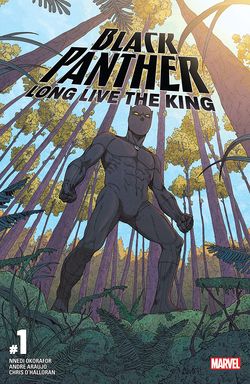 …Okorafor, who's about to wrap up a run on Marvel's Black Panther: Long Live the King comic series, boasts an enthralling catalogue of novels steeped in afrofuturism. So if you're looking for more stories featuring kickass women and inventive tech on the African continent, Okorafor has you covered.

Here are Paste's top five picks to get you started:

Black Panther: Long Live the King

The obvious first title on this list is Marvel's six-issue Long Live the King series, in which Okorafor wrote issues one, two and five. With art by André Lima Araújo and colors by Chris O'Halloran, Okorafor's vision for Wakanda delivers a captivating narrative that breathes new life into the Black Panther canon.

Okorafor also wrote issue six, a one-shot story about Ngozi illustrated by Tana Ford, due out on February 28th. You might recognize Ngozi—an original Okorafor creation—from her first appearance in Venomverse: War Stories. And if the character is new to you, you'll love the Nigerian woman who bonded with the Venom symbiote and became a hero….
(2) OKORAFOR FREE READ. Slate agrees that the work of Nnedi Okorafor is the place to start, and has timely released "Mother of Invention", "a new short story by the author of Marvel's Black Panther: Long Live The King."
(3) DOUBLE UP. Yes, one reason Black Panther had a record weekend is because patrons failed to get away with stunts like this! "Two kids dressed as a tall man to get into "Black Panther" were caught on video". Rare has the story:
Two kids decided they wanted to go to the new Marvel superhero film "Black Panther," but they didn't want to pay for two movie tickets, so they tried to dupe the movie theater's manager.

The duo went to the theater disguised as one "tall man" under a trench coat, but unsurprisingly, their plan didn't work. However, despite their unsuccessful attempt to save on movie tickets, they have gone viral on Twitter thanks to their hilarious antics.
We tried getting the two for one special at black panther. The manager was not having it. pic.twitter.com/Ktqsuh7s3m

— Pillsbury (@stevelikescups) February 16, 2018
(4) ANTIHARASSMENT DONOR. The Independent reports "Emma Watson donates £1m to help fund for sexual harassment victims".
The donation from the Harry Potter star to the UK Justice and Equality Fund comes as nearly 200 female British and Irish stars signed an open letter calling for an end to sexual harassment in the workplace.

Watson is one of the first donors to the fund, which was set up by the 190 women who signed the open letter, along with a group of 160 academics, activists and charity workers.

Emma Thompson, Carey Mulligan, Saoirse Ronan, Gemma Chan, Keira Knightley and Watson are among the actors to sign the letter, which was published in The Observer.
(5) THE CULTURE MEETS THE VAST WASTELAND. Engadget reports "Amazon's answer to 'Altered Carbon' is Iain M. Banks' space opera".
…Amazon Studios will adapt the first novel, Consider Phlebas, for television.

Dennis Kelly will adapt the sci-fi drama for Plan B Entertainment (World War Z). The Iain Banks's estate will serve as an executive producer for the series. "Iain Banks has long been a hero of mine, and his innate warmth, humor and humanism shines through these novels," said Kelly, who previously adapted Matilda for the stage. "Far from being the dystopian nightmares that we are used to, Banks creates a kind of flawed paradise, a society truly worth fighting for — rather than a warning from the future, his books are a beckoning."
(6) DIAL M. Upon hearing the news about Banks' novel, Damien G. Walter immediately warned all in hearing that the sky is falling — "5 things that can go HORRIBLY wrong adapting The Culture".
I don't consider myself a true fan of many things, but I am an unapologetic Iain (M) Banks fanboy.

Which is an easy thing to be. Banks is a brilliant, brilliant writer. A storyteller in the class of Neil Gaiman, with the muscular prose abilities of J G Ballard, and the conceptual imagination of an Asimov or Le Guin. I read his Culture books in my teens, his literary novels in my twenties, and re-read nearly all of them in my thirties. Just this year I've been working my way through Peter Kenny's spot on audio adaptations.

So, like all true fans, I'm a little worried by news of a tv adaptation. Banks was fairly outspoken about his decision not to allow movie or tv adaptations of the Culture novels. I totally respect any decision his estate makes on this, and nobody doubts Amazon have the cash to make it happen? But do they have the skill, creativity and imagination?

How many ways could a Culture tv adaptation go wrong? Let us count the ways….
(7) WHAT ADA PALMER AND JOHN HERTZ HAVE IN COMMON. Patrick McGuire writes: "I just received my Winter issue of the alumni University of Chicago Magazine. Bundled with it was The Core, a semiannual supplement magazine devoted to the College. (U.C. is primarily a graduate institution, so the undergraduate school is decidedly the tail, not the dog.) The Winter 2018 Core has a profile of sf writer and history professor Ada Palmer. It is fairly insightful and informative, even if it does refer to Sassafras as a 'folk band.' The current issue of The Core is, at least as I write, not at the URL where it is supposed to be per the print issue, but after considerable poking around I found the Palmer article here — 'Renaissance-woman'. The profile does discuss her sf novels and it has photographs of Ada and others in costume. She also gets the magazine cover."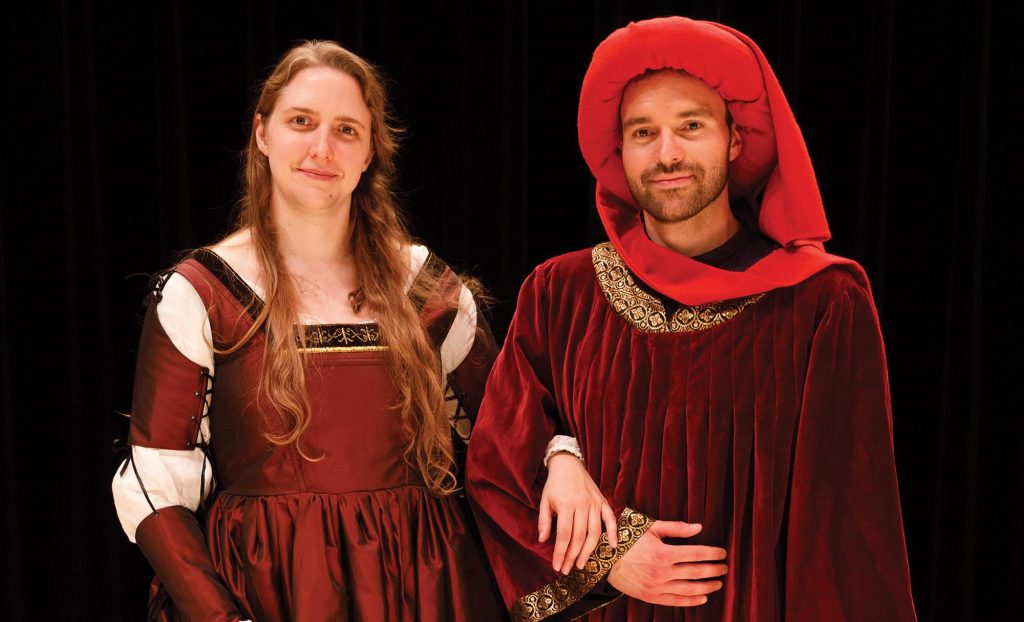 "Curiously, the mother-ship University of Chicago Magazine for Winter itself has a letter from prominent fan John Hertz. John primarily discusses non-sfnal topics, but does include a plug for Benford's The Berlin Project."
(8) BOOK RECOMMENDATIONS. New York bookstore The Strand would be delighted to sell you a copy of every single one: "Best Selling Author of Annihilation, Jeff VanderMeer, Shares His Top 50 Books".
(9) BEST EDITOR HUGO RECOMMENDATIONS. Lee Harris doesn't want British sff editors overlooked, and assembled a get-acquainted thread. Jump aboard here —
Thread.
4 years ago I was nominated for a Hugo. It is the only time a British editor has ever been nominated in the Hugo editing categories. Which is crazy. When you're filling out your nomination forms this year, please give some thought to some amazing British editors. (1/12)

— Lee H. (@LeeAHarris) February 15, 2018
(10) TODAY IN HISTORY
February 21, 1966  — Raquel Welch in a Stone Age bikini starred in One Million Years B.C. which premiered theatrically on this date.
(11) TODAY'S BIRTHDAY DROID
Born February 21, 1946 — Anthony Daniels, who plays C3PO.
(12) COMICS SECTION.
John King Tarpinian found a Yoda joke that really works in Half Full.
On the other hand, John is right to call this stfnal pun a real groaner – The Argyle Sweater.
(13) WHAT'S THAT HE SAID? At age 54, a Doctor Who reviver finally gets to play Macbeth: "Christopher Eccleston: Northern accent 'held me back'".
The actor star says there is a perception in the industry that "people like me can't be classical".

Eccleston was born into a working class family on a council estate in Salford in Lancashire in 1964.

He will appear as Macbeth in a new production at the Royal Shakespeare Theatre in Stratford Upon Avon, but he had to ask for the role.
Unfortunately, Billie Piper is not playing Lady Macbeth.
(14) SECOND BREAKFAST. Did you ever do a movie marathon drinking game? Well, this is an eating game for the LotR trilogy – whatever food is eaten on screen, they cook and eat too!
So at 6am, @Glitter_brawl & I are going to start a back to back marathon of the 3 LOTR films (long versions), and I've prepared a 14 course 'meal' to reflect what gets eaten on screen. Dad died a year ago, and this seemed by far the most reasonable way to commemorate that.

— Regular Frog (@FrogCroakley) February 18, 2018
(15) TANK GIRL TO RETURN. Titan Comics will bring the Tank Girl franchise back to life in 2018.
It's been 30 years since the dynamic partnership of Alan Martin and Jamie Hewlett (Gorillaz) unleashed Tank Girl upon the world! To celebrate Tank Girl's 30th Anniversary, Titan Comics is launching the 'Year of Tank Girl' in 2018 – a year-long celebration with new comics, graphic novels and special events, including a global Tank Girl Day event on Saturday, October 20.

Originally published in 1988 as a black and white comic strip in UK magazine Deadline, Tank Girl has gone on to become a cult icon in the 30 years since her first appearance, with numerous comics and graphic novels, and even her own feature film in 1995, which boasted an all-star cast including Lori Petty, Naomi Watts, Malcolm McDowell, Ice-T, and Iggy Pop, and directed by Doctor Who's Rachel Talalay.

As Tank Girl prepares to celebrate 30 riotous years in 2018, Titan Comics is proud to announce its 'Year of Tank Girl' campaign.

Celebrations kick off in April 2018 with Tank Girl: Full Color Classics 1988-1989 – the first of six prestige editions presenting those original seminal strips from Deadline in glorious color, just as Hewlett and Martin envisaged them three decades ago. Colored by Tracy Bailey (Fighting American) and Sofie Dodgson (Tank Girl: Bad Wind Rising), this is a new take on the classic strips. Plus, it includes rare and unseen artwork, as well as photos from the early days of the Martin and Hewlett partnership.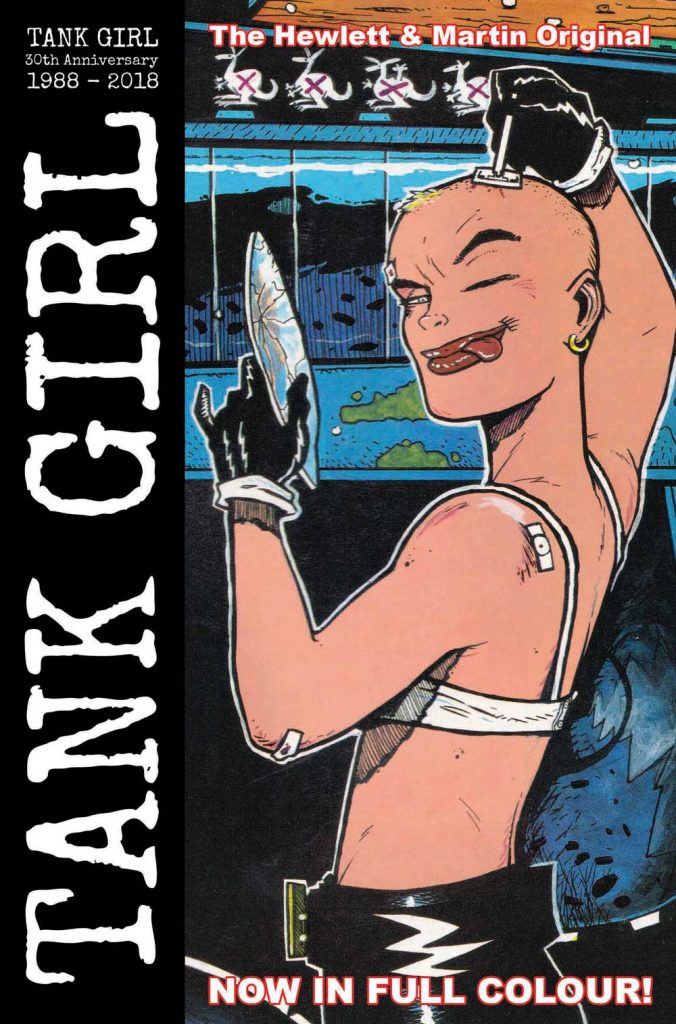 (16) #!&@! MY DAD SAYS. Bradford Betz, in a Fox News story "William Shatner Shames Texas Dem From Using His Photo in Campaign Newsletter", says that Shat told Brandy Chambers, running for the Texas House of Representatives as a Democrat, to stop using a photo she took at a Comic-Con with him because it seemed like he endorsed her, which he hasn't.
The image circulated until it reached Shatner on Saturday. The 86-year-old actor tweeted at Chambers that her use of the convention photo misleadingly suggests an "endorsement" on his part. He then told her to "remove my photo" and "destroy all copies of whatever this is immediately."
(17) BOXING DAY. According to ULTRAGOTHA, "Spurius Ennius Nasica is Rocky Balboa put through a Roman name generator." The connection between Rocky and Rome is this discovery — "Rare Roman boxing gloves uncovered near Hadrian's Wall in 'astonishing' find".
Roman boxing gloves believed to be the only surviving example from the period have gone on display after being discovered near Hadrian's Wall.

The gloves were found last summer during an excavation at Vindolanda, near Hexham in Northumberland.

Other items were unearthed in the dig, including swords, horse gear and writing tablets.

The gloves – which date from around 120 AD – are made of leather and have the appearance of a protective guard. They are designed to fit snugly over the knuckles, protecting them from impact.
(18) QUANTUM LEAP LEFTOVERS. Io9 investigates the tantalizing question "Did a Fan Just Find Proof of Quantum Leap's Secret Lost Ending?" 
…The series finale of Quantum Leap was bleak (to put it mildly), with the final title card confirming that Scott Bakula's character, Sam Beckett, remained lost in time. However, one video claims a long-rumored alternate ending was actually real, one which would've made it possible for Sam to make that final leap home.

YouTuber Allison Pregler has released a video sharing what she says are negatives for an alternate ending to the fifth season of Quantum Leap. How did she get her hands on such a historical item? Pregler bought a bunch of Quantum Leap negatives on eBay.

"When I was looking at the film strips to try and guess what episodes or scenes they were, it took me a second to really grasp what I had. I thought it really looked like that alternate ending I'd read before, but no one knew it was filmed so I couldn't believe it," Pregler told io9. "I'm still having trouble believing it."…
(19) LOST AGAIN. Netflix reboot of Lost in Space premieres April 13.
The Robinson family, part of a highly trained mission to establish a new colony in space, is unexpectedly pulled off course forcing them to crash land on a lost planet.
(20) REPEL BUYERS! Tabletop Tribe is not kidding — "The Worst Board Game Box Art Ever". Man, are these awful! Just look at #19 —
Guildhall (2012?—?Alderac Entertainment Group)

"Meet the wife. I luv 'er more than any pig, and that's sayin' summat."

Indeed sir. For a pig farmer you appear to be punching way above your weight.

It's not that the characters are badly rendered (although it does appear that it's simply photo overpainting at work here), or the inconsistent lighting and flat boring background. It's just a bizarre motley collection and a piglet with a nose four sizes too big.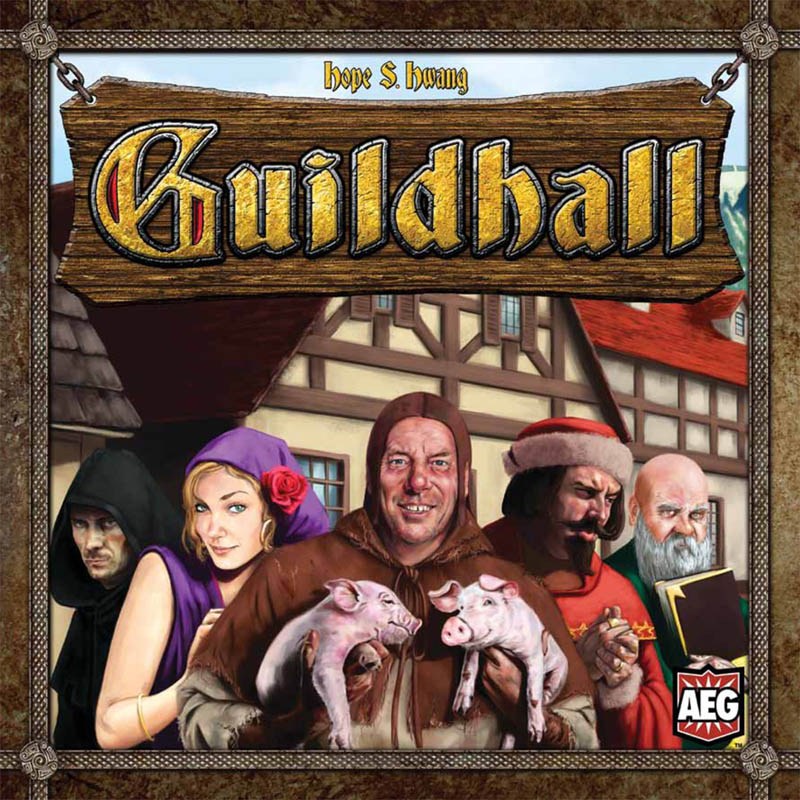 [Thanks to Joel Zakem, JJ, Mix Mat, Cat Eldridge, Carl Slaughter, John King Tarpinian, ULTRAGOTHA, Chip Hitchcock, Martin Morse Wooster, Mark Hepworth, Patrick McGuire, Hampus Eckerman, Michael J. Walsh, and Andrew Porter for some of these stories. Title credit goes to File 770 contributing editor of the day Bruce Diamond.]