(1) CHRIS GARCIA LOOKING FOR MATERIAL. And not for just any old zine — Chris is bringing back The Drink Tank, the 2011 Best Fanzine Hugo winner that he had retired after 400 issues. Here are the themes of his next two issues —
I wanted to get a call out to folks that I need article/art/stuff! I've got two themes working, Heavy Metal Music (co-edited with Doug Berry) with a May 10th deadline, and the 1980s (co-edited with Alissa McKersie) with a July 1st deadline. [email protected] is where folks can send stuff!
(2) NEW CONGRESSIONAL SUPPORT FOR SPACE SCIENCE. The Planetary Society sent the news to members: "Announcing the Planetary Science Congressional Caucus".
I'm excited to share with you a major step forward for the support of space exploration in the U.S. Congress: the official formation of the new Planetary Science Caucus.

A caucus is a formal interest group made up of members of Congress. Having a caucus allows legislators form new relationships and organize a core voting block of political support for an important issue, in this case, planetary science and space exploration.

According the caucus' official charter, its goals are to:

"Find life in our lifetimes," by advancing federal policies that support the search for life in our solar system and beyond.
Raise awareness of the benefits to the U.S. economy and industrial base resulting from federal investment in space science, technology, exploration, and STEM education.
Support private industry, academic institutions, and nonprofits that support space science and exploration.

… The co-chairs of the caucus are Rep. John Culberson (R-TX) and Rep. Derek Kilmer (D-WA).

The Planetary Science Caucus will also be open to members of the Senate with Senator Gary Peters (D-MI), Cory Gardner (R-CO), Jeff Merkley (D-OR) and Maria Cantwell (D-WA) already signed up as original members.

Additional members in the House of Representatives include: Rep. Ami Bera (D-CA), Rep. Adam Smith (D-WA), Rep. Bill Posey (R-FL), Rep, Pramila Jayapal (D-WA), Rep. Jackie Speier (D-CA), Rep. Bill Foster (D-IL), Rep. Randy Hultgren (R-IL), Rep. Elizabeth Esty (D-CT), Rep. Nydia Velazquez (D-NY) and Rep. Adam Schiff (D-CA).
Bill Nye responds to the news in this video —
(3) THE CORBOMITE MANURE. A.V. Club warns "This may be the final frontier of obsessive Star Trek cataloging".
Over the decades, fans of the Star Trek franchise have come to represent the prototypical obsessive sci-fi nerd. This is due, in large part, to Trekkers' penchant for going beyond just an intimate knowledge of the show's lore and characters, and delving into fastidious cataloging of alien species, uniform designs, ship schematics, and Riker beards. But now, we may have finally reached the final frontier of Star Trek cataloging with this exhaustive collection of "video errors" that appeared throughout the show.

Organized by blogger and Trek fan Ashley Blewer, Signal Loss is an ongoing project that's attempting to map every scene where an audiovisual signal loss is being conveyed to the audience. This can occur when the crew is attempting to contact a planet or ship that's in trouble, when some sort of virus is infecting the ship's interface, or when someone gets stuck half-way through teleporting. Basically, if a character is looking at a glitchy screen, it's going to be on this list.
(4) THE BOOM TIMES. John Clark's memoir of chemistry in the developmental age of liquid propulsion, Ignition!, is being brought back into print. Ars Technica has the story: "The funniest, most accessible book on rocket science is being reissued".
The dry wit with which he recounts these history lessons will be the bigger shock, for this is a truly funny read. He snipes about the US' failure to use the metric system, grumbles about then-new computers in a way that would still be familiar today, and numerous anecdotes have reduced me to tears. (The story about an Admiral who wanted Clark's Naval Air Rocket Test Section to drop a rat—sex not specified—into a 10,000-gallon tank of 90 percent hydrogen peroxide is a good one, as is the one about the rocket scientist sitting next to Scott Crossfield on an airplane.) That humor helps the accessibility, and as long as you remember some high school chemistry you shouldn't have a problem with the science, either.
Clark is also a minor sf writer, with stories in the 1930s pre-Campbell Astounding.
(5) PICACIO BEGINS CHOOSING. John Picacio has started announcing recipients of the Mexicanx Initiative Worldcon memberships.
Proudly announcing the first wave of #TheMexicanxInitiative's Sponsored Guests, coming to @worldcon2018: @mdaviles1 @monorama @smokthedragon & @Mexicanity. #RepresentationMatters #Mexicanx #DREAMersAreAmericans #Coco pic.twitter.com/0UWvBaz3p1

— John Picacio (@JohnPicacio) January 29, 2018
Announcing #TheMexicanxInitiative's next four Sponsored @worldcon2018 Membership Recipients! Thrilled to have these amazing sf/f pros & fans joining us in San Jose this summer. More to be announced next week! @gavilla #Mexicanx pic.twitter.com/J5aZ5D7H9o

— John Picacio (@JohnPicacio) February 5, 2018
(6) CUSTOMER FEEDBACK. Are standards slipping here? A tweet from Damien G, Walter —
I think this might be the least rude thing File770 have ever called me. https://t.co/xV0KWHOCXo

— D. George Walter (@damiengwalter) February 5, 2018
(7) NOT EASY BEING GREEN. Can a slate handpicked by Jon Del Arroz and friends impact the 2018 Hugo ballot? We'll find out: "Happy Frogs OFFICIAL Hugo Awards Slate" [Internet Archive page].
The Hugo Awards Nominations are open, and the Happy Frogs board of trustees have worked tirelessly to bring you a slate of the best science fiction of 2017. Below are the nominees for your ballot consideration, to support making science fiction a fun, inclusive place again, the best of the year by far…
Daddy Warpig for Best Fan Writer?
(8) DEATH WILL NOT RELEASE YOU. From National Geographic: "Exclusive: Dinosaur-Era Bird Found Trapped in Amber".
The squashed remains of a small bird that lived 99 million years ago have been found encased in a cloudy slab of amber from Myanmar (Burma). While previous birds found in Burmese amber have been more visually spectacular, none of them have contained as much of the skeleton as this juvenile, which features the back of the skull, most of the spine, the hips, and parts of one wing and leg. (Help us celebrate 2018 as the Year of the Bird.)

The newfound bird is also special because researchers can more clearly see the insides of the young prehistoric creature, says study co-author Ryan McKellar of the Royal Saskatchewan Museum in Regina, Canada.

…The team was lucky to acquire the bird for the Dexu Institute of Paleontology in Chaozhou, China. Birds in amber can sometimes sell for up to $500,000, putting them beyond the reach of scientists, says Xing, a paleontologist at the China University of Geosciences in Beijing.
(9) MAHONEY OBIT. Best known as the dad in Frasier, John Mahoney (1940-2018): British actor, died February 4, aged 77. Genre appearances include 3rd Rock from the Sun (one episode, 1996), Antz (voice, 1998) and The Iron Giant (voice, 1999). He also provided the voice of Preston Whitmore in the video games Atlantis: The Lost Empire (2001) and Atlantis: Milo's Return (2003).
(10) COMICS SECTION.
Mike Kennedy says, "So that's what 'A.I.' means…" — Monty.
Then he spotted "A cause for sleepless nights that some fans may recognize" in Pickles.
(11) MOORCOCK ON COMIC ADAPTATION. February 20, 2018, sees the next instalment of Titan's Michael Moorcock Library series – The Chronicles of Corum Vol. 1 – The Knight Of Swords.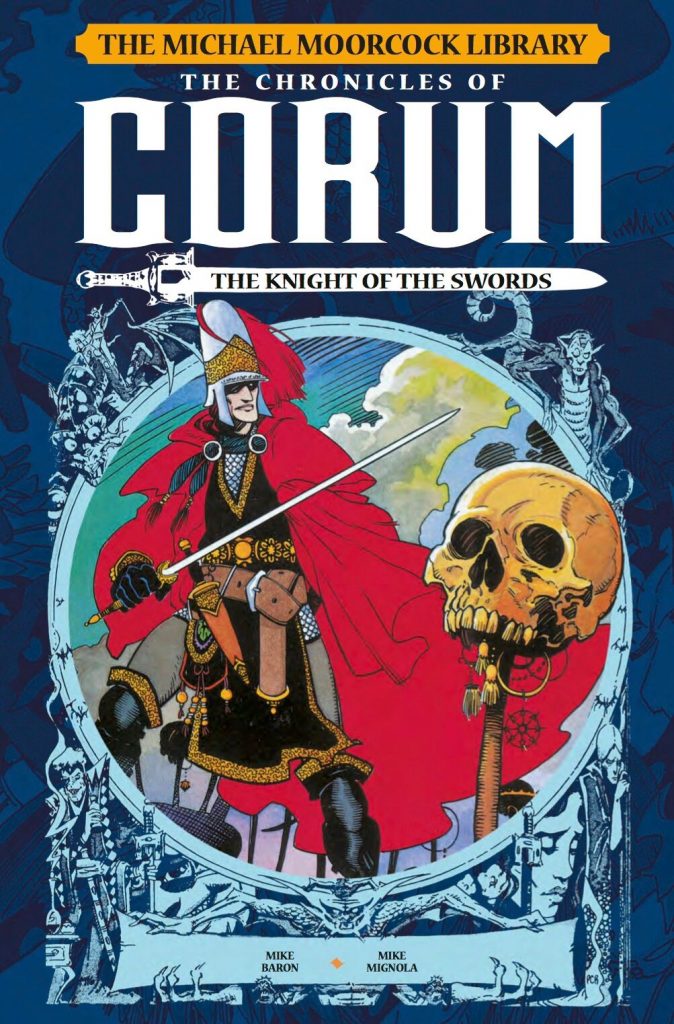 Hellboy creator and artist Mike Mignola, Batman artist Kelley Jones and Eisner award-winning writer Mike Baron bring Michael Moorcock's timeless story of order versus chaos to vivid life in this brand-new hardcover collection.

To celebrate this exciting new edition to the Library series, Titan are releasing a special video interview with Michael Moorcock, where the acclaimed science fiction and fantasy author shares his thoughts on comic book adaptations of his best-selling novels.
(12) ELLISON STORE JOINS THE INTERNET. Tomorrow at noon Pacific time, Jason Davis launches HarlanEllisonBooks.com, taking the Ellisons' long-time book business online.
Over the last few weeks, my tech-savvy associate Bo Nash has built the online store as a  self-contained entity housed at HarlanEllisonBooks.com/shop. I've stocked the virtual shelves with items from the catalog of the Harlan Ellison Recording Collection (HERC), treasures from the bowels of the Lost Aztec Temple of Mars, and even a few items from the early days of HarlanEllisonBooks.com. Tomorrow, the store will open for business. For the moment, I'm manning the imaginary counter until we work out all the inevitable bugs; we beg your forgiveness for any infelicities you experience in your initial visits. Once all the bugs are worked out and I've  streamlined the processes, I'll hand off to Susan.
(13) NO MORE ELLISON AUTOGRAPHS. Davis also gave his mailing list a health update about the author.
AN IMPORTANT ANNOUNCEMENT FROM HARLAN

Harlan is retiring from the autograph game. Due to the lingering effects of the stroke he suffered several years ago, Harlan will no longer be signing books. As HE explained, "Though I'm left-handed, my right side is paralyzed from the stroke. When I sign, the effort to steady my hand becomes very exhausting, very quickly." Harlan is not ruling out the possibility that continued physical therapy won't improve the situation, but with ongoing interest in signed books via HERC and recent announcements of extremely limited signed editions from Subterranean Press, Harlan felt it was time to publicly address the matter.

(N.B. Though Harlan won't be signing any books for the foreseeable future, signed items will be in the shop's inventory at its launch, which is why we're doing our best to make sure everyone—HERC members, HarlanEllisonBooks.com customers, and Kickstarter backers—is aware of the store before it goes online and the signed items sell out. My apologies if this is the third time you've read about the store.)
(14) VIDEO GAME CAREERS. At SyFy Wire, Tricia Ennis reports how "#GirlsBehindTheGames aims to inspire diversity in the video game industry".
If you've been on Twitter in the last few days—especially if you spend any time in the gaming side of the site—then you've no doubt seen a brand-new hashtag popping up in your timeline. #GirlsBehindTheGames is a brand-new initiative aimed at inspiring young women to pursue careers in video game development by highlighting those women already making their mark on the industry.

Since January 25, women from all over the world, and from every facet of game development, have been using the hashtag to share their own stories and their work with the world, putting a few faces to some of the work that's gone into our favorite games.
(15) ENGINES OF CHANGE. Daniel Dern advises, "Lady Augusta Ada Byron, Countess of Lovelace (along with Chuck Babbage) gets some screen time in PBS' Victoria Season 2. As do her (and other?) of their analytical engines, done up in lovely shiny metal."
Here in the USA, the second season of Victoria premieres tonight on PBS with a double episode. In "The Green-Eyed Monster", the emerging science of mechanical computation gains the attention of the palace early in the young queen's reign. But it is Lady Augusta Ada Byron, Countess of Lovelace, who gets center stage, not Babbage, even to the presentation of the analytical engine. Even though she serves the drama as the female object of the queen's unwarranted jealousy, hers is a strong, positive portrayal.
(16) GENDER STATS FROM MINNESOTA SURVEY. "Not just boy and girl; more teens identify as transgender" says Minnesota Public Radio News.
Far more U.S. teens than previously thought are transgender or identify themselves using other nontraditional gender terms, with many rejecting the idea that girl and boy are the only options, new research suggests.

The study looked at students in ninth and 11th grade and estimated that nearly 3 percent are transgender or gender nonconforming, meaning they don't always self-identify as the sex they were assigned at birth. That includes kids who refer to themselves using neutral pronouns like "them" instead of "he" or "she."

"Diverse gender identities are more prevalent than people would expect," said lead author Nic Rider, a University of Minnesota postdoctoral fellow who studies transgender health.

The study is an analysis of a 2016 statewide survey of almost 81,000 Minnesota teens.

Nearly 2,200 identified as transgender or gender nonconforming. The study found that these kids reported worse mental and physical health than other kids, echoing results seen in previous research. Bullying and discrimination are among possible reasons for the differences, Rider said, although the survey didn't ask.
(17) ANOTHER TECHNOLOGY ON THE BRINK. Cat Eldridge sends this link along with an observation: "Bullmoose, the Maine based music chain with a dozen or so stores sells more vinyl revenue wise than anything followed by DVDs (which mostly get ripped to digital) and CD sales are dead last." – Billboard reports "Best Buy to Pull CDs, Target Threatens to Pay Labels for CDs Only When Customers Buy Them".
Even though digital is on the upswing, physical is still performing relatively well on a global basis — if not in the U.S. market, where CD sales were down 18.5 percent last year. But things are about to get worse here, if some of the noise coming out of the big-box retailers comes to fruition.

Best Buy has just told music suppliers that it will pull CDs from its stores come July 1. At one point, Best Buy was the most powerful music merchandiser in the U.S., but nowadays it's a shadow of its former self, with a reduced and shoddy offering of CDs. Sources suggest that the company's CD business is nowadays only generating about $40 million annually. While it says it's planning to pull out CDs, Best Buy will continue to carry vinyl for the next two years, keeping a commitment it made to vendors. The vinyl will now be merchandised with the turntables, sources suggest.

Meanwhile, sources say that Target has demanded to music suppliers that it wants to be sold on what amounts to a consignment basis….
(18) GOING TO LAW. John Scalzi chimed in on Metafilter's discussion of the false claims by Antonelli, Torgersen and Freer that Camestros Felapton is a pseudonym used by Foz Meadows' husband. He commented about the prospects for a defamation lawsuit —
Slightly baffled that Lou Antonelli et al aren't drowning under what would appear to be a slam dunk of a defamation lawsuit right now.

It's not a slam dunk, at least in the US, because among other things, one would have to show quantifiable damages — usually economic damage to one's livelihood. It would be difficult to prove in this case, with regard to Foz Meadows, at least, because in the field of science fiction and fantasy literature, no one considers proclamations from puppy quarters to have much truth value. They have a years-long history of spinning up bullshit, bigotry and flat-out lies. When Freer, et al spun up this one, the general response was various flavors of "Christ, these assholes," plus concern/outrage for the hate and bigotry Meadows and their husband had to deal with. It's laudable that Mr. Antonelli has finally admitted he was wrong and offered an apology for it, but it should be clear that nearly everyone knew he was wrong long before he admitted it.

(Ironically, if Meadows and their family wished to pursue defamation, the person they would most likely have the best case against is Freer, who if memory serves lives in Australia, as they do, where the libel laws are slightly less stringent than here in the US. Freer's best defense in that case would be "triviality," ie, that he's not important enough, nor his audience large enough, to have done Meadows and her family harm.)….
And more follows…
[Thanks to JJ, Steve Green, Cat Eldridge, John King Tarpinian, Bill, Kathryn Sullivan, Andrew Porter, Chip Hitchcock, Martin Morse Wooster, rcade, Will R., Jason Davis, Daniel Dern, and Carl Slaughter for some of these stories. Title credit goes to File 770 contributing editor of the day Daniel Dern.]