(1) NEXT SMOFCON. Santa Rosa will host Smofcon 36 in 2018. The con will be held November 30-December 2. Bruce Farr will chair, and Patty Wells will organize programming. Their hotel will be The Flamingo Conference Resort and Spa.
(2) ORIGIN STORY. The International Costumers Guild revisits "The Futuristicostume" worn by Forry Ackerman at the first Worldcon in 1939.
We started our research by going back to the beginning, back to the first convention costumers Forrest J Ackerman and Myrtle Douglas.

Everyone is familiar with their photos. Most know the how and the why of their costumes. But how were they made? What color were they? We now have some answers and some theories along with new, never seen photos.

We now know his "futuristicostume" still partially exists. Most of the cape probably has not survived, but the pants and shirt are in the hands of a private collector. The shirt appears to be pale gold. As you can tell even in the black and white photos on line, the pants are most likely WWI military surplus. The most interesting story is about the cape. We found 2 references describing it as green. New photos from Ackerman's personal collection recently came to light, so we snapped them up for the Archives. We understand that the cape he is wearing in them is a recreation, but it would appear to verify our references. However, in the book "House of Ackerman: A Photographic Tour of the Legendary Ackermansion", by Al Astrella, James Greene and John Landis, there's a color photo of what's left of the cape, where it appears to be an antique gold. We are 90% certain we know the reason why. The clue was found in analyzing Myrtle's costume…
(3) DARK. Camestros Felapton is watching: "Review: Dark – Netflix".
It is no spoiler to say this is a time-travel/time-slip mystery. From the beginning elements such as clocks are underlined, we get repeated quotes from Einstein, snippets of lectures on Black Holes, and an old guy warning that 'it is happening again'. On top of that, we get an opening title sequence that (very effectively) uses reflections to create a disturbing view of the normal and a teacher lecturing his class on the use of symmetry and foreshadowing in the work of Goethe. I wonder if the producers entirely trusted their audience to follow where the show wanted to go.

The pay off comes at the end of episode three when the connections between 2019 and 1986 characters are made overt. What was an initially a confusing set of characters becomes clearer as the set of families involved and the relationships between them become clearer. Betrayals and loss and teenage romance form a web and events between the two eras become more entwined.
(4) CUBESATS. The Arthur C. Clarke Center for Human Imagination presents its latest Into the Impossible podcast — Episode 12: Speculative CubeSats.
How can CubeSats—the small, standardized satellites paving the way for the democratization of space—change our sense of the possible? We dive into two projects: the Planetary Society's Lightsail 2, with Director of Science and Technology Bruce Betts, and with MacArthur Genius grant-awardee Trevor Paglen, we discuss Orbital Reflector, the first satellite to be launched purely as an artistic gesture.
(5) SHUGGOTH. At Doctor Strangemind, Kim Huett added a James Blish cat story — "Tales Too Good To Forget #1".
…Luckily for us the young James Blish published quite a few fanzines and thus inadvertently provided for anybody fortunate enough to read these evidence that he was far more than a cold and forbidding intellect.

Well okay, to be perfectly honest a lot of his early fanzine writings are indeed as earnest and po-faced as William Atheling, Jr. might lead you believe the real Blish was. But while some of this material might come across as every bit as pompous as the pronunciations of a high art maven (if you don't believe me then go look for an issue of Renascence, but don't say I didn't warn you) in between the bouts of earnestness is another Blish, a wittier, lighter Blish who knew how to not take himself too seriously. The best place to look for this James Blish is in the material which he published for the Vanguard Amateur Press Association. It was here, in Tumbrils #4, that he wrote one of my favourite cat stories. Read this and you will never think of James Blish as po-faced ever again…
(6) DELIVERED IN HALF AN HOUR OR IT'S FREE. The "Astronauts show how to make pizza in space".
Astronauts at the International Space Station created a video of themselves making pizza in zero gravity.

Italian astronaut Paolo Nespoli tweeted that he "casually" told ISS chief Kirk Shireman that he missed pizza and Shireman managed to get pizza ingredients into space.
(7) A BOOK YOU CAN'T BUY ON AMAZON. Lurkertype went shopping for a copy of Camestros Felapton's There Will Be Walrus on Amazon, and found the Big River was able to sell everything but —
I just searched Amazon for TWBW and got no result (since it's only on Smashwords), but was suggested a plush stuffed walrus, walrus artworks, a tacky walrus shirt, several doodads for "Rock Band: Beatles", and a Barry White mask.
(8) I FEEL WOOZY. Andrew Porter cautions before clicking this link – "Memories and possibilities are even more hideous than realities".
Warning: this may cause you to tear out your eyeballs. Extreme psychedelic stuff might cause seizures in people with epilepsy….
(9) JAMES GUNN AUTOBIOGRAPHY. At Locus Online, "Russell Letson reviews Star-Begotten: A Life Lived in Science Fiction by James Gunn".
I hope I might be excused for injecting personal notes into a review of James Gunn's autobiography, Star-Begotten: A Life Lived in Science Fiction. As I read it, I couldn't help noticing how many times and in how many ways my life in SF was affected by Gunn's work as writer, editor, and academic activist. One of my earliest book purchases, around 1957, was the Ace paperback (Double Size! 35 cents!) of Star Bridge, the space opera he co-wrote with Jack Williamson. (I still have a double-autographed copy of a later Ace printing, the original having long since succumbed to pulp rot.) Before that, I had listened to the 1956 X Minus One radio adaptation of his short story ''The Cave of Night''. (It's still available online.) Years later, the third volume of The Road to Science Fiction was one of the reliable anthologies for my SF course, and a few years after that I wrote a dozen entries for The New Encyclopedia of Science Fiction that he edited. By that time, Gunn had been president of both the Science Fiction and Fantasy Writers of America and the Science Fiction Research Association, started the Center for the Study of Science Fiction at the University of Kansas, and worked for years as a promoter of the study and practice of science fiction.
(10) COMICS SECTION.
John King Tarpinian sends along today's horrible pun from Brevity.
And an interstellar mission doesn't quite make it in Herman.
(11) CLARKE CENTENNIAL. Clarke Award Director Tom Hunter reminds all that "Saturday 16th December will mark Arthur C. Clarke's centenary anniversary, and we've been prepping a few special moments to help celebrate the occasion across the month."
They include:
SILVER SCREEN SCIENCE FICTION AT THE ROYAL OBSERVATORY, GREENWICH

2010: The Year We Make Contact
Saturday 16th December 2017 (Sir Arthur's birthday)

The Royal Observatory Greenwich will be hosting a special planetarium screening of 2010: The Year We Make Contact (1984) starring Roy Scheider, John Lithgow and Helen Mirren + a cameo from Sir Arthur himself.

Before the film, we'll hear from Director of the Clarke Awards, Tom Hunter, and ROG Astronomer Brendan Owens about the influence of Arthur C Clarke on both science fiction and science fact. This event includes a free beer per person on arrival courtesy of Meantime Brewing Company.
There will also be a Kickstarter-funded stunt anthology, 2001: An Odyssey in Words, where every story is precisely two thousand and one words long.
On the fiction front, we started by putting out a call to our past winning and shortlisted authors, and have received almost thirty fantastic submissions back from writers including Chris Beckett, Gwyneth Jones, Jeff Noon, Rachel Pollack, Jane Rogers and Adrian Tchaikovsky, picking six names not at all at random because six is the same number as we have on our shortlist every year, and because all of these authors happen to be past winners.

…We'll also be featuring some choice bits of non-fiction in the collection, including an essay on Clarke's legacy by our own Chair of Judges, Dr Andrew M. Butler, and a remembrance of the judging experience itself from one of our more well known past judges, Neil Gaiman.
(12) BEAR FACTS. Well, phooey. "DNA Evidence Shows Yeti Was Local Himalayan Bears All Along" says Gizmodo.
The yeti, or abominable snowman, is a sort of wild, ape-like hominid that's the subject of long-standing Himalayan mythology. Scientists have questioned prior research suggesting that purported yeti hair samples came from a strange polar bear hybrid or a new species, though. The analysis "did not rule out the possibility that the samples belonged to brown bear," according to the paper published today in the Proceedings of the Royal Society B.

Lindqvist and her team analyzed DNA from 24 different bear or purported yeti samples from the wild and museums, including feces, hair, skin, and bone. They were definitely all bears—and the yeti samples seemed to match up well with exiting Himalayan brown bears. "
(13) YOU CAN'T GET OUT OF THE GAME. My Pappy always told me, never gamble, stick to thermodynamics: "Unesco adds Sir Isaac Newton's papers to world register".
More personal items in the collection include a notebook written during his time as an undergraduate, in which he lists how much he has spent on items such as wine, the shoestrings that cost him one shilling and 10 pence, and his four shillings and sixpence stockings.

He also appears to have lost 15 shillings at a card game, according to his own accounts.
(14) NOWHERE PEOPLE. "Where is the remotest spot in the United States?". "A pair of scientists from Florida, and their eight-year-old daughter, are visiting the remotest spot in every US state."
They settled on "the furthest distance from a road or town". But then, they say, "it got trickier".

What is a road? Anything paved, unpaved, public, or private, they decided. For example – beaches that allowed cars counted as roads.

They also decided the remote spot must be "high and developable". It can't be in the middle of a lake, and it can't be a flood plain.
(15) JUDGMENT CALL. Bleeding Cool actually did what I decided not to do — made an entire post of Amal El-Mohtar's tweets about her ordeal getting through TSA airport security the other day: "What Happened to Canadian Sci-Fi Writer Amal El-Mohtar's Phone at US Customs?"
(16) ARE THEY SURE? The Los Angeles Times recently published this errata —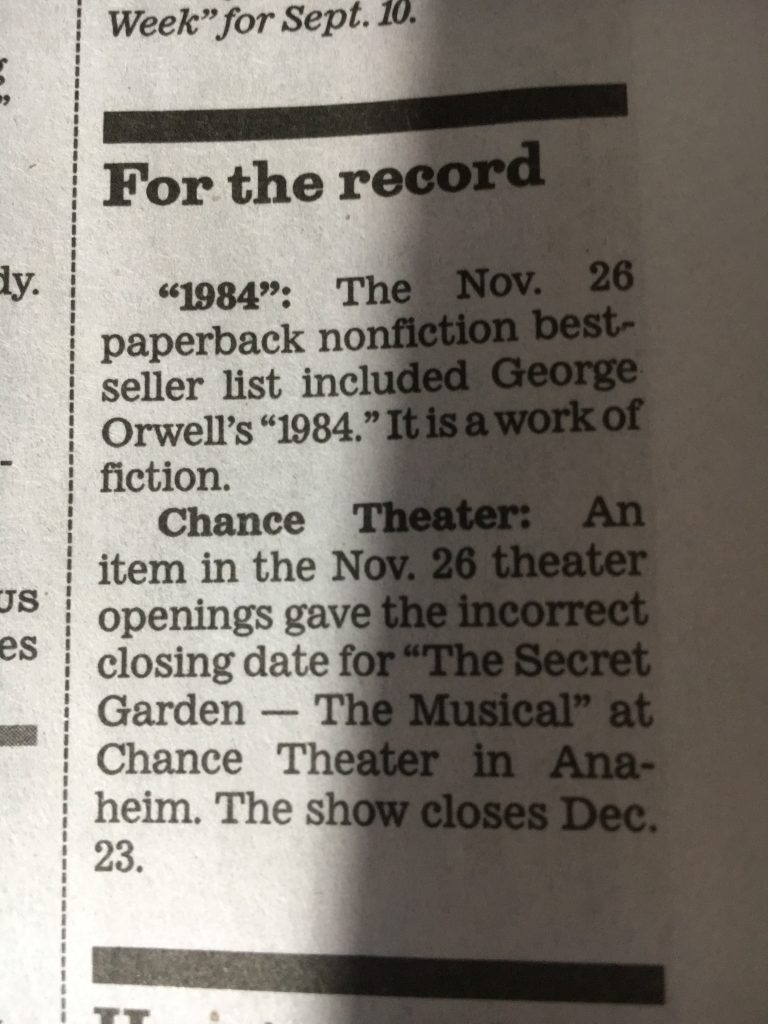 (17) LIGHTSABER EXERCISES. "Star Wars: The Last Jedi: Training Featurette" is a look at how hard the cast of The Last Jedi trained for the film.
(18) OUT IN FORCE. Daisy Ridley and the cast of The Last Jedi appeared on Jimmy Kimmel LIVE!
That same night there was a "Star Wars' Chewbacca Christmas Tree Unveiled on 'Jimmy Kimmel Live'".
[Thanks to JJ, Cat Eldridge, Martin Morse Wooster, Chip Hitchcock, Andrew Porter, Carl Slaughter, and John King Tarpinian for some of these stories. Title credit goes to File 770 contributing editor of the day Bill.]