(1) HEAR JEMISIN ON WORLDBUILDING. N. K. Jemisin's lecture at Cornell on October 4 will be livestreamed: "N. K. Jemisin to speak on imagining a better future" in the Cornell Chronicle.
N. K. Jemisin, award-winning fantasy author and critic, will give the Bartels World Affairs Lecture on Wednesday, October 4, at 5:30 p.m. in the Rhodes-Rawlings Auditorium.

The campus community is invited to join an in-person livestream watch party in Klarman Hall and attend a reception and book signing with Jemisin in the Groos Family Atrium after the event. A free watch party ticket is required. General admission is sold out. The lecture will also be livestreamed by eCornell.

In this Bartels World Affairs Lecture, fantasy author N. K. Jemisin will share how she learned to build unreal worlds by studying our own — and how we might, in turn, imagine a better future for our world and reshape it to fit that dream.

Join us for Ms. Jemisin's lecture and a discussion featuring a panel of distinguished Cornell faculty to kick off "The Future," a new Global Grand Challenge at Cornell. We invite thinkers across campus to use their imaginations to reach beyond the immediate, the tangible, and the well-known constraints. How can we use our creativity to plan and build for a future that is equitable, sustainable, and good?
(2) FOOLS' NAMES AND FOOLS' FACES. [Item by "Orange Mike" Lowrey.] I will be appearing this coming Sunday as a special guest star in a lecture/presentation called Depths of Wikipedia Live, at the Majestic Theatre in Madison, WI. Ticket information at the link:
Join Depths of Wikipedia creator Annie Rauwerda on a journey through Wikipedia's most interesting corners. You'll have the time of your life [citation needed]…
(3) SALT LAKE CITY BOOKSTORE THREATENED. The King's English Bookstore in Salt Lake City, UT was temporarily shut down by a bomb threat on Sunday morning targeting a drag queen story hour. Salt Lake City police heard of a "suspicious circumstance" around 9:30 and, after determining it was a bomb threat, evacuated the store to search for explosives, clearing it to reopen around 11. Tara Lipsyncki has hosted that drag queen story hour for five months. "Salt Lake City bookstore cleared after receiving bomb threat" – Fox13Now has the story.
…Salt Lake City Police said they learned of a "suspicious circumstance" at the King's English Bookshop, located at 1511 S. 1500 East, around 9:30 a.m. They later determined that it was a potential bomb threat and evacuated the building.

…The threat came in an hour and a half before "Sunday Storytime" with drag queen Tara Lipsyncki.

She's been reading children's books at the shop on the last Sunday of every month for five months now. She said she was heading to the King's English when the co-owner, Calvin Crosby, called her to say the store had received a bomb threat.

"The parents and the queer kids that need this event and need to be seen, I feel for them," she said….
Salt Lake City Mayor Erin Mendenhall posted to X, "I cannot say this strongly enough, EVERYONE belongs in Salt Lake City. The actions today to cause fear at @KingsEnglish around a drag story time event are not welcome here. We're looking forward to working with King's English so this event can happen at a future date for all those who wanted to be there today."
Sad Puppy Brad R. Torgersen joined others piling on the mayor with slurs about pedophilia.
Lipsyncki wrote in an Instagram post:
(4) WGA WEST AND EAST BOARDS VOTE TO LIFT STRIKE. A membership ratification vote comes next. "Writers Strike Is Over: WGA Votes to End Work Stoppage" reports Variety.
The Writers Guild of America (WGA) strike is officially over.

On the 148th day of the work stoppage, the board of the WGA West and council of the WGA East voted unanimously on Tuesday to lift the strike order as of 12:01 a.m. PT on Wednesday. following a tentative agreement on a new contract with the Alliance of Motion Picture and Television Producers (AMPTP). That means writers can go back to work as of Wednesday even before the final ratification vote.

The ratification vote will be held from Oct. 2-Oct. 9. The WGA will hold member meetings on both coasts this week in person and on zoom to discuss the details of the contract. Given the enthusiastic endorsement of the WGA negotiating committtee, it is expected to be easily ratified by strike-weary members.
(5) TOYS'R WHO? "57 Years Later, A Forgotten Sci-Fi Villain is Making an Unexpected Comeback" – Inversefills in his dossier.
…With the release of the action-packed trailer for all three Doctor Who 60th-anniversary specials, airing this November, BBC confirmed that Neil Patrick Harris is playing the Toymaker. The name seems obvious — when he's not donning a tuxedo and top hat, the character is dressed like a sinister Gepetto, and constantly surrounded by toys. But there's more to him than just a toy-making gimmick: the Toymaker, also known as the Celestial Toymaker, is one of the oldest villains of Doctor Who, first appearing in a serial that aired 57 years ago.

Originally played by Michael Gough, the Toymaker made his debut in the 1966 serial "The Celestial Toymaker," as a cosmic adversary to the Doctor who forced the Doctor's companions to play a series of seemingly childish but deadly games. Think Squid Games but everyone is dressed in questionably oriental-looking robes (the Toymaker's nickname was also "the Mandarin" — it was the '60s). The Toymaker trapped his victims in a kind of pocket universe called the Celestial Toyroom, which he could manipulate to his whim. If his victims lost the games, they would become the Toymaker's playthings forever, but if the Toymaker lost, the Toyroom would be destroyed and he would be forced to build another. The Toymaker also appeared to only be able to exist within his pocket universe, and couldn't — or wouldn't — leave it. But in the upcoming Doctor Who anniversary special, it seems that the Toymaker has made it into the main universe, and he's pulled Donna Noble (Catherine Tate) into his schemes….
(6) CHENGDU WORLDCON UPDATE. [Item by Ersatz Culture.]
This is one I stumbled across, it was posted on February 9th, although the video title mentions January 5th, which was perhaps when it was filmed? (Which would be two weeks before the venue and date change was officially announced.)
What is the progress of the main venue of the World Science Fiction Convention? Cover anchor takes you on a tour of the "Nebula" main venue (January 2023, 1)
(7) RILEY ON THE COVER. Although the story by David A. Riley initially accepted by F&SF was turned down after social media raised the issue of Riley's history of having once been part of the UK's National Front (see "F&SF Will Not Publish Riley Story"), a different work by the author has been announced as part of the lineup of Rogue Rocket Press' Best of Lovecraftiana. (Lovecraftiana is a quarterly.) Riley also announced it on his blog: "The Best of Lovecraftiana Magazine will include The Psychic Investigator".
The Best of Lovecraftiana Magazine will include my story The Psychic Investigator, which is likely to be the last of my Grudge End tales as it brings them to a post-apocalyptic end.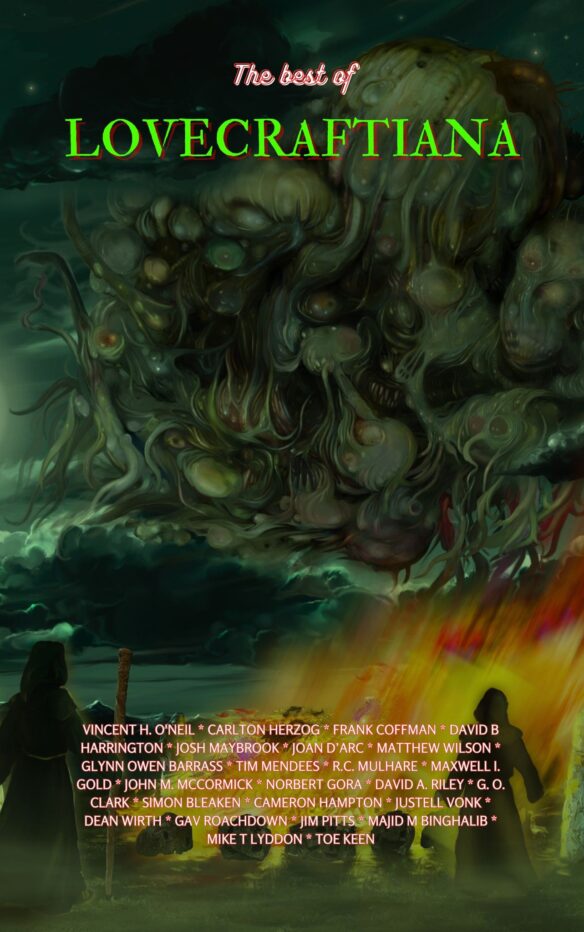 (8) TODAY'S BIRTHDAYS.
[Compiled by Cat Eldridge.]
Born September 26, 1869 — Winsor McCay. Cartoonist and animator who's best remembered for the Little Nemo strip which ran between The Wars and the animated Gertie the Dinosaur film which is the key frame animation cartoon which you can see here. He used the pen name Silas on his Dream of the Rarebit Fiend strip. That strip had no recurring characters or theme, just that a character has a nightmare or other bizarre dream after eating Welsh rarebit. What an odd concept. (Died 1934.)
Born September 26, 1872 — Max Erhmann. Best remembered for his 1927 prose poem "Desiderata" which I have a framed copy hanging here in my work area. Yeah big fan. Genre connection? Well calling it "Spock Thoughts", Nimoy recited the poem on Two Sides of Leonard Nimoy, his 1968 album. Who here has actually heard it? (Died 1945.)
Born September 26, 1888 — T. S. Eliot. He's written at least three short poems that are decidedly genre, "Circe's Palace" "Growltiger's Last Stand" and "Macavity: The Mystery Cat". Then there's his major work, "The Waste Land" which is genre as well. It's worth noting that Lovecraft intensely hated the latter and wrote a parody of it called "Waste Paper: A Poem of Profound Insignificance". (Died 1965.)
Born September 26, 1935 — Juan Zanotto. An Italian-born Argentine comic book artist whose Italian Yor series was used as the basis of the 1983 Yor, the Hunter from the Future film. It has a fourteen percent rating over at Rotten Tomatoes. Who's seen it? And he drew the Marvel Comics War Man graphic novel which was written by Chuck Dixon. (Died 2005.)
Born September 26, 1946 — Louise Simonson, 77. Comic editor and writer. She started as editor on the Creepy, Eerie, and Vampirella titles at Warren Publishing. Working for DC and Marvel, she created a number of characters such as Cable and Doomsday, and written quite a few titles ranging from Doomsday, Wonder Woman, Conan the Barbarian and X-Terminators. She's written a Star Wars title for Dark Horse.
Born September 26, 1957 — Tanya Huff, 66. Her Confederation of Valor Universe series is highly recommended by me. And I also give a strong recommendation to her Gale Family series. I've not read her other series, so I'll ask y'all what you'd recommend. Oh and her Blood Books series, featuring detective Vicki Nelson, was adapted for a television series as Blood Ties. And yes, it was, like Forever Knight, filmed and set in Toronto. It's streaming pretty much everywhere.
Born September 26, 1959 — Ian Whates, 64. The Noise duology, The Noise Within and The Noise Revealed, are space opera at its finest. And his City of a Hundred Rows steampunk urban fantasy series sounds damn intriguing. As an editor, he's put together some forty anthologies of which I'll note only one of the most recent, London Centric: Tales of Future London, as it's a quite amazing collection.
(9) AD ASTRA INSTITUTE WORKSHOP. The Ad Astra Institute's new speculative-fiction workshop "Writing in (& about) the Age of Artificial Intelligence" led by Christopher McKitterick will run from October-December. Outline below; full information at the link.
The format differs from prior workshops in that it's a Science, Technology, & Society course blended into our "Science into Fiction" low-intensity writing workshop structure – our first pro workshop with a syllabus that includes weekly readings and viewings for discussion to inspire and inform participants. We hope people enjoy it and get a lot out of the experience.

This third SiF course takes place over the course of about two months, so it's much lower-intensity than our residential summer workshops – suitable for people with day-jobs. But if you want high-intensity, it can be as intense as you like by getting more involved in Discord discussions, write-ins, reading and watching more stuff and talking with the others about it, playing around with chatbots, and so forth.

The developmental and brainstorming weekend takes place October 21-22, and after six weeks of drafting a new story (and one week to critique one another's work) we'll hold our critique weekend on December 9-10. We'll host both workshop weekends in hybrid format (in-person in Lawrence, KS, plus on our Discord channel), so there's no need to come to LFK unless you want to rub elbows with the small in-person cohort.

Workshop leader (and Ad Astra director) McKitterick is getting married this week and will be away while everyone is getting starting reading and watching, but will check in while on the road. Soon after he gets back to LFK in October, we'll begin hosting discussions and write-ins.

Registration is now open! There are only a few spots left, so check it out soon if you'd like to participate. Alums are eligible for a small AdAstranaut scholarship right off the bat, plus – thanks to generous donors and attendees who pay full price – we can offer a few further scholarships, as well. So don't let cost be a barrier to participating if you'd like to join.

Ready to take a deep-dive into AI and write a new story this fall? It needn't be about AI, and you won't get an "F" for failing to read and discuss enrichment materials, but hopefully the'll inspire and get you writing.
(10) WHERE THE CORPSE FLOWER GROWS. On October 27-28, The Huntington Library in Pasadena, CA will roll out some events, entertainments, and displays in the Halloween spirit for "Strange Science at The Hauntington". Full details and tickets at the link.
Join us for an evening of chills and thrills! Witness spirited performances and special displays of rarely seen objects from our vaults. Hear spine-tingling stories, learn weird scholarly facts, and experience twisted fantasies on the dance floor.
(11) PRESENT AT THE CREATION. Frankenstein 1930 at the Long Beach (CA) Playhouse between now and October 21 – full details and tickets at the link.
Just in time for the Halloween season, FRANKENSTEIN 1930 harkens back to the Universal monster movies of the 1930s in a stage homage that features all the elements we love and remember from those films: the stone walled laboratory, the crazed scientist, angry villagers, a swooning yet determined heroine, a fearful storm, and the hideous but sympathetic creature with its confused mind and powerful, undisciplined body. Can Victor Frankenstein and his fiancée Elizabeth subdue his deadly creation, or will the final confrontation be the end of them all?!?
(12) RIGS IN SPACE. [Item by Steven French.] Space drugs are coming soon! "Building in zero gravity: the race to create factories in space" in the Guardian.
… For some startups, the most pressing questions in manufacturing right now are: how do you build computer parts, harvest stem cells or produce pharmaceuticals while in space?

A group of founders say it's already happening, at least at the research level. Nasa has given a $2m grant to scientists who want to see if zero-gravity conditions can help produce new stem cell and gene therapies. The defense company Northrop Grumman partnered with a startup that aims to produce semiconductors in space. By the end of this decade, one expert says, we'll be using items that contain some element that was built off of Earth.

Why go through the trouble of "off-planet manufacturing"? Jeff Bezos told CBS's Gayle King that heavy manufacturing and air-polluting industries could operate away from Earth. "This sounds fantastical … but it will happen," Bezos said.

Advocates say that certain conditions in space, including the lack of gravity, low temperatures and near-perfect vacuum, mean that certain ingredients, such as crystals, can be made at a better quality than on land….
(13) A VERY BIG DESERT ISLAND. Nature says "This is what Earth's continents will look like in 250 million years". It will take true grit to survive this.
…Up to 92% of Earth could be uninhabitable to mammals in 250 million years, researchers predict. The planet's landmasses are expected to form a supercontinent, driving volcanism and increases to carbon dioxide levels that will leave most of its land barren.

"It does seem like life is going to have a bit more of a hard time in the future," says Hannah Davies, a geologist at the GFZ German Research Centre for Geosciences in Potsdam. "It's a bit depressing."

Earth is currently thought to be in the middle of a supercontinent cycle1 as its present-day continents drift. The last supercontinent, Pangaea, broke apart about 200 million years ago. The next, dubbed Pangaea Ultima, is expected to form at the equator in about 250 million years, as the Atlantic Ocean shrinks and a merged Afro-Eurasian continent crashes into the Americas.

…If humans are still around in 250 million years, Farnsworth speculates that they might have found ways to adapt, with Earth resembling the 1965 science-fiction novel Dune. "Do humans become more specialist in desert environments, become more nocturnal, or keep in caves?" he asks. "I would suspect if we can get off this planet and find somewhere more habitable, that would be more preferable."…
(14) A LITTLE TOUCH OF HARRY IN THE NIGHT. Unlike King Kong, Harry Potter will not be climbing the building as part of this celebration: "Empire State Building to light up in Harry Potter's Hogwarts house colors Wednesday to mark 25th anniversary" at AMNY.
The Empire State Building will light up in the four Hogwarts house colors on Wednesday, Sept. 27 to mark the 25th anniversary of the first Harry Potter book published in the U.S.

With a flick of the wand and a "Lumos," the Tower Lights will shine in Gryffindor red, Hufflepuff Yellow, Ravenclaw blue, and Slytherin green at sunset.

A magical pop-up cart with free copies of "Harry Potter and the Sorcerer's Stone" and bottled Butterbeer will be given to guests who purchase tickets to the 86th floor Observatory from 2 p.m. to 5 p.m., while supplies last.

The Empire State Building, Wizarding World franchise partners, and Scholastic collaborated to organize the anniversary event, which all Muggles are also invited to come.
(15) A TARTAN FOR OGRES? It's Nice That tells how "You can now book a stay at Shrek's swamp for free on Airbnb". It's in Scotland!
Shrek is giving Barbie a run for its money. After Barbie's Malibu DreamHouse recently returned to Airbnb (this time hosted by Ken), the holiday rental platform has listed Shrek's Swamp on its site. Located in the Scottish Highlands, the property is a real-life recreation of the homestead built by everyone's favourite ogre.

According to Airbnb, anyone can request to book. One lucky group of three will be chosen for a two-night stay from 27-29 October, where they'll experience all the luxuries of Shrek's swamp – from "earwax candlelight" to the ogre's iconic outhouse. The property was designed exclusively for this campaign, and is independently owned and operated by Ardverikie Estate….
[Thanks to Andrew Porter, Ersatz Culture, John King Tarpinian, Steven French, "Orange Mike" Lowrey, Remco van Straten, Chris Barkley, Cat Eldridge, SF Concatenation's Jonathan Cowie, and Mike Kennedy for some of these stories. Title credit belongs to File 770 contributing editor of the day John Lorentz.]