(1) DELANY'S CARTE BLANCHE. The Museum of Modern Art in Manhattan will present movies curated by Samuel R. Delany as part of its Carte Blanche series, in which cinema and art-world luminaries present a selection of films that are of personal or professional significance to them: Carte Blanche: Samuel R. Delany from May 20-June 6.
On the occasion of his 79th year, Samuel R. Delany, multi-time Nebula and Hugo award-winning author and lauded literary critic, taps into a lifetime of cinematic obsessions for MoMA's Carte Blanche series. Delany's colorful picks—encompassing the classical avant-garde of Jean Cocteau's The Blood of a Poet, Maya Deren's Meshes of the Afternoon, and Jean Vigo's L'Atalante; masterworks by Michael Powell and Luis Buñuel; and newer treasures like Peter Jackson's King Kong and Martin Scorsese's Hugo—honor the expressive power of the fantastic on film. Accompanying his selections are a rare screening of his own experimental science-fiction featurette The Orchid and Fred Barney Taylor's effervescent portrait of the author, The Polymath, or The Life and Opinions of Samuel R. Delany, Gentleman.

Of his choices Delany writes, "Sometimes I feel like the character in Myra/Myron Breckenridge who announces something to the effect: Between 1938 and 1950, there were no bad films made in the United States of America. That's kind of how I feel about all films. It's like Andrew Saris said, 'There are no amateur films. They're too expensive to make. If you can afford to make a film, you're making a film.'"

If you'd like to explore more Delany cinema favorites, he's recommended some additional films to seek out: Abel Gance's Napoléon (1927), Jean Delannoy's The Eternal Return (1943), Michael Powell and Emeric Pressburger's The Red Shoes (1948), Ernest B. Schoedsack's Mighty Joe Young (1949), Jacques Tourner's The Flame and the Arrow (1950), Jean Cocteau's Orphée (Orpheus) (1950), Stanley Donen's Seven Brides for Seven Brothers (1954), Mervyn LeRoy's Rose Marie (1954), Stanley Kubrick's 2001: A Space Odyssey (1968), Sidney Lumet's Dog Day Afternoon (1975), Ingmar Bergman's Fanny and Alexander (1982), and Martin Scorsese's Gangs of New York (2002).
(2) CONVENTION COMEBACK. The Windy City Pulp and Paper Convention announced on Facebook they're planning an in-person event for September 9-12, 2021 at the Westin Lombard Yorktown Center, Lombard, Illinois.
…In IL, the State will be moving to a reopening Bridge Phase on May 14, with Phase 5 to occur on June 11. Both of these phases would permit conventions like ours to take place, so while we can't predict what will happen over the summer, at this point it looks very likely that the show will go on!

It will be a requirement that masks covering the nose and mouth be worn during the convention. We don't know yet whether vaccinations will be required by the State, but we encourage all attendees to have been vaccinated and bring proof of vaccination in case that is required. Obviously, if you have any symptoms of COVID-19, you should not attend the convention and should contact your doctor.

To help with social distancing, for this year's show we will not have a con suite. Attendees arriving on Thursday will be able to pick up their materials outside the dealer room on Thursday evening. At the moment, this is the only change we anticipate to our programming; we hope to have the con suite back for the 2022 show, which will be held May 5-8, 2022.

…Our Friday evening auction will feature more rare material from the Estate of Robert Weinberg. Our Saturday evening auction will contain material from several consignors, including many rare items from the Estate of Glenn Lord as well as few scarce items from the Estate of August Derleth (including perhaps his scarcest book, "Love Letters to Caitlin"). Other great material includes a copy of the Herbert Jenkins edition of Robert E. Howard's "A Gent From Bear Creek!"
Keep checking their website www.windycitypulpandpaper.com and Facebook page for further updates.
(3) BEST RELATED. James Davis Nicoll got everyone to play along – one way or another – when he tweeted this question:
The thread starts here and continues….
(4) DOCTOR WHO HARASSMENT ISSUES. The Guardian updates an earlier story: "Noel Clarke accused of sexual harassment on Doctor Who set".
The Noel Clarke sexual harassment controversy threatens to embroil the BBC after several sources came forward to allege they were sexually harassed or inappropriately touched by the actor on a flagship show, Doctor Who.

Another Doctor Who actor, John Barrowman, has also been accused of repeatedly exposing himself to co-workers on two BBC productions, prompting questions about whether the corporation allowed a lax culture on its sets during the mid-2000s.

The developments come a week after ITV, Sky and the BBC announced that they had cut ties with Clarke after the Guardian published testimony from 20 women who variously accused him of groping, sexual harassment and bullying.

… Barrowman, who played the character of Capt Jack Harkness in Doctor Who and its spin-off show Torchwood, is accused of exposing himself repeatedly on both sets, although numerous witnesses described the incidents as inappropriate pranks rather than anything amounting to sexually predatory behaviour….
(5) HISTORY FROM ANOTHER PLANET. The Smithsonian will display a Star Wars X-Wing fighter reports the New York Times: "Coming Soon to a Hallowed Hall of Spaceflight: An X-Wing Fighter".
The National Air and Space Museum holds some of the most hallowed objects of the aerial age.

Visitors can marvel at the 1903 Wright Flyer that skimmed over Kitty Hawk, N.C., the bright red Lockheed 5B Vega that Amelia Earhart piloted alone across the Atlantic Ocean and the bell-shaped Friendship 7 capsule that made John H. Glenn Jr. the first American to orbit the Earth.

Now, the museum said, it will display a spacecraft that has flown only onscreen, in an entirely fictional galaxy where good and evil seem locked in eternal battle.

That's right: An X-wing Starfighter will grace the museum's newly renovated building on the National Mall sometime late next year, the museum said on Tuesday, which was celebrated by "Star Wars" fans as a holiday because it was May 4 (May the 4th be with you).

The Hollywood prop, with a wingspan of 37 feet, appeared in "Star Wars: The Rise of Skywalker" in 2019 and is on long-term loan from Lucasfilm, the movie's production company.

While air and space purists may grumble about precious exhibition space being turned over to a pretend craft that played no role in advancing actual space travel, the exhibition is not the first time the museum has allied itself with the franchise's crowd-pleasing power. In the late 1990s, it presented "Star Wars: The Magic of Myth," a show based on the original "Star Wars" trilogy; that show went on tour across the country.
(6) SELF-SURVEILLANCE. "Aiming for lateral accountability: Cameras will either help… or thwart… Big Brother" says David Brin.
…"Massive camera hack exposes the growing reach and intimacy of American surveillance." A breach of the camera start-up Verkada 'should be a wake-up call to the dangers of self-surveillance,' one expert said: 'Our desire for some fake sense of security is its own security threat', reports The Washington Post.

I remain appalled that so many very smart people actually seem to think that each year's new tech levels – and menaces – will now freeze and stand still long enough for us to ban them. Cameras get smaller, faster, cheaper, better, more mobile and vastly more numerous far faster than Moore's Law (Brin's Corollary!)

Consider the recent case of San Francisco's City Council banning facial recognition systems, when keeping them open to public criticism is exactly how we discovered and then corrected many problems like racial and gender bias in the programs.

Anyway Facial Recognition programs won't be resident in police departments for long, where some city council can ban them, but will be cheap apps in phones and AR glasses, available from a thousand directions. Result? Cops who are banned from using versions that are open to supervision will instead surreptitiously use dark web versions, because it might save their own lives.

We need to focus not on uselessly trying to ban tech that might be abused, but on eliminating the abuses. And that can only happen with more light, aimed at those with power.

Oh, the dangers are very real! These techs will certainly empower agents and masters of despotism, if you already have a despotism. And hence the lesson and priority is to prevent despotism altogether! Because these same techs could instead empower vibrant citizenship, if we see to it they are well-shared and that no elite gets to monopolize them.

Which they will, if we try simplistically and reflexively to ban them.

It's not that the ACLU and EFF and EU are wrong to fret! They are absolutely correct to point at problems and to worry that surveillance techs could empower Big Brothers and render citizen privacy extinct. It is their prescriptions that almost always are short-sighted and foolish.

Making a tech illegal will not stop elites form having and using it.

Let me repeat that.

Making a tech illegal will not stop elites form having and using it.

What it will do is make them arrange to do it secretly, where the methods won't be appraised and criticized publicly.
(7) MYSTERY SCIENCE THEATER KICKSTARTER HITS GOAL. "Joel and the Bots have successfully funded a full new season of MST3K" — 36,581 backers pledged $6,519,019 to bring back the show.
We've got movie sign once again, amazingly, as Mystery Science Theater 3000, the TV show that taught us all the true meaning of a Patrick Swayze Christmas, has once again brought home a successful Kickstarter campaign to fund a full new season of the beloved movie-riffing show. The "Let's Make More MST3K & Build The Gizmoplex!" campaign—the latter referring to a new web portal that series creator Joel Hodgson intends to build as the permanent online home for the show—wrapped up yesterday, hitting all of its funding goals, including milestones for a full 12 episodes, as well as Halloween and Christmas specials….
(8) MEDIA ANNIVERSARY.
May 9, 1997 — On this day in 1997, Fifth Element premiered in the United States. It was directed by Luc Besson and produced by Patrice Ledoux from the screenplay by Luc Besson and Robert Mark Kamen Whitchurch was based off the story by Luc Besson. It starred Bruce Willis, Gary Oldman, Ian Holm, Chris Tucker and Milla Jovovich. It did exceedingly well at the box office, far beyond returning the investment that the company put into it. It was both praised and damned in equal amounts by critics who either loved it passionately or despised it with all their heart. It finished fourth in the voting for the Hugo for Best Dramatic Presentation at BucConeer the next year. Audience reviewers at Rotten Tomatoes currently give it a rather excellent eighty-six percent rating.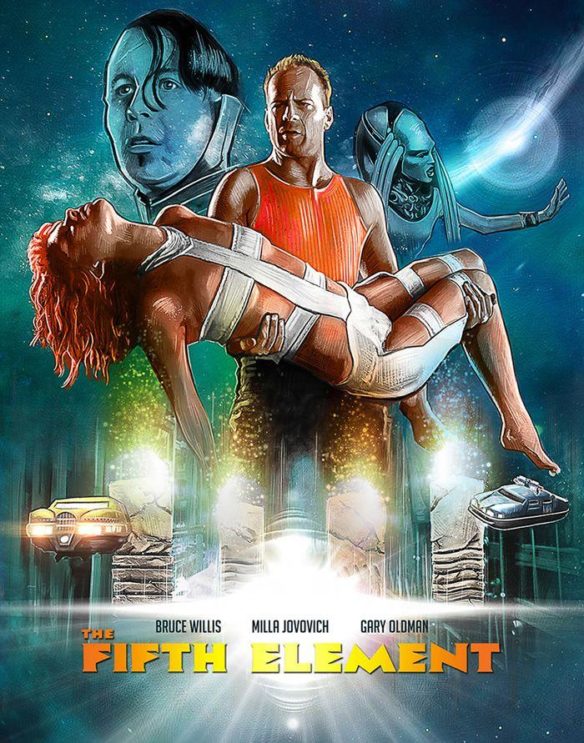 (9) TODAY'S BIRTHDAYS.
[Compiled by Cat Eldridge and John Hertz.]
Born May 9, 1867 — J.M. Barrie. Scottish novelist and playwright, best remembered as the creator of Peter Pan. Scots by birth and education, he moved to London, where he wrote a number of successful novels and plays. There he met the Llewelyn Davies boys, who inspired him to write about a young boy who has magical adventures in Kensington Gardens (first included in Barrie's 1902 adult novel The Little White Bird), then to write Peter Pan, or The Boy Who Wouldn't Grow Up. (Died 1937.) (CE)
Born May 9, 1906 – Eleanor Estes. Three novels for us, a score of others. Librarian and teacher. Newbery Medal, Lewis Carroll Shelf Award. Eleanor Cameron said EE's stories of fictional Moffats were classic. As it happens I have known two Moffatts and one Moffat in SF. (Died 1988) [JH]
Born May 9, 1913 – Richard McKenna. Half a dozen stories for us published while he was alive, a dozen more afterward. One Nebula, posthumously. The first and last stories to appear in his lifetime, "Casey Agonistes" and "Hunter, Come Home", are masterworks and unforgettable. One novel, The Sand Pebbles, outside our field; made a successful film. Served a score of years in the Navy. (Died 1964) [JH]
Born May 9, 1920 — Richard Adams. I really loved Watership Down when I read it long ago so will not read it again that the Suck Fairy may not visit it. Are any of the various Watership animated affairs worth seeing? Reasonably sure I've read Shardik once but it made no impression one way or the other. I heard good things about Tales from Watership Down and should add it my TBR pile. (Died 2016.) (CE)
Born May 9, 1920 — William Tenn. Clute says in ESF that "From the first, Tenn was one of the genre's very few genuinely comic, genuinely incisive writers of short fiction, sharper and more mature than Fredric Brown and less self-indulgent in his Satirical take on the modern world than Robert Sheckley." That pretty sums him up I think. All of his fiction is collected in two volumes from NESFA Press, Immodest Proposals: The Complete Science Fiction of William Tenn: Volume I and Here Comes Civilization: The Complete Science Fiction of William Tenn: Volume II. (Died 2010.) (CE)
Born May 9, 1925 – Kris Neville. Four novels (a fifth still unpublished – in English; a Japanese translation by Yano Tetsu has appeared), six dozen shorter stories. Fan Guest of Honor at Westercon XVI. Impassioned remarks by Barry Malzberg here; he edited The SF of KN; recent coll'n Earth Alert! (Died 1980) [JH]
Born May 9, 1926 – Richard Cowper. A dozen novels, a score of shorter stories. Essays, letters in Focus, Foundation, Vector. Guest of Honour at Eastercon 30, Unicon 3, BECCON '85. Outside our field, four novels, memoirs, under another name. More here and here. (Died 2002) [JH]
Born May 9, 1936 — Albert Finney. His first genre performance is as Ebenezer Scrooge in Scrooge. That's followed by being Dewey Wilson in Wolfen, a deeply disturbing film. He plays Edward Bloom, Sr. In the wonderful Big Fish and voices Finis Everglot in Corpse Bride. He was Kincade in Skyfall. He was Maurice Allington in The Green Man based on Kingsley Amis' novel of the same name. Oh, and he played Prince Hamlet in Hamlet at the Royal National Theatre way back in the Seventies! (Died 2019.) (CE)
Born May 9, 1938 – George Schelling, age 83. A score of covers, two hundred forty interiors. Here is the May 62 Amazing. Here is the Oct 64 Galaxy. Here is the May 65 Worlds of Tomorrow. Here is an interior, also from Amazing (Jun 64). Outside our field, animals, aquatics, e.g. for Field and Stream, Audubon. [JH]
Born May 9, 1951 – Joy Harjo, age 70. Poet Laureate of the United States (the 23rd; the second to be given a third term; the first Amerind, I believe – she is Creek). Nine books of poetry; plays; seven albums of music. Lily Prize, Wallace Stevens Award. Two short stories for us, one anthology (with Gloria Bird). Website. [JH]
Born May 9, 1979 — Rosario Dawson, 42. First shows as Laura Vasquez in MiB II. Appearances thereafter are myriad with my favs including being the voice of Wonder Women in the DC animated films, Persephone in Percy Jackson & the Olympians: The Lightning Thief and her take as Claire Temple across the entire Netflix Marvel universe. No, I don't consider her or anyone else's acting on the two Sin City films to a highlight of their acting careers. (CE)
(10) COMICS SECTION.
This Rhymes with Orange is what might be called a different take on a T. Kingfisher story.
(11) A GEORGIA READER RECOMMENDS. The New York Times Book Review knows "The One Book Stacey Abrams Would Require the President to Read". That book isn't genre, but a lot of others mentioned in the intereview are.
What books are on your night stand?

I read several genres at once, rotating through as the mood strikes me. My long read right now is "The Coldest Winter," by David Halberstam. My sibling book club picked "Ring Shout," by P. Djeli Clark, which is paced wonderfully so it will not be over too soon (but luckily before our call). A recent discussion with my niece reminded me how much I love fairy tales of all kinds, so I decided to dive into "Tales of Japan: Traditional Stories of Monsters and Magic."

Describe your ideal reading experience (when, where, what, how).

I had it a few weeks ago. Georgia's mercurial weather shifted from an unreasonable 48 degrees to a balmy 75 degrees over the weekend. Knowing how soon it could be 25 degrees or 89 degrees, I filled my water bottle, poured myself a glass of Martinelli's apple juice, and picked up "Black Sun," by Rebecca Roanhorse. Soon, I was outside on the patio in the springtime, midafternoon, with my feet up on the ottoman and my reading glasses perched on my nose….
(12) TRANSPARENT FANTASY. In the Washington Post, Molly Born profiles West Virginia's Blenko Glass, which nearly folded because of the pandemic but was saved because they started producing figurines based on "the mythical Flatwoods Monster," which allegedly terrorizes the residents of Flatwoods, West Virginia. Liz Pavolvic, who designed the figurine, plans to develop "other sc-fi ideas" for Blenko, beginning with the Mothman, a legend made into the film The Mothman Prophecies. "How a mythical backwoods monster saved a struggling West Virginia glass company".
… The first alleged sighting of the "green monster" occurred in the town of Flatwoods in 1952, when a group of locals reported seeing a giant floating creature with a spade-shaped head, claw-like hands and a metal "dress," emitting a toxic mist or odor. In recent years the legend has inspired a museum, festival and tchotchkes sold at the local gas station.

Designer and illustrator Liz Pavlovic visited Blenko's factory and flipped through old catalogues, looking for inspiration to pair with Pavlovic's own playful renderings of this and other popular cryptids they sell on prints, stickers and magnets. Pavlovic submitted a sketch that captured the creature's spooky aesthetic, right down to its beady eyes and the fabric-like swirls of its outfit….
(13) DON'T STAND UNDERNEATH WHEN THEY FLY BY. Space.com reports: "Huge Chinese rocket booster falls to Earth over Arabian Peninsula".
The Chinese rocket has come down.

The 23-ton core stage of a Long March 5B booster crashed back to Earth Saturday night (May 8), ending 10 controversial days aloft that captured the attention of the world and started a wider conversation about orbital debris and responsible spacefaring….
Also issued today — "NASA Administrator Statement on Chinese Rocket Debris".
NASA Administrator Sen. Bill Nelson released the following statement Saturday regarding debris from the Chinese Long March 5B rocket:

"Spacefaring nations must minimize the risks to people and property on Earth of re-entries of space objects and maximize transparency regarding those operations.

"It is clear that China is failing to meet responsible standards regarding their space debris.

"It is critical that China and all spacefaring nations and commercial entities act responsibly and transparently in space to ensure the safety, stability, security, and long-term sustainability of outer space activities."
(14) CORPORATE TRICKERY. "Opposition to Net Neutrality Was Faked, New York Says" – the New York Times has the story.
Internet service providers funded an effort that yielded millions of fake comments supporting the Federal Communications Commission's repeal of so-called net neutrality rules in 2017, the New York attorney general said on Thursday.

Internet providers, working through a group called Broadband for America, spent $4.2 million on the project, Attorney General Letitia James said. The effort generated roughly nine million comments to the agency and letters to Congress backing the rollback, almost all signed by people who had never agreed to the use of their names on such comments, according to the investigation. Some of the names had been obtained earlier, in other marketing efforts, officials said. The agency approved the repeal in late 2017.

Broadband for America's members include some of America's most prominent internet providers, like AT&T, Comcast and Charter, as well as several trade groups.

Supporters of the repeal regularly cited the number of comments opposing the rules. Investigators said Broadband for America had "commissioned and publicized a third-party study" of how many comments were being submitted, and then briefed F.C.C. officials on their findings as part of their push.

"Instead of actually looking for real responses from the American people, marketing companies are luring vulnerable individuals to their websites with freebies, co-opting their identities and fabricating responses that giant corporations are then using to influence the policies and laws that govern our lives," Ms. James said in a statement.
(15) MORE THAN SHELVES. Architectural Digest takes you "Inside the World's Most Beloved Independent Bookstores".
Pro qm (Berlin)

In 1999, Katja Reichard, Jesko Fezer, and Axel J. Wieder launched Pro qm, a bookshop and laboratory for ideas on everything from urbanism to climate change. The white space is punctuated by shocking pink ladders and colorful tomes on design, architecture, and pop culture.
(16) LAST NIGHT ON SNL.
"Wario" introduces us to the evil brother of Super Mario Bros.'s Mario.
"Chad on Mars" has an unlikely hero out to save Elon Musk's Mars mission.
"Weekend Update: Baby Yoda On Star Wars Day Celebrations" had an interview with Baby Yoda, who said he "smoked weed and took pills" on Star Wars Day, "because I'm not like a nerd, you know."
[Thanks to Mike Kennedy, JJ, Cat Eldridge, James Davis Nicoll, Martin Morse Wooster, Michael Toman, Kathy Sullivan, StephenfromOttawa, Andrew Porter, Michael J. Walsh, John King Tarpinian, and John Hertz for some of these stories. Title credit goes to File 770 contributing editor of the day jayn.]