(1) COLUMBIA COLLEGE REACTS TO ALLEGATIONS AGAINST WELLER. Columbia College Chicago has announced that faculty member and Bradbury biographer Sam Weller, accused by a former colleague of sexual assault, will 'step away' from teaching during Columbia investigation.
A Columbia faculty member publicly accused of sexual assault by a former colleague at the college has agreed to "step away" from the classroom while the college investigates the claims. 

In an article published on Medium Feb. 12, Cara Dehnert, a former associate professor of instruction in the Business and Entrepreneurship Department, accused Sam Weller, associate professor in the English and Creative Writing Department, of sexually assaulting her in his office on March 25, 2018. 

…Dehnert said she received no communication from Human Resources after her meeting with them in 2020, and as of Feb. 18 has not heard from the college following the publication of her article.

In a Feb. 15 statement, Lambrini Lukidis, associate vice president of Strategic Communications and External Relations, said the college was investigating the allegations against Weller. 

"Columbia College Chicago is aware of recent new allegations of potential criminal behavior and misconduct, which the College is investigating," the statement said. "All reports of crimes and misconduct are taken seriously, investigated by the College and forwarded to local law enforcement if necessary."  

Over the course of the past week, Dehnert's post was shared on various social media platforms, via email and in the Columbia Engage app. As word of the accusation spread, calls for accountability and for Weller's removal from the classroom grew. A petition titled "Hold Sam Weller accountable" was posted Wednesday on Change.org, and as of Friday evening had garnered more than 2,600 signatures. 

In a Feb. 16 interview, Madhurima Chakraborty, president of the Faculty Senate and associate chair of the English and Creative Writing Department, said she wanted more transparency from the college. 

"I want there to be clarity around accountability," Chakraborty said. "I want there to be a clear understanding of what it is that we should be able to expect from our workplaces and the place where we study." 

A statement from Lukidis to the Chronicle on Feb. 18 said Weller and the college "have agreed he will step away from his classes pending the outcome of the investigation."  

Students enrolled in Weller's classes received an email Friday afternoon from Pegeen Reichert Powell, chair of the English and Creative Writing Department, informing them that Weller's classes would be taught by a substitute "for the time being."…  
A local Chicago TV news devoted two minutes to the story, strangely failing to identify the accused person but interviewing the accuser on camera: "Columbia College Professor to 'Step Away' From Teaching Amid Sexual Assault Probe" at NBC Chicago.
Cara Dehnert Huffman has learned she's not the only one, as she told Facebook readers yesterday.
… Since then, I've been contacted by five other women and counting who shared similar experience. Except all of them were students at the time.

I don't know why Columbia College Chicago didn't act when Sam's behavior was reported by someone else in 2017. I don't know why (it appears) that CCC did not act when I reported in 2020.

I've said all along that my only goal is to help people moving forward. But as I read and listen to heart wrenching tale after tale, all of which are too similar to mine and all of which done by the hands of Sam, I've reconsidered my position.

The pattern is clear. Sam's abuse and manipulation go back as early as 2008. 2008!!!! …
(2) SOMETHING PROS WONDER ABOUT. Lincoln Michel asks, "Do blurbs work?" and answers: Maybe, but yes if Stephen King blurbs your first novel: "Do Blurbs Actually Work?"
… Yes, sometimes. I myself have bought books thanks to blurbs now and then. Recently, I was browsing a translated literature table and saw The Houseguest by Amparo Dávila. I'd never heard of the author, but the book had blurbs from Carmen Maria Machado and Julio Cortázar so I thought, hell, let's give this author a try! I'm glad I did.

Whenever blurb discourse heats up, plenty of readers say blurbs are a factor. So yes, they can sell books.

At the same time, yes, it is perhaps true that blurbs are rarely the deciding factor….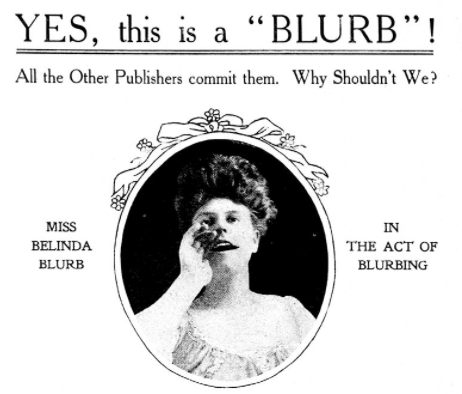 (3) GET READY. Oghenechovwe Donald Ekpeki pointed Facebook readers to the cover and table of contents release for Bridging Worlds: Global Conversations on Creating Pan-African Speculative Literature In A Pandemic at Jembefola, which will be released as a free download there on February 21.
…It will feature 18 non-fiction pieces by 19 creatives You can check out the TOC  here.

Our amazing cover was done by Dare Segun Falowo. The book itself will be free to download in all formats, following and due to the events inspired by Amazon KDP's bad behaviour….

… 2020 was a landmark year in the lives of speculative fiction writers trying to both survive and create in the pandemic-lockdown breakout year. It was especially difficult for Black people, and Africans on the continent and in the diaspora.

The Bridging Worlds anthology examines those difficulties and how Black people and African writers navigated them. Even though we had myriad experiences in the different worlds we inhabit, we were nonetheless plagued by well, the same plague, no pun intended.

Bridging Worlds seeks to explore the threads and lines that connect us as we navigated this singular yet multifaceted experience, and show that connection in the various non-fiction pieces written in the diverse styles and forms the authors chose….
(4) WRAPPED. George R.R. Martin gave Not a Blog readers a progress report on House of the Dragon.
Exciting news out of London — I am informed that shooting has WRAPPED for the first season of HOUSE OF THE DRAGON.

Yes, all ten episodes.   I have seen rough cuts of a few of them, and I'm loving them.  Of course, a lot more work needs to be done.   Special effects, color timing, score, all the post production work.

But the writing, the directing, the acting all look terrific.   I hope you will like them as much as I do…. 

HBO/HBO Max chief content officer Casey Bloys was asked by Variety when the show will air.

…While Bloys could not tell Variety when "House of the Dragon" might premiere, he did confirm that it's likely the show sticks around for more than just one season.

"If you're betting on whether we're going to do a second season, I think it's probably a pretty good bet," Bloys said. "Generally speaking, we usually let something air and see how it does, but obviously, we'll make preparations ahead of time to make sure we're ahead of the game."…
(5) SFF MAGAZINE TRENDS AND INSIGHTS. Jason Sanford has published the "Genre Grapevine SF/F Magazines Survey Results" in a free Patreon post. He notes, "It turns out the results before the pandemic match up pretty close to the results in 2022. I also included a ton of the comments people shared as they completed the survey. Some fascinating stuff in those comments."
At the end of 2019 I released the special report #SFF2020: The State of Genre Magazines, which examined the history of genre magazines along with the issues facing today's magazines and podcasts. The report also included interviews with the editors, publishers, and staff of a number of leading SF/F magazines and podcasts.

I intended to follow that report with an examination of the attitudes of people in the science fiction and fantasy community towards their genre's magazines and podcasts. I completed a survey on this topic in December 2019 and intended to combine the survey results with more interviews and research.

If all went well, the report would have been released in February 2020.

Of course, all did not go well. The global COVID pandemic shut the world down and swept my own personal life. I didn't have the time to complete the report.

A few weeks ago I looked over the 2019 survey results and realized they presented an opportunity to see if the pandemic had changed attitudes among people in the SF/F community toward genre magazines and podcasts. I re-ran the same survey and compared the results….
(6) MYSTERIES REVEALED. Editor Laura Stadler tweeted a thread inviting readers to better understand what editors do. However, it's in German, and if Twitter's translations are not up to your standards, by all means, don't click! Personally, I found it helpful. Thread starts here. The translation of the first tweet says —
Twitter, let's talk about what editors do? And why am I, as an editor, not an absolute enemy of authors and why do you really not have to be afraid of me and my work on your texts?
(7) RETURN TO WONDERLAND. Literary Hub's Erin Morgenstern shares the experience of rereading Carroll's story for Alice in "How Lewis Carroll Built a World Where Nothing Needs to Make Sense".
… Every time I read the books, I am struck by something that hadn't captured my attention the same way in previous readings. On this most recent re-reading, I noticed anew how often Alice interferes with pencils belonging to other characters, and I was particularly caught by the question of what does the flame of a candle look like after the candle is blown out? There are treasures to be found in these pages, glimmering, whether it is your first time reading, or fifth, or fiftieth.

No matter how familiar these stories may be, that white rabbit might lead you somewhere unexpected, if only you will follow….
(8) MEDIA BIRTHDAY.
1960 — [Item by Cat Eldridge]
The time is the day after tomorrow. The place: a far corner of the universe. A cast of characters: three men lost amongst the stars. Three men sharing the common urgency of all men lost. They're looking for home. And in a moment, they'll find home; not a home that is a place to be seen, but a strange unexplainable experience to be felt. — opening narration

On this date sixty two years ago, The Twilight Zone's "Elegy" aired for this first time. It was the twentieth episode of the first season and was written by Charles Beaumont who you might recognize as the screenwriter of 7 Faces of Dr. Lao. Beaumont would die at just thirty-eight of unknown causes that were assumed to be neurological in nature.
The cast for this SF Twilight Zone episode was Cecil Kellaway as Jeremy Wickwire, Jeff Morrow as Kurt Meyers, Kevin Hagen as Captain James Webber and Don Dubbins as Peter Kirby.
This episode was based on his short story "Elegy" published in Imagination, February 1953. It was included in Mass for Mixed Voices: The Selected Short Fiction of Charles Beaumont.
(9) TODAY'S BIRTHDAYS.
[Compiled by Cat Eldridge.]
Born February 19, 1912 — Walter Gillings. UK fan of some note. He edited Scientifiction, a short lived but historic fanzine. Shortly thereafter he edited Tales of Wonder, regarded as the first UK SF zine. Clarke made his pro debut here. He'd edit a number of other genre zines later on, and ISFDB lists him as having two genre stories to his credit whereas Wiki claims he has three. (Died 1979.)
Born February 19, 1915 — Fred Freiberger. He's best remembered as  the producer of the third and final season of Star Trek. He was also involved in the Wild Wild West, the second season of Space: 1999 which he's wholly responsible for and the short-lived Beyond Westworld. He was brought unto Trek after Roddenberry resigned as Showrunner. (Died 2003.)
Born February 19, 1937 — Terry Carr. Well known and loved fan, author, editor, and writing instructor. I usually don't list Awards both won and nominated for but his are damned impressed so I will. He was nominated five times for Hugos for Best Fanzine (1959–1961, 1967–1968), winning in 1959, was nominated three times for Best Fan Writer (1971–1973), winning in 1973, and he was Fan Guest of Honor at ConFederation in 1986. Wow.  He worked at Ace Books before going freelance where he edited an original story anthology series called Universe, and The Best Science Fiction of the Year anthologies that ran from 1972 until his early death in 1987. Back to Awards again. He was nominated for the Hugo for Best Editor thirteen times (1973–1975, 1977–1979, 1981–1987), winning twice (1985 and 1987). His win in 1985 was the first time a freelance editor had won. Wow indeed. Novelist as well. Just three novels but all are still in print today though I don't think his collections are and none of his anthologies seem to be currently either. A final note. An original anthology of science fiction, Terry's Universe, was published the year after his death with all proceeds went to his widow. (Died 1987.) 
Born February 19, 1937 — Lee Harding, 83. He was among the founding members of the Melbourne Science Fiction Club along with Bertram Chandler. He won Ditmar Awards for Dancing Gerontius and Fallen Spaceman. In the Oughts, the Australian Science Fiction Foundation would give him the Chandler Award in gratitude for his life's work. It does not appear that any of his work is available from the usual digital sources. 
Born February 19, 1964 — Jonathan Lethem, 58. His first novel, Gun, with Occasional Music, a weird mix of SF and detective fiction, is fantastic in more ways that I can detail here. I confess that I lost track of him after that novel so I'd be interested in hearing what y'all think of his later genre work particularly his latest, The Arrest. His only major Award win was a World Fantasy Award for The Wall of the Sky, the Wall of the Eye collection. 
Born February 19, 1966 — Claude Lalumière, 56. I met him once here in Portland. Author, book reviewer and has edited numerous anthologies. Amazing writer of short dark fantasy stories collected in three volumes so far, Objects of Worship, The Door to Lost Pages and Nocturnes and Other Nocturnes. Tachyon published his latest anthology, Super Stories of Heroes & Villains. 
Born February 19, 1968 — Benicio del Toro, 54. Originally cast as Khan in that Trek film but unable to perform the role as he was committed to another film. (And yes, I think he would've made a better Khan.)  He's been The Collector in the Marvel film franchise, Lawrence Talbot in the 2010 remake of The Wolfman, and codebreaker DJ in Star Wars: The Last Jedi.  Let's not forget that he was in Big Top Pee-wee as Duke, the Dog-Faced Boy followed by being in Terry Gilliam's Fear and Loathing in Las Vegas as Dr. Gonzo which damn well should count as genre even if it isn't. 
(10) COMICS SECTION.
The Far Side sympathizes with a famous writer.
xkcd explains the tractor beam – in its own idiocyncratic way.
(11) QUEEN TO QUEEN SEVEN. Paul Weimer returns to A Green Man Review with an assessment of "Greta Kelly's The Seventh Queen"
When last we left Askia, things had gone so very wrong for her. Her efforts to protect her people, her lost kingdom had been completely dashed, and she has been captured. Now, at the heart of the power of her enemy, and nearly completely denuded of her powers, Askia has to find new ways and techniques to resist and oppose Radovan, and not incidentally, save her own life. For it is certain that, like his previous captives and victims, Radovan will, within a month, kill her, and take and distribute her power as he did his previous Empresses.

The Seventh Queen continues the story from Kelly's debut novel The Frozen Queen.…
(12) EATING THE FANTASTIC. Scott Edelman invites listeners to brunch with Natalie Luhrs in episode 165 of the Eating the Fantastic podcast.
My guest for brunch at the Unconventional Diner — about which Washington Post food critic Tom Sietsema wrote — when he placed the restaurant at #4 on his Fall dining guide last year — "No restaurant fed me more often, or better, throughout the pandemic than French chef David Deshaies's whimsical tribute to American comfort food." — was two-time Hugo Award finalist Natalie Luhrs.

She's the former science fiction and fantasy reviewer for Romantic Times Book Reviews and was briefly an acquisitions editor for Masque Books, the digital imprint of Prime. Though she dabbles in writing speculative fiction and poetry, she is mostly known for her non-fiction — which earned her those nominations — and can be found at her personal blog, Pretty Terrible, the intersectional geek blog, The Bias, which she co-founded with previous guest of this podcast Annalee Flower Horne, and of course, on Twitter, as @eilatanReads.

We discussed why I had a more optimistic outlook on her chances of winning last year than she did, the emotions which inspired her most recently nominated work and the doxxing that resulted from her offering up that opinion, her love for Dune even as she recognizes the classic novel's problematic parts, what she once said about the Lord Peter Wimsey continuations which caused a backlash, the ways romance and science fiction conventions differ, where she chooses to expend her spoons when controversies arise, the importance of making our shared fannish community a welcoming space for all, recent science fiction novels which blew her mind, and much more.
(13) A YEAR OF ROVING. NASA interviewed Mars 2020 team members on the occasion of Perseverance's Landiversary.
It's been one busy year for NASA's Perseverance Mars rover! Join us in the Mars Yard at the Jet Propulsion Laboratory as we celebrate the one-year anniversary of the robotic explorer's historic Mars landing. We'll be chatting with members of the Mars 2020 team who helped make the moment happen, and they'll tell us what's next for the rover.
(14) NUMBER NINE, NUMBER NINE. BBC Culture's Nicholas Barber is not ready to concede to Plan 9 From Outer Space: "Is this the worst film ever made?"
…Among cinephiles who enjoyed bad films as much as good ones, Plan 9 from Outer Space became known as the one movie you had to watch, and watch again, and tell your friends (or enemies) to watch, too. Xavier Mendik, co-editor of The Cult Film Reader, says that it "remains a key template for judging cult film status". Its fans wrote unofficial sequels and mounted stage adaptations. Jerry and his buddies aim to watch it in an episode of Seinfeld from 1991. And in 1994, Tim Burton's biopic of Ed Wood climaxes with the making of the film. "This is the one," beams Wood (Johnny Depp) at its premiere. "This is the one they'll remember me for".

… And here's the third key to its strange charm: it isn't actually a failure in every respect. Don't get me wrong. Plan 9 from Outer Space is a terrible film. A dreadful film. An atrocious film. But it does have some elements that are halfway decent, and it's unlikely that it would have a cult following without them…
(15) VIDEO OF THE DAY. [Item by Martin Morse Wooster.] A family of excited Star Wars fans have turned up at a new exhibition on the construction of the Millennium Falcon months before it opens.
 A life-size prop of the spaceship was built in Pembroke Dock, Pembrokeshire, in 1979 for the Empire Strikes Back, which was filmed in Elstree.

And news of a permanent exhibition there, due to open in April, pushed some fans to make the jump to hyperspace prematurely.

Mark Williams, who works for the Pembroke Dock Heritage Trust, said one family had "jumped the gun a little bit" amid a flurry of calls, emails and social media posts from fans.
[Thanks to Mike Kennedy, Martin Morse Wooster, JJ, John King Tarpinian, Jason Sanford, Chris Barkley, Scott Edelman, Andrew Porter, Michael Toman, and Cat Eldridge for some of these stories. Title credit belongs to File 770 contributing editor of the day Paul Weimer.]