(1) SFF MAGAZINE SURVEY. Jason Sanford is working on a report about science fiction and fantasy magazines for which he's already interviewed a number of publishers and editors. Sanford also wants feedback from the larger genre community – that means you! Readers are welcome to respond to his short survey hosted on Google Docs.
Sanford aims to release his report after Thanksgiving.
(2) ELIGIBILITY POSTS. Cat Rambo has started her "Round-up of Awards Posts by F&SF Writers, Editors, and Publishers for 2019".
Once again I have created this post for consolidating fantasy and science fiction award eligibility round-ups. Here are the rules.

I prefer to link to, in order of preference:
Your blog post listing what you published that is eligible
Your social media post listing what you published that is eligible
A single link to the material that is available online
(3) CIVIL WAR. It won't take you long to figure out what inspired James Davis Nicoll's latest Tor.com post "Science Fiction vs. Fantasy: The Choice Is Clear". Which side will you choose?
…Science fiction provides its readers with iron-hard, fact-based possibility. For example, Frank Herbert's Dune played with the possibility that the right combination of eugenics and hallucinogenic drugs (taken from enormous alien worms) might allow messianic figures to draw on the memories of their ancestors. Well, how else would it work?
(4) LOOKING BACKWARD. At Quillette, Craig DeLancey analyzes the removal of Tiptree, Campbell and Lovecraft from sff award iconography in "Science Fiction Purges its Problematic Past" to lay the foundation for his own unique proposal.
…If we must be concerned with the author and not just the work, then Houellebecq's book is an example of the balance that our criticism should achieve: we must recognize that the work is one thing, the author another. Literary criticism should not be a struggle session.

But this is not the spirit of our moment. Instead, as speculative fiction becomes more diverse, the sense that it must be corrected grows, and author and art are evaluated together. There is a notable asymmetry in this evaluation. Most fiction readers are women, and many fiction genres are dominated by women. Men who write romance novels or cozy mysteries must write under female pseudonyms, because the audiences for these genres will largely avoid books by men. In publishing, this is considered merely a demographic fact, and not an ethical failure of some kind. The attitude is very different towards science fiction. That for decades science fiction was mostly written, read, and published by white men is seen, at best, as something that must be denounced and aggressively corrected, and at worst as evidence that racism and sexism were the driving engines of this creative explosion. We do not single out other genres of fiction, or other art forms, for this kind of invective. We do not hear admirers of the golden age of jazz, for example, denounce the great composers of that era because they were nearly all African-American men. Louise Armstrong, Duke Ellington, Billy Strayhorn, Charlie Parker, John Coltrane, Thelonius Monk, Miles Davis, Wayne Shorter, and many other such men are honored for their genius, and we recognize their creations as a gift to humankind. Why not consider American science fiction in the twentieth century as a gift, instead of dismissing it as "Sterile. Male. White."?
(5) EXPLORING SPACE – ON BOOKSTORE SHELVES. Sarah A. Hoyt treats Fonda Lee as someone who deserves mockery for "A Fundamental Misunderstanding of Supply and Demand". Hoyt addresses Lee's March 2019 tweets:
…Sigh. We won't get into the idiocy of traditional publishing and their artificial restrictions on market, but still…

This poor woman has everything backward in her head. It makes it very difficult for me to believe that she can create any kind of sane or believable world. Why? Because she doesn't understand the laws of supply and demand, which means she doesn't understand reality….

…The dead great shall always be with us. You want to outsell them: write a lot and write well. Or find another job.

Economics in the end — regardless of what prizes you get for being a good little girl, or how much your professors praised you — is cold equations. Cold equations ALL THE WAY DOWN.

Is it fair? No. Well…. Not fair in the sense that it doesn't matter how good you are if people don't know you exist. But it is fair in the sense that if you write well and a lot and figure out how to advertise you'll be rewarded.
(6) TODAY IN HISTORY.
November 6, 1981 — Time Bandits premiered. Co-written, produced, and directed by Terry Gilliam and starring Kenny Baker, Sean Connery, John Cleese, Shelley Duvall, Ralph Richardson, Ian Holm, Michael Palin, and David Warner. It received critical acclaim with a current 89% rating at Rotten Tomatoes and was a financial success as well. Apple has gained the rights for a Time Bandits television series to distribute on Apple TV+ with Gilliam on board in a non-writing production role and Taika Waititi as the director of the pilot.
(7) TODAY'S BIRTHDAYS.
[Compiled by Cat Eldridge.]
Born November 6, 1907 — Catherine Crook de Camp. Author and editor. Most of her work was done in collaboration with her husband L. Sprague de Camp, to whom she was married for sixty years. Her solo work was largely non-fiction. Heinlein in part dedicated Friday to her. (Died 2000.)
Born November 6, 1914 — Jonathan Harris. Doctor Zachary Smith, of course, on Lost in Space. He was somewhat typecast as a villain showing up such Mr. Piper on Land of the Giants, The Ambassador on Get Smart and the voice of Lucifer on Battlestar Galactica. (Died 2002.)
Born November 6, 1951 — Nigel Havers, 68. The bridegroom Peter Dalton in "The Wedding of Sarah Jane Smith" on The Sarah Jane Adventures. He's done a lot of children's genre theatre: Jack in the Beanstalk twice, Robin Hood, Cinderella, Peter Pan and Aladdin. He's been in one Doctor Who audiobook and narrated Watership Down once upon a time. He was Mark Ingram in An Englishman's Castle, an alternate telling of WWII. 
Born November 6, 1953 — Ron Underwood, 66. His first directing effort was Tremors starring Kevin Bacon, Fred Ward and Reba McEntire in her acting debut. Later genre efforts include Mighty Joe Young, The Adventures of Pluto Nash, episodes of Once Upon A Time, Fear the Walking Dead and Agents of S.H.I.E.L.D. 
Born November 6, 1955 — Catherine Ann Asaro, 64. She is best known for her books about the Ruby Dynasty, called the Saga of the Skolian Empire. I don't think I've read them, so if you've read them, please do tell me about them. 
Born November 6, 1960 — Michael Cerveris, 59. Remembered best as the Primary Observer on Fringe. He's played Puck and been in Macbeth way off Broadway so his creds there are covered too. He was Mr. Tiny in Cirque du Freak: The Vampire's Assistant, and Elihas Starr, the original Egghead, in Ant-Man and the Wasp.
Born November 6, 1964 — Kerry Scott Conran, 55. A director and screenwriter, best known for creating and directing Sky Captain and the World of Tomorrow, a film I absolutely adore. And that's it. That's all he done. 
Born November 6, 1968 — Kelly Rutherford, 51. She's here for having the recurring role of Dixie Cousins on The Adventures of Brisco County, Jr. and that's in addition to managing to get herself involved in more bad genre series that got cancelled fast such as Bill & Ted's Excellent Adventures and Kindred: The Embraced (8 episodes each). Indeed, her very first genre gig had the dubious title of Phantom of the Mall: Eric's Revenge.
Born November 6, 1972 — Rebecca Romijn, 47. Played Mystique in the X-Men film franchise but my favorite role for her is as Eve Baird, The Guardian of the Library that cross all realities in The Librarians series.  She also was a regular playing Roxie Torcoletti in Eastwick, yet another riff the John Updike novel. She is now Number One on Discovery. 
(8) LEARN ABOUT STAN LEE. In LA at the Skirball Cultural Center on November 10, there will be a conversation between Danny Fingeroth, author of "A Marvelous Life: The Amazing Story of Stan Lee", and comics historian Jerry Beck.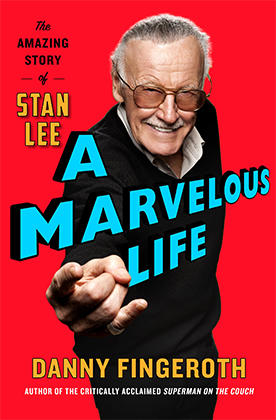 Discover how Stan Lee became known as the voice and face of comics at this conversation between Lee's colleague and author Danny Fingeroth and animation historian Jerry Beck.

As editor, publisher, and co-creator of Marvel, Lee worked with creative partners, like Jack Kirby and Steve Ditko, to create world-famous characters including Spider-Man, the X-Men, and the Avengers. But Lee's career was haunted by conflict and controversy. Be amazed by Lee's complex and accomplished life at this illuminating discussion.
(9) MARY YES, HERMAN NO. A word sticks out prominently in this Guardian interview: "Tade Thompson: 'Quite frankly Victor Frankenstein was a dick' ".
The book that influenced my writing
Mary Shelley's Frankenstein. I read it as a teenager and the seething mess of nested narratives and charnel houses lodged itself in my imagination. I've read it more than any other book and hardly a day goes by when I don't think of making corpses walk. Quite frankly Victor Frankenstein was a dick.

The book I think is most overrated
Moby-Dick by Herman Melville. With apologies to my US friends and my English teacher. This book didn't just leave me cold. When I finished I wanted to make a list of everybody who had recommended it and make them eat it.
(10) GENRE WORK NOTED. BBC's panelists invite everyone to "Explore the list of 100 Novels That Shaped Our World". Chip Hitchcock says, "I count 17 of the 100 (and there's probably a few I'm missing through not knowing the works), although I'd be happier if the Twilight series wasn't one of them."
(11) NOT A TWELVE-STEP PROGRAM. "Boeing aims for Moon landing in 'fewer steps'".
Aerospace giant Boeing has unveiled its proposal for a lander that could take humans to the Moon's surface.

Under a programme called Artemis, the White House wants to return humans to the Moon by 2024.

Its approach, named "Fewest Steps to the Moon", would use the huge Space Launch System (SLS) rocket.

The company says its plan reduces the complexity involved in sending several different bits of hardware into space on multiple launches.

For most robotic space missions, all the hardware needed for the mission is launched on one rocket. Likewise, the crewed Apollo missions to the Moon in the 1960s and 70s required only one lift-off.

However, the Artemis missions are expected to involve several flights to loft all the hardware needed. For example, the lander elements are likely to be launched separately from the Orion capsule carrying crew.

Boeing says it can land astronauts on the Moon with only five "mission critical events" – such as launch, orbit insertion and others – instead of the 11 or more required by alternative strategies.

…The company says its lander would be ready for the 2024 mission, called Artemis-3. But Boeing's plan would depend on a more powerful variant of the SLS rocket called Block 1B.

Under current Nasa plans, the Block 1B version of the rocket wouldn't be ready until 2025.
(12) VARIATION ON FLORIDA MAN. UPI says be on the lookout — "Florida police seek return of 300-pound Bigfoot".
Police in Florida are seeking information on the disappearance of an unusual piece of property — a 300-pound Bigfoot statue.

The Boynton Beach Police Department said the 8-foot-tall Sasquatch statue was stolen from in front of a store called Mattress Monsterz in October.
(13) HPL. SYFY Wire opines: "Nic Cage goes full Lovecraft in first trailer for cosmic horror tale Color Out of Space". Tell me if you don't think the kid doesn't look like he just walked out of A Christmas Story. (Not the one framed below, the one in the beginning of the trailer,)
[Thanks to John King Tarpinian, Mike Kennedy, Nina Shepardson, Martin Morse Wooster, JJ, Cat Eldridge, Chip Hitchcock, and Andrew Porter for some of these stories. Title credit goes to File 770 contributing editor of the day Anna Nimmhaus.]