(1) CELEBRATE THE RADCH. Ann Leckie's new book Provenance comes out on September 26, and the Imperial Radch fandom on Tumblr is asking people to create thematic fanworks as part of the celebration.
Each day, fans are encouraged to post work under the #Imperial Radch tag, and if you like, a new #Imperial Radch Week tag. Any medium is encouraged, and we selected days that hopefully highlight a wide range of skills!

Tuesday, Sept 19th: Ship Day
Wednesday, Sept 20th: Music Day
Friday, Sept 22nd: Fav Friday
Saturday: Sept 23rd: AU Day
Sunday, Sept 24th: Favorite Scene Day
Monday, Sept 25th: What the Heck is a Geck Day
Tuesday, Sept 26th: Release day
See this post for details of each day's featured topic.
(2) RAISE YOUR TBR HIGHER. James Davis Nicoll foresees you will want to read "Twenty Core SF Works About Psionics and Awesome Mind Powers Every True SF Fan Should Have On Their Shelves". Three of those works are –
The Clairvoyant Countess by Dorothy Gilman
Ingathering by Zenna Henderson
Zero Sum Game by S.L. Huang
Next week – "Twenty Room Houses True Fans Need To Own To Accommodate All The Books True Fans Should Have On Their Shelves."
(3) FINAL JEOPARDY REFERENCES LEN WEIN. Steven H Silver has the story: "Today's Final Jeopardy question may be the first time there's been a FJ question about the spouse of a former contestant.  The question asked about a character created by Len Wein.  Len was married to four-time Jeopardy! champion Christine Valada (2009)."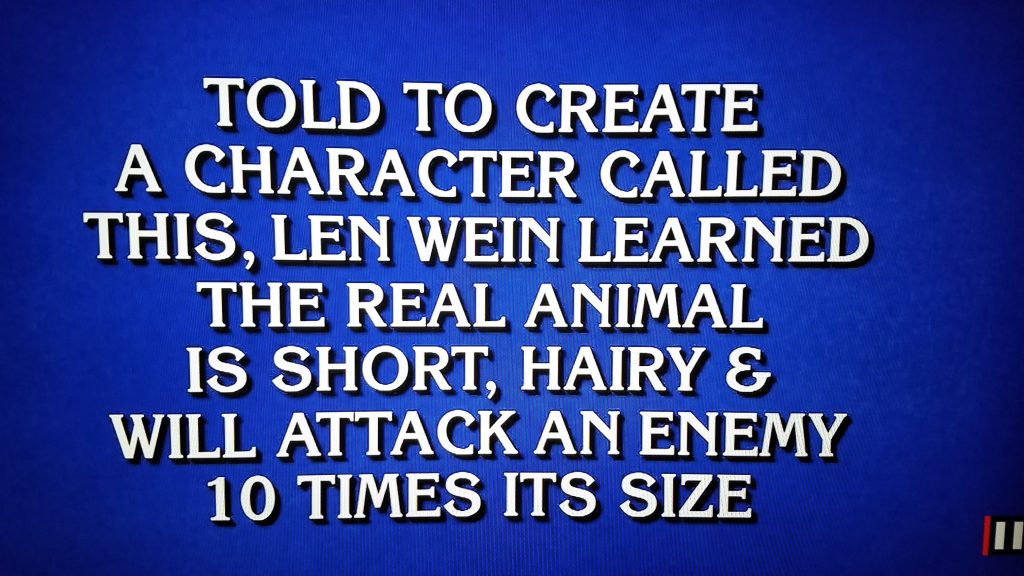 (4) DONATIONS NEEDED. Mica Sunday Deerfield, Linda Bushyager's sister, suffered substantial damage to her Houston home from Hurricane Harvey, and has launched a GoFundMe to raise money to make it habitable again.
When hurricane Harvey struck the Gulf coast, it filled over capacity the reservoir that is behind Mica's house in West Houston. There was about 3 1/2 feet of water in the house and the neighborhood was inaccessible until yesterday, when our friend Dan courageously went there to see what happened. After 7 days of floodwaters, virtually all her possessions were dissolved, covered with mold, and lost to the flood. It will cost approximately $25,000 to empty the house, tear out all of the drywall, and remove the appliances, kitchen cabinets, insulation, furniture and everything else. Then they will do drying out and mold remediation. She will end up with an empty shell of a house. She will also then need money to fix the house back up. Any donation at all will be much appreciated. Thank you from the bottom of my heart.
If you don't know Linda Bushyager, she's a long-time fanzine fan (Granfalloon, Karass) and fantasy author. More than that, when she shut down her fannish newzine Karass in the mid-Seventies, she passed the torch to File 770. And we're still here!
(5) GATEKEEPERS. Martin Wisse defines a problematic culture in "The real trouble with comix".
Supporting small business is important, but Amazon won't ask you if you're buying X-Men for your boyfriend every week. I've lost count of the women I know who stopped going to comic shops after being hit on or patronized too many times.

That small aside from a story about online harassment in video gaming perfectly illustrates the challenge the socalled mainstream comics industry has created for itself. Like videogaming, comics culture is steeped in rightwing victim culture, where you convince yourself both that you and your hobby are horribly oppressed and bullied by the jocks, the popular clique, riajuu and that your particular brand of pop culture is superior to what the brainless masses consume because they don't spent their Wednesday evenings waiting for the new issue of whatever The Avengers is called this week. So you get a culture and industry that bemoans the fact that nobody loves comics anymore, but resents any step made to make people feel welcome. In fact, people seem to feel personally insulted if others enjoy the wrong sort of comics, as this fortuitous tweet demonstrates.
(6) SHOULDN'T SALES MATTER? Barry Deutsch addresses the same problem in a tweetstorm that begins here —
1. This ridiculous tweet is getting so much attention, not just because of hilarious cluelessness, but because it's representative. pic.twitter.com/ugx3PRpBsQ

— Barry @ #GeekGirlCon (@barrydeutsch) September 21, 2017
It runs 21 tweets and along the way observes:
9. They often cite sales figures as proof of legitimacy. But if that's so, why aren't they demanding more comics like Raina Telgemeier's?

— Barry @ #GeekGirlCon (@barrydeutsch) September 21, 2017
(7) AGENT SPILLS THE BEANS. Fantasy-Faction scored an interview with agent Harry Illingworth.
When you're reading all of those submissions, trawling through the slush pile, what is it you are actually looking for? What type of story, point of view, writing sets fire to your super-agent synapses and makes you request the full manuscript or sign them up there and then?

First up I'm looking at whether the author has followed the submission guidelines. It may sound obvious that you follow the guidelines when you submit, but you'd be amazed at how many people don't. I then think about whether it's a good cover letter as if it's not a good cover letter I'm not inclined to be too hopeful about the book itself. I do find the authors I've taken on have all had really strong cover letters and the author knows their book and can express that in the letter. It all comes down to the actual writing though, and I'll only ever call in the full manuscript based on my enjoyment of the first three chapters.

When writers search the internet for advice on how to create successful query it can be… overwhelming. So, help us out – what makes a good query letter, synopsis?

I think what makes a good query is research beforehand. You've written a book, so take care to find out who is writing similar kinds of books. Who can you compare to without saying you're the next GRRM? Entice the agent but don't tell the whole story of the book, and also carefully research the agent before you submit. Make sure you are putting your book in front of the right pair of eyes, and it doesn't hurt to add a personal touch so the agent knows you haven't just sent it out blindly.
(8) STINKIN' BADGES. Jeff Somers names "Science Fiction & Fantasy's Most Delightful Government Agencies" for readers of the B&N Sci-FI & Fantasy Blog.
SpecOps 27 (Thursday Next Series, by Jasper Fforde) What isn't to love about a government agency charged with investigating literature-related crimes? Especially in an alternate universe where literature has the cultural heft of superhero movies, and the division between reality and fiction is so thin the two are easily mixed—with breathtaking results. All of the "Special Operations" units in the fictional world are pretty cool, actually, including SpecOps 12, in charge of investigating time travel-related events. For anyone who's ever dreamed of falling into a book and waking up in their favorite story, SO-27 represents kind of the next best thing.
(9) TODAY IN HISTORY
September 21, 1937 — J.R.R. Tolkien's The Hobbit published.
September 21, 2005 – Invasion premiered to those interested TV audiences.
September 21, 2015 — Fox TV dished out the series premiere of Minority Report.  The premise was culled from the Steven Spielberg movie of the same name, based on a story by Philip K. Dick. By the end of the first season it had been learned that few people want to see precogs go incog.
(10) TODAY'S BIRTHDAY BOYS
Born September 21, 1866 – H.G. Wells
Born September 21, 1912 – Chuck Jones, famous animator
Born September 21, 1947 — Stephen King
(11) COMICS SECTION.
Mike Kennedy found someone who probably should have asked for help earlier, in Real Life Adventures.
(12) SCARED TO DEATH. In October, Seattle's Museum of Pop Culture (MoPOP) has filled their calendar with all things spooky and magical. Their movie lineup that includes Interview with the Vampire, The Dark Crystal, A Nightmare on Elm Street 3: Dream Warriors, and a talk with Cheryl Henson (daughter of Jim and Jane Henson and President of The Henson Foundation).
Campout Cinema: Interview With the Vampire, October 6, 8:00 p.m. 21+ ($14, $11 MoPOP members)

A vampire tells the story of his life from widowed plantation owner to murderous immortal in this gothic classic based on Anne Rice's best-selling novel starring Tom Cruise, Brad Pitt, Kirsten Dunst, Antonio Banderas, and Christian Slater. Includes admission to Scared to Death: The Thrill of Horror Film and Infinite Worlds of Science Fiction.

Campout Cinema: The Dark Crystal, October 13, 7:00 p.m. All ages. ($16, $12 MoPOP members)

The last of the Gelfings must journey to find the crystal shard that will create order and bring peace to his world in this Jim Henson classic. Includes admission to The Jim Henson Exhibition: Imagination Unlimited and a pre-screening talk with Cheryl Henson (Henson Foundation President, and Jim and Jane's daughter).

The Art of Puppetry with Cheryl Henson, October 14, 2:00pm Free with museum admission.

From Sesame Street and The Muppet Show to The Dark Crystal, Jim Henson's creative imagination and enthusiasm for new technologies expanded the art of puppetry. Join Cheryl Henson (Henson Foundation President, and Jim and Jane's daughter) as she looks at her parent's dedication to the art form through a discussion and showcase of their impressive body of work.
Join us 10/14 at 2pm for The Art of Puppetry with Cheryl Henson! Included with MoPOP admission; https://t.co/e1tnO98Bns pic.twitter.com/d5MZwi9HkD

— MoPOP Seattle (@MoPOPSeattle) September 21, 2017
 Campout Cinema: A Nightmare on Elm Street 3: Dream Warriors, October 26, 8:00 p.m. ($14, $11 MoPOP members)

The dream warriors must work together to try and stop Freddy Krueger for good in the third installment of this classic horror franchise starring Robert Englund, Patricia Arquette, and Heather Langencamp. Includes admission to Scared to Death: The Thrill of Horror Film and Infinite Worlds of Science Fiction.

MoPOP After Dark: On Thursdays and Fridays throughout the month of October, MoPOP will host After Dark Happy Hours with exclusive after-hours access to MoPOP's newest exhibition Scared to Death: The Thrill of Horror Film, plus MoPOP favorites Infinite Worlds of Science Fiction and Fantasy Worlds of Myth and Magic. Specialty, bone-chilling cocktails will be available for purchase. 5pm-8pm, MoPOP South Galleries. 21+, $15.
(12) ASGARD STYLE. About this time of year if I think of anyone wearing Marvel-themed clothing, I'm thinking about a Halloween costume. But no longer!
Josh Bennett, fashion designer and knitter extraordinaire, brings his passion for Marvel and its complex storytelling into a new sweater collection inspired by Marvel Studios' Thor: Ragnarok. The new line will showcase Nordic influences, luxury fibers, and fantastical touches across a tight range of men's sweaters available this holiday season.

…Bennett has always had a love for storytelling, and grew an appreciation for the robust worlds in Marvel stories as he immersed himself in Marvel films. When Thor: Ragnarok was announced as a November release, the unique settings, bold colors, and sense of wonder made it a perfect idea for a winter sweater collection.  Using references from the film, modern day trend influences, and new knitting techniques, Bennett has created a first-of-its-kind collection.

… The luxury limited edition collection includes four different styles, a chunky cardigan, v-neck tennis sweater, fisherman hoodie, and fair isle zip up, and uses yarns including 100% Italian cashmere and yarns from New Zealand, a nod to Thor: Ragnarok director Taika Waititi.  Each sweater is extremely limited to no more than three pieces per size for each style and is numbered and dated.
The Josh Bennett x Marvel collection ranges from $1095 – $1495 USD and is available to shop online at www.joshbennettnyc.com  beginning November 10 with a pre sale October 10.
(13) HOW TO BREAK IN. The BBC reports that "Game of Thrones' Ellie Kendrick wants to open up 'closed shop' film industry".
"I've worked in the film industry on and off for about half my life and I've noticed that the worlds that are represented on our screens by no means mirror the worlds that we see around us in our everyday lives," the 27-year-old says.

"Part of that is because it's such a difficult industry to break into and often it requires huge financial support from parents or jobs. Or it requires contacts you've made in film school – which again costs a lot of money.

"So it's a bit of a closed shop."
The piece ends with this prime quote about her GoT role:
"But also, you know, I get to wield an axe occasionally and kill some zombies. So, all in all, she's a pretty well-rounded character."
(14) DIFFERENT BOUNDARIES. Mel Brooks, currently preparing for the opening in London's West End of a musical version of his film Young Frankenstein, told a reporter, "Blazing Saddles would never be made today".
He said Blazing Saddles, his Western spoof about a black sheriff in a racist town, could never be made today.

"It's OK not to hurt the feelings of various tribes and groups," he said. "However, it's not good for comedy.

"Comedy has to walk a thin line, take risks. It's the lecherous little elf whispering in the king's ear, telling the truth about human behaviour."
(15) MICHELLE YEOH. A featurette with Star Trek: Discovery's Captain Georgiou.
[Thanks to John King Tarpinian, JJ, Steven H Silver, Carl Slaughter, Chip Hitchcock, David K.M. Klaus, and Mike Kennedy for some of these stories. Title credit goes to File 770 contributing editor of the day Niall McAuley.]