(1) ANTHEM LAUNCH. [Item by Martin Morse Wooster.] In the Washington Post, classical music critic Michael Andor Brodeur discusses the new Space Force anthem by Jamie Teachenor and Sean Nelson, and lets his father make a dad joke that the tune was written by "Buck Rogers and Hammerstein." "New Space Force anthem aims to land the military branch on your radar".
On Tuesday, the United States Space Force entered its anthem era, announcing the release of its own official song at the Air Force Association Air, Space and Cyber Conference at National Harbor in Maryland.

The song, "Semper Supra" ("Always Above"), joins the ranks of "The Marines' Hymn," "The Army Goes Rolling Along" and other staples of the American military anthem repertoire. It's also … Wait. Why are you laughing?

I knew as soon as I said "Space Force" this would happen.

Because the Space Force is, for the foreseeable future, the New Guy among military branches. Because its sudden and ham-handed public rollout in 2019 was largely entrusted to the writers' rooms of late-night shows. And, yes, because it's called the Space Force, so there remains a lingering temptation not to take it seriously (and a tacit cultural authorization to proceed).

… I guess for a song that's destined to orbit around this branch of military in perpetuity, I was hoping for something … I don't know, spacier?

Over the past century, the cosmos has supplied us with such a rich musical mood board: Gustav Holst gave us his standard-bearing model of the solar system, "The Planets," back in 1916. Stanley Kubrick's use of Johann Strauss's antigravity waltzes and the monolithic motif taken from the other Strauss's "Also sprach Zarathustra" have informed our perception of deep space since "2001" arrived in 1968. John Williams has also memorably distilled his visions of the vastness of space into universal themes — think the "five tones" of "Close Encounters of the Third Kind."…
(2) FLIP THE SCRIPT. Camestros Felapton supplies the answer to the question, "Could you rewrite the Lord of the Rings as a techno-thriller?" (Did you doubt it for a moment?)
…Part of the issue is that much of what makes LotR a compelling story, are not the things that make it genre distinctive. Attempts to make a clear distinction between science fiction and fantasy can founder when we consider how LotR would change if it had to conform to proposed rules about science fiction. If, as the thought experiment goes, Tolkein's elves were aliens, would the story now be sci-fi? The role of magic in fantasy versus materialist explanations in science fiction has also been offered. However, LotR has an odd take on magic. Much of the overt magic we see is attached to made objects (the Ring obviously, but also the palantir, the doors of Moria, Sting, the vial of light gifted to Frodo by Galadriel, or delving deeper into the mythos, the Silmarils themselves). We don't know how those things work (magic!) but of course we don't know how phasers, tractor beams, replicators or warp drives work either. To quote the overused quote from Arthur C. Clarke "Any sufficiently advanced technology is indistinguishable from magic". Clarke was making a point about technology rather than genre distinctions but the insight works almost symmetrically…. 
(3) HOPKINSON ZOOM. The Feminist Futures Forum, organized by the Emily Taylor Center for Women & Gender Equity at the University of Kansas, presents a conversation with Brown Girl in the Ring author Nalo Hopkinson facilitated by Anthony Boynton, a Ph.D. candidate in the KU English Department in September 22 at 6:30 p.m. Central, They will explore Black speculative fiction, Afrofuturism, and Black feminisms. Register here. This year's Forum is planned in conjunction with the Gunn Center's Sturgeon Symposium.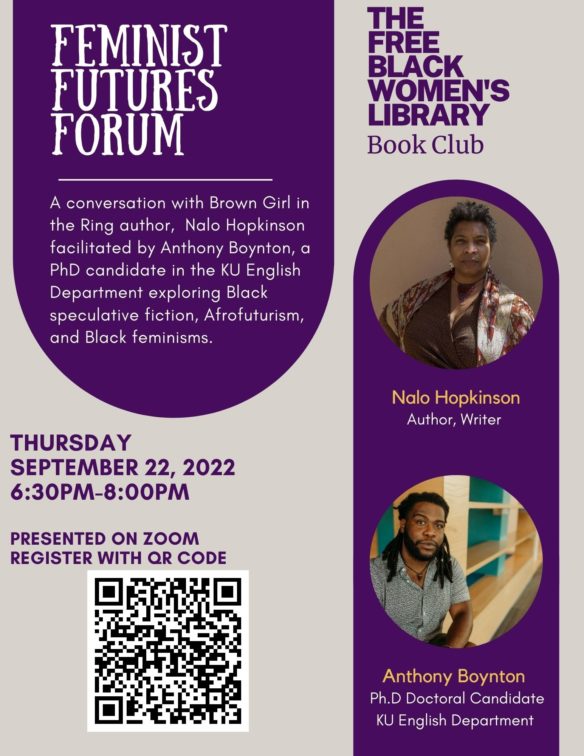 (4) FIRST STURGEON SYMPOSIUM. Speaking of which, the 1st annual Sturgeon Symposium, a hybrid in-person/online event hosted by the Gunn Center for the Study of SF, takes place next Thursday and Friday, September 29-30.
Sessions include presentations on Fan Fiction, Indigenous Speculative Fiction, Eastern European SF, Latin American Dystopias, Gender & The Black Fantastic, Pedagogical Approaches, and much, much more.
Visit their website for the full program: Sturgeon Symposium.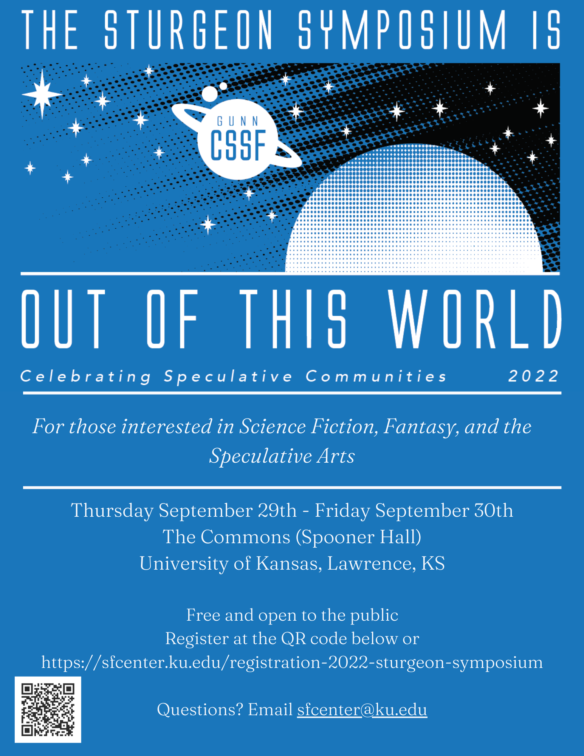 (5) HOW DO YOU TURN THAT OFF? Sarah A. Hoyt explains why "Words Are Our Profession" at Mad Genius Club, though it is this paragraph that has me nodding in agreement:
…I will also straight up admit that I must be very odd in my relationship with text, because I never understand why anyone highlights or clips certain excerpts from books. When I got my latest kindle, I had the "show other people's markings" setting on and couldn't figure out how to turn it off. This made me glare a lot, as I couldn't figure out why people were highlighting completely mundane sentences. Of course, it's entirely possible that all these highlights and clipping of sentences happen the way they happen to me: Kindle starts falling, grab it with my off hand, and suddenly I've saved a clipping of "Hi, I am looking for my cat" as though it were some kind of life altering message. (As is, I had to turn the dictionary off, otherwise, by the same process, I was continuously having the meaning of "hand" or "parasol" explained to me.)…
Hoyt's column is mainly about when it's a good idea to eschew surplusage, and successful tactics for so doing.
(6) STEP BY STEP TO PUBLICATION. [Item by Martin Morse Wooster.] Amit Gupta sold a short story to Tor.com. Here, he discusses how long it took and all the rejections he accumulated. "Short stories: How much do you make? How do you sell one? How long does it take to write?" And you can read his story "India World" at Tor.com.
What'd I learn looking back through all this?
Writing takes forever, even if it's a just a few thousand words. Way longer than I thought.
Submitting takes even longer. This tracks with other areas of my life. Selling is always less fun for me than making things.
SO MANY people helped! I'm blown away by how many people took time to read drafts and offer their feedback.
(7) DEUTSCHER BOOK PREIS. The only longlisted genre work didn't make the Deutscher Buch Preis shortlist. If you want to know what did, click here.
(8) IT BECKONS. Kelly McClymer encourages writers to ask "Is Your Book Cover Doing the Job or Does It Need to Be Fired?" in the "Indie Files" series at the SFWA Blog.
… For authors, the cover is a double-edged sword. We need one that calls to our readers and makes them pick our book out of a crowded line up.

I remember the first time I realized would have to change the cover for an indie book. I didn't want to pay for another cover design, so I delayed making the obvious decision. I kept telling myself that the book was good, so the cover couldn't make that much difference.

I should have known better. I've been a voracious reader since I learned to read and my personal book choice algorithm is simple: favorite author first, then intriguing title, then intriguing cover. That personal algorithm hasn't changed in decades. As a reader, I am easily seduced by title or cover.

As an author, I hate spending money on new covers and agonizing over the design. What got me to stop pinching pennies in this critical area of marketing? Evidence, of course. My indie author friends weren't afraid to change their covers. Multiple times. And it (usually) helped their sales significantly. Even better, some of them were able to do so on a budget by using pre-made covers that were on sale. …
(9) WHAT'S THE MESSAGE? Scifihistory.net seriously doubts 2001 deserves a reputation for greatness: "Stardate 09.21.2022.A: Warp Core Breach: Science Fiction's Biggest Circle Jerk – 2001: A Space Odyssey (1968)".
Circle jerk = a situation in which a group of people engage in self-indulgent or self-gratifying behavior, especially by enforcing or reinforcing each other's views or attitudes.
 
A long time ago in a galaxy far, far away (snicker snicker) I attended a small private college in Anytown, USA.  In one of my several classes talking about film, a professor (who shall be nameless) took the occasion one day to wax on eloquently about "mankind's claim" that Stanley Kubrick's 2001: A Space Odyssey was not only the greatest Science Fiction film ever made but very well was considered the best film ever made.
 
Now, at this juncture in my cognitive development, I was a firm supporter of Citizen Kane's rightful claim to that title.  Not one to keep silent, I spoke up, asking where it was written that 2001 was ever considered a greater accomplishment than Kane was … to which I got an earful.  Pushing back as politely as I could, I argued that I'd never heard of anyone making such an assessment, and – while I didn't doubt the instructor had read or perhaps thought such a ranking possible – I wanted to know which experts felt that way so that I could go out and read their analysis.  Essentially what I was told was that 2001 was, clearly, the superior film because of its central message.
 
Get ready, folks.
 
I asked, "What is 2001's central message?"…
(10) SPELLER TRIBUTES CONTINUE. Strange Horizons' Aishwarya Subramanian and Dan Hartland mark the loss of their colleague and friend: "In Memoriam: Maureen Kincaid Speller".
…Maureen Kincaid Speller was capable of producing among the best criticism SFF has to offer. Now she has left us, our understandings of the genre will be poorer and less complete. We will know our favourite texts less well, and we will struggle sometimes to express a reading she would have worked into prose of wit, clarity, and pith. We will miss her because, as a critic, she helped us be better readers; because, as an editor, she made us better writers; and because, as herself, she was fearless in achieving these ends. But most of all, we will miss her because she was our friend—was the friend of all readers, and all authors, and all books. She showed us this every time she attended to a text and asked not just why she liked it, but why she—or why we—might not. Friends make us better, and they often do so via the unvarnished truth….
(11) MEDIA BIRTHDAY.
1969 – [By Cat Eldridge.] Randall And Hopkirk Deceased (1969)
Yes, I know it had multiple premiere dating back fifty-three years ago, so I've picked the London Weekend Television broadcast of the pilot two days after the ATV broadcast. No reason, but that's my choice. Well, and it's today.
Randall and Hopkirk (Deceased) is a somewhat comical British PI series that starred Mike Pratt and Kenneth Cope respectively as the private detectives Jeff Randall and the quickly quite dead and just as rapidly ghostly Marty Hopkirk. Annette Andre as Jeannie Hopkirk, secretary at the Randall and Hopkirk private investigation office, and widow of Marty, was the only other regular cast member.
(Note: beautiful woman here as well. The trope holds true!)
In the United States possibly because the word deceased would be offensive, it was called My Partner the Ghost. Or because the syndicators here were utterly lacking in imagination and had to be sickeningly cute. You pick.
It was created by Dennis Spooner who did a lot of writing for Doctor Who, a spot of writing for The Avengers and quite a bit later for the New Avengers, and was the creator of Department S.
It would last one run of twenty-six episodes. In the year 2000 it was remade by the BBC starring Vic Reeves as Hopkirk (once again in a white suit) and Bob Mortimer as Randall, with Emilia Fox as Jeannie. Two series were made lasting just thirteen episodes.
A decade ago, SyFy announced that it had secured the rights to Randall & Hopkirk (Deceased) and were looking to develop a pilot, and in January 2011, Entertainment Weekly announced that Jane Espenson and Drew Z. Greenberg would be writing a pilot for SyFy. Given SyFy's record for rebooting series, guess what happened to it? Well did you see a pilot?
It does not appear to streaming anywhere for free right now.
(12) TODAY'S BIRTHDAYS.
[Compiled by Cat Eldridge.]
Born September 21, 1904 — Alexander Key. American writer primarily of children's books. His novel Escape to Witch Mountain was made into by Disney into a film three times 1975, 1995, and again in 2009. (Originality isn't one of Disney's stronger suits.) The sequel novel was made into another film in 1978. The Incredible Tide novel became the Seventies Future Boy Conan anime series. (Died 1979.)
Born September 21, 1912 — Chuck Jones. Looney Tunes and Merrie Melodies creator (think Bugs Bunny). His work won three Oscars, and the Academy also gave him an honorary one in 1996.  I've essayed him more that once here, so you know that I like him. What's your favorite one of his? Though perhaps culturally suspect these days, I'm very fond of "Hillbilly Hare". (Died 2002.)
Born September 21, 1935 — Henry Gibson. I'm going confess upfront that I remember best him as a cast member of Rowan & Martin's Laugh-In. You know what role that was. In regards to his genre work, he showed up on the My Favorite Martian series as Homer P. Gibson, he was in Chitty Chitty Bang Bang as an uncredited dancer, in Bewitched twice, once as Napoleon Bonaparte, once as Tim O' Shanter, he was the voice of Wilbur in Charlotte's Web, in The Incredible Shrinking Woman as Dr. Eugene Nortz, and even in an episode of Star Trek: Deep Space Nine, the "Profit and Lace" episode to be exact in which he was Nilva, a ferengi. (Died 2009.)
Born September 21, 1960 — Mary Mara. Best remembered as Inspector Bryn Carson on Nash Bridges but she had a number of genre appearances including Mary in K-PAX from Gene Brewer's novel of the same name, and her best role though animated was — and don't blame the messenger — Alice Kerchief/Geisha in Spicy City is an adult animated erotic cyberpunk television series which was created by Ralph Bkashi for HBO that ran for six episodes. It was a really fascinating role. I'd rate the series a strong R. (Died 2022.)
Born September 21, 1964 — Andy Duncan, 58.  If I were to start anywhere with him, it'd be with his very excellent short stories which fortunately were published in two World Fantasy Award-winning collections Beluthahatchie and Other Stories, and The Pottawatomie Giant and Other Stories, and another WFA nominee, An Agent of Utopia: New & Selected Stories.  I've read his novels, so what you recommend?  He has garnered some very impressive Awards — not only World Fantasy Awards for the two collections, but also for the "Wakulla Springs" novelette (co-authored with Ellen Klages), and a Nebula for the novelette "Close Encounters" (2013). He has three Hugo nominations, for his "Beluthahatchie" short story (1998), the novella "The Chief Designer" (2002), and "Wakulla Springs" (2014). 
Born September 21, 1974 — Dexter Steven, 48. He wrote interesting novels, the first being The Dream of Perpetual Motion which is based off The Tempest, with steampunk, cyborgs and airships as well; the second being Version Control, a media-saturated twenty minutes into the future America complicated by time travel that keep changing everything. He wrote these and that was it. 
Born September 21, 1990 — Allison Scagliotti, 42. One of the primary cast of Warehouse 13, a show that I really, really loved. Her first genre role was as Jayna, one of the Wonder Twins, on the Smallville series. And she showed in a crossover episode of Eureka, "Crossing Over".  She was in Camille Engelson on Stitchers which I must watch soon. 
(13) COMICS SECTION.
Bizarro  shows mythical beasts need therapy, too.
(14) WHO DAT? The Bookseller's Joe Phelan knows there's always an audience for anyone prepared to tell us, "What happened to Sad Puppies?"
The Sad Puppies era is arguably the bleakest passage in the history of the Hugo Awards. The Puppies' campaigns gave rise to smears, vitriol, conspiracy and hostility; they can be regarded as an early skirmish in publishing's now-pervasive "culture wars", where suspicion, belligerence and an unwavering conviction in one's own position routinely permeate discourse.
There are quotes from Kevin Standlee and Neil Gaiman which Phelan presents as recently obtained, and another from this laughably "anonymous" pro-Puppy figure:
…The anonymous Sad Puppies advocate we spoke to fully disputes suggestions that the campaigns should be branded failures. They are adamant the Hugos remain just as unrepresentative and biased as they considered them to be in 2013, and they believe Sad Puppies played an important role in raising awareness of this apparent issue.

"No, it was not unsuccessful. The campaign(s) proved to any onlookers who care to look that the modern Hugos are awarded solely for reasons of political correctness. A casual perusal of the lists of candidates and winners over the past four years is a sufficient confirmation of this. The Hugo Awards, in effect, burned themselves to the ground for the sole purpose of avoiding my work being recognised. The fans had selected an author that the insiders did not prefer – despite that I myself was a Tor author at the time. Those who hoped sobriety would prevail, and the Hugos return to the dignity they once knew, had their hopes dashed."…
If you know any ex-Tor authors who were on the Sad Puppy slates that weren't named John C. Wright, please do refresh my memory.
(15) PURE WROUGHT. Speaking of Mr. Wright, his recent "Note on Christian Science Fiction" contains this wonderful passage scoffing at some familiar genre works:
…People would go mad at the sight of stars, Mr. Asimov? Really? Eyewitnesses to the Crucifixion would immediately convince the world without any fuss that all religion was bunk, Mr. Clarke? Say you so? One should sleep with whores out of courtesy to one's hosts when visiting whoreland, Mr. Heinlein? Really? Adultery is lawful for persons truly in love, Mrs. Rand? Honestly? Or, my personal favorite, if Captain Kirk is split into a good and evil pair, a la Jekyll and Hyde, the bad side is filled with passion and energy rather than filled with vice, and the good side is indecisive and weak rather than virtuous? Really, Mr. Roddenberry? Honestly, is that the way good and evil works, or have you simply been reading too much Freud, and it has warped your brain?…
(16) SEEMS MORE RELEVANT NOW. [Item by Todd Mason.] A quote from an old sff magazine:
"The Ukraine had had a number of serious attacks in the previous week, which refuted the theory that the metal locusts were a Russian weapon being used in preparation for a mobilisation of forces."

"The Locusts" by R. Whitfield Young, Science-Fantasy, April 1958.
Apparently the only published story by Young under that byline, and one might guess why from the bulk of the story.
(17) AGAIN. CBR.com decides "Kaley Cuoco & Pete Davidson's Meet Cute Is a Clever, Affecting Sci-Fi Rom-Com".
When Sheila (Kaley Cuoco) approaches Gary (Pete Davidson) in a New York City bar at the beginning of Meet Cute, it seems like the moment referenced in the title — the romantic-comedy staple of the main characters first encountering each other in an adorable, amusing manner. For Gary, that's what it is. He's won over by Sheila's offbeat charms, including ordering the exact same drink as him and toasting in the exact same way. For Sheila, though, this isn't her first time meeting Gary, or even the fifth time. As she tells him almost immediately, she's a time traveler, and she's experienced this moment multiple times already. It's a disarmingly direct way for the movie to introduce its sci-fi concept, which is indicative of the clever, surprising, and emotionally affecting story to come….
(18) LONGER AGO THAN YESTERDAY. Neil Gaiman, Ian Rankin, and Denise Mina are featured in this 2009 BBC piece about graphic novels that dropped today.
(19) VIDEO OF THE DAY. [Item by Martin Morse Wooster.] Adam Savage reports from the convention he holds (Silicon!) and how a fabricator he calls "evil Ted" gave him a very realistic foam space helmet.
[Thanks to Andrew Porter, Chris Barkley, Michael Toman, Todd Mason, Cat Eldridge, Mike Kennedy, Martin Morse Wooster, JJ, and John King Tarpinian for some of these stories. Title credit belongs to File 770 contributing editor of the day Andrew (not Werdna).]