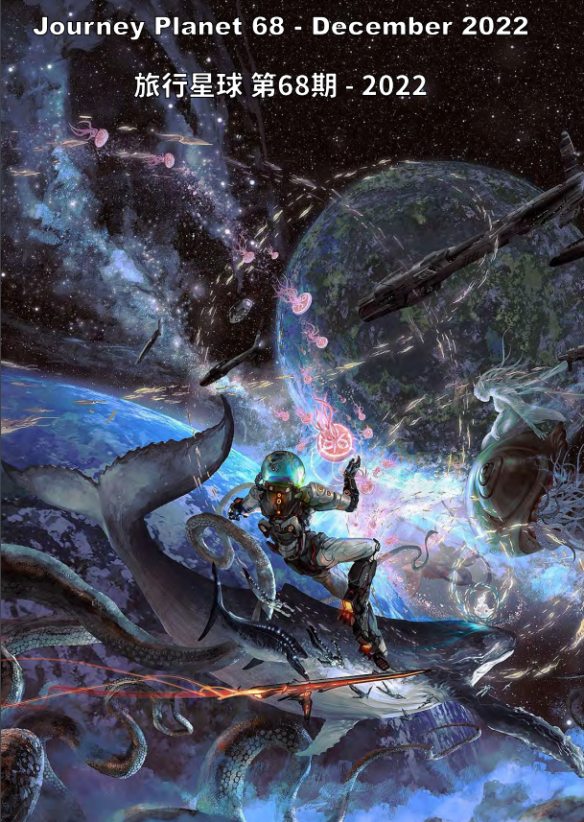 Regina Kanya Wang, Yen Ooi and Arthur Liu join Chris Garcia and James Bacon to co-edit an issue dedicated to Chinese science, science fiction, space and fandom, with over 20 articles and interviews, all both in Chinese and English in parallel text.
Featuring a stunning cover From Ocean in the Sky by Sharksden, there is a wide variety of articles, interviews and art.
This issue has exceeded expectations in regard to volume of content, and the editors decided that they would split the issue into two parts, with Part 2 planned for publication in the Chinese New Year.
Contents in this issue include:
If I Have a Dyson Sphere, I Can _______ – The Independent Science Fiction Game Dyson Sphere Program and Its Player Ecology by Bill Black. Translated by Scarlet Zhang
An Encounter with Mars at Lenghu by Arthur Liu. Translated by Shaoyan Hu
Twelve Space-Themed Chinese SF Novels In the 2020s by Arthur Liu
The Female Body and the Future of Humanity by Mia Chen Ma. Translated by Wang Jin and Lily Rathbone
"The Wandering Earth": Should I Leave Behind the Heavy Shell? by Lyu Guangzhao
The Wandering Fan – A Diaspora View of Chinese Science Fiction by Kin-Ming Looi. Translated by Jiang Qingying
Hunt for the Hidden Treasures of Republican-Era Science Fiction by Ren Dongmei, edited by RiverFlow. Translated by Jack Hargreaves
Dugu Yue Refuses to Be Alone by Zhong Tianyi. Translated by Qing Zhao
Imagining Outer Space in Chinese Science by Huang Mingfen. Translated by Zhou Danxue
Original Art: Lunar Photosynthesis by Angela YT Chan
Narrating Fantastic Stories with Visual Arts – Interview with Feifei RuanInterviewer: Regina Kanyu Wang. Translated by RiverFlow
My Best Art is Always the Next Piece – Interview with Sharksden Interviewer: Regina Kanyu Wang, Translated by Scarlet Zhang
The issue is available here here.
The Chinese language press release is here.
[Based on a press release.]