(1) MACHADO ON BOOK BANS. Carmen Maria Machado has an op-ed in today's New York Times: "Banning My Book Won't Protect Your Child".
… Book bans in America are nothing new. As long as there have been writers, there have been reactionaries at their heels. (Boston held its first book burning in 1650.) Today in the United States, books that feature characters who are Black, Latinx, Indigenous, queer or trans — or are written by authors who identify that way — frequently make up a majority of the American Library Association's annual list of the top 10 books most often censored in libraries and schools. These book bans deprive students of a better understanding of themselves and one another. As a writer, I believe in the power of words to cross boundaries at a time of deep division. Now more than ever, literature matters.

Those who seek to ban my book and others like it are trying to exploit fear — fear about the realities that books like mine expose, fear about desire and sex and love — and distort it into something ugly, in an attempt to wish away queer experiences.

They do not try to hide their contempt, or their homophobia. They accuse teachers who want to assign my book of "grooming" students, language that's often used to accuse someone of being a pedophile and a common conservative dog whistle when it comes to queer art. They want to shield their children from anything that suggests a world beyond their narrow perception.

As anyone can tell you — as history can tell you — this is ultimately a fool's errand. Ideas don't disappear when they're challenged; banned books have a funny way of enduring. But that doesn't mean these efforts are without consequences.

The high school seniors affected by this action are on the cusp of adulthood, if not already there. Soon, they will go into the world. They will date and fall in love and begin relationships, good and bad. I understand that for a parent, it's almost unthinkable to imagine that your child could experience such trauma. But preventing children from reading my book, or any book, won't protect them. On the contrary, it may rob them of ways to understand the world they'll encounter, or even the lives they're already living. You can't recognize what you've never been taught to see. You can't put language to something for which you've been given no language.

Why do we not see these acts of censorship for what they are: shortsighted, violent and unforgivable?
(2) WISCON PLANS. This year's WisCon substitute, although still online, will be different from last year's virtual convention: "Visioning WisCon".
This spring (unlike last spring) has gone fast, but we've found the time to be sad about the lack of a WisCon this year as much as we have been hearing you are missing it. But we looked at our energy levels (sadly low) and our virtual-event-expertise levels (also pretty low), and we had to conclude that we weren't going to be able to do a second WisCONline.

… We will be asking folks to register, so we can send you the information you need to attend. Our base ticket price is FREE! Tickets priced at $10 help us make the next in-person convention happen; $60 tickets go to our Member Assistance Fund, helping folks attend in 2022; the $200 tickets help assure that WisCon can keep happening past 2022. The program space will be open 4pm to 11pm Central time, Saturday May 29 & Sunday May 30.
(3) WRITERS GETTING PAID – WE HOPE. At BookRiot, Sarah Nicolas takes a crack at answering "How Much Do Authors Make Per Book?"
…When I teach classes and am asked how much do authors make, people tend to be deeply unsatisfied with my "it depends" answer. There is no way to predict how much a book will make, but I spoke with 15 authors of all stripes to demonstrate the variety of options. I spoke with self-published authors and traditionally published authors who have made less than they spent on expenses, authors of both paths who easily make a living off their writing, and everyone in between.

While there are many author earning surveys done by a variety of organizations, they are self-reported and only reach the sphere of influence of the organization. Much like with this article, mega bestsellers -— think Stephen King or James Patterson — don't participate in those surveys. I would also like to caution against reading any kind of "data" on author earnings from websites that are also trying to sell you author services. I ran across many of these in my research and the numbers they present are incredibly skewed and intentionally misleading.

Many of the quoted writers have not let their real name be used. But here's one you'll recognize:

…Popular science-fiction author Jim C. Hines has been publishing his income reports every year since 2007. He's never hit a bestseller list, but his last five books have been lead titles for his publisher. He made $31,411 in 2020, including $13.5k from a Kickstarter. In 2016, he also published a survey of almost 400 authors' income, which resulted in an average of $114,124, but a median of $17,000, meaning a handful of high-earning outliers were bringing that average up….
(4) HEAR FROM THE HISTORIC TRIMBLES. Fanac.org's next Zoom fanhistory session will host An Interview with Bjo and John Trimble on May 22 at 2:00 p.m. Eastern. For reservations, send an RSVP to [email protected].
An Interview with Bjo and John Trimble. Bjo and John Trimble have had an enormous impact on fandom from the 1950s onward. They've pubbed their ish, and some of the zines are available on FANAC.org. Bjo created the convention art show as we know it today (pre-pandemic) with Project Art Show, and published PAS-tell to share info with interested fans everywhere. In LASFS, Bjo had a large role in reviving a flagging LASFS in the late 50s. Her most famous contribution was the successful Save Star Trek campaign which resulted in a 3rd year of the original series. Bjo was one of the organizers of Los Angeles fandom's film making endeavors. John is a co-founder of the LASFS clubzine, De Profundis and an editor of Shangri-L'Affaires. Bjo and John were Fan Guests of Honor at ConJose (2002), and were nominated twice for Best Fanzine Hugos. Bjo was nominated for Best Fan Artist Hugo. They were also involved in the SCA and costuming, receiving a lifetime achievement award from the International Costumers Guild in 1992. In this interview, expect stories and anecdotes of Los Angeles fandom, how the art show came to be, Save Star Trek and more. For reservations, send an RSVP to [email protected].
(5) REASONS TO JOIN. "Recruiting the Millennials" on Facebook is a long post about what it takes to get people under the age of 30 interested in the Society for Creative Anachronism. Is any of the experience transferable to your activities?
…Gulf Wars is where I fell in love with the SCA. It got me hooked. I would meet people at Gulf Wars in 2013 who would quite literally change my life, and what got me addicted to the society, what finally set the hook, was being introduced to someone my own age. This seems like such a simple, easy arbitrary thing, but it mattered. You see, before I was introduced to someone my age the SCA felt intimidating, a bit unobtainable in it's scope and culture. Seeing someone my own age thriving in the society, fighting, with a group of friends also within my age-group was welcoming and showed me that someone so comparatively young can come to fit in here.

Since those days I have made lots of friends my own age in the SCA, most tell a story not to dissimilar to my own. You see the antiquated recruitment methods of the SCA are simply not working. The old pitch "I get to hit my friends with a stick, and have a beer with them later." is corny, it made me cringe when I first heard it and it makes me cringe now when I hear someone deliver it to someone new like it's the golden ticket to a life-long member. I am a heavy fighter in the SCA, fighting was a huge draw for me. I grew up on video games and I wanted to be the hero of my own story. That journey is a hard one, and it takes time and dedication. Not everyone is going to have the discipline to stick with it to get to the level of fighting that they want out of themselves, and that's ok. Some may join wanting to be a fighter, and end up taking up in metalwork or bardic. They may simply fall in love with the culture of the SCA, and do a little bit of everything, and that's ok too….
(6) IN MEMORY YET GREEN. Coming to theaters July 30: The Green Knight.
An epic fantasy adventure based on the timeless Arthurian legend, The Green Knight tells the story of Sir Gawain (Dev Patel), King Arthur's reckless and headstrong nephew, who embarks on a daring quest to confront the eponymous Green Knight, a gigantic emerald-skinned stranger and tester of men. Gawain contends with ghosts, giants, thieves, and schemers in what becomes a deeper journey to define his character and prove his worth in the eyes of his family and kingdom by facing the ultimate challenger.
(7) UP FRONT ADULTING. "Netflix Drops a New Red Band Trailer For Love, Death + Robots Volume 2" and SuperHeroHype points the way.
Last month, Netflix finally revealed the first look at the highly-anticipated second season of Love, Death + Robots. The trailer featured footage from brand new animated shorts. However, it didn't exactly showcase the adult-oriented tone that the series was praised for when it debuted in 2019. Thankfully, Netflix has provided a simple fix to that problem. A new red-band preview for Love, Death + Robots Volume 2 has found its way online, this time offering a better look at what grown-up viewers can expect from the new season.
(8) MEDIA ANNIVERSARY.
May 11, 1955 — On this day in 1955, Ed Wood's Bride Of The Monster had its original theatrical premiere in Hollywood, California. It was produced by Ed Wood and written as well by him with assistance by Alex Gordon. The film starred Bela Lugosi in his last film and Tor Johnson as well. Most critics panned it, though a few thought it was almost decent by his low standards. Not so with the audience reviewers at Rotten Tomatoes who definitely didn't like it at all and gave it a twenty-eight percent rating.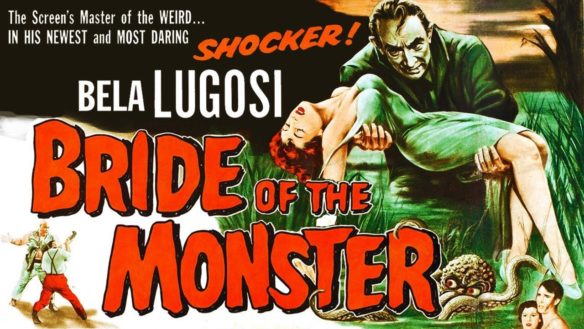 (9) TODAY'S BIRTHDAYS.
[Compiled by Cat Eldridge and John Hertz.]
Born May 11, 1899 — E. B. White. Author of Charlotte's Web and Stuart Little, both of which are surely genre. Along with William Strunk Jr. he is the co-author of the English language style guide The Elements of Style. (Died 1985.) (CE) 
Born May 11, 1904 – Salvador Dalí.  Two Basket of Bread paintings twenty years apart – The Persistence of Memory between them – show he could be realistic if he felt like it.  Having said "The difference between me and a madman is that I am not mad," he told a group of Surrealists "The difference between me and the Surrealists is that I am a Surrealist."  He put an unfolded tesseract in Crucifixion; created in 1950 a Costume for 2045 with Christian Dior; drew, etched, sculpted; illustrated The Divine Comedy and The Arabian Nights.  Memoir, The Secret Life of Salvador Dalí.  (Died 1989) [JH]
Born May 11, 1918 – Richard Feynman.  He had a gift for looking from the abstract to the concrete: hence Feynman diagrams; plunging a piece of O-ring material into ice water at a hearing on the Challenger disaster; winning a Nobel Prize and teaching undergraduates. Kept a notebook Things I Don't Know About.  A curved-space lecture handout had a bug on a sphere: "the bug and any rulers he uses are all made of the same material which expands when it is heated."  Surely You're Joking, Mr. Feynman reviewed by Alma Jo Williams in SF Review.  (Died 1988) [JH]
Born May 11, 1930 — Denver Pyle. His first genre performance is in The Flying Saucer way back in 1950 where he was a character named Turner. Escape to Witch Mountain as Uncle Bené is his best known genre role. He's also showed up on the Fifties Adventures of Superman, Commando Cody: Sky Marshal of the Universe, Men Into  Space, Twilight Zone and his final role was apparently in How Bugs Bunny Won the West as the Narrator. (Died 1997.) (CE) 
Born May 11, 1935 — Doug McClure. He appeared in Seventies SF films The Land That Time Forgot, The People That Time Forgot, Warlords of the Deep and even Humanoids From The Deep. Genre-wise, he also appeared in one-offs in The Twilight Zone, Out of This World, AirWolf, Alfred Hitchcock Presents, Fantasy Island and Manimal. (Died 1995.) (CE) 
Born May 11, 1952 — Frances Fisher, 69. Angie on Strange Luck and a recurring role as Eva Thorne on Eureka. Have I mentioned how I love the latter series? Well I do! She's also shown up on Medium, X-Files, Outer Limits, Resurrection, The Expanse and had a role in the Watchmen series. (CE) 
Born May 11, 1952 — Shohreh Aghdashloo, 69. Best known genre role is Chrisjen Avasarala on The Expanse series. (I've not seen it, but have listened to all of The Expanse series.) She also had a recurring role as Farah Madani on The Punisher. She was also in X-Men: The Last Stand as Dr. Kavita Rao, but her role as The Chairman in The Adjustment Bureau didn't make it to the final version. She was Commodore Paris in Star Trek Beyond, and she had a recurring role as Nhadra Udaya in FlashForward. (CE) 
Born May 11, 1960 – Irwin Hirsh, age 61.  Early co-editor of Thyme.  Compiled The Incompleat Bruce Gillespie for the Bring Bruce Bayside Fund which brought Gillespie to Corflu 22 (fanziners' con) and Potlatch 14.  GUFF delegate (northbound, Get-Up-and-over Fan Fund; southbound, Going Under Fan Fund).  Maintains an Australian Fan Funds Website.  [JH]
Born May 11, 1979 – Alice Lewis, F.N., age 42.  Made the logograph for First Night at Noreascon IV the 62nd Worldcon; you can see it on the First Night program sheet here.  Designed thirty NESFA Press books, like this (Tim Powers) and this (Roger Zelazny).  President of Harvard animé club while a senior there.  Fellow of NESFA (New England SF Ass'n; service).  Now designing for Viz Media.  [JH]
Born May 11, 1981 – Erin Hoffman, age 40.  Three novels, a score of shorter stories, half a dozen poems.  Co-edited The Homeless Moon.  Game designer.  She's read Moby-Dick, two Austen novels, Treasure Island, four Shakespeare plays, Borges' Ficciones, a Complete Poems of Emily Dickinson, The Hunt for "Red October".  [JH]
(10) COMICS SECTION.
(11) A VISIT TO MILLARWORLD. In the Washington Post, David Betancourt interviews Scottish comics writer Mark Millar, whose strips Kick-Ass and The Secret Service have become films and whose company, Millarworld, was bought by Netflix and whose new show "Jupiter's Legacy" is the first part of his production deal. Millar explains how Netflix's deal with Marvel to develop second-tier superheroes broke down and how Netflix is counting on Millar to supply superheroes to compete with Disney Plus and HBO Max. "Mark Millar's 'Jupiter's Legacy' kicks off Netflix's new superhero universe".
… "I've always avoided having a job. Like most writers, the idea of a job horrifies me. They knew I was never a guy who was going to come in and sit at a desk all day," he said of the company. But his new arrangement "basically makes me feel as if I'm still running my own show, which is a perfect environment. You don't feel like you have a boss watching everything you're doing. It's a very relaxed and chill environment."

On a normal work day in his native Scotland, Millar spends most of his morning and afternoon writing, while he waits for Los Angeles to reach a Zoomable hour for calls with producers. Millar was a huge fan of Netflix's "Daredevil" and was thrilled to have its originalshowrunner, Steven S. DeKnight, on "Jupiter's Legacy" (even though DeKnight eventually exited)….
(12) WELL SPOKEN. The Rite Gud podcast says it's also important to "Talk Gud: A Dialog About Dialog".
In this irregular episode, audio gremlin Sid Oozeley talks shop with returning guest Mario Coelho about fantasy and science fiction's long-standing vendetta against dialogue writing.

Why is it frequently so stilted and stiff? Why are American writers so averse to local flavor? Why do so many grown adults still try to write like Joss Whedon? Just how far off-topic can Sid take a conversation? What the hell is verisimilitude, exactly?

Our boys get to the bottom of all of this and more on this unusual episode of Rite Gud.
(13) COUNT TO 19. The Los Angeles Times discovers that "Dracula's castle proves an ideal setting for COVID-19 jabs".
At Dracula's castle in picturesque Transylvania, Romanian doctors are offering a jab in the arm rather than a stake through the heart.

A COVID-19 vaccination center has been set up on the periphery of Romania's Bran Castle, which is purported to be the inspiration behind Dracula's home in Bram Stoker's 19th century gothic novel "Dracula."

Every weekend through May, "vaccination marathons" will be held just outside the storied 14th-century hilltop castle, where no appointment is needed, in an attempt to encourage people to protect themselves against COVID-19.

"We wanted to show people a different way to get the [vaccine] needle," Alexandru Priscu, the marketing manager at Bran Castle, told the Associated Press….

Those brave enough to get a Pfizer vaccine shot receive a "vaccination diploma," which is aptly illustrated with a fanged medical worker brandishing a syringe….

"Besides the diploma, people benefit with free entry to the [castle's] torture rooms, which have 52 medieval torture instruments," Priscu noted.
(14) OVERTIME. James Davis Nicoll names "Five SF Novels That Take the Long View of History" for Tor.com readers.
You might think that it would be hard to make such books interesting. (I don't think that anyone has ever described The Decline and Fall of the Roman Empire as a cracking thrill ride: "Could not put it down!") The following five novels show that it is possible to write interesting works that take the long view….

Children of Time by Adrian Tchaikovsky (2015)

Doctor Kern did not personally terraform the nameless world twenty light-years from Earth but she plans to shape its destiny. Kern intends to seed what she dubs Kern's World with monkeys infected with a nanovirus. The virus has been designed to force the monkeys along a deterministic path towards a new and better species, one far superior to disappointing humanity. Alas, her bold vision has failure points. Points which doom it.

The monkeys die on their way to the surface. The nanovirus, on the other hand, makes planetfall. Lacking its intended host, the nanovirus abandons Chordata in favour of Arthropoda. Kern's World is ruled by generation after generation of very bright, surprisingly social spiders. Humans will one day make their way to Kern's World, where they will either find some way to deal with the spiders or perish.
(15) THE RED, GREEN, AND BLUE PLANET. Adam Mann, in The New Yorker article "Is Mars Ours?", asks "Should we treat other planets like natural resources or national parks?"
Last year, about a month into the pandemic, I reached for something comforting: the 1992 science-fiction novel "Red Mars," by Kim Stanley Robinson. I'd first read it as a teen-ager, and had reread it a handful of times by my early twenties. Along with its two sequels, "Green Mars" and "Blue Mars," the novel follows the first settlers to reach the red planet. They establish cities, break away from Earth's control, and transform the arid surface into a garden oasis, setting up a new society in the course of a couple hundred years. On the cover of my well-worn copy, Arthur C. Clarke declared it "the best novel on the colonization of Mars that has ever been written." In my youth, I considered it a record of what was to come.

It had been a decade since I'd last cracked open the book. In that time, I'd become a journalist specializing in space, covering its practical, physical, biological, psychological, sociological, political, and legal aspects; still, the novel's plot had always stayed with me, somewhere in the back of my mind. It turns on a series of questions about what we owe to our planetary neighbor—about what we are allowed to do with its ancient geological features, and in whose interests we should be willing to modify them. In Robinson's future, a disgruntled minority of settlers argue that humanity has no right to alter a majestic place that has existed without us for billions of years; they undertake ecoterroristic acts to undermine Martian terraforming efforts and, in the end, succeed in keeping parts of Mars a wilderness. I used to think it sensible that their opinion was relegated to the margins. Reading the novel again, I wasn't so sure.

"It seemed to me obvious," Robinson told me, over the phone this winter, when I asked him how he'd come to place that particular dilemma at the center of his trilogy….
(16) HONEST TRAILER. In "Mortal Kombat (2021)," the Screen Junkies say the new Mortal Kombat film is "a martial arts movie that takes itself way too seriously" and features "four real martial artists but you'd never know it from all the quick cuts."
[Thanks to Martin Morse Wooster, N., JJ, Michael Toman, Jeffrey Smith, John King Tarpinian, Cat Eldridge, John Hertz, Mike Kennedy, James Davis Nicoll, Joe Siclari, and Andrew Porter for some of these stories. Title credit goes to File 770 contributing editor of the day Acoustic Rob.]