(1) GATHERING NOMINATIONS. The BSFA Awards 2022: Longlist Nominations are open. According to their tweet anyone can suggest works. However, only BSFA members have a vote in the outcome.
(2) THE STARS MY QUESTIONATION. LearnedLeague has another SF-related quiz, this one written ("smithed" in LL parlance) by Filer Frasher Sherman. "Invasions From Outer Space: Film and TV" can be found here.
David Goldfarb says 1778 people played the quiz, which is a pretty good turnout for a One-Day.
(3) CALLS FOR HELP. Here are two GoFundMes for SFF writers who need help with medical expenses:
R.S.A. Garcia: "Help R. S. A. Garcia Pay for Cancer Expenses". (The full medical details and the reasons for the appeal are at the link.)
…However, this past week, the doctors found some worrying signs of endometrial cancer and have recommended a full hysterectomy, in addition to the other procedures. The recovery time required and the need to do reconstructive surgery means that I don't expect to be able to work again for another 6 months to a year.

I was let go from my job when I had my surgery. Since then, my sister's has been covering all our household expenses but we now find ourselves in a difficult situation.

…My medical costs are mounting with a minimum of two surgeries planned for the next six months and potentially as many as four. The results of my biopsy on November 25, will determine the next phase of my treatment. We're already in debt and have liquidated our insurance policies to try to keep afloat.

So we're asking for your help….
James A. Moore: "The Hits Keep Coming". The appeal at the link contains the grim details, as related by its organizer, Christopher Golden.
…There will be time and many costs involved, but this GoFundMe is really meant only as a bridge to help Jim get to wherever they will end up next. It's hard to fathom how anyone could endure a string of events like this, but Jim endures. Please help if you can, and if you can't donate anything, please share with anyone you think will be able to do so….
(4) WHERE EREWHON IS NOW. Tor.com reports that Erewhon Books has been acquired by Kensington Publishing.
Kensington Publishing recently acquired fellow independent publisher Erewhon Books.

Erewhon—established in 2018, which boasts a lineup of authors including C. L. Polk, E. Lily Yu, Benjamin Rosenbaum, and Cassandra Khaw—is now an imprint of Kensington. The acquisition includes Erewhon's backlist as well as their titles coming out through 2024. Editorial oversight will continue under Erewhon Publisher Sarah Guan, with the rest of the Erewhon team also joining Kensington. Starting in 2023, Penguin Random House Publisher Services will begin distributing all of their books….
Erewhon was founded by Liz Gorinsky, who left in March to "pursue other projects".
(5) SCREENING THE ALIENS. Either the big screen or the little. Cora Buhlert's new "Non-Fiction Spotlight" is for "The Aliens Are Here – Extraterrestrial Visitors in American Cinema and Television by Fraser A. Sherman".
Tell us about your book.

The Aliens Are Here: Extraterrestrial Visitors in American Cinema and Television looks at how movies and TV have portrayed Earth's encounters with beings from other worlds. Each chapter takes a different topic — alien invaders, aliens as refugees, alien/Terran love stories, UFO abduction films, genre mashups — and looks at related films, themes and tropes. Then I spotlight one to three movies or TV shows relevant to the chapter topic. The alien monsters chapter, for instance, has The Thing From Another World, The Thing and The Andromeda Strain.
(6) TAKING NOTES. Laura Anne Gilman chats with CrimeReads about her new historical fantasy novel. "History Is Shouting…All You Need to Do Is Listen".
… As every historian, pro or amateur, knows, history repeats itself. That is, events happen in a cyclical pattern, over and over, in varying lengths of time. The story of history is a reminder even when we think that we're learning from experience, that learning never seems to stick for more than a generation or two before dissipating into mist. Or, as I like to put it, history repeats itself because it knows we're not listening. And it will get louder and louder until we do.

Which for the political scientist and pundit may be depressing as hell, but for the historical novelist it's a candy store just waiting to be plundered. All that wild, wonderful detail you literally couldn't make up without someone calling hijinks, actually happened….
(7) BAEN SALE. Baen Books' Veteran's Day November Ebook Sale is on. Click through for a list of Baen authors with military service and the titles of their ebooks being offered at a $1 discount. Sale ends November 30, 2022. Available wherever Baen Ebooks are sold.
(8) MEMORY LANE.
1934 — [By Cat Eldridge.] Ngaio Marsh's A Man Lay Dead
I truly love country house mysteries. I truly do. There's A. E. Milne's The Red House Murder and Agatha Christie's Hercule Poirot's Christmas as novels and Gosford Park and Knives Out as the modern exemplars of it in films. And here we have a woman born and raised far from Britain, in New Zealand to be precise, with a country house murder.
Ngaio Marsh was born in 1895 Christchurch, New Zealand where she lived until 1928, when she went to London with friends on whom he would base the Lamprey family in the Surfeit of Lampreys novel, her tenth novel to feature Roderick Alleyn. Then after she spent time in both countries.
So let's us talk about A Man Lay Dead which as I said is a country house murder. It is the first novel to feature Roderick Alleyn, and was first published in 1934 by Geoffrey Bles in London.
The plot concerns a murder committed during a detective game of murder at a weekend party in a country house. But she hasn't really developed the character of Alleyn yet so another character is focused on.
WE ARE GOING TO TELL A STORY HERE, SO BEWARE!
A small group of guests at Sir Hubert Handesley's estate including a man about town, several of his nieces, an art expert, a gossip reporter, and pay attention as Marsh makes sure you notice him, a butler of Russian ancestry.
The murder mystery game in which one of the guests is of course chosen to be the murderer and someone to be murdered by him or her. At the time of the murderer's choice, he tells the victim they're dead.
At that point, the lights go out, a loud bell rings, and then everyone comes back to together for yet more drinks and to piece together who did it. It is all intended to be a good hearted diversion, except that the corpse is very, very real.
Alleyn has his holiday with Troy to investigate a murder connected to a stolen chalice in the area, but he's called when this murder occurs at uncle's estate.
NO MORE STORY TO BE TOLD, SO COME BACK AND I'LL POUR VINTAGE BRANDY
Marsh had being reading a short story by Christie or Sayers, she forgots which, and wondered if she could write a mystery novel set in the Murder Game which was popular at English weekend parties. So she bought some composition books and set down to write.
Marsh regretted this novel immensely once she'd refined her writing skills in years to come. Joanne Drayton noted in Ngaio Marsh: Her life in crime that she would "cringe at the thought of her first novel with its barely plausible story line, shallow characterization and confined setting".
It would later be adapted for the Inspector Alleyn Mysteries series, the Angela North character here was replaced by Agatha Troy who appears in later novels as Alleyn's romantic interest and eventual wife.
It, like almost everything Marsh did, is of course available from the usual suspects.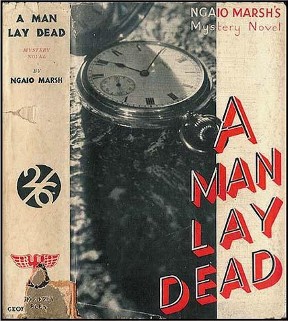 (9) TODAY'S BIRTHDAYS.
[Compiled by Cat Eldridge.]
Born November 3, 1921 — Charles Bronson. He didn't do a lot of genre acting but I've got him in One Step Beyond as Yank Dawson in "The Last Round" and he's in The Twilight Zone in "Two" as The Man opposite Elizabeth Montgomery as The Women. He was also in Master of The World which is based on the Verne novel Robur the Conqueror and its sequel Master of the World. (Died 2003.)
Born November 3, 1931 — Monica Vitti. She's best remembered in the English-language movie-going world for her performance as the lead agent in Modesty Blaise. It's rather loosely based upon the Modesty Blaise strip by Peter O'Donnell, who co-wrote the original story upon which Evan Jones based his screenplay. (Died 2022.)
Born November 3, 1933 — Ken Berry. He's receiving Birthday Honors for Disney's The Cat from Outer Space in which he was Dr. Frank Wilson. No, the cat wasn't Goose. Nice idea though. And he played seven different roles on the original Fantasy Island. Also, like pretty much everyone else. he was a guest performer on Rowan & Martin's Laugh-In. I know it's not genre, I just find that amusing. (Died 2018.)
Born November 3, 1933 — Jeremy Brett. Still my favorite Holmes of all time. He played him in four Granada TV series from 1984 to 1994 in a total of 41 episodes. One source said he was cast as Bond at one point, but turned the part down, feeling that playing 007 would harm his career. Lazenby was cast instead. I can't actually say it's fact, but it is a great story. (Died 1995.)
Born November 3, 1933 — Aneta Corsaut. If you saw The Blob, the original Fifties version, she was Jane Martin. Her only other genre film work was as an uncredited tourist mother in Blazing Saddles. And unless I'm mistaken, she had no other genre series work at all though she was popular in Westerns. She is best remembered for playing Helen Crump on The Andy Griffith Show. (Died 1995.)
Born November 3, 1952 — Eileen Wilks, 70. Her principal genre series is the World of Lupi, a FBI procedural intertwined with shapeshifters, dragons and the multiverse. Highly entertaining, sometimes considered romance novels though I don't consider them so. The audiobooks are amazing as well! I re- listened to several of them recently and the steel booted Suck Fairy saw her boots rust away.
Born November 3, 1956 — Kevin Murphy, 66. Best known as the voice and puppeteer of Tom Servo for nine years on the Mystery Science Theater 3000. He was also the writer for the show for eleven years. I'm surprised the series was never nominated for a Hugo in the Long Form or Shot Form. Does it not qualify?
Born November 3, 1963 — Brian Henson, 59. Can we all agree that The Happytime Murders should never have been done? Wash it out of your consciousness with Muppet Treasure Island or perhaps The Muppet Christmas Carol. If you want something darker, he was a puppeteer on The Witches, and the chief puppeteer on Teenage Mutant Ninja Turtles. And he voices Hoggle in Labyrinth.
(10) COMICS SECTION.
Tom Gauld extols the advantages of shopping at a haunted bookshop.
(11) BE ON THE LOOKOUT. The Guardian has many good things to say about Neptune Frost, an Afrofuturist movie that a couple of people have been pushing for the Best Dramatic Presentation Hugo next year: "Neptune Frost review – exhilarating Afrofuturist musical battles exploitation".
Black Panther 2 is imminent, but in many ways the extraordinary Neptune Frost is the real Afrofuturist deal: a transgressive socialist Wakanda with an exoskeleton of punk geopolitics bolted on. As well as a denunciation of the western techno-centric order, it's a musical lesson in conscious collaboration between the developed and developing world that Hollywood could learn from – instead of just piggybacking on African aesthetics. Filmed in Rwanda but set in Burundi, the story was developed by US musician Saul Williams – drawing on material from his recent albums – and his Rwandan wife Anisia Uzeyman; they share the directorial credit…
(12) PASSING THE HELMET. Guardian reports on "'A joke that went out of control': crowdfunding weapons for Ukraine's war".
By Christmas, 50 hardly used FV103 Spartan armoured personnel carriers (APCs), until recently the property of the British army, and currently in warehouses in secret locations across the UK, will arrive on the frontline in Ukraine's war with Russia in time for the toughest winter conditions.

The transfer, the largest of such APCs to Ukraine, is not due to British munificence nor to procurement by the Ukrainian ministry of defence.

It is instead just the latest example of the extraordinary scale and indeed speed of the crowdfunding campaigns that have been powering the Ukrainian military since the early days of the war.

The fundraising appeal for the armoured vehicles – tagline "Grab them all" – had only been launched on Wednesday by the Serhiy Prytula charity foundation, named after its founder, a popular comedian and TV presenter with a sizeable online following….
(13) JEOPARDY! Unlike tonight's Jeopardy! contestants, Andrew Porter recognized what the right response should be.
Final Jeopardy: Novel Locales

Answer: This place from a 1933 novel lies in the valley of the Blue Moon, below a peak called Karakal.

Wrong questions: What is the Big Valley?; What is Brigadoon?; What is Xanadu?

Right question: What is Shangri La?
(14) FELINES OF FAME. Can there be any doubt we want to know this? "The 10 Most Famous Cats In Animated TV Shows" according to CBR.com. (I can't find any I would kick out, but I wish Top Cat was on the list.)
…From the earliest animations, where they were nothing more than silent presence, to the more modern takes, where they have plenty of sasses to share, these felines are more than the fond memories they give their fans. Most people likely have a fictional cat that they remember, and going back to watch the series they're from can bring nostalgia and a ton of laughs….
(15) DON'T LET IT HANG YOU UP. Rory Cellan Jones explains how cell phones can for the first time take pictures in this 2001 clip from the BBC that dropped today.
(16) VIDEO OF THE DAY. [Item by Martin Morse Wooster.] In "Honest Game Trailers: Stardew Valley," Fandom Games says this game is so soothing "it's like Animal Crossing went to therapy." But the game offers an escape by "having adventures you could never have in real life: owning your own home, forming meaningful relationships, and finding satisfaction in your work." But if you're tired of doing chores, head to the underground caves where you can slay demons and dinosaurs!
[Thanks to Michael Toman, Cat Eldridge, Mike Kennedy, Cora Buhlert, David Goldfarb, Martin Morse Wooster, JJ, John King Tarpinian, Chris Barkley, and Andrew Porter for some of these stories. Title debit belongs to File 770 contributing editor of the day Jack Lint.]