(1) BOOMING BOX OFFICE. The Hollywood Reporter marks the coming Fourth of July with a chronicle about the making of a blockbuster that was released 25 years ago on this holiday weekend: "'You Can't Actually Blow Up the White House': An Oral History of 'Independence Day'"
…Director Roland Emmerich, writer Dean Devlin and stars Jeff Goldblum, Bill Pullman, Vivica A. Fox, Randy Quaid and more look back at the battle to cast Will Smith, concerns over that famous Super Bowl ad, and a last-minute reshoot to save the ending.

…DEVLIN The one character we had in our mind from day one was Jeff Goldblum. As we were working on the script, I would do my Jeff Goldblum imitation. Then we were basing his father [Judd Hirsch's Julius] off of my grandfather, who was also named Julius.

EMMERICH Ethan Hawke was on our list too, but I thought at that time he was too young. It was pretty clear it had to be Will Smith and Jeff Goldblum. That was the combo we thought. The studio said, "No, we don't like Will Smith. He's unproven. He doesn't work in international [markets]."

DEVLIN They said, "You cast a Black guy in this part, you're going to kill foreign [box office]." Our argument was, "Well, the movie is about space aliens. It's going to do fine foreign." It was a big war, and Roland really stood up for [Smith] — and we ultimately won that war.

EMMERICH It was pretty shortly before the shoot and we still hadn't locked in Will and Jeff. I put my foot down. "Universal people are calling every day, so give me these two actors or I move over there." I don't think it would have been a possibility [to actually move studios], but it was a great threat….

…DEVLIN One of the things we had very early on was the idea of blowing up the White House in a TV ad.

EMMERICH It was very controversial. I had this idea that the ad is: the second of July, you see the shadows; third of July, you have the fire coming through; Fourth of July, the White House explodes. It was such a simple concept, and Fox hated it.

DEVLIN "You can't actually blow up the White House in a TV spot." Roland said, "Why?" And [Fox] said, "Well, because what happened in Oklahoma [City, where on April 19, 1995, anti-government extremists detonated a bomb in front of the Alfred P. Murrah Federal Building, killing over 150]. It could be seen as insensitive." And I said, "Yeah, but that wasn't done by space aliens."

EMMERICH I said, "We'll test it: once with the White House, and once without." [Fox exec] liked it so much when they saw the test result, they decided — in a very smart and clever move — that they would put this as the first commercial on the Super Bowl….
(2) NEW CHINA SF NEWS MONTHLY COMING. Regina Kanyu Wang signal-boosted plans to publish the "World Science Fiction Bulletin" in China, and called upon the science fiction community to help in "gathering clues about the latest news in world SF!"
Please fill in the Google Docs form to provide information:

This form is to gather information for "World Science Fiction Bulletin", a monthly mini-magazine to introduce the latest science fiction news to Chinese readers. The mini-magazine will be published in Chinese in both paper and e-version, and will be compiled into an annual anthology at the end of a year.

It is a great chance to showcase what SF-related events happening in your own country/region, what are being published/broadcast, and what the fans love. It will serve as a window for the Chinese fans to learn about SF all over the world, as well as a platform for future communication and opportunities like publishing/visiting China.

We are looking for three kinds of information (which should happen in the year 2021):

1. Latest news in SF (conventions, awards, important publications, and etc.)

2. Important works (fictions/non-fictions, movies, TV series, comics, games, and etc.)

3. Regular information provider/writer (who would like to constantly join the project, communicate more with Chinese SF community, and even write articles for the project – the writing language should be in English and there will be payment.)

You may fill in the form multiple times. Thank you so much for your support and please feel free to spread the form as widely as possible!
(3) ALL ABOUT THE BOOKS. In "6 Books with Cat Rambo", Paul Weimer takes the author through Nerds of a Feather's standard questions, including –
1. What book are you currently reading?

I just started Devices and Desires by K.J. Parker, book one of a fantasy (ish) trilogy. I'm enjoying it because it talks about one of my favorite things, the economics of a world, and how trade and other market forces drive civilizations. No magic whatsoever! But lots of lovely details and interesting characters, and a slow-burning epistolary romance. I love fantasy that thinks about the economics of things because it feels so much better thought out than some of the cartoonier books.
(4) THE ANSWER IS… Camestros Felapton, in "Debarkle Chapter 45 – The Reviews (April to July)", provides an overview of the efforts to review the slated finalists on the 2015 Hugo ballot.
…As leader of the Sad Puppies 3 campaign, Brad Torgersen had appealed to critics of his slate to read the works nominated and evaluate them fairly. Proponents of the No Award Strategy argued that the impact of slate voting (particularly from the Rabid Puppy campaign) meant that even a reasonable works was compromised as a finalist by the Puppy slates. In those categories where there was a single non-slated finalist (such as Best Fan Writer and Best Novelette) even the non-slated finalist was competing against a field that many fans regarded as illegitimate.

A pertinent question then was whether the 2015 finalists were any good….
(5) THE INSIDE STORY. Sarah Chorn discusses "Writing with an Emotional Landscape" at Bookworm Blues.
The other day, my parents came to visit. My dad and I were talking and he asked, "What are your books known for?" I thought about it for a minute and then said, "I'm pretty sure I'm known for writing with emotional intensity." My dad laughed and said, "You've always been pretty emotionally intense."

I have been, I know that. I have often experienced and interpreted the world through a kaleidoscope of emotions. When I have a story idea, it's not the situation that interests me as much as the emotions that get all tangled up in these moments. It's that tangled emotional web I like to explore. I tend to think the character's inner journey is just as important, if not more so, than the story itself. I'm one of those people who likes it when authors make me cry. That's when the book stops being something I'm reading, and starts being something I am living….
(6) EATING THE FANTASTIC. Scott Edelman hopes listeners will dig into dolmades with agent extraordinaire Joshua Bilmes on episode 148 of the Eating the Fantastic podcast.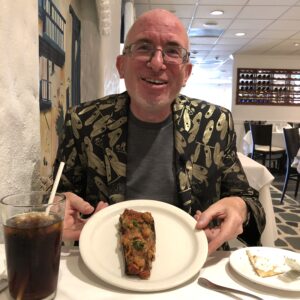 My guest this time around — for my first face-to-face-in-restaurant meal in 466 days — is agent Joshua Bilmes, and the reason we were able to get together is because I learned — back when we chatted before our panel on "Using Writing Prompts and Exercises Effectively" during the virtual Balticon — that he was going to be visiting nearby. We decided to meet for lunch at Rockville, Maryland's Mykonos Grill, which Washington Post food writer Tom Sietsema included at the end of May, on his list of "7 Favorite Places to Eat Right Now."

Joshua Bilmes is the President of JABberwocky Literary Agency, which he founded in 1994. He began his agenting career at the famed Scott Meredith Literary Agency in 1986. His best-selling clients include Brandon Sanderson (whose fantasy novels have sold more than 18 million copies), Charlaine Harris (one of the rare authors whose writing has inspired three different television shows), Peter V. Brett (whose Demon Cycle series has sold more than 3.5 million books), and many others. I've lost count of the number of convention panels Joshua has been on with me in addition to the one I mentioned earlier, everything from "There is No Finish Line: Momentum for Writers" to "How to Self-Edit That Lousy First Draft" to "How to Incorporate Critique" — further proof he definitely has a handle on the way the writing and publishing work.

We discussed how the COVID-19 lockdown impacted the publishing industry, what he learned by visiting 238 Borders bookstores, the offer he's made to bookstore employees he's surprised has never been taken up, how writing letters to Analog led to his career as an agent, what life was like at the famed Scott Meredith literary agency, the fact which had he but known he might not have gone out on his own as an agent, why he's had to redefine what "pleasure" means, what he has to say to people who think they don't need agents, the sixth sense he possesses which helps him choose new clients, and much more.
(7) NAMES TO RECKON WITH. Archaic Media poses "10 Questions for Jack Dann".
Was the New Wave SF influential to you?

Well, I would have to give that question an emphatic 'yes', especially as I was fortunate enough to be a part of the movement, although, along with writers such as Gardner Dozois, George Alec Effinger, Michael Bishop, Ed Bryant, John Shirley, A. A. Attanasio, I came in towards the end. Writers such as J. G. Ballard, Joanna Russ, Brian Aldiss, Samuel Delany, Bob Silverberg, Kate Wilhelm, Carol Emshwiller, Harlan, Tom Disch, Roger Zelazny, Ursula K. Le Guin, and Michael Moorcock, to name but a few off the top of my head, influenced my writing.

I began publishing in Bob Silverberg's New Dimensions series, Michael Moorcock's New Worlds, and Damon Knight's Orbit series. I sold a story to Harlan's ill-fated Last Dangerous Visions, met other writers at Damon and Kate's continuous New Wave literary soiree at their old mansion called The Anchorage in Milford, Pennsylvania; and remember with joy and nostalgia what it felt like to be part of a literary zeitgeist.
(8) HWA PRIDE. An "Interview with Norman Prentiss" is the latest "Point of Pride" from the Horror Writers Association Blog.
What was it about the horror genre that drew you to it?

Horror stories always struck me as sardonic fun, and a good fit for my morbid sense of humor. The genre offers a great introduction to storytelling, since pace and atmosphere are so important, and the surprise endings of so many Twilight Zone or EC Comics-style stories made me think like a writer, trying to guess where a story was headed.

Later in life I realized my youthful attraction to horror also connected to my awkward, mostly-repressed queer identity. The protagonists of horror stories might be bookish nerds, loners, outsiders. And the monsters, too (well, maybe not the bookish part, except for Shelley's creature). That idea of otherness resonates with a lot of gay youth, I think, especially when I was growing up.
(9) TINGLE TALK. The Vox article about Isabel Fall's story prompted Chuck Tingle to make extended comments on Twitter. Thread starts here.
(10) MEMORY LANE.
July 2, 1939 – On this day in 1939, the first Worldcon convenes in New York, and continues through July 4. Attendance was reported at being around two hundred. It was held in the Caravan Hall in New York at the same time as the New York World's Fair was going on and the latter was themed as The World of Tomorrow. The Guest of Honor was Frank R. Paul and the con was chaired by Sam Moskowitz. It called itself the World Science Fiction Convention, and has subsequently been called Nycon I and the 1939 Worldcon.
(11) TODAY'S BIRTHDAYS.
[Compiled by Cat Eldridge.]
Born July 2, 1908 — Rip Van Ronkel. Screenwriter who won a Retro Hugo for Best Dramatic Presentation at The Millennium Philcon for Destination Moon. He also produced the earlier Destination Space movie for television, andwrote the screenplay for The Bamboo Saucer. And no, I've no idea what the latter is. (Died 1965.)
Born July 2, 1914 — Hannes Bok. He's a writer, artist and illustrator created nearly one hundred fifty covers for various detective, fantasy and sf fiction magazines. He shared one of the inaugural 1953 Hugo Awards for science fiction achievement for Best Cover Artist with Ed Emshwiller.  He also wrote a handful of novels, the best known being The Sorcerer's Ship, The Blue Flamingo and Beyond the Golden Stair. (Died 1964.)
Born July 2, 1927 — Brock Peters. His first genre role is in Soylent Green as Lieutenant Hatcher, and he'll follow that up by being in The Voyage Home and The Undiscovered Country as Fleet Admiral Cartwright, and notably he voiced Lucius Fox in Batman: The Animated Series. (Died 2005.)
Born July 2, 1931 — Robert Ito, 90. Though you'll best remember him as being in The Adventures of Buckaroo Banzai Across the 8th Dimension as Professor Hikita, his first genre role was actually an uncredited role in Get Smart!, the first of a lot of genre roles including, but not limited to,  Women of the Prehistoric Planet, Soylent Green, Roller Ball, The Terminal Man, Star Trek: The Next Generation, Star Trek: The Next Generation and more voice work than I can possibly list here though he had a long recurring role as The Mandarin on Iron Man.
Born July 2, 1948 — Saul Rubinek, 73. Primarily of interest for being on Warehouse 13  as Artie Nielsen, though he has worked rather often on genre series and films including Eureka, Masters of Horror, Person of Interest, Beauty & the Beast, Stargate SG-1, The Outer Limits and Star Trek: The Next Generation. Memory Run and Death Ship seem to be his only genre films. His latest genre role is in For all Mankind as Rep. Charles Sandman in their "He Built the Saturn V" episode. 
Born July 2, 1950 — Stephen R. Lawhead, 71. I personally think that The Pendragon Cycle is by far his best work though the King Raven Trilogy with its revisionist take on Robin Hood is intriguing. And I read the first two books in the Bright Empires series which are also very much worth reading. 
Born July 2, 1956 — Kay Kenyon, 63. Writer of the truly awesome The Entire and the Rose series which I enjoyed immensely as a listening experience a few years back. I've not read her Dark Talents series, so opinions please. And she was nominated for three Endeavour Awards which is very impressive. 
Born July 2, 1970 — Yancy Butler, 51. Detective Sara Pezzini on the  Witchblade series which would've been awesome with current CGI. She was later Avedon Hammond in Ravager, Captain Kate Roebuck in Doomsday Man, Angie D'Amico in Kick-Ass and Kick-Ass 2, Reba in Lake Placid 3 and Lake Placid: The Final Chapter, Officer Hart in Hansel & Gretel Get Baked (also known as Black Forest: Hansel and Gretel and the 420 Witch) (given the latter, a career low for her) and Alexis Hamilton in Death Race 2050. Series work other than Witchblade wasa recurring role as Sgt. Eve Edison in Mann & Machine inher first genre role. 
(12) COMICS SECTION.
(13) SURVIVOR. Elizabeth Bear has posted the video of "AHSS Presents a conversation with Elizabeth Bear 'How to Survive a Literary Life'" on YouTube.
There's a lot of information out there on how to perfect your work and seek publication. There's not as much about how to deal with the stresses of writing for a living—inconsistent income streams, uncertainty, arbitrariness of the market, mental health issues, public exposure, professional jealousy, exploitative contracts, and more.
(14) CAN THIS BE PLAYED FOR MONEY? BBC World Service's Business Daily asks "How would we trade with aliens?" – audio at BBC Sounds.
A US government report on UFOs has said there was no clear explanation for the unidentified aircraft, but did not rule out extra-terrestrial origin. Hundreds of millions of dollars have been invested into searching for signs of alien intelligence.

Ed Butler speaks to Lisa Kaltenegger, an astronomer at Cornell University, who has analysed the closest, most likely planets to support alien life. If, or when, we do make contact what could we trade with our new neighbours?

David Brin, a science fiction writer and astro-physicist says our culture would be the most easily exchanged aspect of our civilisation.

And what about making money on Earth from the continued interest in aliens? Juanita Jennings is the public affairs director for the town of Roswell, New Mexico, site of the most famous UFO sighting.
(15) GAMES THAT ARE GOOD FOR YOU. [Item by Martin Morse Wooster.] In the June 30 Financial Times, Tom Faber, reports from the E3 trade show about Wholesome Games, which creator Matthew Taylor says specializes in "Uplifting and thoughtful" games.
'Wholesome' refers to a tone rather than a gameplay genre. Most examples are brightly colored with charming characters and storylines that eschew saving the world in favour of more mundane goals: cooking, farming, hiking, fishing, looking after a pet. Instead of gamifying lust and punishing failure, wholesome games often elicit empathy and kindness via a more positive mechanic sometimes known as 'friend and befriend.'

A sample from this year's Wholesome Direct showcase includes games where you can play a farming cat, a skateboarding pigeon, or, approaching wholesomeness terminal velocity, a cafe owner brewing artisan tea–for cats.
(16) FOLLOW THE MONEY. "The 'Metaverse' is growing. And now you can directly invest in it" reports the Washington Post.
… "Like the mobile Internet and the fixed-line Internet before it, the Metaverse will transform nearly every industry and involve the creation of countless new businesses," said Matthew Ball, managing partner of venture firm EpyllionCo. Ball, along with his group, created the index and has written influential essays on the ongoing evolution of the Metaverse.

Joining Ball on the ETF's council are: Jerry Heinz, former head of enterprise cloud services at Nvidia; Jacob Navok, co-founder and chief executive of Genvid Technologies; Jesse Walden, managing partner of Variant Fund; Jonathan Glick, former New York Times senior vice president of product and technology; Anna Sweet, chief executive of Bad Robot Games; and Imran Sarwar, formerly from Rockstar North where, among other projects, he worked as co-producer and designer of "Red Dead Redemption 2" and "Grand Theft Auto Online," the most profitable entertainment product ever made.

… But the Metaverse is more than just a game that incorporates other companies' intellectual property. Instead, it's an Internet where people will more tangibly replicate many common aspects of real world life, including socialization, commerce and entertainment.

Ball has written several essays in recent years that popularized observations on the Metaverse. As part of the fund, Ball is writing an additional series of essays that establish the framework of the Metaverse, and how to think of it.

Just as the iPhone or Facebook can't be called the Internet, neither can one video game — whether it's "Fortnite" or "Roblox" — can be referred to as the Metaverse, Ball said. But video games help widespread acclimation and understanding of how a Metaverse can operate. Ball writes in his essay detailing the slow but steady industrial adoption of electricity, and compared it to the rise of the mobile Internet and the factors that led to the groundbreaking invention of the iPhone….
(17) BLUE YONDER. In the Washington Post, Taylor Telford profiles Wally Funk, 82, who was one of 13 women selected for the Mercury program but will go to space for the first time on Jeff Bezos's Blue Origin rocket along with Bezons, Mark Bezos, and one lucky raffle winner. "Wally Funk was supposed to go to space 60 years ago. Now she's going with Jeff Bezos."
.. Blue Origin has said travelers must be able to endure three times the force of gravity for two minutes on ascent and 5½ times the force of gravity for a few seconds on the way down. Participants must be between 5 feet and 6-feet-4-inches tall and weigh between 110 and 223 pounds. As a young girl, Funk used to jump off the roof of her parents' barn in a Superman cape, pretending to fly. She loved to build model planes and ships, became an "expert marksman" at 14 and skied competitively for the United States in slalom and downhill races. She has been flying since 1957. She is also an antique car enthusiast and "avid zipliner," according to her website.

When NASA finally opened its programs to women in 1976, Funk applied three times and received three rejections. But she has never been the type to let anything stand in her way, she says in the video.

"I like to do things that nobody has ever done," Funk said….
(18) TRIVIAL TRIVIA COURTESY OF PHIL NICHOLS. [Item by John King Tarpinian.] A frame from Truffaut's 1968 film Stolen Kisses (Baisers volés). Antoine Doinel (Jean-Pierre Léaud) returns to his apartment, and the first thing he does is take down this red toy car emblazoned with the salamander logo from Fahrenheit 451. One of many cross-references between Truffaut films!
(19) VIDEO OF THE DAY. Merman meets mustached characters – and more! Honest Trailers' fills you in about Pixar's Luca.
[Thanks to Andrew Porter, Martin Morse Wooster, JJ, Gottacook, Michael Toman, John King Tarpinian, Cat Eldridge, and Mike Kennedy for some of these stories. Title credit belongs to contributing editor of the day Paul Weimer.]