(1) HOW TO KEEP GOING THE DAY AFTER. Sarah Gailey's "Coup Self-Care" at Here's the Thing has a long list of ideas for taking care of yourself (that begins after the following excerpt.)
…This kind of stress — the stress of a fucking coup happening in a big country that tends to be irresponsible with its feelings — is hard to weather. I'd wager I'm not the only one struggling with work today. Yesterday I didn't struggle with work, because I have the luxury of being able to say "nothing is getting done today" when there's a coup happening. So I didn't struggle with work, because I didn't even try to work — instead I watched what was happening, had phone calls with friends and family to process the domestic terrorist attack on the Capitol, and reached out to loved ones in an effort to remind all of us that we are not alone.

…What's happening in America right now, for most of us, doesn't feel quite so navigable as that. The coup isn't something we can reach out and touch and change and solve. There are a ton of possible consequences and outcomes, some which we can predict and some which we can't, and all of them will affect us, and none of them feel like things we can control. This shit is scary and destabilizing. It's okay to feel scared and destabilized about the things we can't control.

It's also important to remember that the things we can't control don't take up the entire horizon. It's easy to feel swallowed up by that sense of helplessness — but we aren't helpless. There are things we can't control, and there are things we can.

Let's take a look at some things we can control. If you follow me on Twitter, you've probably seen some of this before, but look through anyway to remind yourself of the places you can stabilize. These might not all apply to you. This is intended to be a broad assortment of options, not a definitive list! Take what works and throw the rest in the trash….
(2) MARK HIM PRESENT. John C. Wright says he and his family were in Washington DC yesterday "to show our support for Trump, but, more to the point, our support for curtailing election fraud.""Regarding the Events of Jan 6". Short post followed by a lot of comments from Trump supporters.
(3) DAVID WEBER UPDATE. Today on David Weber's author page at Facebook:
Latest from Mr. Weber:

BP is under control pretty much completely now. Still watching for possible clotting issues, but that's only a general precaution at this point. We're doing fairly gentle in-room therapy, and the lungs are mostly clear now, but O2 absorption is still lagging. Got me up to the level where they want me, but it's still taking 6 liters of pressure to keep it there. So we work to bring that down on a day by day basis.
(4) HOW WRITERS DON'T GET PAID. Renowned sf critic Paul Kincaid posted on Facebook about the exploitation of nonfiction writers:
…Ten years ago I found myself inadvertently reviewing for the Los Angeles Review of Books (a review I had submitted to SF Studies was passed on to the LARB instead). At the time LARB was a start-up, a new kid on the block, and when you wrote for them you got a screed about how they were a professional publication and how much they appreciated their contributors but how they were operating on a shoestring so if we would consider not taking money for the review it would help. And yes, I was happy to help on those terms, so I did review after review for them for free. Until I was made redundant and I needed some income. So on my next review I asked to be paid. And they coughed up, no problem, money came through without a hiccup. Then they stopped asking me to review. Critics are valued only so long as you don't have to pay them….
(5) TOMORROW PRIZE. Still time to enter The Tomorrow Prize contest for short science fiction by an L.A. County high school student – the deadline is February 1, 2021. For further information visit the contest webpage.
The Tomorrow Prize showcases the best in creative, critical thinking, as well as great storytelling, by students from throughout Los Angeles.
The Tomorrow Prize is free for students to submit up to two original short stories of 1,500 words or less. Prizes include cash prizes for First, Second, and Third, as well as a special prize for the best environmental conservation themed story!

This prize, The Green Feather Award is co-sponsored by the LA Audubon Society. The winner will receive a small cash prize and will be published in the LA Audubon newsletter.
(5A) THIS SHOULD TIDE YOU OVER. Fanac.org now has available for free download two of the biggest fanzines ever published.
Bergeron's Willis issue of Warhoon came out in 1978. In those mimeo days File 770 was brand new, and I helped Bergeron promote his project with a rider attached to issue #5.
(6) FREE READ. Some of the Best from Tor.com 2020 is available free, featuring twenty-four original stories published on the site in the past year. It's convenient if you haven't already read them on the Tor.com site. Download from your favorite vendors.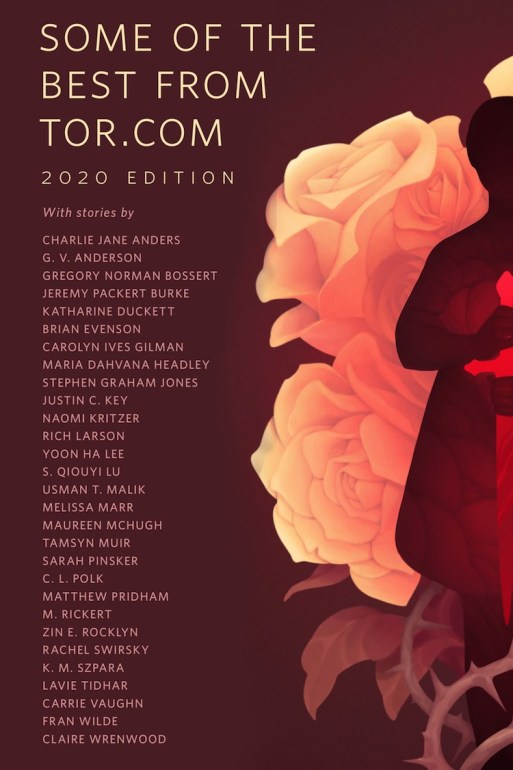 (7) KNIT UP THE RAVELED SLEAVE. Here's another entry in the Future Tense Fiction series of short stories from Future Tense and Arizona State University's Center for Science and the Imagination about how technology and science will change our lives. "Dream Soft, Dream Big" by Hal Y. Zhang, "A new short story about science, startups, and a cultish online community."
BECKER NGUYEN (NARRATION): Complete the sequence—the wheel, the printing press, the transistor … what's next? What if I tell you the next revolutionary invention may already exist, but instead of being powered by coal or electricity, it's powered purely by the most nebulous parts of our minds?

I'm Becker Nguyen. On today's episode of Static Shock: how one man discovered something extraordinary about our dreams that could save the world, and what happened next that made it all seem like a nightmare.
It's accompanied by a response essay by sleep researcher Kristin E.G. Sanders: "Can we convince the sleeping brain to process our problems?"
…In a recent study, my collaborators and I asked whether targeted memory reactivation could improve problem-solving. In evening sessions, participants attempted to solve brain teasers, each paired with a different music clip. Then, we presented some of the music clips while participants slept. In the morning, participants reattempted the same brain teasers they failed to solve the prior night. We were excited to find that participants solved more of the brain teasers that were cued overnight. Interestingly, unlike for Katia, the solutions did not come to them in a dream. And unlike Loewi, they did not awaken with the solution in the middle of the night. Instead, participants solved the brain teasers when they actively worked on them again.
(8) YOUR MIND'S EAR. [Item by Daniel Dern.] A message I just read on LinkedIn gave the person's location as Dunedin, <State>.
My <brain or whatever> initially parsed (internally pronounced) it as:
Duned-in
at which point some other part of my brain went, "Wait, that's not right," called up the Tolkein reference cells, and burped up, "Du-ne-din"
Yeah, it's likely the real pronunciation-influencer was my being on LinkedIn (which I pronouce/see as two syllables).
Can anybody think of other words with different pronounciations based on sf-or-fantasy PoV?
(9) A TREAT FOR THE EYE. Dreams of Space – Books and Ephemera has numerous scans of the excellent art in the Russian book Hour of Space (1962).
This book is a soviet history of spaceflight and text heavy. What is notable about it are the color plates and some of the chapter header illustrations….

Vladimir Lvov. Illustrated by V. Noskov. Hour of Space. Moscow: Publishing House of the Central Committee if the Komsomol. 206 p. 20 cm. 1962.
(10) ELLISON AT IGUANACON. Fanac.org has posted the first segment of a recording of "Harlan Ellison: Burning the Phoenix" from 1978.
IguanCon II, the 36th Worldcon, was held in Phoenix, Arizona in 1978. Guest of Honor Harlan Ellison held forth for hours in "Burning the Phoenix: Remarks, Dark & Light." This audio recording, illustrated with images, is the first 40 minutes of that talk. Harlan tells a great story about Avon, talks about The Tonight Show, his script for Asimov's "I, Robot" and about his plans for "The Last Dangerous Visions". Harlan was a charismatic, funny, witty speaker, and at this event, he is talking to a large audience of his appreciative and enthusiastic fans.
(11) MEDIA BIRTHDAY.
January 7, 1934 — The first Flash Gordon comic strips of Alex Raymond were published by King Features Syndicate. The strip was subsequently adapted into many other media, from three Universal movie serials (Thirties Flash Gordon and Flash Gordon's Trip to Mars, and Forties Flash Gordon Conquers the Universe) to a 1970s television series and a 1980 feature film, Flash Gordon.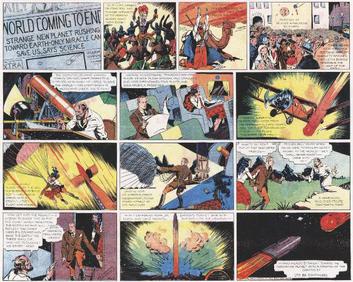 (12) TODAY'S BIRTHDAYS.
[Compiled by Cat Eldridge and John Hertz]
Born January 7, 1899 – Orlin Tremaine. Noteworthy to us for years as editor of Astounding. His editorial "Thought Variants" struck a spark. At one point headed half a dozen Street & Smith magazines e.g. Air Trails, Cowboy Stories, Dynamic Adventures, Romance Range. Published half a dozen stories of his own. First Fandom Hall of Fame. (Died 1956) [JH]
Born January 7, 1891 – Page Cooper. World War II reporter. Wrote books about horses and dogs including the fine Man o' War. For us she put eight poems in Weird Tales; two are quoted, more about her is told here. (Died 1958) [JH]
Born January 7, 1912 — Charles Addams. Illustrator best known for the Addams Family which he first drew in 1932 and kept drawing until his death. Needless to say there have been a number of films using these characters of which The Addams Family is my favorite. Linda H. Davis' Charles Addams: A Cartoonist's Life is well worth seeking out and reading. (Died 1988.) (CE)
Born January 7, 1924 – Col. Christine Haycock, M.D. Nurse in World War II, first woman intern at Walter Reed Hospital, professor, graduate of U.S. Army War College, Fellow of the American College of Surgeons. Olympic fencer, amateur radio, photography. Married Sam Moskowitz; both were Guests of Honor at Disclave 9. Treasurer of the Lunarians. After SaM died, won the Moskowitz Archive Award. American Medical Women's Ass'n appreciation here. (Died 2008) [JH]
Born January 7, 1926 – Graham Stone. Leading Australian fan, being also, as is often included, a bibliographer, collector, small-press publisher. Notes on Australian SF, Australian SF Bibliography 1948-1999 (rev. 2010), Vol Molesworth's History of Australian SF Fandom 1935-1963. Correspondent of Riverside Quarterly, SF Chronicle, SF Commentary. Bertram Chandler Award. See here. (Died 2013) [JH]
Born January 7, 1948 – Jeannie DiModica, age 73. Immortalized in Ginjer Buchanan's "I've Had No Sleep and I Must Giggle". [JH]
Born January 7, 1950 — Erin Gray, 71. She's best known as Colonel Wilma Deering Buck Rogers in the 25th Century series. Would it surprise you that she shows up in as Commander Grey in Star Trek Continues, one of those video Trek fanfic? Well it certainly doesn't surprise me at all. (CE)
Born January 7, 1955 — Karen Haber, 66. I fondly remember reading her Hugo nominated Meditations on Middle Earth anthology, not to mention the three Universe anthologies she did with her husband Robert Silverberg which are most excellent. I don't remember reading any of her novels but that's hardly a certainty that I didn't as even when my memory was a lot better than is now, I hardly remembered all the genre fiction I've read. (CE)
Born January 7, 1957 — Nicholson Baker, 64. Ok ISFDB lists him as having two SFF novels, The Fermata and House of Holes. The Wiki page him lists those as being two out of the three erotic novels that he's written. Not having read them, are they indeed erotic SFF? I see that ESF say they're indeed SFF and yes are erotic. H'h. (CE)
Born January 7, 1961 — Mark Allen Shepherd, 60. Morn, the bar patron on Deep Space Nine. Amazingly he was in Quark's bar a total of ninety three episodes plus one episode each on Next Gen and Voyager. Technically he's uncredited in almost all of those appearances. That's pretty much his entire acting career. I'm trying to remember if he has any lines. He's also an abstract painter whose work was used frequently on DS9 sets. (CE)
Born January 7, 1966 — Heidi Elizabeth Yolen Stemple, 55. Daughter of Jane Yolen, sister of Adam Stemple who was the vocalist of Boiled in Lead which mother wrote lyrics for. She and mother co-wrote the Mirror, Mirror: Forty Folktales for Mothers and Daughters to Share anthology which I highly recommend for your reading pleasure. ISFDBsays they did two chapbooks as well, A Kite for Moon and Monster Academy. (CE)
Born January 7, 1968 – Georgi Gospodinov, age 53. A novel and a shorter story for us; other short stories, plays, screenplays, four books of poetry. Angelus Award, Jan Michalski Prize, six Bulgarian awards. [JH]
(13) COMICS SECTION.
Herman has an alien encounter with a short order cook.
Bizarro shows one step in a witch's purchase of a new home.
Get Fuzzy has a disturbing example of cat litigation….
(14) ARG! Rabbit Rabbit provides "A Game Designer's Analysis Of QAnon" on Medium.
I am a game designer with experience in a very small niche. I create and research games designed to be played in reality. I've worked in Alternate Reality Games (ARGs), LARPs, experience fiction, interactive theater, and "serious games". Stories and games that can start on a computer, and finish in the real world. Fictions designed to feel as real as possible. Games that teach you. Puzzles that come to life all around the players. Games where the deeper you dig, the more you find. Games with rabbit holes that invite you into wonderland and entice you through the looking glass.

When I saw QAnon, I knew exactly what it was and what it was doing. I had seen it before. I had almost built it before. It was gaming's evil twin. A game that plays people. (cue ominous music)

QAnon has often been compared to ARGs and LARPs and rightly so. It uses many of the same gaming mechanisms and rewards. It has a game-like feel to it that is evident to anyone who has ever played an ARG, online role-play (RP) or LARP before. The similarities are so striking that it has often been referred to as a LARP or ARG. However this beast is very very different from a game.

It is the differences that shed the light on how QAnon works and many of them are hard to see if you're not involved in game development. QAnon is like the reflection of a game in a mirror, it looks just like one, but it is inverted.
First characteristic on the list:
Guided Apophenia
(15) KARMA CHAMELEON. "Rutgers engineers have created a new type of light-reacting hydrogel" – SYFY Wire has the story.
Blending in with one's immediate environment like the active camouflage technology used by the alien hunter in Predator would certainly have alarming applications in the real world, making the procurement of a free windmill cookie from the bulk food bin at grocery stores nearly undetectable.

But clever scientists and engineers at Rutgers University are eager to replicate that amazing invisibility ability by inventing a new type of 3D-printed stretchable material with the power to change color on demand. While the potentials for such shifting smart gels are limitless, the immediate goal is targeting an advanced method of military camouflage.
(16) SCREAMING HEADLINES. Here a high-definition re-upload of the late MF Doom's supervillain-themed "All Caps" music video
(17) LOST WORLD, FOUND SFF. In "Revisiting The Lost World, Arthur Conan Doyle's Rollicking Adventure Novel" on CrimeReads, Jon Lellenberg discusses why Doyle wrote The Lost World and explains his interest in sf. (Note: CrimeReads misspelled the author's name which is Jon and not John.)
… In the end, Conan Doyle went in another direction, but did not lose his desire to write a "Rider Haggardy" novel. While he admired authors like George Meredith and Charles Reade and his own contemporary, Thomas Hardy, he preferred to write Romances and Adventures. Even being a doctor was a Romance to him, embraced in his "The Romance of Medicine" talk in 1910 at St. Mary's Hospital, London, where his son Kingsley was a medical student. And the scientific consulting detective Sherlock Holmes's investigations were Adventures as far as Conan Doyle was concerned, rather than Cases, or Mysteries.

By 1911, these tendencies collided with a regret over diminishing "blank spaces" on the world's map. When a Lost World character remarks that "The big blank spaces in the map are all being filled up, and there's no room for romance anywhere," Conan Doyle was quoting himself anonymously, from a talk he'd given the year before at a luncheon honoring the Arctic explorer Robert Peary….
(18) WIRED FOR SOUND. Literary Hub introduces "Charlie Jane Anders Reads from Victories Greater Than Death" in the Storybound podcast. ("S3. Ep. 4: Charlie Jane Anders reads an excerpt from "Victories Greater Than Death".)
Storybound is a radio theater program designed for the podcast age. Hosted by Jude Brewer and with original music composed for each episode, the podcast features the voices of today's literary icons reading their essays, poems, and fiction.

On the fourth episode of the third season, Charlie Jane Anders reads an excerpt from Victories Greater Than Death, with sound design and music composition from Oginalii.
(19) VIDEO OF THE DAY. "Spock's Surprise Visit To The Carol Burnett Show" on YouTube shows a cameo that Leonard Nimoy made as Spock on the show in 1967.
[Thanks to John King Tarpinian, N., Andrew Porter, Cat Eldridge, JJ, Martin Morse Wooster, John Hertz, Andrew Porter, and Michael Toman for some of these stories. Title credit goes to File 770 contributing editor of the day Xtifr.]