(1) DAVID WEBER STATUS. Word of this alarming news went out last night:
After the Turtledove tweet was reposted to David Weber's author page on Facebook, his wife, Sharon Rice-Weber commented:
He's doing better right now. I'll try and keep everyone updated
Best wishes for a full recovery.
(2) NEW YEAR'S WHO. Camestros Felapton combines the features of a review and a complete script rewrite in his analysis of yesterday's special: "Review: Doctor Who – Revolution of the Daleks". BEWARE SPOILERS! BEWARE IMPROVEMENTS!
The New Year's special provides a hit of Doctor Who but that is about all. The episode is inoffensive, it plays around with one interesting idea about the theatre of policing and the aesthetics of fascism but doesn't know what to do with that. Above all, it exemplifies the frustrating aspects of the Chibnall era. There is always a feeling of a better episode, that is almost exactly the same, lurking around the same pieces….
On the other hand, this fellow found one part of the special to be exceptionally thrilling —
(3) IN BAD TIMES TO COME. Future Tense presents "The Vastation" by Paul Theroux, "a new short story about a future pandemic that makes COVID-19 look simple."
Steering to his assigned slot in the out-going convoy behind a bulky bomb-proof escort truck, Father said, "We're going to Greenville," and looked for my reaction to this surprising announcement. Surprising, not just because Greenville was far away, and where my Mother had been living, but also because I had never been taken outside the perimeter of Chicago….
There is a response essay to the story by physician Allison Bond: "In a pandemic, what do doctors owe, and to whom?"
…Today—as in this story—we fight a deadly contagious disease that has hit some communities much harder than others, and through which xenophobia and racism have been allowed to fester. In Theroux's story, people are segregated into camps by nationality, into "island[s] of ethnicity, renewed country-of-origin pride and defiance in the enormous sea of rural America." Perhaps these stemmed from viewing people who are different from oneself as the enemy, and then working to avoid them—something that is already increasingly prevalent in our society, in part thanks to social media.
(4) TRAVEL SAFETY PROPOSAL. "What are COVID-19 digital immunity passports?" — Slate explains.
This week, the first doses of the Pfizer COVID-19 vaccine were administered in the U.S.
With the FDA expected to approve Moderna's vaccine imminently, people are already looking forward to a world where travel and gatherings are possible. But for those activities to be maximally safe, the country will either need to reach herd immunity—unlikely until mid-2021 at the earliest, assuming essentially flawless vaccine roll-out and widespread adoption—or to find ways to verify people's negative tests or vaccination status in advance.

Some companies are looking to digital solutions. Airlines like JetBlue, United, and Virgin Atlantic have begun using CommonPass, an app developed by the Commons Project and the World Economic Forum that shows whether users have tested negative for COVID-19 for international travel. Ticketmaster, too, told Billboard that its "post-pandemic fan safety" plans include digital health passes that verify event-goers' COVID-19 negative test results or vaccination status. While these digital health passes could become a prerequisite for some activities, widespread adoption of so-called immunity passports would require a level of coordination and organization uncharacteristic of the country's response to COVID-19 so far….
(5) MEMORY WHOLE. The Guardian tries to answer its own question: "George Orwell is out of copyright. What happens now?" The situation resonates with Orwell's pigs — some works are more out of copyright than others.
Much of the author's work may have fallen into public ownership in the UK, but there are more restrictions on its use remaining than you might expect, explains his biographer.

George Orwell died at University College Hospital, London, on 21 January 1950 at the early age of 46. This means that unlike such long-lived contemporaries as Graham Greene (died 1991) or Anthony Powell (died 2000), the vast majority of his compendious output (21 volumes to date) is newly out of copyright as of 1 January.

…As is so often the way of copyright cut-offs, none of this amounts to a free-for-all. Any US publisher other than Houghton Mifflin that itches to embark on an Orwell spree will have to wait until 2030, when Burmese Days, the first of Orwell's books to be published in the US, breaks the 95-year barrier. And eager UK publishers will have to exercise a certain amount of care. The distinguished Orwell scholar Professor Peter Davison fathered new editions of the six novels back in the mid-1980s. No one can reproduce these as the copyright in them is currently held by Penguin Random House. Aspiring reissuers, including myself, have had to go back to the texts of the standard editions published in the late 1940s, or in the case of A Clergyman's Daughter and Keep the Aspidistra Flying, both of which Orwell detested so much – he described the former as "bollox" – that he refused to have them reprinted in his lifetime, to the originals of, respectively, 1935 and 1936.
(6) STRANGER THAN FICTION. L. Jagi Lamplighter is interviewed by ManyBooks about her work with "A Magic School Like No Other".
What inspired you to create the Roanoke Academy for the Sorcerous Arts?

The original game that the books are based upon took place at a popular magic school from another series. When I sat down to write this series, I had to invent a whole new magic school—and I had to make it something

My son, who was then about nine or ten, had come up with the idea that the colony on the Island of Roanoke had disappeared because the whole island vanished and that there was a school of magic upon it.

I loved this idea, but I didn't really know much about the area of the country where Roanoke Island is. So I decided it was a floating island that could wander. Then I put it in the Hudson River, near Storm King Mountain, because that is a place I happen to love. I found out there was a small island in that spot that actually has a ruin of a castle on it. I made that island (Bannerman or Pollepel Island) the part of the island that was visible to the mundane world of the Unwary (us.)

I spent hours on the internet looking at photos of all sorts of places—forests, buildings—that I loved. Then I put those photos together to create the island and the school. So Roanoke Island has many things I think are beautiful, paper birch forests, boardwalks by a river, Oriental gardens.

Then I needed to design the school itself. I noted that there were series where the magic school is like a British boarding school and series where the school is like an American boarding school. I wanted something different. So I decided to model Roanoke Academy for the Sorcerous Arts after the college I attended. St. John's College in Annapolis, Maryland is quite different from most other colleges. Students sit around one large table. They have core groups, other students who are in all your classes. They have tutors instead of professors. They have an unusual system of intramural sports—so strange that every time I put part of it in the book, my editor tags it as too extraordinary to be believable.

I took my experience at St. John's and spun it into the world of the Hudson Highlands, creating a marvelous place that is delightful to write about and, God willing, a joy for the reader, too.
(7) PULLING CABLE. FirstShowing.net introduces the trailer for "Intriguing Gig Economy Quantum Sci-Fi Film 'Lapsis'".
… Struggling to support himself and his ailing younger brother, delivery man Ray takes a strange job as a "cabler" in a strange new realm of the gig economy. This film is set in an alternate reality where the quantum computing revolution has begun, but they need to hire people to connect the cables for miles between huge magnetic cubes.
(8) BOLLING OBIT. Pianist, composer, and bandleader Claude Bolling died December 29. The Guardian's tribute notes —
…He wrote music for over one hundred films … such as The Hands of Orlac (1960), … The Passengers (1977) [released in the US as The Intruder, based on Dean Koontz's 1973 novel Shattered], The Awakening, a 1980 British horror film [third film version of Bram Stoker's 1903 novel The Jewel of Seven Stars]. Bolling also composed the music for the Lucky Luke animated features Daisy Town (1971) and La Ballade des Dalton (1978).
(9) DOMINGUEZ OBIT. "Disney Legend" Ron Dominguez died January 1 at 85.
In 1957, Dominguez became the assistant supervisor of Frontierland, moving up to the manager of Tomorrowland in 1962. He became the manager of the west side of Disneyland and in 1974, was named vice president of Disneyland and chairman of the park operating committee.

In 1990, Dominguez became Executive Vice President Walt Disney Attractions, West Coast.
(10) VOYAGER DOCUMENTARY ASKS FOR FUNDS. Comicbook.com gives fans a head's up: "Star Trek: Voyager Documentary Announces Crowdfunding Campaign".
The upcoming Star Trek: Voyager documentary is ready to begin crowdfunding. The new documentary would have commemorated Voyager's 25th anniversary in 2020, but the coronavirus dashed most of those celebration plans. David Zappone of 455 Studios, the production company behind previous Star Trek documentaries like For the Love of Spock, Chaos on the Bridge, and What We Left Behind, confirmed that filming for the documentary resumed in August. Now it seems the production has reached the point where it's ready to raise funds from fans. As Voyager star Garrett Wang (Ensign Harry Kim) explains in the announcement video below, fans will be able to donate to the campaign and pre-order the documentary beginning on March 1st.
Click to see the "Special Announcement From Garrett Wang".
(11) TODAY'S DAY.
(12) MEDIA BIRTHDAY.
January 2, 1978 — Blake's 7 premiered on BBC. It was created by Terry Nation of Doctor Who fame, who also wrote the first series, and produced by David Maloney (series 1–3) and Vere Lorrimer (series 4), with the script editor throughout its run being Chris Boucher. Terry has said Star Trek was one of his main inspirations. It would would run for a total of fifty-two episodes. Principal cast was Gareth Thomas, Michael Keating, Sally Knyvette, Paul Darrow and David Jackson. Critics at the times were decidedly mixed with their reaction which is not true of audience reviewers at Rotten Tomatoes who give an amazing ninety one percent rating!
(13) TODAY'S BIRTHDAYS.
[Compiled by Cat Eldridge and John Hertz.]
Born January 2, 1814 – Luise Mühlbach. A score of historical-fiction novels; you can read Old Fritz and the New Era here (Fritz is a nickname for Friedrich; she means Frederick II of Prussia); it has fantastic elements. She says "To investigate and explain … is the task of historical romance…. poesy… illuminated by historic truth…. Show me from history that it could not be so; that it is not in accordance with the character of the persons represented … then have I … presented only a caricature, faulty as a work of art." (Died 1873) [JH]
Born January 2, 1871 – Nora Hopper. Journalist and poet in the 1890s Irish literary movement; Yeats said her Ballads in Prose "haunted me as few books have ever haunted me, for it spoke in strange wayward stories and birdlike little verses of things and persons I remember or had dreamed of." There's a 2017 Trieste reprint. (Died 1906) [JH]
Born January 2, 1920 — Isaac Asimov. I can't possibly summarize him here so I won't. My favorite novels by him are the original Foundation novels followed very closely by his Galactic Empire series and I, Robot. I know I've read a lot of his short fiction but I'll be damn if I can recall any of it specifically right now. And I can't possibly list all his Hugos here. (Died 1992.) (CE)
Born January 2, 1932 – Minagawa Hiroko, age 92. (Personal name last, Japanese style.) Three of her stories are in English, two in Speculative Japan 3-4. Shibata Prize. More famous for detective fiction; Honkaku Award for The Resurrection Fireplace (in Japanese Hirakasete itadaki kôei desu, roughly "I am honored to open it"), set in 18th Century London; Mystery Writers of Japan Award, Japan Mystery Literature Award for lifetime achievement. [JH]
Born January 2, 1948 — Deborah Watling. Best known for her role as Victoria Waterfield, a companion of the Second Doctor. She was also in Downtime, playing the same character, a one-off sequel to a sequel to the Second Doctor stories, The Abominable Snowmen and The Web of Fear. No Doctors were to be seen. If you've seen the English language dubbed version of Viaje al centro de la Tierra (Where Time Began, based off Verne's Journey to the Center of The Earth), she's doing the lines of Ivonne Sentis as Glauben. (Died 2017.) (CE)
Born January 2, 1954 – Ertugrul Edirne, age 67. Twoscore covers in German SF. Here is Galactic Trade. Here is On the Great River. Here is Kushiel's Dart (German title In den Händen der Feinde, "In the Hands of the Enemy"). Here is Not From This World. [JH]
Born January 2, 1959 – Patrick Nielsen Hayden, age 62. Long-time fan, also guitarist (lead guitar in Whisperado). TAFF (Trans-Atlantic Fan Fund) delegate with wife Teresa Nielsen Hayden, both wrote "TAFF in Thirteen Paragraphs", fanzines e.g. Izzard, Telos, Fan Guests of Honor at MidAmeriCon II the 74th Worldcon where at Closing Ceremonies PNH said "I can't count the conversations I've had with total strangers", see my con report (at the end, with a poem for each). Meanwhile also active as a pro; now VP, Assoc. Publisher, and Editor-in-Chief at Tor. [JH]
Born January 2, 1967 — Tia Carrere, 54. Best remembered for her three season run as Sydney Fox, rogue archaeologist on Relic Hunter. She's been in a number of one-offs on genre series including Quantum Leap, Hercules, Tales from The Crypt, Airwolf, Friday the 13th and played Agent Katie Logan for two episodes on Warehouse 13. (CE)
Born January 2, 1971 — Renée Elise Goldsberry, 50. Best known for appearing on Altered Carbon as Quellcrist Falconer. She also performed the Johnny Cash song "Ain't No Grave" for the end credits in the final episode of that series. Genre wise, she's had one-offs on Enterprise, Life on Mars, Evil and voice work on DreamWorks Dragons: Rescue Riders, an all too cute series. She was Selena Izard in The House with a Clock in Its Walls. And she appeared on Broadway in The Lion King as Nala. (CE)
Born January 2, 1979 — Tobias S. Buckell, 42. I read and enjoyed a lot his Xenowealth series which he managed to wrap up rather nicely. The collection he edited, The Stories We Tell: Bermuda Anthology of Science Fiction, Fantasy and Horror, is well worth reading, as is his own Tides from a New World collection. And his Tangled Lands collection which won the World Fantasy Award is amazing reading as well. (CE)
Born January 2, 1982 – Aníbal J. Rosario Planas, age 39. (In this Hispanic style two surnames are given, the father's Rosario then the mother's Planas.) Drummer and author. Here are a photo, a 150-word teaser from his story Pólvora y vapor ("powder and steam"; in Spanish), and links to his talk (in Spanish and English) about Steampunk Writers Around the World. [JH]
Born January 2, 1983 — Kate Bosworth, 38. She's Barbara Barga in the SS-GB series done off the superb Len Deighton novel which is definitely genre. She's both a producer and a performer on The I-Land series where she's KC, a decidedly not nice person. For a much more positive character, she portrayed Lois Lane in Superman Returns. (CE)
(14) COMICS SECTION.
(15) GONE BUT NOT FORGOTTEN. In the Washington Post, Michael Cavna notes that Calvin and Hobbes's last strip was on December 31, 1995, which gives him a chance to praise Bill Watterson and explain why his strip is timeless comedy. In a sidebar, Cavna notes two other important comic strips ended in 1995: Gary Larson's "The Far Side" and Berkeley Breathed's "Bloom County" spinoff "Outland." But he notes that Bill Watterson praised Richard Thompson's "Cul de Sac" as showing that "the launch of great comics was still possible" and interviews Breathed, who revived "Bloom County" as an online venture in 2015. "'Calvin and Hobbes' said goodbye 25 years ago. Here's why Bill Watterson's masterwork enchants us still."
…Stephan Pastis, creator of "Pearls Before Swine," views Calvin as an expression of pure childlike id, yet thinks there is a whole other dynamic that makes many of Calvin's acts of imagination so appealing.

Watterson "accurately captured how put-upon you feel as a kid — how limited you are by your parents, by your babysitter, by [schoolteacher] Miss Wormwood. You're really boxed in and all you have is individual expression," says Pastis, who collaborated with the "Calvin and Hobbes" creator on a week of "Pearls" strips in 2014, marking Watterson's only public return to the comics page since 1995.

"I think that's why to this day, some people get [Calvin] tattooed on their bodies," Pastis continues. "He stands for that rebellious spirit in the fact of a world that kind of holds you down. You get into adulthood, you get held down by your various responsibilities. Calvin rebels against that, therefore he always remains a hero."
(16) FOR POETS. The Science Fiction & Fantasy Poetry Association (SFPA) is taking nominations from members for two 2021 awards.
Rhysling Award Nominations: The 2021 Rhysling Chair is Alessandro Manzetti. Nominations are open until February 15 for the Rhysling Awards for the best poems published in 2020. Only SFPA members may nominate one short poem and/or one long poem for the award. Poets may not nominate their own work. All genres of speculative poetry are eligible. Short poems must be under 50 lines (no more than 500 words for prose poems); Long poems are 50+ lines, not including title or stanza breaks, and first published in 2020; include publication and issue, or press if from a book or anthology. Online nomination form here. Or nominate by mail to SFPA secretary: Brian Garrison, SFPA, PO Box 1563, Alameda CA 94501, USA.
Elgin Award Nominations: The 2021 Elgin Chair is Jordan Hirsch. Nominations due by May 15; more info will come by MailChimp. Send title, author, and publisher of speculative Star*Line 8 Winter 2021 poetry books and chapbooks published in 2019 or 2020 to [email protected] or by mail to the SFPA secretary: Brian Garrison, SFPA, PO Box 1563, Alameda CA 94501, USA. Only SFPA members may nominate; there is no limit to nominations, but you may not nominate your own work.
(17) OFF THE MARKET. Such is the draw of iconic movie locations. The LA Times explains the attraction of "Jim Brandon's South Pasadena home".
Jim Brandon better get used to unexpected visitors. The writer-producer, whose credits include "Arrested Development" and "Mixed-ish," just paid about $2.2 million for a South Pasadena home with a special place in "Back to the Future" lore.

The 1985 hit doubles as a tour of L.A. County in many ways, with landmarks such as Griffith Park and the Gamble House popping up throughout the film. Another pivotal scene is set in Brandon's new yard, where Marty McFly stumbles upon his father being a peeping Tom in the tree out front.

According to the home's previous owner, filmmaker John McDonald, fans of the movie regularly make the trek to South Pasadena to pay homage — and climb up the now-famous tree to re-create the scene….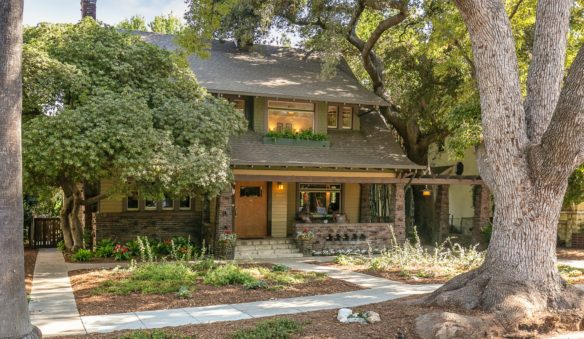 (18) MEMORY LANE.
In 1953, the International Fantasy Award was given to Clifford M. Simak for City, his first Award. This collection is sometimes presented as a novel which it is decidedly not as it is a fix-up of the stories "City", "Huddling Place", "Census", "Paradise", "Hobbies", "Aesop" and "Trouble with Ants …". The other nominations were Takeoff by C. M. Kornbluth and Player Piano by Kurt Vonnegut, Jr. A Retro Hugo Award at CoNZealand in 2020 would be awarded to it as well.
(19) NOTHING HAPPENING HERE, MOVE ALONG. In December someone pointed out that John C. Wright's website was displaying an "Account Suspended" sign. My social media searches found no protests or grievances about this – or even that anyone else was aware of it. Wright subsequently explained the cause in "Account Not Suspended".
My loyal webgoblin called the hosting company and reports that they said that the server was migrated this morning and that various changes are still propagating through their system. The "account suspended" message was a default one. The hosting company confirmed that there's nothing wrong with the account and that the site hasn't been pulled offline due to excessive bandwidth or any sort of legal action
(20) EXPANDING UNIVERSE. More Star Wars properties are on the way.
Star Wars: The Bad Batch is an all-new animated series from Lucasfilm Animation coming soon to Disney+.
In another new Disney+ series, Star Wars: Andor, Diego Luna will reprise his role as Cassian Andor.
(21) FUTURE FORSEEN. [Item by Martin Morse Wooster.] "What Will Future Homes Look Like? Filmed In the 1960s" on YouTube is an episode of the CBS News show 21st Century (which ran between 1967-70) called "At Home, 2001" narrated by Walter Cronkite, which tried to predict from the viewpoint of 1967 what homes in the 21st century would look like. Among the predictions: 3-D televisions twice as large as the largest current flat screen, plastic plates that would be molded for each use and then put into a vat to be printed again for the next use, and dinners that were programmed and cooked via computer. The show also saw that computers at home could teach kids and enable people to work at home, and there's a prediction of something like cable TV. What they got wrong: there is no internet or YouTube.
[Thanks to Mike Kennedy, Martin Morse Wooster, John King Tarpinian, Cat Eldridge, JJ, Michael Toman, John Hertz, and Andrew Porter for some of these stories. Title credit goes to File 770 contributing editor of the day Sam. And that came from Sam's first-ever comment here!]