Is due in five…four…three….
(1) MEET THE MARTIANS. Nicholas Whyte's quick notes about "The Martian Chronicles, by Ray Bradbury" begin "Gosh. I had forgotten quite how good this is."
(2) FREE RANGE MARS STORIES. But wait, there are more! In Bradbury 100 episode 30 Phil Nichols takes up "Bradbury's OTHER Mars Stories".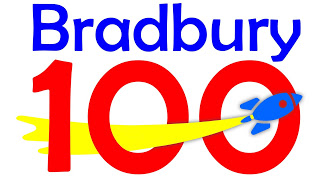 This episode looks at Ray Bradbury's OTHER Martian stories, stories about Mars and Martians which are NOT included in his THE MARTIAN CHRONICLES.

I review each of the un-chronicled martian tales, and figure out where they fit into the mythos of The Martian Chronicles. Be ready for some surprises!
(3) COMPARE AND CONTRAST. YouTuber Robert Bacon analyzes "A Twilight Zone Episode Turned Into A Kids Movie".
The Electric Grandmother is a made for TV movie that was based on a short story by Ray Bradbury that itself was based on a Twilight Zone episode that Bradbury wrote. The film was originally aired on NBC, but most people saw it when it was distributed to classrooms. No idea why this was considered educational, but I don't think anyone cared. The Electric Grandmother (1982) Director: Noel Black Writer: Ray Bradbury Starring: Maureen Stapleton, Edward Herrmann, and Paul Benedict Plot: A trio of children and their father, get a very special robot grandmother to assist them.
(4) THE MELODY LINGERS ON. Screen Rant's Spencer Bollettieri finds that Disney's animated hit resonates with a Bradbury classic: "Encanto: How Mirabel's Powers Struggle Mirrors A 76-Year-Old Fantasy Story".
Encanto is a beloved tale of an enchanted family with supernatural power, but it's not a new one; it actually mirrors a story originally written 76 years ago by late horror author Ray Bradbury. Both are timeless tales about what it means to be human in an extraordinary family and the drama they face when confronted with collapse. Although Bradbury claimed he was unable to predict the future, he somehow reflected it in ways even the Madrigals couldn't foresee.

In 1946 Ray Bradbury first chronicled the story of the Elliott family, a clan of gothic creatures who adopted a human boy named Timothy, who they found strange. Inspired by Bradbury's real-life experiences, he wrote a 50-year collection of short stories compiled into a single narrative titled From the Dust Returned. Although not as recognized as gothic icons such as The Addams Family, many considered it a beautifully macabre novel and found the Elliott family resonated with them….
(5) WHEN BRADBURY WAS 89. Kenneth Strange says "You'll Never Guess Who Kissed Me" – but I will bet you can.
..During the signing, I handed my book to Ray Bradbury but decided to crouch like a baseball catcher so I could whisper a word to him at eye level. As he scribbled his name in the book and closed it, I leaned in and opened my heart, "Mr. Bradbury. Many years ago I discovered you in a small library in Brooklyn, New York. Your books made such a difference in my life…thank you for that." His eyes began to water and I suppose mine did as well. A spontaneous gesture from this playful man of "gentle humanity" followed as he pulled me toward him and kissed me on the cheek.

I'm a lucky man. Some might prefer being kissed by Bo Derek. Not me….
(6) DRINK UP. For a short time, Mary Robinette Kowal is offering a limited edition Bradbury Base mug for all new and existing subscribers at $25 or above to her Patreon.
(7) CENTER FOR RAY BRADBURY STUDIES. There was a changing of the guard last year.
Former Director Dr. Jonathan R. Eller retired on February 1, 2021 and Dr. Jason Aukerman stepped into the role. During his career at IUPUI, Dr. Eller co-founded the Bradbury Center with the late Dr. William Touponce, became a Chancellor's Professor of English, and touched countless lives through his work as a teacher and scholar. Without Dr. Eller, there would be no Bradbury Center, and even though he is now retired, Dr. Eller and Debi Eller maintain a close relationship with Center staff, serving as volunteers, consultants, and friends. We thank the Ellers for their passionate leadership and continued support!
(8) FOURTH ANNUAL WRITER'S LECTURE. The Center for Ray Bradbury Studies has posted a video of the 2021 Ray Bradbury Visiting Writer's Lecture With Maurice Broaddus presented this past November.
Maurice Broaddus is the resident Afrofuturist at the Kheprw Institute and librarian at the Oaks Academy Middle School. His work has appeared in places like Lightspeed Magazine, Black Panther: Tales from Wakanda, Asimov's, Magazine of F&SF, and Uncanny Magazine, with some of his stories having been collected in The Voices of Martyrs. He's also an editor at Apex Magazine!
(9) REASONS TO READ. Amit Majmudar promotes Ray Bradbury: Novels & Story Cycles, the Library of America's inaugural Bradbury volume. "Ray Bradbury: Prophetic visionary, 'word-wizard,' and next-door neighbor".
Mention Ray Bradbury, I've found, and faces light up. Strangers reach out to you on Twitter with testimonials. A voice changes on the phone, as if you just mentioned a childhood best friend. This is something beyond fondness and beyond admiration. The name conjures up poignant wonder; the name exhilarates the imagination. No one seems to be just "familiar with his work." You've either never read him, or you love him.

 One place to read his best work (his stories are as innumerably luminous as stars) is in Library of America's new omnibus, which contains The Martian Chronicles, Fahrenheit 451, Dandelion Wine, and Something Wicked This Way Comes…
(10) PEDALING THE COLLECTION. Anne Farr Hardin spent most of her life collecting Bradbury books, and corresponding with him, too – and all of it will be preserved: "Ray Bradbury collection finds new home at the University of South Carolina" reports the Greenville Journal.
…The exhibit features a full case on Bradbury's most famous novel, "Fahrenheit 451," a couple of cases exploring the author's lifelong fascination with the planet Mars and a representative range of the collection's other holdings. Taken together, they provide an intriguing window on 20th-century book and periodical publishing, particularly in the genres of fantasy and science fiction.

But what's on display is just a hint of the many treasures tucked into Hardin's vast collection, which also chronicles a decades-long correspondence and friendship Hardin enjoyed with the famous writer. 

Bradbury devotees who take the time to dive into the holdings will discover every edition of classics like "Fahrenheit 451," "The Martian Chronicles" and "Dandelion Wine"plus vividly illustrated mid-century pulps like "Amazing Stories" and "Weird Tales," mainstream magazines or "slicks" like "Mademoiselle," "McCall's" and "Good Housekeeping," plus small-run fanzines predating the author's international fame and acclaim.

In other words, it's about as complete as complete gets — the collection even includes one of Bradbury's bicycles — and it's all the result of Hardin's tireless literary sleuthing, which stretches back more than four decades….
(11) GOLDEN TONES. From LeVar Burton Reads, "'The Great Wide World Over There' by Ray Bradbury".
A visitor's arrival delivers both wonder and heartache to a rural community. This story appears in Ray Bradbury's collection THE GOLDEN APPLES OF THE SUN. Thanks to our presenting sponsor Audible. 
(12) HOT NUMBER. Extra Credits episode "Fahrenheit 451 – Dystopias and Apocalypses" can be viewed on YouTube.
Ray Bradbury not only cautions against censorship (the primary theme of Fahrenheit 451), but offers interesting commentary on who censors works at all, and why humans do it anyway.
[Thanks to John King Tarpinian for these links.]