(1) WILL YOU GIVE THANKS FOR COMIC-CON? Did you know San Diego Comic-Con Special Edition is happening this weekend? It was news to me, too. And tickets are still available. The Times of San Diego tells what this streamlined version will be like: "Virus-Safe, Stripped-Down Comic-Con Opens Friday After 2-Year COVID Hiatus".
Superheroes won't be the only ones wearing masks in downtown San Diego this weekend.

After a two-year absence, Comic-Con International returns to San Diego on Friday to entertain, inform and tantalize pop culture fans the world over.

But this won't be the Comic-Con you remember. This is Comic-Con Special Edition, a stripped-down, three-day event being held over a holiday weekend to limit crowds during an ongoing pandemic that has forced online-only versions of the last two conventions.

Comic-Con organizers said they wanted to hold an in-person event but do it safely. So, that meant fewer days, smaller scope and a return to the intimate gathering that longtime attendees fondly remember.

And it means attendees will be asked to show proof of vaccination or recent negative COVID-19 tests. They will also have to wear masks or face coverings regardless of vaccination status….
(2) SQUID GAME CONSEQUENCES. "North Korean sentenced to death after students caught watching Squid Game" according to Radio Free Asia, a United States government-funded private non-profit news service.
North Korea has sentenced to death a man who smuggled and sold copies of the Netflix series "Squid Game" after authorities caught seven high school students watching the Korean-language global hit show, sources in the country told RFA.

The smuggler is said to have brought a copy of Squid Game into North Korea back from China and sold USB flash drives containing the series. Sources said his sentence would be carried out by firing squad.

A student who bought a drive received a life sentence, while six others who watched the show have been sentenced to five years hard labor, and teachers and school administrators have been fired and face banishment to work in remote mines or themselves, the sources said.

RFA reported last week that copies of the violent drama had arrived in the reclusive country despite the best efforts of authorities to keep out foreign media. They began spreading among the people on flash drives and SD cards.

… "This all started last week when a high school student secretly bought a USB flash drive containing the South Korean drama Squid Game and watched it with one of his best friends in class," a source in law enforcement in North Hamgyong province told RFA's Korean Service Monday.

"The friend told several other students, who became interested, and they shared the flash drive with them. They were caught by the censors in 109 Sangmu, who had received a tipoff," said the source, referring to the government strike force that specializes in catching illegal video watchers, known officially as Surveillance Bureau Group 109.

The arrest of the seven students marks the first time that the government is applying the newly passed law on the "Elimination of Reactionary Thought and Culture," in a case involving minors, according to the source….
(3) SMOFCON PROGRAM AVAILABLE TO MEMBERS. SMOFcon Europe (December 3-5 in Lisboa, Portugal) has announced their program schedule. They say one must be a member to access program — purchase memberships here.
We are thrilled to announce our programme schedule and workshop sign ups are now available on our website at https://www.smofconeurope.com/whats-on/programme/! The programme grid shows not only time zones but whether items are in person or streaming. Also on this page are the descriptions of our Workshops and links to sign up for them. Workshop space is limited and requires advance signup so don't delay!

You'll need to be a member to access programme, so if you still need one you can purchase your membership here: https://www.smofconeurope.com/membership/
(4) EATING THE FANTASTIC. Scott Edelman invites listeners to pig out on Peruvian with Lawrence M. Schoen in episode 159 of his Eating the Fantastic podcast.
Lawrence M. Schoen was a finalist for the 2007 Astounding Award for Best New Writer, and in the years since has been nominated for the Hugo Award (once), the Washington Science Fiction Association Small Press Award (twice), and the Nebula Award (six times). He's twice won the Cóyotl award for Best Novel — for two books in his critically acclaimed Barsk series: The Elephants Graveyard (2015) and The Moons of Barsk (2018). He also was the 2016 winner of the Kevin O'Donnell Jr. Service to SFWA Award.

His most well-known creations are the space-faring stage hypnotist, the Amazing Conroy, and his alien animal traveling companion, a buffalito named Reggie who can eat anything — which he then converts into oxygen via … flatulence. For more than 10 years, he's hosted the Eating Authors series, which has shared the most memorable meals of more than 500 writers. In addition to all that, he founded the Klingon Language Institute, plus is a hypnotherapist specializing in authors' issues.

We discussed how he was able to release 12 books in a difficult year affected by both a pandemic and chemo, the pseudonym he was relieved he never had to use, what caused him to say "you find the answers to the problems of your life by writing a story about it," the RPG improv which led to the creation of his Barsk universe, what he learned at the Taos Toolbox workshop which caused him to completely rewrite one of his books, the all-important power of the subconscious, how transcription software affected his style, why he doesn't want people to read the final paragraph of his second Barsk novel, his relationships with the indie side of publishing, the many joys of mentoring, how he uses hypnotism to help other writers, and much more.
(5) JACKSON'S BEATLES DOCUMENTARY. I'm going to yank this item right out of the Scroll as soon as I confirm it has no genre connection. So far, all I've located in respect to genre is reporters mentioning that Peter Jackson previously directed Lord of the Rings before working on this Beatles documentary. For example, look at this San Diego Union-Tribune headline: "The Beatles meet 'The Lord of the Rings' in 'Get Back': 'It'll blow your mind,' says director Peter Jackson".
Just as The Beatles used their timeless songs in the 1960s to take millions of listeners across the universe on a magical musical mystery tour, Oscar-winning "The Lord of the Rings" trilogy director Peter Jackson has taken millions of viewers worldwide on a magical cinematic mystery tour in this century.

So what happens when these two worlds and creative forces intersect, 51 years after The Beatles acrimoniously split up in 1970?

"It'll blow your mind!" said Jackson, a lifelong fan of the most famous and influential band in rock 'n' roll history.

And what happens when that unlikely intersection — which has resulted in Jackson's engrossing new film documentary, "The Beatles: Get Back" — comprehensively chronicles the month of January 1969?

… Jackson culled "Get Back" from nearly 60 hours of previously unseen footage that was shot in January 1969 for director Michael Lindsay-Hogg's briefly released and widely criticized "Let It Be" documentary.
Steven Colbert also had the director on The Late Show and made a point of saying this would be the only interview he ever did with Jackson that didn't mention Lord of the Rings. Well, except to say he wasn't mentioning it. "'We Shed Tears That Night' – Peter Jackson And Stephen Wept Watching Footage Of The Beatles". Yep, so this Scroll item might end up failing the Obligatory SF Reference requirement. Read fast.
In part one of this multi-part interview, Stephen welcomes Sir Peter Jackson and sets the stage for their in-depth discussion of Jackson's work directing the incredible Disney+ documentary, "The Beatles: Get Back," which is set to change the public's perception of the relationship between John, Paul, George and Ringo in their final years as bandmates.
But wait! Steven H Silver says, "During the first episode of The Beatles Get Back, there is a section about 1:29 in where George is describing watching the Into the Unknown adaptation of Robert Sheckley's Immortality, Inc on the BBC." Okay, we're covered!
(6) IMAGINE THAT. At Stone Soup, Sarah Gailey's "Building Beyond" is an ongoing series of conversations about how much fun worldbuilding can be. In the latest installment — "Building Beyond: Unfathomable Depths" – Gailey is joined by Suzanne Walker, Hunter Ford, and Natalie Zina Walschots to play with the prompt —
A deep sea diving expedition finds a long-abandoned dome.
(7) TO AFFORDABLY GO AND WATCH. [Item by Daniel Dern.] Amazon Prime Video is (currently) offering (to Amazon Prime members, in case that doesn't go without saying) Paramount+ (Star Trek shows, etc) (and some other channels) for $0.99/month for up to two months.
(8) WILLIS AND HOPKINSON ON LOA LIVE. The Library of America's "LOA Live" will have a video session about American Christmas Stories on December 15 featuring editor Connie Willis and novelist Nalo Hopkinson. It looks like registration to create an LOA account is required for the live Zoom event, however, afterwards the video will be posted to the Library of America's YouTube channel.
Wednesday, December 15
6:00 pm ET
American Christmas Stories

Acclaimed bestselling SF and fantasy writer Connie Willis, editor of the just-released American Christmas Stories, joins LOA LIVE for a merrily unconventional yuletide conversation about the uniquely American literature inspired by this most magical time of the year. With Jamaican-born speculative novelist Nalo Hopkinson, who contributes a story to the collection, and historian Penne Restad (Christmas in America: A History.)
Registration link TK
(9) MEMORY LANE.
1865 — One hundred fifty-six years ago, Alice's Adventures in Wonderland (commonly referred to as Alice in Wonderland) was first published by Macmillan in London. It was the first work of Lewis Carroll, the alias of pseudonym of Charles Lutwidge Dodgson. It had illustrations by John Tenniel.
The text blocks of the first printed edition were removed from the binding and sold with Dodgson's permission to the New York publishing house of D. Appleton & Company, after Tenniel objected to the quality of the illustrations. So this was actually the second printed edition. The entire print run sold out quickly. It has a sequel, Through the Looking-Glass, and What Alice Found There. It has been continuously in-print including writer Martin Gardner's exemplary The Annotated Alice.
I count at least fifty video riffs off of it so far including of course Star Trek's "Shore Leave" with the white rabbit and Alice. A number of genre works have riffed off it as well including Otherland by Tad Williams, The Looking Glass Wars, and its sequel, Seeing Redd by Frank Beddor, Automated Alice by Jeff Noon and After Alice by Gregory Maguire.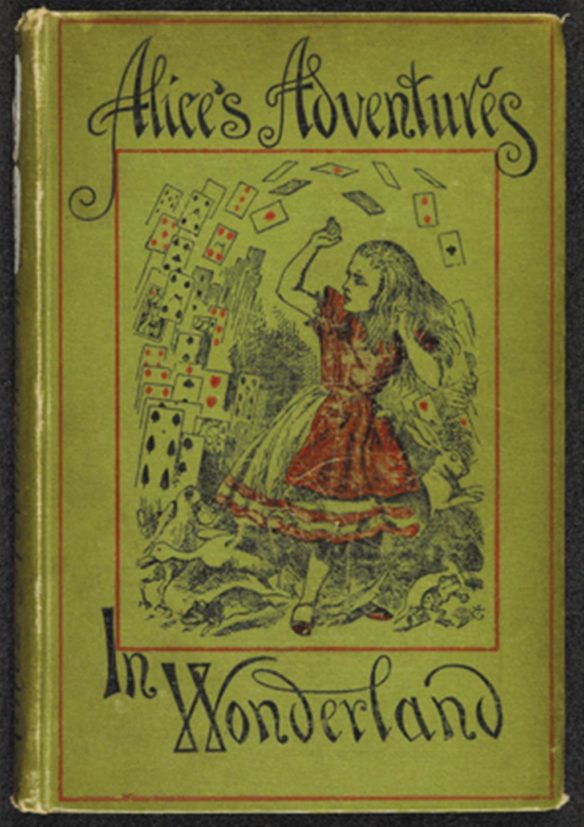 (10) TODAY'S BIRTHDAYS.
[Compiled by Cat Eldridge.]
Born November 26, 1897 — Naomi Mary Margaret Mitchison, Baroness Mitchison, CBE (née Haldane). Author of many historical novels with genre trappings such as The Corn King and the Spring Queen and The Bull Calves but also new wave SF such as Memoirs of a Spacewoman, pure fantasy Graeme and the Dragon and an Arthurian novel in Chapel Perilous. (Died 1999.)
Born November 26, 1910 — Cyril Cusack. Fireman Captain Beatty on the classic version of Fahrenheit 451. He's Mr. Charrington, the shopkeeper in Nineteen Eighty-four, and several roles on Tales of the Unexpected rounds out his genre acting. Well, and what looks like an absolutely awful Tam-Lin… (Died 1993.)
Born November 26, 1919 — Frederik Pohl. Writer, editor, and fan who was active for more seventy-five years from his first published work, the 1937 poem "Elegy to a Dead Satellite: Luna" to his final novel All the Lives He Led. That he was great and that he was honored for being great is beyond doubt — If I'm counting correctly, he won three Hugos and three Nebula Awards for his fiction, three Hugos as Best Professional Editor, and one as Best Fan Writer (2010). His 1979 novel Jem, Pohl won a U.S. National Book Award in the one-off category Science Fiction. SWFA made him its 12th recipient of the Damon Knight Memorial Grand Master Award in 1993 and he was inducted by the Science Fiction and Fantasy Hall of Fame in 1998. Ok setting aside Awards which are frelling impressive, there's the matter of him editing Astonishing Stories, Galaxy Science Fiction and Galaxy Science Fiction UK, If, Star Science Fiction Magazine (which I've never heard of), Super Science Stories which were a companion to Astonishing Stories and well let's just say the list goes on. I'm sure I've not listed something that y'all like here. As writer, he was amazing. My favorite was the Heechee series though I confess some novels were far better than others. Gateway won the Hugo Award for Best Novel, the 1978 Locus Award for Best Novel, the 1977 Nebula Award for Best Novel, and the two John W. Campbell Memorial Awards for Best Science Fiction Novel. Very impressive. Man Plus I think is phenomenal, the sequel less so. Your opinion of course will no doubt vary. The Space Merchants co-written with Cyril M. Kornbluth in 1952 is, I think, damn fun. He wrote a lot of short fiction, some I think brilliant and some not but that was true of most SF writers of the time. (Died 2013.)
Born November 26, 1936 — Shusei Nagaoka. Artist and Illustrator from Japan who is best known for his music album cover art in the 1970s and 1980s. He designed covers for many of Earth, Wind and Fire's albums, and many of his covers were very distinctively SFFnal; especially notable are Out of the Blue by Electric Light Orchestra, and When We Rock, We Rock, and When We Roll, We Roll by Deep Purple. His art also graced numerous genre books, including Tepper's After Long Silence, Attanasio's The Last Legends of Earth, and Reed's Down the Bright Way. He helped to design the 1970 Osaka World's Fair Expo, and had one of the first artworks launched into outer space and attained orbit, via the Russian Mir Space Station, in 1991. He won a Seiun Award for Best Artist in 1982. (Died 2015.)
Born November 26, 1945 — Daniel Davis, 76. I'm singling him out for Birthday Honors for his two excellent appearances as Professor Moriarty on Next Gen. He has one-offs on MacGyver, Gotham and Elementary. He played The Judge in The Prestige film. He also voiced several characters on the animated Men in Black series.
Born November 26, 1949 — Victoria Poyser-Lisi, 72. Artist, Illustrator, Teacher, and Fan who was inspired at the 1979 World Fantasy Convention to become a genre artist. She did more than a hundred covers and interior illustrations for fanzines, magazines, and books, and won two Best Fan Artist Hugos, one at Denvention Two and the next at Chicon IV. She now works in collaborative children's book illustration and instructional painting books, and teaches drawing and painting courses in Colorado.
Born November 26, 1961 — Steve Macdonald, 60. A fan and longtime pro filker ever since he first went to a filk con in 1992. In 2001, he went on a "WorlDream" tour, attending every filk con in the world held that year. He's now resident in Germany where he moved to marry fellow filker Kerstin (Katy) Droge. He was inducted into the Filk Hall of Fame in 2006.
Born November 26, 1988 — Ben Bird Person, 33. A Filer who writes "silly" Wikipedia articles and commissions art of his cat Snow. As DoctorWho042 is in the top 2000 on the list of Wikipedians by number of edits.
Born November 26, 1988 — Hafþór Júlíus Björnsson, 33. He played Gregor "The Mountain" Clegane on the Game of Thrones for five seasons. That's it for his genre acting, but he co-founded Icelandic Mountain Vodka whose primary product is a seven-time distilled Icelandic vodka. Surely something Filers can appreciate! At the first Philadelphia Ren Faire he appeared as King Thor, the leader of a Viking raiding party.
(11) COMICS SECTION.
Heathcliff – Is this Asimov's next law of robotics?
xkcd confronts the challenge bookstores face in sorting fiction from nonfiction.
(12) BEWARE SPOILERS. And I mean it this time! BEWARE SPOILERS. Vanity Fair's "Ghostbusters: Afterlife—The Day Bill Murray, Dan Aykroyd, and Ernie Hudson Reunited" is one big spoiler about the actors' return as Venkman, Stantz, and Zeddemore, and how they handled the loss of Harold Ramis and Egon Spengler. NO EXCERPT!!
(13) OCTOTHORPE. John Coxon, Alison Scott, and guest Marguerite Smith are live from Novacon 50! We discuss DisCon III, Glasgow in 2024, and Dublin in 2029 before diving into actual science fiction and live letters of comment. Listen here: "A Fistful of Dongles".
Below, Sue Mason illustrates guest Marguerite Smith and not-a-guest Meg MacDonald from the Glasgow in 2024 bid.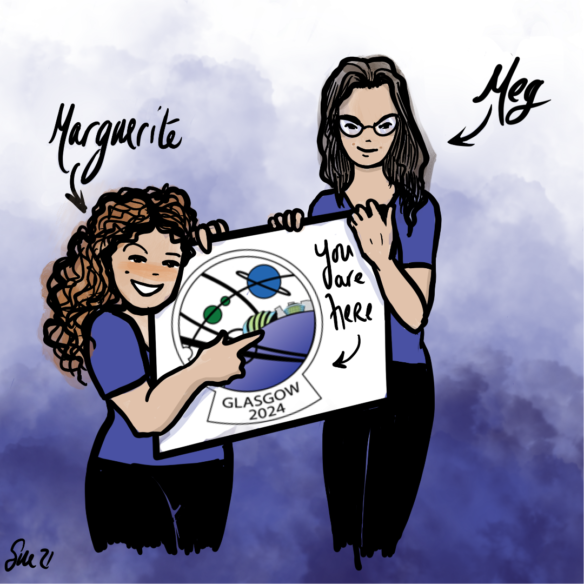 (14) OPEN SESAME. Street Gang, an HBO original documentary about the most impactful children's program in television history, Sesame Street, premieres December 13 on HBO Max.
(15) USE YOUR IMAGINATION. "Santas are in short supply, which leads to intriguing alternatives" reports the Washington Post.
…"Across the board I've seen an uptick in number of requests, but once I'm full, I'm full," says Doug Eberhardt, a Santa based in Charlotte. "I've got 92 gigs booked between now and Christmas."

HireSanta, an agency for Santas and Mrs. Clauses, has been turning down requests for weeks.

"Hundreds of people a day have been reaching out to us," founder Mitch Allen says. "We always sell out on weekends, but normally it's after Thanksgiving." This year, his Santas were all fully committed for every weekend by the first week of November.

… Perhaps the shortage is an opportunity to rethink what makes a Santa "believable." For most of the past century, that has meant a St. Nick who is chubby, white-bearded, old, and usually Caucasian. Maybe a gap in the marketplace will open up opportunities for Santas who don't fit the mainstream mold: Black Santas. Deaf Santas. Spanish-speaking Santas. Connaghan is trying to develop a talent pipeline through an initiative called Santa Bootcamp, sponsored by Old Navy, which recruits Santas with diverse backgrounds. Because there are so few of these Santas — only 5 percent of Santas identify as non-White by industry estimates — they are even harder to find this year than usual, says HireSanta's Allen….
(16) ALBUM BASED ON DARK STAR. "Phenomenology is a concept album of sorts, the central protagonist Talby was the lead character of the 1974 cult sci-fi film Dark Star by John Carpenter and the album depicts a metaphorical journey into the unknown where one has no choice but to face one's fears, a hero's journey indeed." — Phenomenology at Bandcamp.
(17) LOADED CHIPS. "First quantum computer to pack 100 qubits enters crowded race" – Nature has the story.
But IBM's latest quantum chip and its competitors face a long path towards making the machines useful.

IBM's newest quantum-computing chip, revealed on 15 November, established a milestone of sorts: it packs in 127 quantum bits (qubits), making it the first such device to reach 3 digits. But the achievement is only one step in an aggressive agenda boosted by billions of dollars in investments across the industry.

The 'Eagle' chip is a step towards IBM's goal of creating a 433-qubit quantum processor next year, followed by one with 1,121 qubits, named Condor, by 2023. Such targets echo those that for decades the electronics industry has set itself for miniaturizing silicon chips, says Jerry Chow, head of IBM's experimental quantum-computing group.
(18) HOW HARD CAN IT BE? Nature discusses "How to make macroscale non-crystalline diamonds". A diamond shatters easily, despite it being the hardest natural material. Atomically disordered forms of diamond made from buckyballs might not only overcome this problem, but also allow other properties to be optimized.
The brilliant facets of diamonds have entranced people throughout history and are a result of the ordered atomic structure of these gemstones. But this order comes at a cost: it makes diamonds fragile. In contrast to quartz and many other crystalline materials that produce atomically disordered forms, a disordered — and potentially less fragile — form of diamond has not been available. Writing in Nature, Shang et al. and Tang et al. report how to produce atomically disordered diamond-like materials with millimetre-scale dimensions, constituting a breakthrough for materials science.
(19) THREESCORE AND TEN. Phil Nichols' talk "Ray Bradbury's The Illustrated Man at Seventy", given during ArtsFest Online, can now be viewed on YouTube.
Ray Bradbury's book The Illustrated Man – a short story collection very loosely woven together with a fantastical framing narrative – is now seventy years old, and yet it remains a greatly influential work. Dealing with ideas around virtual reality, civil rights, the end of the world, and body art, it has managed to sustain a resonance through to the twenty-first century, despite its 1950s trappings. Individual stories from the collection have been adapted for film, television, radio and stage on multiple occasions, confirming Bradbury's position as one of the most significant writers of science fiction even as the author tried to escape from the "ghetto" of genre fiction. In this illustrated talk, Dr Phil Nichols will show how Bradbury's short-story collection both defines and confines the author.
[Thanks to JJ, John King Tarpinian, Andrew Porter, Steven French, Dann, Daniel Dern, Steven H Silver, John Coxon, SF Concatenation's Jonathan Cowie, Michael Toman, Cat Eldridge, Mike Kennedy, and Martin Morse Wooster for some of these stories. Title credit belongs to File 770 contributing editor of the day Jon Meltzer.]