(1) A LEGEND REMEMBERED. Russell Seitz reigned in 1970s fandom as "the world's sixth nuclear power," having bought all the parts needed to build a Titan II missile for under a thousand dollars from junkyards on the East Coast. At L.A.con (1972) he famously dueled Larry Niven beside the pool by firing corks from champagne bottles. "And we drank the propellants," ends Niven's version in Playgrounds of the Mind. Seitz is obviously the unnamed student in the opening anecdote of American Scientist's article "The Forgotten Mystery of Inertia".
In days of yore, at a World Science Fiction Convention in Boston, a Harvard graduate student polished his reputation as a brilliant mad scientist by roaming the convention halls, brandishing what at first glance appeared to be a rather peculiar steel bowling ball. Portholes perforated its surface, providing a glimpse of electronic hardware inside; tangled wires sprouted from the same holes, and a gear train surrounded the mysterious object's equator.

"What's that?" I asked him.

"It's the gyro platform for an intercontinental ballistic missile," he replied. "If you put it on a Titan rocket, it will fly to Kiev."

"How do you know?"

"It's an inertial guidance system, stupid. It knows where Kiev is."

"I know how inertial guidance systems work, but how do you know it knows where Kiev is?"

"Oh, that. It was stamped on the box."

This sorcerer's apprentice had discovered that for $900 you could buy a surplus intercontinental ballistic missile, 10 years before the electronics were declassified. His Titan was delivered on two railway cars, "Kiev Titan Missile" stamped on the crates. He junked the body, donated the engines to an art museum, and saved the electronics for his research. A tall tale? Sounds like one, but the gyro platform was there for all to see….
(2) PERSEVERANCE ARRIVES TOMORROW. "NASA Rover Attempting Most Difficult Martian Touchdown Yet" – U.S. News has the story.
Spacecraft aiming to land on Mars have skipped past the planet, burned up on entry, smashed into the surface, and made it down amid a fierce dust storm only to spit out a single fuzzy gray picture before dying.

Almost 50 years after the first casualty at Mars, NASA is attempting its hardest Martian touchdown yet.

The rover named Perseverance is headed Thursday for a compact 5-mile-by-4-mile (8-kilometer-by-6.4-kilometer) patch on the edge of an ancient river delta. It's filled with cliffs, pits, sand dunes and fields of rocks, any of which could doom the $3 billion mission. The once submerged terrain also could hold evidence of past life, all the more reason to gather samples at this spot for return to Earth 10 years from now….
(3) PLANETARY SOCIETY'S FREE WATCH PARTY. "Mars Perseverance Rover Landing Watch Party" with Planetary Society President Bill Nye and special guests and will cheer on the landing of NASA's Perseverance Mars rover. Begins: February 18 at 11:30 a.m. PT / 7:30 p.m. UTC! The stream and chat window will begin at 11:15 a.m. PT / 7:15 p.m. UTC.
(4) YOUR NAME THERE. If you put in your name for NASA to send to Mars, you can get a freebie tomorrow: "Krispy Kreme Has A Mars Donut In Honor Of The Perseverance Rover" – Delish has the story.
The Perseverance is landing this Thursday, February 18, in Mars' Jezero Crater, so that's when the donut will be available in shops. The rover will also be carrying the names of almost 11 million people who participated in NASA's "Send Your Name to Mars" program and Krispy Kreme has an exciting surprise for those people. In addition to your name being in SPACE (how cool are you, by the way??), Krispy Kreme will also give you this Mars donut for FREE. All you have to do to get one is to show your NASA-issued Mars 2020 Perseverance "boarding pass" to redeem.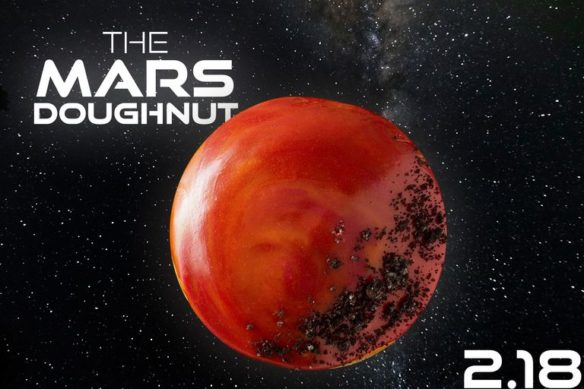 (5) MATHIS OBIT. [Item by Edmund Schluessel.] Jazz vocalist Nicki Mathis died December 28, 2020 at the age of 84. An established singer who built her career in the northeastern US, genre fans may know Mathis best for an otherwise-obscure accomplishment made at the age of 30 in El Paso, Texas: singing the songs "Forgetting You" and "Love Inside This Magic Circle" on the soundtrack to Hal Warren's no-budget horror film Manos: the Hands of Fate. The film became infamous when it was featured on Mystery Science Theater 3000 during the show's fourth season. Mathis received no credit for the performance but cult horror fans reconnected with her when the movie gained notoriety and she rerecorded both tracks for the Manos Returns soundtrack in 2018. In addition to her achievements as a musician Mathis also earned a master's degree in education from Harvard University. Mathis's songs from Manos Returns can be heard on Bandcamp here.
(6) MEDIA BIRTHDAY.
February 17, 1990 — On this day in 1990, Star Trek: The Next Generation's "Yesterday's Enterprise". It was the fifteenth episode of the third season, first airing in syndication. It marked the return of Tasha Yar and gave her the heroic death that she didn't get the first time. It had the third highest rating of the entire series. Trent Christopher Ganino and Eric A. Stillwell Wrote the story with the teleplay being done by Ira Steven Behr, Richard Manning, Hans Beimler and Ronald D. Moore. Critics and audience reviewers alike agree that this is an outstanding episode. (CE)
(7) TODAY'S BIRTHDAYS.
[Compiled by Cat Eldridge and John Hertz.]
Born February 17, 1896 – Charles R. Tanner.  Co-founder of the long-time and much-loved Cincinnati Fantasy Group, which hosted Cinvention the 7th Worldcon; CRT was chairman.  Charter member of the N3F (Nat'l Fantasy Fan Fed'n), co-edited The National Fantasy Fan.  A score of short stories.  (Died 1974) [JH]
Born February 17, 1903 — Kenne Duncan. He's got a number of genre credited starting with the 1938 Flash Gordon's Trip to Mars serial where he was the Airdrome Captain. He'd play Ram Singh, the butler to the Spider, in The Spider's Web and The Spider Returns serials, and he'd be Lt. Lacy in the 1939 Buck Rogers serial. Several years later, he'd be Cheney Hencheman Barnett in The Adventures of Captain Marvel serial. You can see him in the first chapter of Spider's Web serial here, (Died 1972.) (CE)
Born February 17, 1911 – Margaret St. Clair.  Eight novels, a hundred thirty shorter stories, some under other names; also detective fiction.  I've a soft spot in my heart for "The Wines of Earth".  Memoir in M. Greenberg ed., Fantastic Lives.  Library & Archives Canada published a Compendium last year.  "Unlike most pulp writers, I have no special ambitions to make the pages of the slick magazines.  I feel that the pulps at their best touch a genuine folk tradition and have a balladic quality which the slicks lack."  (Died 1995) [JH]
Born February 17, 1912 — Andre Norton. She penned well over a dozen series, but her major series was Witch World which began rather appropriately with Witch World in 1963. The first six novels in that series were Ace Books paperback originals published in the Sixties. I remember them with some fondness quite some decades after reading them. (Died 2005.) (CE)
Born February 17, 1930 — Ruth Rendell. I've read and enjoyed some of her mysteries down the decade but am not familiar at all with the three listed as genre by ISFDB (The Killing Doll, The Tree of Hands and The Bridesmaid). Who of you is familiar with these? (Died 2015.) (CE) 
Born February 17, 1931 – Johnny Hart.  Fantasy abounds in both of his fine and possibly great comic strips B.C. and The Wizard of Id (with Brant Parker), both being continued after JH's (and BP's) death.  Fantasy in a strip featuring a wizard goes without saying – oops.  In B.C. one of my favorites is the ability of well-nicknamed Clumsy Carp to make water balls.  (Died 2017) [JH]
Born February 17, 1939 — Kathy Keeton. Founder and publisher of Omni. It was founded by her and her partner and future husband Bob Guccione, the publisher of Penthouse. It would publish a number of stories that have become genre classics, such as Card's "Unaccompanied Sonata", Gibson's "Burning Chrome" "and "Johnny Mnemonic" and George R. R. Martin's "Sandkings" to name a few of the stories that appeared there. (Died 1997.) (CE) 
Born February 17, 1947 – Bruce Gillespie, age 74.  Outstanding fanziner, pre-eminently with SF Commentary, a zine physically handsome, thoughtful (which doesn't mean I agree with everything said in it, how could that be?), dauntless.  Three Ditmars (one an Atheling for criticism), two FAAn (Fan Activity Achievement) Awards. Fan Guest of Honour at Aussiecon Three the 57th Worldcon.  Through a Bring Bruce Bayside fund attended Corflu 22 (fanziners' con; corflu = mimeograph correction fluid, once indispensable), Potlatch 14.  More here.  [JH]
Born February 17, 1958 – Lynda Williams, age 63.  Nine novels, three shorter stories in her Okal Rel universe, to which others have also contributed; two more stories.  Founded British Columbia journal Reflections on Water.  [JH]
Born February 17, 1971 — Denise Richards, 50. Her first genre role was as Tammy in Tammy and the T-Rex (really don't ask). Her next role was the one she's known for as Carmen Ibañez in Starship Troopers. She'll be a few years later Dr. Christmas Jones in The World Is Not Enough, the eighteenth Bond film. She's been announced as playing Victoria Darw in the recent Timecrafters: The Treasure of Pirate's Cove. (CE) 
Born February 17, 1974 — Jerry O'Connell, 47. Quinn Mallory on Sliders, a series whose behind-the-broadcast politics is too tangled to detail here. His first SF role was on Mission to Mars as Phil Ohlmyer with the SF dark comedy Space Space Station 76 with him as Steve being his next role. He's done a lot of of DCU voice work, Captain Marvel in Superman/Shazam!: The Return of Black Adam, Clark Kent / Superman in Justice League vs. Teen Titans and Justice League: Throne of Atlantis, Justice League Dark, The Death of Superman and Reign of the Supermen where he also plays Cyborg Superman to great, chilling effect. The latter film is kickass excellent. (CE)
Born February 17, 1987 – Emilie Léger, age 34. Four covers, a dozen interiors for us; others too.  Here is Brins d'éternité 36 (French, "strands of eternity").  Here is Solaris 217.  Here is Soleil de glace ("Ice Sun").  Here is Asian Sun.  Here is Au-delà des lumières ("Beyond the Lights").  "I have often observed the sky and I may be in the sky of someone else observing."  [JH]
(8) HIGHSMITH CENTENNIAL. Thriller writer Patricia Highsmith was born a hundred years ago in January, which prompted this tribute from Punk Noir Magazine: "Patricia Highsmith at 100 by K A Laity".
One hundred years ago the Cottingley Fairies were brought to the public's attention by Sir Arthur Conan Doyle… 

One hundred years ago today Patricia Highsmith was born to a mother at best ambivalent and a father who was already heading out the door of their Texas home…. 

The Cottingley Fairies were adorable and sweet, something people longed to see. Highsmith is everything opposite to that, and yet just as arresting and memorable one hundred years later because she captured something no one wants to see, but knows lurks in the mind or heart of people who kill. She found her killers likable, but feared and hated people who made noise….
(9) BOB LEMAN REVISITED. Andrew Porter sent me the link to "Lesser-Known Writers: LEMAN Bob" and when I reached this paragraph I remembered why I recognized his name, even though this all happened long before I got into fandom —
…Probably the most brilliant writing in The Vinegar Worm was Leman's championing of the forgotten writer Dorcas Bagby (1883-1963), for whose novel The Moswell Plan (1905) Leman makes a strong case for it being "the greatest novel of the supernatural ever written."  Of course it was a hoax: Miss Bagby and her novel existed only in Leman's imagination, but it was kind of Leman to share this wonderful conception of an imaginary writer and her oeuvre with the world.
(10) SCIENCE AND FICTION. Pocket revisits the massive mouse experiment of the Sixties and its literary spinoff: "The Doomed Mouse Utopia That Inspired the 'Rats of NIMH'".
…But there was one person who paid attention to his more optimistic experiments, a writer named Robert C. O'Brien. In the late '60s, O'Brien allegedly visited Calhoun's lab, met the man trying to build a true and creative rodent paradise, and took note of the Frisbee on the door, the scientists' own attempt "to help when things got too stressful," as Calhoun put it. Soon after, O'Brien wrote Ms. Frisby and the Rats of NIMH—a story about rats who, having escaped from a lab full of blundering humans, attempt to build their own utopia. Next time, maybe we should put the rats in charge.
(11) HERE SPOTS. Disney dropped a trailer for Cruella, the 101 Dalmatians prequel.
(12) VIDEO OF THE DAY. In "Honest Game Trailers: The Medium" on YouTube, Fandom Games says this Polish game features a medium who "suffers from plot-convenient amnesia."
[Thanks to Andrew Porter, Mike Kennedy, Martin Morse Wooster, Cat Eldridge, John King Tarpinian, Edmund Schluessel, John Hertz, JJ, James Davis Nicoll, Todd Mason, David Doering, and Michael Toman for some of these stories. Title credit goes to File 770 contributing editor of the day Daniel Dern.]