(1) PLANE SPEAKING. CollegeHumor shows what happens when a ticket agent has to deal with the argument that "My Dinosaur Is a Service Animal" (features Chris Pratt and Bryce Dallas Howard).
(2) EARLY RETURNS ON 451. Phil Nichols of BradburyMedia saw a preview screener of "HBO's new Fahrenheit 451" and weighed in on his blog:
…The new Fahrenheit does take many liberties with Bradbury's story (what, no Millie? Clarisse as a police informant?), but it knows what it's doing. Specifically, it knows what Guy Montag has to learn, and what he has to become; and it knows what Beatty is in relation to Montag. Most importantly, it knows how to show the relevance of Fahrenheit to today's world of sound bites, clickbait headlines and fake news. Bradbury said that you don't have to burn books to destroy a culture; you just have to get people to stop reading. And that's exactly the world Bahrani has created here….
(3) MORE WORK FOR HOLLYWOOD LAWYERS. "Stan Lee Files $1B Lawsuit Against POW! Entertainment for "Stealing" His Name and Likeness" says The Hollywood Reporter.
The epic battles in Stan Lee's comics may be nothing compared to the array of legal fights he's waging — which now includes a billion-dollar lawsuit against the company he co-founded.

Lee is suing POW! Entertainment for fraud and conversion, claiming the company and two of its officers conspired to steal his identity, name and likeness in a "nefarious scheme" involving a "sham" sale to a Chinese company.

POW! was acquired in 2017 by Hong Kong-based Camsing International, and Lee says POW! CEO Shane Duffy and co-founder Gill Champion didn't disclose the terms of the deal to him before it closed. At the time, Lee claims, he was devastated because his wife was on her deathbed and they took advantage of his despair — and his macular degeneration, which rendered him legally blind in 2015.

Lee says last year Duffy and Champion, along with his ex-business manager Jerardo Olivarez, whom he's currently suing for fraud, asked him to sign a non-exclusive license with POW! for the use of his name and likeness in connection with creative works owned by the company. Instead, what he purportedly signed was a "fraudulent" intellectual property assignment agreement that granted POW! "the exclusive right to use Lee's name, identity, image and likeness on a worldwide basis in perpetuity."

According to the complaint filed Tuesday in Los Angeles County Superior Court, Lee has been selective about licensing his name and likeness and will only authorize the use on a non-exclusive basis.
(4) AWARD NOMINEE. Congratulations to Cora Buhlert! Her story "'Baptism of Fire' is a nominee for the 2018 eFestival of Words Best of the Independent eBook Award".
The nominations for the 2018 eFestival of Words Best of the Independent eBook Awards, which are run by the small press Bards & Sages, were announced today.

I was going to put the link to the announcement into the weekly link round-ups at the Speculative Fiction Showcase and the Indie Crime Scene respectively, but first I took a gander at the list of nominees and all but fell from my chair, because there, a bit down the page, was my name. For it turns out that "Baptism of Fire", my contribution to the science fiction anthology The Guardian, edited by Alasdair Shaw, has been nominated in the "Best short story" category. I had absolutely no idea about this, until I saw the nominee list.
(5) BLABBAGE. Derek Stauffer, in "Star Wars Comic May Hint At Leia's Episode 9 Fate" in ScreenRant, says that Marvel's Poe Dameron comic may have clues about what will happen to Leia Organa in Episode 9.
Given Leia's weakened state in the comic, it seems even more obvious that she will end up passing the torch to Poe as leader of The Resistance at some point in the near future. The only real question is if that passing will come with Leia's retirement, or her death.
(6) ARTISTS TO BE INDUCTED. The Society of Illustrators will honor the following artists at its Hall of Fame Awards Ceremony on June 21.
2018 Hall of Fame Laureates
Robert Crumb
Hilary Knight
Jim McMullan
CF Payne
Kate Greenaway
Rene Gruau
Jack Kirby
Heinrich Kley
Kay Nielsen
(7) NEW TO SHORT FICTION? Lady Business offers a "Short & Sweet Roundtable Discussion: Short Fiction Reading Habits" with A.C. Wise, Bogi Takács, Brandon O'Brien, Vanessa Fogg, and Bridget McKinney.
One thing I've learned from talking to people about short fiction is that there are many different styles of reading short fiction. There are people like me who read one story (generally online) and then stop and do something else. There are people who sit down with a print or ebook magazine and read the whole thing cover to cover. There are people who only listen to short fiction in podcast form. So I was thinking about the different ways people read short SFF, and I wanted to find out more about these differences. I also thought that since lots of people have different short fiction reading habits, people who want to try short fiction might find that different pieces of advice are helpful to different people. So I've invited several guests to the column to talk about their short fiction reading habits and to share advice for people new to short fiction.

This roundtable features prolific short fiction readers, so they have a lot of great ideas for where to find short fiction, but I know it can be a little intimidating when there's so much to choose from and people who read so much! I hope this roundtable gives readers a taste of how many ways there are to read short fiction and how many entry points there are, and that there's no wrong way to read, including how much you read or at what point in life you start reading short fiction.
(8) LEND ME YOUR EARS. From Tested in 2013, "ILM Modelmakers Share Star Wars Stories and Secrets". News to me — the crowds of the pod races in Star Wars Episode I were half a million painted q-tips.
Don Bies: One of the cool things, whenever we're working together, is people thinking outside the box, and trying to come up with practical solutions. And in the early days, certainly it was 'let's see if we can beat the CG guys at their own game.' Michael Lynch, one of the modelmakers–he was always really good at looking at things this way–he was looking at the crowds. And when you see a crowd in a stadium you're really just seeing shapes and colors, you're not really seeing people or individual faces.

So he came up with the idea…of using q-tips, cotton swabs, colored, in the stands of the Mos Espa arena. So there were something like 450,000 q-tips painted multiple colors, and he even researched it to find out how many reds versus yellows and blues and greens that should be in there.

And it was a process of just days of painting. Think about 450,000 cotton swabs, how you paint them, and then how you put them in. Everyone took turns at one point sticking them into the stands. And by blowing a fan underneath they kind of twinkled, like people moving around. Ultimately they did put some CG people on top of it, but I always thoght it would be funny if they caught to a close-up of the stands and you saw a cotton swab sitting in the stands next to the aliens…
(9) ALFRED THE GREAT. Hollywood Reporter headline: "'Gotham' Boss Sets New Batman Prequel Series at Epix (Exclusive)". Premium cable network Epix will air Pennyworth. The series has some behind-the-camera personnel ties to Gotham, but is not a prequel of that Fox series. No cast has been announced.
Epix is getting into the DC Comics business.

The MGM-owned premium cable network has handed out a 10-episode, straight-to-series order for Pennyworth, a drama set in the Batman universe from Gotham showrunner Bruno Heller.

The series will revolve around Alfred Pennyworth, the best friend and butler to Bruce Wayne (aka Batman). The series is not a Gotham spinoff but rather an entirely new story exploring Alfred's origins as a former British SAS soldier who forms a secret company and goes to work with Thomas Wayne — Bruce's billionaire father — in 1960s London. Sean Pertwee, who plays Alfred Pennyworth on Fox's recently renewed Gotham, is not involved. Casting has not yet begun and the series is set in a completely different universe despite hailing from Heller and producers Warner Horizon. (Others who have played the Alfred role include Jeremy Irons, Michael Gough, Michael Caine, Alan Napier and William Austin, among others.)
(10) TRIVIAL TRIVIA
Hershey Kisses were named after the "kissing" sound made by the nozzle that drops the chocolate onto a cooled conveyor belt during their production. Hershey started making its version in 1907 but "kiss" was commonly used as a generic term for candies wrapped with a twist as early as the 1820s. Hershey managed to trademark the term in 2000 after arguing that consumers almost exclusively associated the word "kiss" with their brand versus other candies.

Source: Time
(11) COMICS SECTION.
Chip Hitchcock learned space isn't easy from Rhymes With Orange.
But it can be warm: Arctic Circle.
And time travel can be even warmer, as Lise Andreasen witnessed in Saturday Morning Breakfast Cereal's "Hindenburg".
(12) SCALZI FREE READ. The Electronic Frontier Foundation enlisted John Scalzi to help make their point: "EFF Presents John Scalzi's Science Fiction Story About Our Right to Repair Petition to the Copyright Office".
A small bit of good news: Congress designed a largely ornamental escape valve into this system: every three years, the Librarian of Congress can grant exemptions to the law for certain activities. These exemptions make those uses temporarily legal, but (here's the hilarious part), it's still not legal to make a tool to enable that use. It's as though Congress expected you to gnaw open your devices and manually change the software with the sensitive tips of your nimble fingers or something. That said, in many cases it's easy to download the tools you need anyway. We're suing the U.S. government to invalidate DMCA 1201, which would eliminate the whole farce. It's 2018, and that means it's exemptions time again! EFF and many of our allies have filed for a raft of exemptions to DMCA 1201 this year, and in this series, we're teaming up with some amazing science fiction writers to explain what's at stake in these requests.

This week, we're discussing our right to repair exemption. Did you know the innards of your car are copyrighted?

… The use of DRM to threaten the independent repair sector is a bad deal all-around. Repair is an onshore industry that creates middle-class jobs in local communities, where service technicians help Americans get more value out of the devices they buy. It's not just cars: everything from tractors to printers, from toys to thermostats have been designed with DRM that stands in the way of your ability to decide who fixes your stuff, or whether it can be fixed at all. That's why we've asked the Copyright Office to create a broad exemption to permit repair technicians to bypass any DRM that gets in the way of their ability to fix your stuff for you.

Our friend John Scalzi was kind enough to write us a science fiction story that illustrates the stakes involved.
(13) HOUSE OF REPUTE. Real estate news site 6sqft profiles a celebrity abode which once housed sf author Robert Silverberg: "Former home of Mayor Fiorello LaGuardia lists for $3.5M in Fieldston section of Riverdale". Numerous photos of the inside and outside.
A stately English Tudor mansion in the historic Fieldston neighborhood of Riverdale, considered one of the city's best preserved early 20th century suburbs, has just hit the market for $3.5 million, and it's oozing history filled ghosts, science fiction, New York master politicians, and urban planners. Former Mayor Fiorello LaGuardia moved to 5020 Goodridge Avenue after serving three consecutive terms as mayor and living in Gracie Mansion….

In 1961, Robert Silverberg, a well-known science fiction author – and not as well-known as the prolific writer of erotica novels for quick cash – bought the house. In his 1972 novel, The Book of Skulls, Silverberg mentioned the neighborhood, writing, "How unreal the whole immortality thing seemed to me now, with the jeweled cables of the George Washington Bridge gleaming far to the southwest, and the soaring bourgeois towers of Riverdale hemming us on to the right, and the garlicky realities of Manhattan straight ahead."
(14) PROBLEM FIXER. Michael Z. Williamson's advice is to ban the people who complain about a convention GoH.
…Your only rational, immediate response to avoid "controversy" is just to ban the person making the public scene. They've already told you by this action that they intend to cause trouble for at least one of your guests and that guest's followers.

"I wouldn't feel safe with this person at the con!"
"We're sorry you feel that way.  Here's a full refund.* We hope to see you at a future event."

Then stop responding. You'll only give attention to an attention whore.

Having seen this happen to guests at least three times, any future guest invitations I accept will involve a signed cancellation clause and a cash penalty for doing so, because once a guest has made arrangements for your event, they can't schedule something else, and you're eating up their writing/art/production time. They are there for YOUR benefit, not you for theirs. In my case, I currently have three novels, a collection, an anthology, all contracted, another novel offer, three on spec, an article request, three short stories and a lengthy stack of products to test and review, and an entire summer of professional bookings. I have a not-quite four year old and a teenager. Don't waste my time then roll over for some worthless whiner….
(15) MAKING PLANS. John Ringo, in a public Facebook post, advises writers —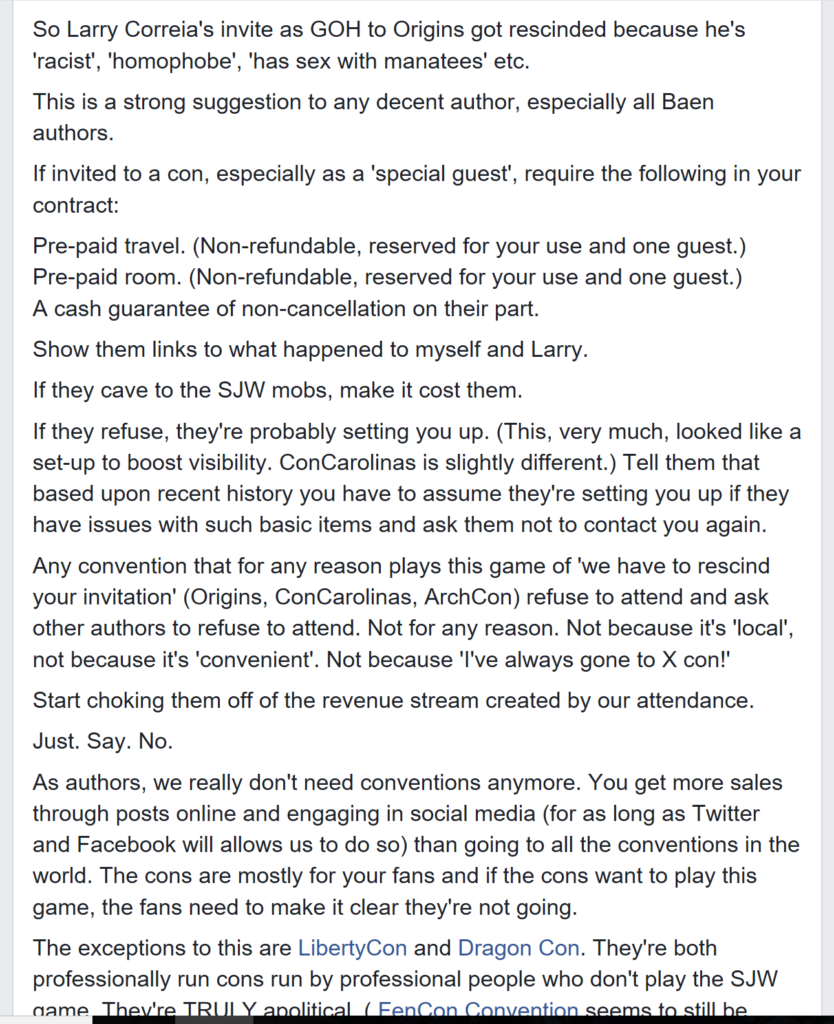 …With every other convention, assume you're being set-up at this point and don't be played for a sucker.

Oh, yeah, and as fans and lovers of liberty, never, ever attend Origins again if you ever have. Or ConCarolinas. (Sorry, Jada.) Or ArchCon. Or WorldCon.

We need a list. They never will be missed. No they never will be missed.
(16) ALTERNATE SPORTS HISTORY. Counterfactual: "Blimps Full Of Money And 30 Other Sports Fantasias In 'Upon Further Review'". What if football had stayed boring, or the US had boycotted the Berlin Olympics, or …?
Mike Pesca assembled the new book titled Upon Further Review: The Greatest What-Ifs In Sports History and a companion podcast. In an interview, he explained some of the book's 31 different scenarios written by 31 sportswriters.
(17) SYMBOLISM. "Henrietta Lacks' Lasting Impact Detailed In New Portrait" — shoutouts to unwitting donor of a cell line that has been used all over biomedicine.
When Henrietta Lacks was dying of cancer in 1951, her cells were harvested without her knowledge. They became crucial to scientific research and her story became a best-seller. Since then, Lacks has become one of the most powerful symbols for informed consent in the history of science.

On Monday, when the Smithsonian National Portrait Gallery in Washington, D.C., honored Lacks by installing a painting of her just inside one of its main entrances, three of Lacks' grandchildren were there.
(18) BIRD IS THE WORD. "Dinosaur parenting: How the 'chickens from hell' nested". "How do you sit on your nest of eggs when you weigh over 1,500kg?"
Dinosaur parenting has been difficult to study, due to the relatively small number of fossils, but the incubating behaviour of oviraptorosaurs has now been outlined for the first time.

Scientists believe the largest of these dinosaurs arranged their eggs around a central gap in the nest.

This bore the parent's weight, while allowing them to potentially provide body heat or protection to their developing young, without crushing the delicate eggs.

The feathered ancient relatives of modern birds, oviraptorosaurs lived in the Late Cretaceous period, at least 67 million years ago.
(19) SF TV ARCHEOLOGY. Echo Ishii's tour of old sf TV leads this time to "SF Obscure: Cosmic Slop".
Cosmic Slop was a 1994 TV anthology series on HBO featuring three short black science fiction movies. (I have also seen the broadcast date listed as 1995.) It features three short "Space Traders" based on the Derrick Bell short story; "The First Commandment" and "Tang". It's kind of a Twilight Zone vibe with George Clinton of Parliament Funkadelic during the intros. (It's as bizarre in the way only George Clinton can be.)
(20) TREK MEDICINE TODAY. The Arthur C. Clarke Center for Human Imagination hosts "Star Trek, the Qualcomm Tricorder XPRIZE & the Future of Medicine" on June 2, with Qualcomm XPRIZE Tricorder Prize winner Basil Harris, Robert Picardo (actor, Emergency Medical Hologram, Star Trek: Voyager), and Dr. Rusty Kallenberg, Chairman of Family Medicine and Director of the UCSD XPRIZE Test Program.
June 2, 2018
5:00-7:00pm
Liebow Auditorium
UC San Diego

Artificial intelligence is already impacting healthcare is numerous ways. Are we far from the future portrayed in Star Trek: Voyager, of an AI holographic doctor with encyclopedic medical knowledge? What are the pathways that will yield the most profound results for AI in medicine? And what are the ethical and regulatory issues we need to consider as we develop these technologies?

Hosted by Erik Viirre, associate director of the Arthur C. Clarke Center for Human Imagination and Medical Director of the Qualcomm Tricorder XPRIZE, The Future of Medicine is an exploration of these questions and more, as they impact the UC San Diego innovation ecosystem and beyond. Our master of ceremonies is Robert Picardo, actor and star of Star Trek: Voyager, where he left a cultural impact as the face of AI medicine as the Emergency Medical Hologram, known as "The Doctor." Basil Harris, founder of Basil Leaf Technologies and winner of the Qualcomm Tricorder XPRIZE to develop a real-world Tricorder-like medical device, will share his experience developing DextER, an autonomous medical diagnostic device, and the future of this pathway for innovation. And leaders from UC San Diego will join a panel on artificial agents in medical technology development.
[Thanks to Mike Kennedy, Standback, John King Tarpinian, JJ, Martin Morse Wooster, Cat Eldridge, Carl Slaughter, Andrew Porter, Lise Andreasen, Chip Hitchcock, and rcade for some of these stories. Title credit goes to File 770 contributing editor of the day Daniel Dern.]