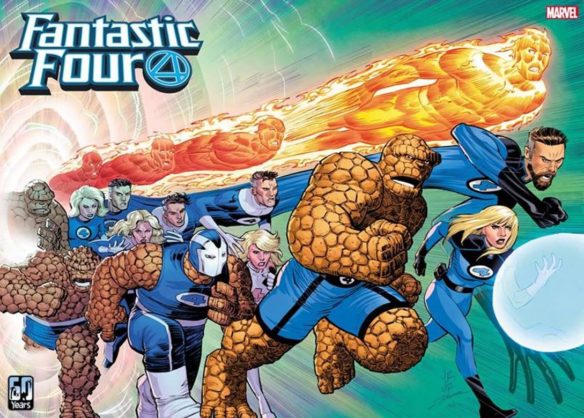 Fantastic Four #35, the giant-sized 60th anniversary issue, will be on the stands September 1, 2021.
Joining series writer Dan Slott will be legendary artist John Romita Jr., marking his highly-anticipated return to Marvel. In addition to drawing a story within this epic issue, Romita Jr. will also grace the issue with a wraparound cover.
Highlighting Reed, Sue, Ben, and Johnny's transformation since Stan Lee and Jack Kirby first created them, the artwork serves as both a celebration of Fantastic Four's journey and a teaser of the story inside: a showdown across Fantastic Four history against the master of time travel—Kang the Conqueror!
"I was lucky to begin my career with Marvel and now am extremely lucky to re-connect with Marvel. That's an enormous amount of good fortune. I sincerely thank all the folks up at Marvel, and Disney, who worked for this fortunate re-connection to happen.," Romita Jr. said. "To add to all this, and I hate to add a third section to my good fortune, is the opportunity to start off with a huge project, which is the 60th anniversary of the Fantastic Four!"
Home to concepts and characters that revolutionized comic book storytelling, the Fantastic Four have enjoyed one of the most memorable sagas in comic book history. Check out John Romita Jr.'s cover below along with some never-before-seen artwork and be there for one of their greatest adventures yet when Fantasic Four #35 hits stands on September 1.
[Based on a press release.]
More art follows the jump.
Continue reading