(1) X-MEN GO POSTAL. The Royal Mail marked the 60th anniversary of X-Men by releasing an issue of 17 stamps on February 16.
…The 12 stamps in the main set are all original illustrations and have been created exclusively for Royal Mail by renowned British comic book artist Mike McKone. They feature: Professor X; Kitty Pryde; Angel; Colossus; Jubilee; Cyclops; Wolverine; Jean Grey; Iceman, Storm; Beast; and Rogue….

An additional set of five stamps are included in a miniature sheet, exclusively illustrated by artist Lee Garbett, and feature some of the mutant enemies faced by the X-Men: Juggernaut; Mystique; Magneto; Emma Frost; and Sabretooth….
(2) AURORA AWARDS. Members of the Canadian Science Fiction and Fantasy Association will be able to make 2023 Aurora Award nominations from March 4-April 22. According to Garth Spencer in Obdurate Eye #25, due to a lack of eligible movies or TV shows, or works in the Best Fan Organizational category, CSFFA is no longer giving out an award for movies or TV shows, and works that were in the Best Fan Organizational category are now in the Best Fan Related Work category. CSFFA have redefined the Best Artist category as the Best Cover Art/Interior Illustration category. Rather than nominating an artist, CSFFA members will nominate each work that an artist has published in the past year. [Via Obdurate Eye #25.]
(3) LIKE A BASILISK? "Alex North On the Pleasures of Fictional Forbidden Texts" at CrimeReads.
You won't find Von Goom's Gambit described in any chess textbook.

… Because the character of Von Goom exists only in a short story. Von Goom's Gambit by Victor Contoski was originally published in 1966, in Chess Review, before being reprinted a handful of times. One of those was in a slim volume of science fiction stories that somehow found its way into the reading room of my primary school.

…I remember being captivated by it.

Part of that was down to the idea of the Gambit itself. Out of all the possible arrangements of pieces on a chessboard, Von Goom had chanced upon one so alien to the logic of the human mind – so abhorrent – that it could wound and kill. Following that initial heart attack, Von Goom's opponents in the story meet various terrible fates. One breaks down in tears at the sight of the board before him. Another is violently sick. A third is driven insane, while members of the watching crowd are turned to stone.

As a ten year old – obviously – I loved this a great deal….
(4) OCTOTHORPE. Episode 78 of the Octothorpe podcast is "Sqrrl Grrl". (Or should that be the Ctthrp podcast?)
John Coxon is chuckling, Alison Scott is conversing, and Liz Batty is critical. We discuss the COVID policy from the 2023 Eastercon, Conversation, as well as discussing the latest news from the Chengdu Worldcon.
(5) ERASED FROM THE LANDSCAPE BUT NOT FROM HISTORY. The New York hotel where the 1967 Worldcon was held, then known as the Statler-Hilton, is in the midst of being demolished. The New York Times ran a full profile about its history, and about one person who tried to keep the historic structure from being torn down: "The Hotel Pennsylvania's Great Disappearing Act".
Bit by bit, floor by floor, the building that once rose 22 stories over Penn Station is shrinking before the city's very eyes. The black netting draped over its ever-diminishing brick is like a magician's handkerchief; once removed, it will reveal — nothing.

Behold: The Great Disappearing Act of the Hotel Pennsylvania.

This isn't — or wasn't — just any building. This was once the largest hotel on earth, with 2,200 rooms, shops, restaurants, its own newspaper, and a telephone number immortalized by the bandleader Glenn Miller with a 1940 song "Pennsylvania 6-5000,"…
You can find many of Jay Kay Klein's photos taken at the 1967 convention on Calisphere.
(6) VALMA BROWN (1950-2023). Australian fan Valma Brown, a Melbourne fanzine editor married to Leigh Edmonds, died March 2. Edmonds announced her death on Facebook with the note, "It was sudden so there will be an inquest." She and Leigh were Fan Guests of Honor at SunCon, the 1991 Australian National Convention. She ran unsuccessfully for GUFF in 1987.
(7) MEMORY LANE.
2019 – [Compiled by Cat Eldridge.]
Elizabeth Bear's Ancestral Night which was published by Saga Press four years ago this week is a novel that I fell in love the first time I read it. Now I'll admit that I'm a long-term fan of her work going back to Hammered, the first in her Jenny Casey trilogy. I think she's a brilliant writer and a wonderful person. And yes I've sent her chocolate. Actually she's reviewed chocolate for Green Man.
The book is a stellar blend of characters, humans who are almost more than human, aliens that are truly alien, an silicon intelligence who is fully realised, a ship as the primary setting that doesn't feel cliched and a story that's fascinating. And it feels friendly I think is the best word. It's so richly detailed that I notice something new every time I listen to it.
And yes I'm hoping there's a third novel set in this universe.
And here is the Beginning for Ancestral Night…
THE BOAT DIDN'T HAVE A name. He wasn't deemed significant enough to need a name by the authorities and registries that govern such things. He had a registration number—657-2929-04, Human/ Terra—and he had a class, salvage tug, but he didn't have a name.
Officially.
We called him Singer. If Singer had an opinion on the issue, he'd never registered it—but he never complained. Singer was the shipmind as well as the ship—or at least, he inhabited the ship's virtual spaces the same way we inhabited the physical ones—but my partner Connla and I didn't own him. You can't own a sentience in civilized space.
Singer was a sliver of a thing suspended electromagnetically at the center of a quicksilver loop as thin in cross section as an old-fashioned wedding band, but a hundred and fifty meters across the diameter and ten meters from edge to edge. In any meaningful gravity, the ring would have crumpled and sagged like a curl of wax arched over the candleflame. But here in space, reinforced with electromagnetic supports, it spanned the horizon of the viewport in a clean arc.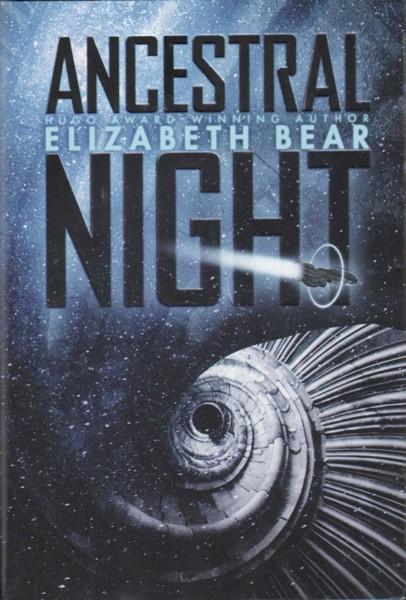 (8) TODAY'S BIRTHDAYS.
[Compiled by Cat Eldridge.]
Born March 2, 1933 — Leo Dillon. With his wife Diane, they were illustrators of children's books and many a paperback book and magazine cover. Over fifty years, they were the creators of more than a hundred genre covers. They won the Hugo for Best Professional Artist at Noreascon (1971) after being nominated twice before at Heicon '70 and St. Louiscon. The Art of Leo & Diane Dillon written by Leo Dillon, Diane Dillon and Byron Preiss would be nominated for a Best Related Non-Fiction Hugo at Chicon IV. They would win a World Fantasy Award for Lifetime Achievement. Some of my favorites? The first cover for Pavane. The Ace cover of The Left Hand of Darkness. And one for a deluxe edition of The Last Unicorn. (Died 2012.)
Born March 2, 1939 — jan howard finder. I'm not going to be able to do him justice here. He was a SF writer, filker, cosplayer, and of course fan. He was nicknamed The Wombat as a sign of affection and ConFrancisco (1993 Worldcon) was only one of at least eight cons that he was fan guest of honor at. Finder was even tuckerized when Anne McCaffrey named a character for him. (Died 2013.)
Born March 2, 1943 — Peter Straub. Horror writer who won the World Fantasy Award for Koko and the August Derleth Award for Floating Dragon. He's co-authored several novels with Stephen King, The Talisman which itself won a World Fantasy Award, and Black House. Both The Throat and In the Night Room won Bram Stoker Awards as did 5 Stories, a short collection by him. Ok you know that I'm rarely impressed by Awards, but fuck this is impressive! (Died 2022.)
Born March 2, 1960 — Peter Hamilton, 63. I read and quite enjoyed his Night's Dawn Trilogy when it came out and I'm fairly sure that I've read Pandora's Star and Judas Unchained as they sound familiar. (Too much genre fiction read over the years to remember everything…) What else have y'all read by him?
Born March 2, 1966 — Ann Leckie, 57. Ancillary Justice won the Hugo Award for Best Novel and the Nebula Award, Kitschies Award Golden Tentacle, Locus Award for Best First Novel, the Arthur C. Clarke Award, and the BSFA Award. Quite amazing. Her sequels Ancillary Sword and Ancillary Mercy did not win awards but are no less impressive.
(9) COMICS SECTION.
Dick Tracy seems to have started a crossover involving a Nero Wolfe character.
And Tom Gauld has been busy, too:
(10) FOR AMAZON PRIME MEMBERS. [Item by Dann.] Amazon just announced the First Reads books for Amazon Prime members. The genre title for March is House of Gold by C.T. Rwizi. He is the author of the outstanding Scarlett Odyssey series that concluded in 2022.
First Reads books are free to all Amazon Prime members. It is how I encountered C.T.'s first book Scarlett Odyssey a few years back. He is, in my opinion, a talented and overlooked author. House of Gold can be pre-ordered (free for Amazon Prime members) for delivery on April 1, 2023.
(11) PUT ANOTHER BARBIE ON THE MOON. Gizmodo reports how "Liquid Nitrogen Could Keep Moon Suits Free From Lunar Dust". And promises "No Barbie dolls were injured in the course of these experiments."
Pesky lunar dust is an annoying obstacle for astronauts landing on the Moon—it sticks to pretty much everything. New research from Washington State University may have cracked the code for keeping space suits dust-free, in which pressurized liquid nitrogen was used to literally blow the dust from surfaces.
(12) TINGLE TIME. Boing Boing points out that "Chuck Tingle's latest story has Dilbert creator Scott Adams getting screwed by his own racism".
(13) SCOPE IT OUT. Behind a paywall in Nature: "Asteroid photobombs JWST practice shots".
The James Webb Space Telescope (JWST) has spotted a small Solar System rock by chance during a calibration run…

…[the body is a] roughly 15-kilometre-wide object in the asteroid belt between Mars and Jupiter. The photos were taken to measure how one of the telescope's infrared cameras would respond. While analysing the data, the researchers spotted what looked like a much smaller asteroid, which they estimated to be 100–230 metres across.

If confirmed by subsequent observations, this would be one of the smallest objects ever seen in space — and JWST detected it at a distance of more than 130 million kilometres
(14) WORKING…. From Politico we learn: "OK Computer: Romania debuts 'world's first' AI government adviser".
Romanian Prime Minister Nicolae Ciucă surprised his Cabinet on Wednesday by introducing them to a new member — run completely on artificial intelligence.

Ciucă introduced the new "honorary adviser" called Ion to the rest of his ministers in a demonstration, with a face and words appearing on a digital screen, responding to the prime minister's prompts along with a computerized voice.

Ion was developed by Romanian researchers and will use artificial intelligence to "quickly and automatically capture the opinions and desires" submitted by Romanian citizens, Ciucă said.

"We are talking about the first government adviser to use artificial intelligence," both nationally and internationally, he said.

Romanians will be able to send their ideas through an accompanying website (ion.gov.ro) as well as on social media and some in-person locations. Ion will then synthesize their contributions for the government to consider, according to the coordinator of the research team, Nicu Sebe. Users won't, however, receive a response from Ion itself….
(15) LAST MONTH ON THE SCREEN. Here is what people were watching in February – according to JustWatch.
US Sci-Fi
| | | |
| --- | --- | --- |
| Rank* | Movies | TV shows |
| 1 | Everything Everywhere All at Once | Severance |
| 2 | M3GAN | Westworld |
| 3 | Infinity Pool | The Ark |
| 4 | Nope | The Peripheral |
| 5 | Edge of Tomorrow | Doctor Who |
| 6 | Interstellar | The Twilight Zone |
| 7 | The Outwaters | Quantum Leap |
| 8 | Eternal Sunshine of the Spotless Mind | Lost |
| 9 | Vesper | La Brea |
| 10 | Jurassic World Dominion | The Nevers |
*Based on JustWatch popularity score. Genre data is sourced from themoviedb.org
(16) VIDEO OF THE DAY. An old TV interview has surfaced again: "KGW Vault: Leonard Nimoy talks Spock, Star Trek in 1967".
Actor Leonard Nimoy who portrayed the now-famous Spock talks with KGW about his new role. The first episode of Star Trek aired on September 8, 1967. Nimoy explains that Spock is a man born of alien and human descent who has complete control over his emotions; a unique look at a character beloved by millions now.
[Thanks to John King Tarpinian, Chris Barkley, Andrew Porter, SF Concatenation's Jonathan Cowie, Dann, Daniel Dern, Michael Toman, Cat Eldridge, and Mike Kennedy for some of these stories. Title credit belongs to File 770 contributing editor of the day Daniel Dern.]