(1) STAR WARS PREMIERE. Photographer Al Ortega has posted 105 photos taken at last night's Hollywood premiere of Star Wars: The Force Awakens on Facebook.
And Craig Miller has an account of attending the premiere on Facebook too. Both are public.
(2) ON THE CARPET. CNN has Big Media's coverage of celebrities' responses to seeing the movie. I didn't spot any spoilers, but caveat emptor.
Finally, the most hilarious comment comes from Han Solo himself, Harrison Ford. Talking about how much he possibly enjoys red carpet events, he remarked: "I can't think of anything better to do! I do these in my backyard on Wednesdays."
(3) WINDING UP THE REWATCH. Michael J. Martinez completed his Star Wars rewatch in the nick of time — "Star Wars wayback machine: Return of the Jedi".
I think the Luke/Vader scenes work much better, especially when the Emperor is in the mix. Ian McDiarmid plays Palpatine with relish and Evil and it's pretty awesome. Luke's character goes through the wringer, and the performance is pretty damn good. And of course, we see Vader return to the Light. That wasn't too horribly predictable going into the movie, and it worked. The one thing that the prequels did well (or didn't mess up) was to show the beginning of Vader's arc and how he ended up tossing the Emperor down a well and being the good guy he always wanted to be.
Martinez says, "I'll be seeing the new one Thursday night, and will post a non-spoiler review on Friday. Thanks yet again for having me on File 770!"
(4) TAKE NO CHANCES. Nate Hoffelder at The Digital Reader claims "This Chrome Extension Will Protect You from Seeing Star Wars Spoilers".
And that's why I'm thrilled I found Force Block. This simple Chrome extension saves me from seeing any unwanted spoilers. After it's installed, any webpage that reveals details about the new Star Wars movie will look like this screenshot from movies.com…
(5) HO HO HO. Reason thinks Star Wars I-VI needs a parody collection of trigger warnings.
(6) MAGNUM OPUS. Whereas The Slipper works for its audience share with a rundown on how the original movies were handled in comics — "Something about that Space Wars thing everyone's talking about".
The Slipper knows how to leave them wanting more, as it ends by reproducing a series of Bloom County strips about Star Wars from the late Nineties.
(7) REEPICHEEP'S TAILOR? A Calgary metal artist crafts suits of armor for mice and cats.
Tiny helmets, shields and weapons could (theoretically) protect rodents and felines in battle…

It takes anywhere from 10 to 40 hours for de Boer to complete one suit of mouse armour. Cat armour takes much longer — 50 to 500 hours per piece
The link leads to a photo gallery of his work.
(8) LIVING COLOR. At Harry Bell – Fine Artist you can see glorious work like his oil painting of the London Millennium Bridge.
Harry is a past Hugo nominee (1979), Rotsler Award winner (2004), and two-time FAAn Award winner (1977, 2014).
(9) ADDITIONAL NOTES. Deborah J. Ross tells more about "My Love Affair with the Music of The Lord of the Rings" in today's installment at Book View Café.
Playing

When The Hobbit: An Unexpected Journey was released, I bought the easy piano/voice version of "The Song of the Lonely Mountain," from the closing credits of the movie. By this time, I was on my own, without my teacher, but the piece was comfortably within my skill level. I knew how to drill fiddly fingering passages and such like. The key as written was a little low for my voice, but manageable. I even figured out how to use paper clips to grab on to so I could turn the pages without breaking the flow of the song.

Of course, I wanted more. The song was so much fun, how I could I not want more? But I also wanted to challenge myself.
(10) MAKING SPACE. John Dodd's talks about letting go (how un-collector-like!) in "The Great Collection in the Sky" for Amazing Stories.
But, after wiping away the tears, I moved on. Later, my massive collection of comics and graphic novels had to go – sold at rock bottom price to a comics shop. There had been mint first editions in there, I thought, how dare he insult me with that price? But in the end, I relented. The collection was holding me back from moving on (quite literally – the new place wasn't big enough for all that paper and cardboard).

So, do I regret the letting go? Actually no, I don't. I made space for some truly amazing new things in my life…less "things" and more "experiences".
(11) RAIN OBITUARY. Author David Rain, who wrote sf as Tom Arden, died December 15 reports Locus Online.
Arden is best known for the five-book Orokon epic fantasy series, beginning with The Harlequin's Dance (1997). He also wrote standalone novels Shadow Black (2002) and The Translation of Bastian Test (2005), as well as Doctor Who novella Nightdreamers (2002), and numerous stories, reviews, and critical articles. As David Rains he published The Heat of the Sun (2012)….
(12) 3…2…1…BOOM! On December 15, 1960 The Traveler at Galactic Journey witnessed the nadir of America's space program, a fourth consecutive disaster — "Booby Prize (Pioneer Atlas Able #4)".
Today, NASA made a record–just not one it wanted to.

For the first time, a space program has been a complete failure.  Sure, we've had explosions and flopniks and rockets that veered too high or too low.  We've had capsules that popped their tops and capsules that got lost in the snow.  But never has there been a clean streak of bad missions.
(13) APPENDIX N. Jeffro Johnson closes out his series with "Appendix N Matters", a summary of his views about fantasy and its readers.
The retiring of Lovecraft's bust from the World Fantasy Awards is therefore not so much reminiscent of statues of Stalin being pulled down in post-Soviet Russia. It's more a reflection of the Berlin wall… going up. It used to be that reading centuries old books was almost universally considered to be a very good thing, to the point of being the very definition of an education. Now, looking into works that are merely decades old are increasingly beyond the pale. People with this attitude will even go so far as to object to having to read Ovid at university– and college administrators– far from standing up to this– seem instead to be on the lookout to accommodate this sort of thing.

In the not too distant past, though, the "dangerous visions" of the day could be enjoyed side by side with classic fiction by Lord Dunsany and A. Merritt. Professionals with highly divergent views on politics and religion could coexist within the pages of the same magazines. And people that were keen on challenging every imaginable taboo could get on within the same market where more traditional approaches to science fiction and fantasy were still practiced. People were free then in a way that's hard to even imagine now. Political correctness and its legions of freelance thought police were only just beginning to gain a foothold, and remnants old ways and attitudes could be taken for granted.

The Appendix N list preserves therefore not just a list of books that are of especial interests to fans of classic Dungeons & Dragons. It's also a snapshot of what fantasy fandom was into in the seventies. And don't let anyone tell you different. While the list is not without its idiosyncrasies, it is nevertheless a representative sample of the authors that would have been translated into foreign languages when other countries finally got around to importing the fantasy and science fiction phenomenon for themselves.
(14) ABIGAIL ON ANCILLARY. Abigail Nussbaum's review "Ancillary Justice by Ann Leckie" does a lot of what used to be called "praising with faint damns."
For example:
That Ancillary Justice is as much fun as it is feels all the more remarkable when you consider that it is, essentially, a book-long infodump.
Or:
…By this point, we've learned enough about the Radch and its stratified, class-conscious society to view the popularity of these kinds of stories with distrust–their narrative of virtue triumphing over social convention is intended to paper over the real issues of class prejudice that hinder most capable lower class citizens from climbing the social ladder (or the pitfalls that trip them up even once they've achieved a higher status, as in the case of Lieutenant Awn).  It's less clear whether we're meant to notice that Ancillary Justice is also one of these stories–Breq isn't just lower class, by the standards of the Radchaai she isn't even human, and yet by the end of the novel her courage and devotion to Lieutenant Awn have not only gained her the respect of several high-ranking Radch officials, but she has been granted citizenship and the command of her own ship.  All that's missing is the love story with a high-born Radchaai (and I'm betting rather heavily on that for the sequels).  Is it even possible to question the very idea of empire through what is essentially a Horatio Hornblower story?
(15) CORREIA. Don't just ask any professional, "Ask Correia #18: Creating 'Offensive' Characters" at Monster Hunter Nation.
That whole Bechdel Test thing? Where they ask are there two females in a scene who talk about something other than a man? Okay, first off, you shouldn't have to "test" your story for anything beyond is it readable and entertaining enough to sell it to somebody, but second WHO CARES? (well, a legion of Twitter feminists and gender studies professors obviously) Right off the bat most of the mega-selling romance genre fails the test, and most of those books are written by female authors for a female audience (and the romance genre makes serious bank compared to the rest of us).

There isn't some arbitrary test that if you pass you're good, and if you fail you're sexist. Because you see what they call me, and I wrote Grimnoir, where the single most important, pivotal, critical, essential dialog scene in the entire trilogy was two young women talking about origami on top of a blimp. Test passed, and I'm the International Lord of Hate.

The real test for every scene should be asking yourself, is this scene good? Is this entertaining? Does this advance the story? Does this scene expand the characters or the universe? But that should be every scene, not just the one with two female characters in it.
(16) EMPATHY. I wonder if Larry knows the subject in the neverbeenmad comic "2015 Voight Kampff Empathy Test"?
(17) Today In History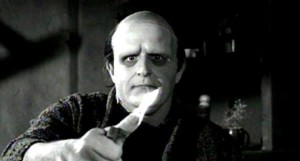 December 15, 1974 – Young Frankenstein was released.
December 15, 1978 — Superman with Christopher Reeve premiered.
(18) BRIN REMEMBERS CLARKE. Coinciding with the Syfy show's premiere, David Brin has penned a tribute "Childhood's End and Remembering Arthur C. Clarke".
And yet, what most intrigues me about Arthur's work is something else – his ongoing fascination with human destiny – a term seemingly at odds with the scientific worldview.

True, a great many of his stories have focused on problem-solving, in the face of some intractable riddle. His characters, confronted with something mysterious, aren't daunted. They gather resources, pool knowledge, argue, experiment, and then – often – transform the enigmatic into something that's wondrously known. This part of the human adventure has always shown us at our best. Peeling away layers. Penetrating darkness. Looking back at the wizard, standing behind the curtain.
(19) WHAT WILL BE IN TWO YEAR'S BEST COLLECTIONS . Through SF Signal I found
"Table of Contents: The Best Science Fiction of the Year Volume 1 Edited by Neil Clarke" (31 stories)
and
"Table of Contents: The Year's Best Science Fiction and Fantasy 2016 Edited by Rich Horton" (30 stories).
Somebody with more time than I have just now should see if there is any overlap…
(20) WALK ON THE WILD SIDE. James Bacon took "A Superhero Stroll Around New York City" when he was in town, and wrote it up on Forbidden Planet. Lots of photos too!
Paul Lepelletier is our guide for this superhero walk around New York City, and at two pm he gathers us all outside. This is a friendly group, and soon we all know where everyone is from, four from England, four from Boston, two locals from Manhattan, two from Scotland, two from New Jersey, and four other New Yorkers, it is a decent crowd..

Paul has worked for DC comics; he drew comics at one stage of his varied career, worked in the licensing division, and indeed, is an award winning graphic designer and marketer, but his love of comics, and his appreciation for having been involved with them, is quite clear.

His knowledge is strong, and soon we are hearing about Fleicher's Rotoscope technique and additions they made to the Superman ouevre, such as the famous Phone Booth as we stand outside their offices.

Soon we are on Park Avenue, looking at a building that housed Will Eisner's studio, and hearing about the relationship between Will Eisner and Bob Kane, about how Batman was sold, and how Bob Kane's own career developed and again looking at the building that housed his studio back in the day.

Paul's knowledge of comic characters and their history, especially on TV and Radio, is new ground to me. As well as Batman, he talks about the rise of marvel in the 1960s, the old movie serials and the germination of TV series.
(21) HWA LA SIGNING. On January 16, 2016 members of the Horror Writers Association LA will sign Winter Horror Days edited by David Lucarelli at a Burbank bookstore.
Join us Sunday January 10th 2-4 pm as members of HWA LA sign Winter Horror Days at Dark Delicacies, 3512 W Magnolia Blvd, Burbank, CA 91505
[Thanks to Martin Morse Wooster, James Bacon, Hampus Eckerman, Will R., Brian Z., and John King Tarpinian for some of these stories. Title credit goes to File 770 contributing editor of the day Jonathan Edelstein.]