The winner of the 2021 Diana Jones Award for Excellence in Gaming was announced on September 15.
Nibcard Games, a game publisher/manufacturer. This Nigerian board game company is helping to build a sustainable tabletop industry in Nigeria and producing AB Con (African Boardgame Convention), the first tabletop-game convention in West Africa.
Nibcard is the multi-faceted company at the heart of the nascent Nigerian games industry. It designs and publishes its own games but also manufactures for other companies, mentors new designers, evangelizes games as a hobby, and runs Nigeria's first games cafe and annual convention. All this is down to its founder, the tireless Kenechukwu "KC" Ogbuagu and his vision of "telling Nigerian stories through board games." Nibcard is much more than a local company doing well. It's a strong and original voice in publishing, creating a community of new makers and players across Africa and setting an example to the rest of the world of how to use games to make a difference.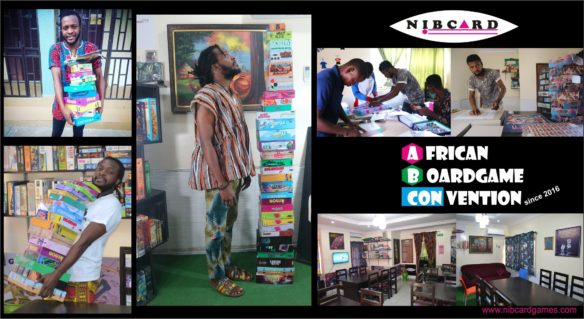 The award is given to the person, product, company, event or any other thing that has, in the opinion of the Diana Jones committee, best demonstrated the quality of 'excellence' in the world of tabletop gaming in the previous year. The award website discusses each nominee in detail here.
The Diana Jones Award committee has also announced the winner of the inaugural Diana Jones Emerging Designer Program, seeking "to highlight rising and impactful talent in the analog tabletop game industry."
Jeeyon Shim — The co-creator of Field Guide to Memory, Jeeyon is a groundbreaking game designer, multimedia artist, and outdoor educator based in California.
Jeeyon Shim is a second generation Korean American game designer, multimedia artist, and outdoor educator based in California. Her work is defined by her lyrical prose, innovative mechanics, and ability to create lasting connections between players and the world around them. Jeeyon's games have been featured on Polygon, Shut Up and Sit Down, and Dicebreaker, among other publications. 
The 2021 Diana Jones Award ceremony was held in Indianapolis the night before the opening of Gen Con, the world's largest tabletop games convention.