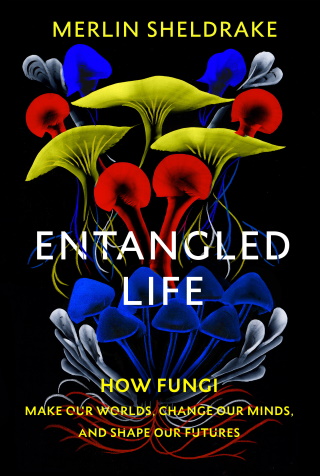 Entangled Life: How Fungi Make Our Worlds, Change Our Minds and Shape Our Futures by biologist and writer Merlin Sheldrake is winner of the 2021 Royal Society Science Book Prize, sponsored by Insight Investment. The prize was announced at a live ceremony on November 29 that also was streamed on YouTube.
The more we learn about fungi, the less makes sense without them. They can change our minds, heal our bodies and even help us avoid environmental disaster; they are metabolic masters, earth-makers and key players in most of nature's processes. In Entangled Life, Merlin Sheldrake takes us on a mind-altering journey into their spectacular world and reveals how these extraordinary organisms transform our understanding of our planet and life itself. Merlin Sheldrake is a biologist and a writer.
Chaired by Professor Luke O'Neill FRS, the 2021 judging panel was comprised of television presenter, Ortis Deley; mathematician and Dorothy Hodgkin Royal Society Fellow, Dr Anastasia Kisil; author and creative writing lecturer, Christy Lefteri, and journalist, writer and film maker, Clive Myrie.
O'Neill, Professor of Biochemistry in the School of Biochemistry and Immunology, Trinity Biomedical Sciences Institute at Trinity College Dublin, Ireland, commented: "Entangled Life is a fantastic account of the world of fungi, which to the uninitiated might seem unpromising as a topic, but which Merlin Sheldrake brings alive in the most vivid of ways. We learn all kinds of interesting things about fungi, from how they helped plants colonise land (which means without them we wouldn't be here) to how they form huge networks allowing trees to communicate (in the form of the 'Wood Wide Web'), to stories of fungus-gathering enthusiasts, how fungi might help save the planet by digesting plastic, and even how they can manipulate our minds. This is science writing at its very best, which yet again emphasises how the scientific method is so important in our effort to understand the world around us. Entangled Life is an important, scientifically rigorous and most of all entertaining read."
Brian Cox OBE, FRS, The Royal Society Professor for Public Engagement in Science, added: "At a time when science is front and centre of everyone's lives, making it accessible and understandable through great writing is more important than ever. The best science writing invites people to explore the world around them and view it in a new way, and Entangled Life is a perfect example. Exploring Nature always delivers insights that are surprising and often resonate way beyond the initial research or subject matter, and Merlin's wonderfully written book is a perfect example. From antibiotics to parasitic 'zombie infections', Entangled Life brings the reader face to face with the beauty and terror of Nature."
Sheldrake receives a cheque for £25,000, with £2,500 awarded to each of the other five shortlisted authors.
[Based on a press release.]