The nominees for the Astrid Lindgren Memorial Award 2022 were announced today. A total of 282 candidates from 71 countries are in the running for the world's largest children's literature award (SEK 5m, EUR 462,000).
The candidates list includes 72 who are new to the list, and consists of authors, illustrators, oral storytellers and reading promoters from several continents.
The award winner will be named on March 22, 2022.
Note: Due to WordPress' inability to handle some special characters, those names have been copied into graphics.
The list of nominees follows the jump.
ARGENTINA
María Teresa Andruetto, Author
Pablo Bernasconi, Author/Illustrator
CEDILIJ, Organisation
Jorge Luján, Author
María Wernicke, Author/Illustrator
AUSTRALIA
Jeannie Baker, Illustrator
Ursula Dubosarsky, Author
Susanne Gervay, Author
Indigenous Literacy Foundation, Organisation
Robert Ingpen, Author/Illustrator/Storyteller
Margo Lanagan, Author
AUSTRIA
Renate Welsh-Rabady, Author
Linda Wolfsgruber, Illustrator
Lisbeth Zwerger, Illustrator
AZERBAIJAN
Solmaz Amanova, Author
BELGIUM
Anne Brouillard, Author/Illustrator
Carll Cneut, Illustrator
Gerda Dendooven, Illustrator
Ingrid Godon, Illustrator
Anne Herbauts, Author/Illustrator
Thomas Lavachery, Author
BOSNIA AND HERZEGOVINA
BRAZIL
Roger Mello, Author/Illustrator
André Neves, Author/Illustrator
BULGARIA
Kapka Kaneva, Illustrator
Julia Spiridonova, Author
CAMEROON
Christian Epanya, Author/Illustrator
CANADA
Isabelle Arsenault, Author/Illustrator
Canadian Children's Book Centre, Organisation
Deborah Ellis, Author
Jacques Goldstyn, Author/Illustrator
Robert Munsch, Author/Illustrator/Storyteller
Eric Walters, Author
CANADA/IRAN
Nahid Kazemi, Illustrator
CANADA/UNITED STATES
Zetta Elliott, Author/Illustrator
Jon Klassen, Author/Illustrator
CHINA
Gerelchimeg Blackcrane, Author
Cai Gao, Illustrator
Dandangzhe Foundation, Organisation
Qin Wenjun, Author
Xiong Liang, Author/Illustrator
Zhang Qiusheng, Author
Zhang Zhilu, Author
CHILE
María José Ferrada, Author
COLOMBIA
Triunfo Arciniegas, Author
Biblioburro (Luis Sorrano), Organisation
Ivar Da Coll, Author/Illustrator
Proyecto Gulliver, Organisation
Yolanda Reyes, Author
Un trueque de saberes ­Biblioteca Rural Itinerante, Organisation
DEMOKRATIC REPUBLIC OF CONGO/UNITED KINGDOM
Dominique Mwankumi, Author/Illustrator
CROATIA
Dubravka Kolanovic, Author
CYPRUS
Andri Antoniou, Author
Costas Katsonis, Author/Reading promoter
CZECH REPUBLIC

DENMARK
Kim Fupz Aakeson, Author
Otto Dickmeiss, Illustrator
Marianne Iben Hansen, Author
Dorte Karrebæk, Author/Illustrator
Charlotte Pardi, Illustrator
Jakob Martin Strid, Author/Illustrator
DOMINICAN REPUBLIC
Julia Álvarez, Author/Storyteller
ECUADOR
Roger Ycaza, Illustrator
EGYPT
Randa El Sawi, Storyteller
ESTONIA
Kadi Kurema, Illustrator
Viive Noor, Illustrator
Aino Pervik, Author
Marja-Liisa Plats, Illustrator
FINLAND
Linda Bondestam, Illustrator
Jenny Lucander, Illustrator
Marika Maijala, Author/Illustrator
Sanna Mander, Illustrator
Irmelin Sandman Lilius, Author
Salla Simukka, Author
Maria Turtschaninoff, Author
Anne Vasko, Illustrator
FRANCE
Agence quand les livres reliant, Organisation
Gilles Bachelet, Illustrator
Marc Boutavant, Illustrator
Timothée de Fombelle, Author
Bernard Friot, Author
Marie-Aude Murail, Author
François Place, Author/Illustrator
Claude Ponti, Author
François Roca, Illustrator
GEORGIA
Zaza Abzianidze, Author/Illustrator
Varlam Jmukhadze, Illustrator
Irma Malatsidze, Author/Illustrator/Reading promoter
Nikozi Saint Alexander Okropiridze Art School, Organisation
Tea Topuria, Author
Mariam Tsiklauri, Author
GERMANY
Kirsten Boie, Author
Nadia Budde, Illustrator
Nikolaus Heidelbach, Illustrator
Internationale Jugendbibliothek, Organisation
Labor Ateliergemeinschaft, Organisation
Jens Rassmus, Author/Illustrator
Andreas Steinhöfel, Author
GREECE
Diavazontas Megalono, Organisation
Vassilis Papatheodorou, Author/Reading promoter
Loty Petrovits-Andrutsopulou, Author
Argyro Pipini, Author/Reading promoter
GREENLAND
Naja Rosing-Asvid, Author/Illustrator
Lene Therkildsen, Reading promoter
HUNGARY
Judit Berg, Author
Tibor Kárpati, Illustrator
ICELAND
Gunnar Helgason, Author/Reading promoter
Brian Pilkington, Illustrator
INDIA
A & A Book Trust, Organisation
Pratham Books, Organisation
INDONESIA
Kelompok Pencinta Bacaan Anak (KPBA), Organisation
IRAN
Feraidoon Amoozadekhalili, Author
Abdolhakim Bahar, Reading promoter
Shahla Eftekhari, Reading promoter
Jamshid Khanian, Author
Mobile Library, Organisation
Houshang Moradi Kermani, Author
Read with me, Organisation
Mohammad Reza Shams, Author
Aliasghar Seidabadi, Reading promoter
Hamid Reza Shahabadi, Author
IRELAND
Roddy Doyle, Author
Marie Louise Fitzpatrick, Author/Illustrator
PJ Lynch, Illustrator
ISRAEL
Rutu Modan, Author/Illustrator
ITALY
Chiara Carminati, Author/Reading promoter
Museo della gente della Val Resia, Organisation
Luigia Negro & Sandro Quaglia, Storytellers
Roberto Piumini, Author
Silent Books Lampedusa, Organisation
ITALY/FRANCE
Beatrice Alemagna, Author/Illustrator
JAPAN
Kyoko Matsuoka, Reading promoter
Seizo Tashima, Illustrator
JORDAN
Taghrid al-Najjar, Author
REPUBLIC OF KOREA
Kim Jung-mi, Author
Korean Children's Book Association, Organisation
LATVIA
Anete Melece, Illustrator
Gita Treice, Illustrator
LEBANON/BELGIUM
Fatima Sharafeddine, Author
LITHUANIA
MEXICO
Verónica Murguía, Author
MOLDAVIA
Ion Creanga National Children's Library, Organisation
MONGOLIA
Turmunkh Batbayar, Illustrator
Sundui Oyunbadam, Author
NETHERLANDS
De SchrijversCentrale, Organisation
Tonke Dragt, Author/Illustrator
Ted van Lieshout, Author/Illustrator
Gideon Samson, Author
Thé Tjong-Khing, Author/Illustrator
NETHERLANDS/SWEDEN
Marit Törnqvist, Author/Illustrator
NICARAGUA
German Nicaraguan Library and the "Bibliobús Bertolt Brecht", Organisation
NIGERIA
Atinuke, Author/Storyteller
NORWAY
Lisa Aisato, Author/Illustrator
Gro Dahle, Author
Anna Fiske, Author/Illustrator
Foreningen !les, Organisation
Ante Mikkel Gaup, Storyteller
Stian Hole, Author/Illustrator
Leser søker bok, Organisation
Gry Moursund, Author/Illustrator
Svein Nyhus, Author/Illustrator
Bjørn F. Rørvik, Author
Øyvind Torseter, Illustrator
Trøndelag County Library, Organisation
PALESTINE
Sonia Nimr, Author
PHILIPPINES
Virgilio Almario, Author
Neni Sta. Romana Cruz, Reading promoter
POLAND
PORTUGAL
Bernardo P. Carvalho, Illustrator
Cristina Carvalho, Author
António Jorge Gonçalves, Illustrator
André Letria, Illustrator
Isabel Minhos Martins, Author
Catarina Sobral, Illustrator
ROMANIA
Florin Bican, Author/Storyteller/Reading promoter
Andrea Kürti, Illustrator
Anamaria Smigelschi, Author/Illustrator
Done Stan, Illustrator
RUSSIAN FEDERATION
Anastasia Arkhipova, Illustrator
Mikhail Bychkov, Illustrator
Children's Library named after Sergey Mikhalkov in Krasnoyarsk, Organisation
Nina Dashevskaya, Author
Julia Gukova, Illustrator
Tatyana Kormer, Illustrator
Kostyor Magazine, Organisation
Svetlana Lavrova, Author
Alexandra Litvina, Author
Alexey Oleynikov, Author
Igor Oleynikov , Illustrator
Russian State Children's Library, Organisation
Saint Petersburg Central City Children's Library named after Alexander Pushkin, Organisation
Anna Starobinets, Author
Eugenia Sterligova, Illustrator
Anastasia Strokina, Author
Alexander Traugot, Illustrator
SERBIA
SLOVENIA
Polona Lovšin, Illustrator
Boris A. Novak, Author
Alenka Sottler, Illustrator
Anja Štefan, Author/Storyteller
Ana Zavadlav, Illustrator
SOUTH AFRICA
Book Dash, Organisation
Niki Daly, Author/Illustrator
Gcina Mhlophe, Author/Storyteller/Reading promoter
Kagiso Lesego Molope, Author
SPAIN
Bibliotecas Escolares de Galicia, Organisation
Paula Carballeira, Storyteller
Jacqueline Molnár, Illustrator
Elena Odriozola, Illustrator
Jordi Sierra i Fabra, Author
SUDAN
Salah Elmur, Illustrator
SWEDEN
Anna Höglund, Author/Illustrator
Jenny Jägerfeld, Author
Pija Lindenbaum, Author/Illustrator
Eva Lindström, Author/Illustrator
Gunilla Lundgren, Reading promoter
Jan Lööf, Author/Illustrator
Frida Nilsson, Author
Anna-Clara Tidholm, Author/Illustrator
Cecilia Torudd, Author/Illustrator
Jakob Wegelius, Author/Illustrator
Jujja Wieslander, Author
Ilon Wikland, Illustrator
SWITZERLAND
Albertine, Illustrator
Franz Hohler, Author
Catherine Louis, Illustrator
Jürg Obrist, Illustrator
Ingeborg Rotach, Author
THAILAND
Cheewan Wisasa, Author
TURKEY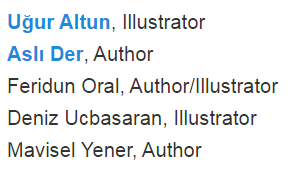 UKRAINE
Oleksandr Dermanskyi, Author
UNITED KINGDOM
Allan Ahlberg, Author
Malorie Blackman, Author
Quentin Blake, Author/Illustrator
Anthony Browne, Author
Centre for Literacy in Primary Education, Organisation
Aidan Chambers, Author/Reading promoter
Juno Dawson, Author
Gyre & Gimble, Storyteller
Daniel Hahn, Author/Reading promoter
Frances Hardinge, Author
Shirley Hughes, Author/Illustrator
Patrice Lawrence, Author
Patrick Ness, Author
Michael Rosen, Author/Reading promoter/Storyteller
Katherine Rundell, Author
John Shelley, Illustrator
Verna Wilkins, Author
UNITED KINGDOM/SOUTH AFRICA
Beverley Naidoo, Author
UNITED STATES
Elizabeth Acevedo, Author/Storyteller
Laurie Halse Anderson, Author
Kate DiCamillo, Author
Nikki Grimes, Storyteller
Maira Kalman, Author/Illustrator
Stephen Krashen, Reading promoter
David Macaulay, Illustrator
Margaret Read MacDonald, Author/Storyteller
Yuyi Morales, Author
Kadir Nelson, Author/Illustrator
Jason Reynolds, Author
Rick Riordan, Author
Raina Telgemeier, Author/Illustrator
Jack Zipes, Author/läsfrämjare/Storyteller
UNITED STATES/KENYA
Children's Literature for Children, Organisation
ZAMBIA
Lubuto Library Partners, Organisation
ZIMBABWE
Ken Wilson-Max, Illustrator
The candidates' geographical spread for the 2022 award:
| | | |
| --- | --- | --- |
| Africa | 18 | 6 % |
| Asia | 57 | 20 % |
| Europe | 161 | 57 % |
| South America | 18 | 7 % |
| North America | 23 | 8 % |
| Oceania | 5 | 2 % |
For further information abo