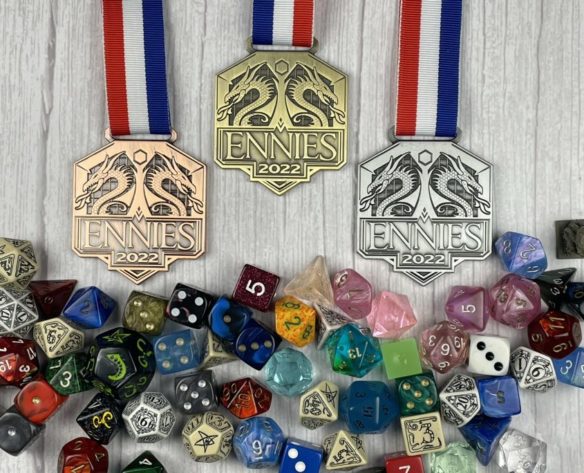 The 2022 ENnie Nominees and Judges Spotlight Winners are out.
The ENnie Awards are an annual, fan-based juried award system for all tabletop RPGs. The ENnies were created in 2001 as an annual award ceremony, hosted by the leading D&D/d20 system fan site, EN World in partnership with Eric Noah's Unofficial D&D 3rd Edition News.
Winners will be announced from Gen Con on August 5 at 8:00 p.m. Eastern in the Crown Plaza Union Station Grand Hall. The ceremony can also be watched live via the ENNIE Award YouTube channel.
JUDGES' SPOTLIGHT WINNERS
Amelia Antrim– Dwelling, Good Luck Press
Author: Seb Pines
Di – Stack of Goblins, CobblePath Games
Author: Jack Milton
Christopher Gath – Shanty Hunters, Molten Sulfur Press
Author: Tristan Zimmerman
Salim Hakima – Kobold Guide to Monsters, Kobold Press
Authors: Monte Cook, Wolfgang Baur, Mike Mason, Crystal Frasier, Mike Shea, Shanna Germain, Steve Winter, and many more
Shiny O'Brien – Wickedness, Possum Creek Games
Author: M Veselak
BEST ADVENTURE
BEST AID/ACCESSORY – DIGITAL
BEST AID/ACCESSORY – NON – DIGITAL
BEST ART, COVER
BEST ART, INTERIOR
BEST CARTOGRAPHY
BEST ELECTRONIC BOOK
BEST FAMILY GAME / PRODUCT
BEST FREE GAME / PRODUCT
BEST GAME
BEST LAYOUT AND DESIGN
BEST MONSTER/ADVERSARY
BEST ONLINE CONTENT
BEST ORGANIZED PLAY
BEST PODCAST
BEST PRODUCTION VALUES
BEST RPG RELATED PRODUCT
BEST RULES
BEST SETTING
BEST SUPPLEMENT
BEST WRITING
PRODUCT OF THE YEAR