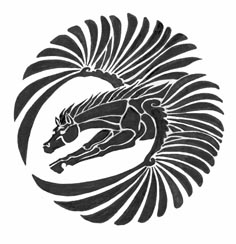 The 2022 Pegasus Award finalists were announced on August 26. The Pegasus Award is presented by the Ohio Valley Filk Fest (OVFF) for excellence in filking.
Anyone in the filk community can vote on the winners, and community is broadly defined — check out the rules here.
Whether or not you vote, enjoy the sound clips of the nominees here (where there are also links to the lyrics and information about the artists).
BEST FILK SONG

"The Entwife" – Summer Russell
"Following Our Dreams" – Lawrence Dean
"I Am I" – Eva Van Daele-Hunt
"Poisoned Apples" – Don Neill
"Spirals In Your Eyes" – Peter Alway
BEST CLASSIC FILK SONG
"Come Ye Knights" – Sheila Willis
"Crimson & Crystal" – Cynthia McQuillin
"Helva's Song" – Cecilia Eng
"I Am Stardust" – Lloyd Landa
"Storm Dancing" – Tom Smith
BEST PERFORMER (Artist & Representative Song)
Tim Griffin – "Prepare to Die"
Daniel Kelly – "God Made Cats"
Jen Midkiff – "Lucy on the Line"
Madison "Metricula" Roberts – "All the Pretty Horses (Drowning Song)"
Via Bella – "Fighting the Black Thing"
BEST WRITER/COMPOSER (Artist & Representative Song)
Cecilia Eng – "I Still Love You 'Til the End"
Kari Maaren – "Being Watson"
Cathy McManamon – "Into the Sea"
Ben Newman – "The Secret Festival of Sandcastles"
Summer Russell – "Voices"
BEST FURRY FRIEND SONG (Song & Artist)
"A Habitrail Named Klein" – Blake Hodgetts
"Job the Armored Donkey" – Rhiannon's Lark
"Meownir" – Madison "Metricula" Roberts
"Nobody's Moggy Lands" – Bob Kanefsky
"Underfoot" – Jen Midkiff
BEST SONG THAT TELLS A STORY (Song & Artist)
"The Alien Jellyfish Song" – Chris Conway
"Before the Dawn" – Mike Whitaker
"Colin" – Steve Macdonald
"Nine hundred and ninety-nine" – Mich Sampson / Marilisa Valtazanou
"Scarlet Town" – Cathy McManamon