By Steve Vertlieb: My brother Erwin and I had been listening to the "Red" Benson Show late one night in 1962 over WPEN Radio here in Philadelphia when Paramount Pictures was promoting its then new release from director Howard Hawks, Hatari. Red's guests on that quite memorable radio program were "Red" Buttons (it was a scarlet evening), Bruce Cabot (King Kong leading man, Jack Driscoll), and a fella named Marion Michael Morrison…or John Wayne. It was a delightful interview with the cast of the newly-released summer escapist family adventure film which was to premiere locally the next morning at The Stanton Theater in downtown Philadelphia.
Erwin and I desperately wanted to see the new Wayne film, but wanted even more to see John Wayne in person. I determined that we could see the film at our local movie "palace," The Benner Theater, but that this might be our only opportunity to ever see the "Duke" in person. So, rather than sit at the back of a packed movie house and catch merely a brief glimpse of the cast on a tiny distant stage, we resolved to go to the back of the movie theater and see them as they re-emerged from their special appearance.
At the outer entrance to the theater in the waiting alley was a tiny fleet of zebra striped jeeps awaiting their occupants return. As the door flew open, Red Buttons appeared, followed in quick succession by Bruce Cabot…and, at last, The "Duke" himself. I asked both Red Buttons and Bruce Cabot to sign my little autograph book. As the outer door to the movie theater swung open once more, I gasped…for there in front of me stood John Wayne, a giant mountain of a man literally towering over me. I was much too much in awe of this amazing super star and motion picture icon to do much of anything but watch him move gracefully from the theater to his jeep, but we did race to Independence Square on this July 4th holiday to watch him deliver his keynote address at Philadelphia's Independence Hall that morning.
Some years later I wrote Wayne at his production company, "Batjac" Films (taken from the name of Luther Adler's shipping company in Wayne's Wake of the Red Witch), of that quite remarkable day, and of my lifelong love for both the man and his movies. This, then, is the letter that he was kind enough to write me in response.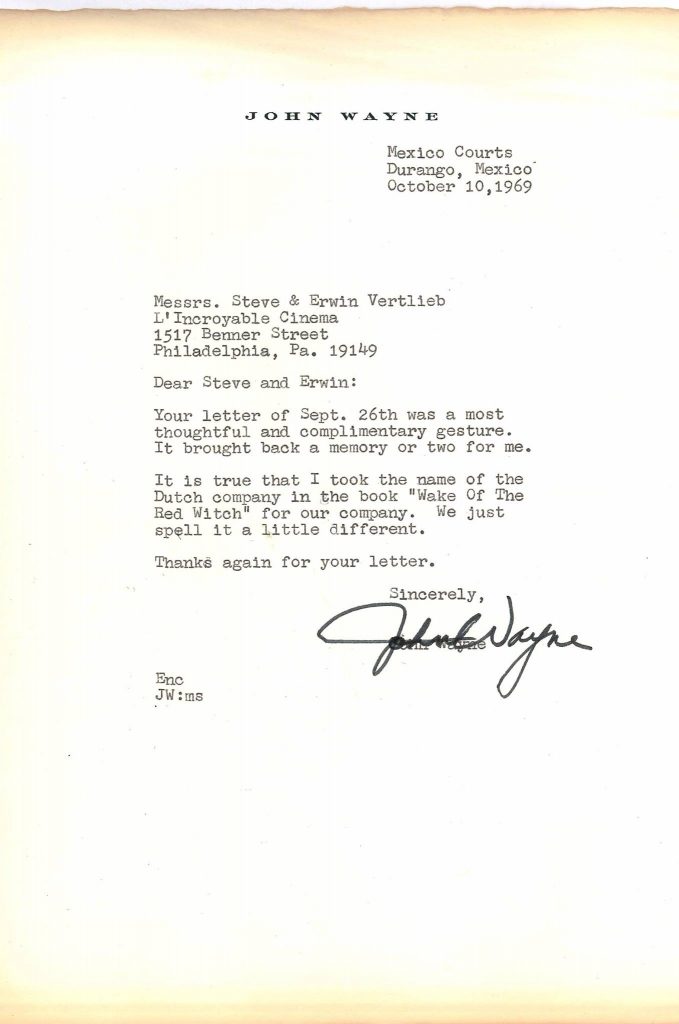 The "Duke," John Wayne, in his Oscar-winning characterization as Rooster Cogburn in True Grit. I'd written of my affection for this wonderful actor to his production entity, "Batjac" Productions in Hollywood, and he was kind enough to respond with both a personally inscribed photograph and a lovely letter which I shall also post. While his politics may have been diametrically opposite from mine, both Erwin and I have maintained a lifelong love, admiration, and respect for the "Duke," whose body of work in motion pictures places him easily, along with Gable, Cooper, Tracy, and Stewart, among the greatest stars in motion picture history. There will never be another John Wayne, nor shall we ever see his like again. He belongs to an era of Hollywood, sadly, "Gone With The Wind."