Annie Koyama and her Koyama Provides program is the 2022 recipient of the Bob Clampett Humanitarian Award. The award will be presented by Ruth Clampett, Bob's daughter, during the Will Eisner Comic Industry Awards Ceremony on July 22.
Annie is the founder of Toronto-based Koyama Press, which she ran for over 13 years. Her mandate was to promote and support a wide range of emerging and established artists, publishing comics, graphic novels, art books, and zines. The company was known for its alternative edge and diverse range of titles, from autobiography to photography, from horror to humor. After ceasing the publishing arm of the company, Annie created Koyama Provides, a grant initiative to help artists at all stages of their careers. Since its inception, she has given out approximately 90 grants to artists. By the end of this year, $300,000 will have been given out.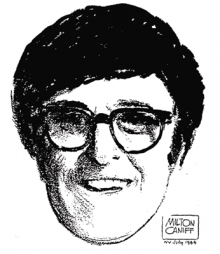 Comic-Con International's Humanitarian Award is presented in the name of famed animator Bob Clampett, who created the TV series Beany and Cecil, designed such popular characters as Porky Pig and Tweety Bird, and directed 84 classic Warner Brothers cartoons. Clampett was a regular guest a Comic-Con in the 1970s and early 1980s. After his death in 1984, the award was created to honor those people in comics and the popular arts who have worked to help others. The recipient is chosen by the Comic-Con committee.