By James H. Burns: I was raised in a home where Martin Luther King was a respected leader, and Muhammad Ali was one of the few sports heroes my Dad had as an adult.
So when I saw some of the African-ethnic stereotypes in George Pal's Puppetoons, or other shorts and films from the 1930s, and afterwards, they had no perceptible negative effect on me.  My parents were raising me to believe that all people were created equal.
It is still, of course, completely understandable how some people could find some of the imagery offensive.
And it is extraordinary to think that these shorts were being shown on local childrens' TV during the height of the Civil Rights Movement.
But it's a particular tragedy, because the Puppetoons, cartoon-length shorts featuring remarkable stop-motion animation, may have been the very best fantasy filmmaking George Pal was ever responsible for.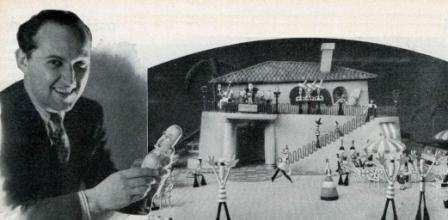 The success of Pal's series at Paramount (also known as "George Pal's Madcap Models"), led to his feature film-making career, as both a director and producer, including Destination Moon, War of the Worlds, When Worlds Collide, Tom Thumb, and The Time Machine; and such mainstream efforts as Houdini and The Naked Jungle.
Pal. a European emigrant, was heartbroken by the racist allegations against his early films. He regarded his character Jasper, a little boy who would be consistently conned by a talking scarecrow, to be on a par with Tom Sawyer, or other American fables. He created the extraordinary short, John Henry and the Inky Poo, to help show that he held nothing but respect for ALL cultures.
Most of the Pal shorts haven't been shown for decades. Some of the wonderful compilations that have been produced usually omit the majority of the Puppetoons catalog.
The shorts could be presented to the modern audience, I believe, with explanatory context, in a program hosted perhaps by someone like Whoopi Goldberg, who as a New Yorker, I'm certain, also grew up with these films.
Why is any of this important?
Because the imagery in some of the Puppetoons remains some of the most astonishing fantasy milieus ever put on celluloid. Some of the shorts were nominated for Oscars, and other awards.
I grew up with these films early in the morning, in a half-hour that also included the old "Sing Along" cartoons, and Herge's Adventures of Tin Tin.
As with The Little Rascals shorts that also ran on that era's television, they filled me only with affection for ALL the different characters.
(Sociologists almost always miss the point that the kids who grew up with supposedly racist material, became the adults who marched along with Dr. King, or otherwise supported the cause of equality.  Perhaps the greatest message of some of these films — despite offensive stereotypes in some instances — was the love the characters were most often depicted with, or shown having for each other.)
I was astonished this afternoon, to see the following short for the first time in nearly fifty years. As a child, it held me spellbound…  And with all the scariness, the dreamlike visions, often viewed shortly after having just actually woken up, were mesmerizing…
The scenes, you'll see, are like something out of a painting by Hannes Bok.
I've been in love with the better nature of this material since I was a boy, and wrote one of the only, or at least one of the first histories, of the Puppetoons back in the late 1970s, which included my interview with Pal, for Fantastic Films magazine (the predecessor to Filmfax).
A scene in "A Date With Duke," starring Duke Ellington is to me, one of the most joyous expressions I've ever seen on film:  moments which should become self-evident!
If these shorts are not objectionable, perhaps we can present more.
The George Pal Puppetoons are a chapter of fantasy filmmaking that perhaps again, in the 21st Century, can be safe, and wondrous, to view.