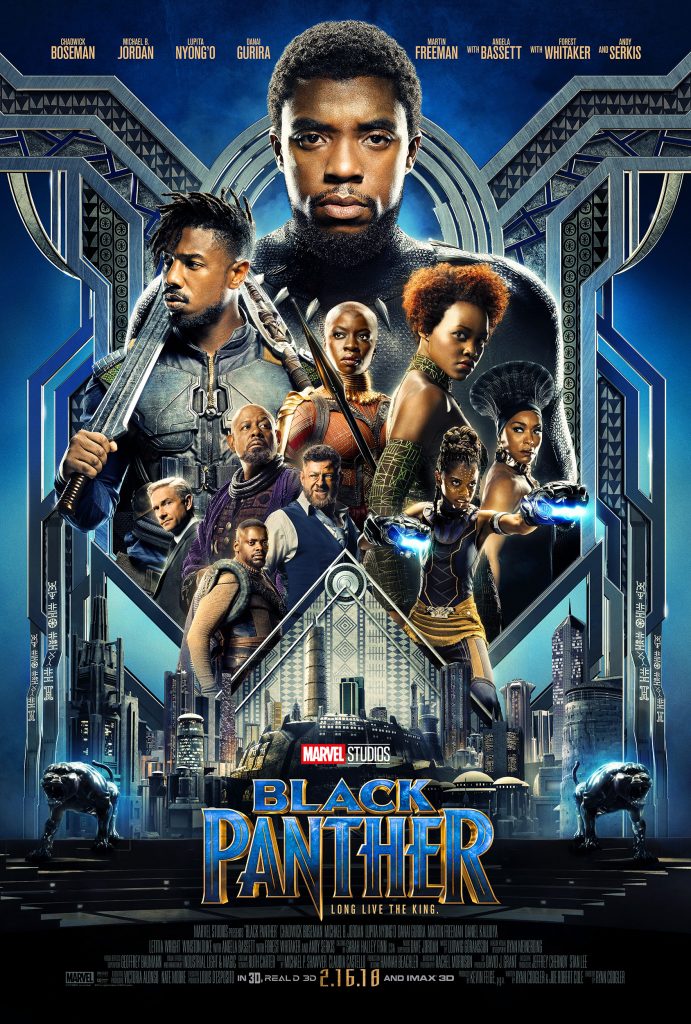 File 770's Black History Month, Part One: Black Panther
By Chris M. Barkley:
Black Panther (2018, ****) with Chadwick Boseman, Michael B. Jordan, Lupita Nyong'o, Danai Gurira, Daniel Kaluuya, Angela Bassett, Winston Duke, Forest Whitaker, Andy Serkis and Martin Freeman. Written by Ryan Coogler and Joe Robert Cole, based on characters created by Jack Kirby and Stan Lee, Directed by Ryan Coogler.
Bechdel Test: PASS!!!!!
Ever since Marvel Studios first announced in 2014 it was developing a film version of the iconic black superhero, Black Panther, a great deal of hype and anticipation has surrounded its production. And now, I can tell you, without any hesitation, that this film has exceeded all my expectations.
Set shortly after the assassination of the King T'Chaka of Wakanda in Captain America: Civil War, heir apparent Prince T'Challa (a magnificently ripped Chadwick Boseman) is to be crowned the new King. But although T'Challa has trained and studied for this moment for a majority of his life, he feels as though he is unready and can never be the equal of his father.
T'Challa has bigger problems; the path to the crown does not go unchallenged. M'Baku (Winston Duke), the powerful leader of the agrarian northern tribe tries to depose him, a master criminal, Ulyssess Klaue (Andy Serkis) is at large peddling vibranium, the precious metal that fuels Wakanda's existence and is distracted by his ex-lover by his concern over the safety of (Lupita Nyong'o), who spends most of her time outside the kingdom as a secret service agent.
But the sudden emergence of Erik Stevens (Michael B. Jordan), a previously unknown heir to the throne suddenly appears to pose the biggest threat to T'Challa and his kingdom. A trained killer, he aids Klaue's activities and seeks to take Wakandan weapons and technology to "liberate" the oppressed minorities of the world in order to dominate the world for himself.
The Black Panther debuted June 1966 in Fantastic Four # 52 and 53 by Jack Kirby and Stan Lee. It is only natural to expect Marvel Comics, the innovative group of creators that gave us angst driven teenage heroes (Spider-Man and the X-Men) heroes and villains with anger issues (The Hulk, Namor, the Sub-Mariner and Doctor Doom) and physical disabilities (Daredevil) would bring the world the very first, true black superhero. I personally believe that they created the Black Panther out of their observations of the civil rights movement and seeing the potential of building bridges to the youthful African-American audience hungry for heroes they can identify with.
(In October of that year, Bobby Seale and Huey Newton created the influential revolutionary group, The Black Panthers for Self Defense as a reactionary counterpart of Martin Luther King's non-violent movement. Neither man confirmed that the group was named after Marvel's hero but just calling it merely a coincidence is a bit of stretch.)
I have had the privilege of watching the character of the Black Panther evolve over the decades to come to this particular moment in black cultural history.
There are several reasons why this particular film is important right now:
A) As the 17th film in the Marvel Cinematic Universe, writer-director Ryan Coogler has assembled of the largest and most diverse casts of black actors, both of American and international origins, in recent memory.
B) The story provides a different, but important slice of the Marvel Universe that many readers of comics were familiar with but most moviegoers were probably unaware of.
C) It also shows a fictionalized region of Africa that has never been colonized, despoiled or exploited by any outside forces, an idealized place where love of country goes hand in hand with advanced technology.
But beneath there are clearly cracks in Wakanda's utopian vision here; much of the country's internal success has come from a traditional intense sense of secrecy that does not allow any other points of view. When Erik "Killmonger" Stevens arrives to make his play for Wankandan crown, he finds a fertile ground to sow his nefarious plot. And what should be nagging in the back of every viewer's mind is could there be a kernel of truth in what he's seeking.
T'Challa may have a suit of vibranium and advanced weapons at his disposal but he knows he cannot prevail on his own. He is blessed with some serious backup; covert operator Nakia, the fearsome Okoye (Danai Gurira), the head of his all female special forces unit, his beloved mother Ramonda (Angela Bassett), a frenemy CIA agent Everett Ross (Martin Freeman) and his spunky and techno-genius sister Shuri (Letitia Wright) who steals practically every scene she's in.
Ryan Coogler and co-writer Joe Robert Cole deserve an enormous amount of credit in balancing everyone's role so the movie feels like a beautifully infectious fever dream of action, adventure and personal tragedy.
The advanced ticket sales of Black Panther have ensured its financial success, both here in America and overseas. But its cultural impact can only be measured by the number of new projects featuring racially and sexually diverse cast will made in the near future. I, along with you and many others, can only watch and wait.
ONWARD, WAKANDA!