Top Recommendations for the 2021 Hugo Award for Best Dramatic Presentation, Part One
By Chris M. Barkley: The end of January marked the beginning of the nomination period for the 2021 Hugo Awards, which will remain open until March 19th at Midnight (Pacific Daylight Time).
We all continue to slog through and survive the COVID-19 pandemic of 2020-2021 (so far) by wearing a mask in public, practicing social distancing, staying out of theaters and mostly sheltering in place.
And the thing that REALLY helped us all from going mad in confinement was the incredible cornucopia of films, streaming series and special events that could have easily filled a dozen Best Dramatic Presentation Long and Short Form ballots this year.
In a perfect world, all of these nominees would be on the ballot. But, alas, we are limited by the number of slots available to fill in.

My criteria for a work being "Hugo Worthy" is obviously going to differ from yours. Also, I fully recognize that what I might consider the cream of the crop does not even begin to scratch the surface of other dramatic works; the plays, short videos and music albums that first saw the light of day in 2020.
At this point, I'd like to climb up on my soapbox and complain, LOUDLY, about the inequities of the Best Dramatic Presentation split, which, ironically, I and several others originally proposed at the Aussiecon 3 World Science Fiction Society Business Meeting in 1999 and helped along to its inauguration at Torcon III in 2003.
Here is the current wording of the Best Dramatic Presentation in the WSFS Constitution:
3.3.8: Best Dramatic Presentation, Long Form. Any theatrical feature or other production, with a complete running time of more than 90 minutes, in any medium of dramatized science fiction, fantasy or related subjects that has been publicly presented for the first time in its present dramatic form during the previous calendar year.
3.3.9: Best Dramatic Presentation, Short Form. Any television program or other production, with a complete running time of 90 minutes or less, in any medium of dramatized science fiction, fantasy or related subjects that has been publicly presented for the first time in its present dramatic form during the previous calendar year.
To the casual observer, this seems like an excellent division that could neatly separate most theatrical movies from television episodes, which for the most part it did during the first decade of its existence.
But the number of fantasy, horror and sf projects in every medium has grown exponentially over the past two decades. Although several ideas about amending the BDP Hugo categories have been explored and proposed in the past few years, my good friend and (legendary) UK fan, Vincent Docherty, came up with what we thought was a serviceable solution several years ago. After consulting with Mr. Docherty, I made a few slight changes in the original proposal and offer them here publicly for the first time:
Best Dramatic Presentation – Feature Film: Any theatrical, feature length film for screening, television, the internet or any other source, in any medium of dramatized science fiction, fantasy or related subjects that has been publicly presented for the first time in its present dramatic form during the previous calendar year.
Best Dramatic Presentation – Episodic Series: Any continuing television series, presented on television, the internet or any other source, in any medium of dramatized science fiction, fantasy or related subjects that has been publicly presented for the first time in its present dramatic form during the previous calendar year.
Best Dramatic Presentation – Other Forms: Any visual program OR any other media production, which is neither a stand alone feature film or a television series, in any medium of dramatized science fiction, fantasy or related subjects that has been publicly presented for the first time in its present dramatic form during the previous calendar year.
I think this proposal easily separates movies, television series and individual episodes of anthology series, plays, music albums and practically any other qualifying works. Whether or not this, or anything like it, will ever be implemented will be up to the members of the WSFS Business Meeting.
One of the continuing pet peeves I have had with Hugo voters over the past few years is that they still tend to nominate individual episodes of a miniseries or a continuing series instead of nominating the whole work. I was especially disappointed when HBO's Watchmen and The Mandalorian, which were both obviously serial stories, had individual episodes nominated and were not nominated on the whole as a series as they should have been. As a result, neither project won Hugo Awards.
In the capsule reviews I am offering below, I have separated the feature films (which will be presented in Part Two of this column) from the ongoing series. And while I will offer some suggested episodes for individual honors, I also heartily opine that each should be nominated in the Long Form category, too. (Happily climbs off the soapbox…)
So, let's move on to this year's prospective nominees…
[Capsule reviews begin after the jump.]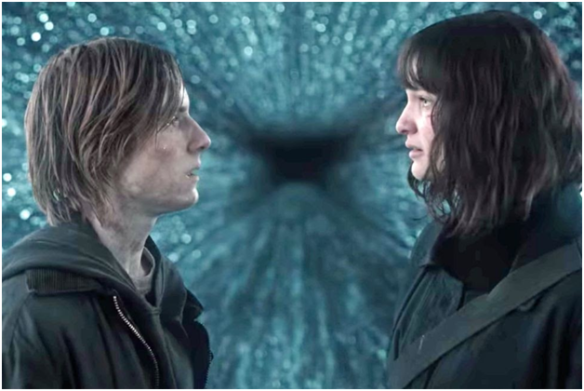 Dark – Season 3 (Netflix Germany, Eight Episodes): Created by Baran bo Odar and Jantje Friese, Written by Jantje Friese, Ronny Schalk, Marc O. Seng, Martin Behnke and Daphne Ferraro, Directed by Baran bo Odar.
Jonas Kahnwald (Louis Hoffman) lives a seemingly ordinary life in a small German town of Linden. When his moody and distant father, Michael (Sebastian Rudolph) commits suicide and children mysteriously start to disappear, Jonas slowly starts to realize that he is in an elaborate and intricate conspiracy that involves his ex-girlfriend, Martha (Lisa Vicari), their parents, grandparents, relatives, mutual best friends and nearly everyone else they know.
Season Three's episodes follow the star-crossed friends as they finally reach the end of the twisted and labyrinth that has traversed time and space several times over. Believe me, if you haven't watched this brilliantly acted and written show, you are missing one of the best sf dramas ever broadcast. And a word of warning; if you start watching Dark, you're going to need a scorecard to keep track of the roller coaster plot and familial machinations…

Recommended Episodes to Nominate: All Eight Episodes as a Series.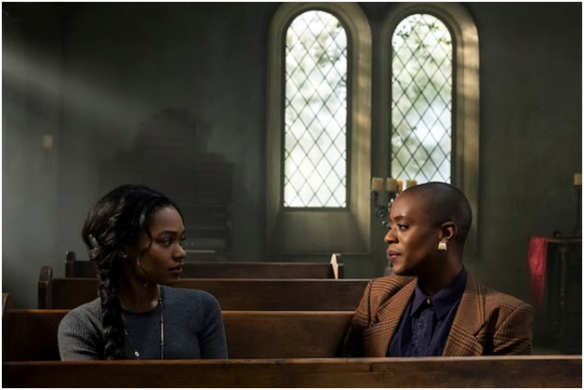 The Haunting of Bly Manor (Netflix, Nine Episodes): Created by Michael Flanagan, based on the works of Henry James. Written by Mike Flanagan, James Flanagan, Diane Ademu-John and Others. Directed by Mike Flanagan, Ciarán Foy, Liam Gavin and Others.
If I had any doubts about whether or not writer-director Mike Flanagan could ably match or exceed his previous effort, the adaptation of Shirley Jackson's The Haunting of Hill House, I was thrilled and delighted by The Haunting of Bly Manor, his elegant and scary follow up, which is totally unconnected his previous effort.
The Haunting of Bly Manor is loosely based on Henry James' psychological novella "The Turn of the Screw" and two lesser known short stories, "The Romance of Old Clothes" and "The Jolly Corner". In my youth I found the works of Henry James to be dark, dour and rather tough sledding. (And I still do).
The story begins at a wedding rehearsal dinner, when an older woman (played by Carla Gugino) tells an enthralling story of Dani Clayton (Victoria Pedretti), an American on the run from her traumatic past in the late 1980's. She arrives in the United Kingdom and is subsequently hired by a reclusive English businessman Henry Wingrave (Henry Thomas) to be a tutor and caregiver to his orphaned niece, Flora (Amelie Bea Smith) and nephew, Miles (Benjamin Evan Ainsworth).
While the cook, Owen (Rahul Kohli) and Jamie, the groundskeeper (Ameila Eve) are fairly welcoming, Dani notices that the housekeeper, Hannah (T'Nia Miller) is acting oddly distracted most of the time and the children are exhibiting some very odd and disturbing behavior…
This gothic thriller may be slow going, but it takes its time in building suspense and doling out twists, turns, surprises and jump scares where they're needed, all of which leads up to a tragic, but lovely and emotionally satisfying conclusion.
Recommended Episodes to Nominate: All Eight Episodes as a Series.
Lovecraft Country (HBO, Ten Episodes) Developed by Misha Green, Based on the Novel by Matt Ruff. Written by Misha Green, Wes Taylor, Jonathan I. Kidd & Sonya Winton-Odamtten and Others. Directed by Misha Green, Yann Demange, Daniel Sackheim, Victoria Mahoney and Cheryl Dunye.
When Army veteran Atticus Freeman (Jonathan Majors) returns home to Chicago in 1955, his uncle George (Courtney B. Vance) informs him that his father Montrose (Michael K. Williams) has been missing for the past several weeks. Atticus came home because he had received a letter from him inviting to find out about the family's New England heritage. Intrigued, he, Uncle George and a savvy neighborhood friend, Leti (Jurnee Smollett) set out on a road trip across the perilous Jim Crow America to the even more sinister Ardham, Massachusetts, a hotbed of dark science and sorcery. And they soon find out that there is more to the "inheritance" than meets the eye and that there are fates much worse than racism in store for them and their families…
Writer-Director Misha Green (Heroes, Helix, Sons of Anarchy and Underground) certainly had her hands full when she decided to take on Lovecraft Country, a well-reviewed novel that had the misfortune of being viewed as a product of "cultural appropriation" since its author, Matt Ruff, is white.
But Green saw the raw potential in Ruff's novel, which has an on the nose portrayal of the unrelenting racism of 1950's America and vividly shows the endurance of the black family under incredibly dangerous circumstances.
Green and her many collaborators sagely spun off several threads in the novel, Atticus' service in Korea, Leti's contentious relationship with her half-sister, Ruby (Wunmi Mosaku) and George's wife Hippolyta (Aunjanue Ellis) love of astronomy, and expanded the scope of the story to insanely ridiculous heights of joy, wonder and terror.
Recommended Episodes to Nominate: All Eight Episodes as a Series or Episode Six ("Meet Me in Daegu"), Episode Seven ("I Am") or Episodes Nine and Ten ('Rewind 1921" and "Full Circle".)
The Outsider (Ten Episodes, HBO), Developed by Richard Price, based on the novel by Stephen King. Written by Richard Price, Denis Lehane and Jessie Nickson-Lopez. Directed by Jason Bateman, Andrew Bernstein, Igor Martinovi?, Karyn Kusama, Daina Reid, J.D. Dillard and Charlotte Brändström.
When Detective Ralph Anderson (Ben Mendelsohn) investigates the brutal murder of ten year old boy, all of the eyewitness, physical and forensic evidence seems to strongly implicate the town's beloved Little League baseball coach, Terry Maitland (Jason Bateman). After humiliating Maitland with a very public arrest, both Anderson, his lawyer Howie Salomon (Bill Camp) and his private investigator, Alec Pelley (Jeremy Bobb) find more than enough ample evidence that Maitland was at an academic conference miles away at the time of the murder.
Unable to reconcile all of the unusual circumstances in the case, Pelly calls in Holly Gibney (Cynthia Erivo), a savant-like special investigator, she uncovers an suspicious pattern of crimes that suggest something more than human may be responsible for a countless number of deaths…
Richard Price, a well known crime novelist and screenwriter, was the perfect choice to adapt Stephen King's 2018 crime-horror mashup, The Outsider. The blending of the hardboiled realistic procedural and the otherworldly could have easily gone off the rails early and often but slow, steady injection of the supernatural elements into the storyline forces even the most cynical and unbelieving characters into unthinkable states of mind.
Most of this is due to the remarkable direction and scripts and the awesome cast, headed up Mendelsohn as a broken-hearted and alcoholic cop, Mare Winningham as his devoted wife, Cynthia Erivo's sensitive portrayal of Holly Gibney and Jason Bateman's Terry Maitland, the doomed victim of circumstances well beyond his understanding and control. Unless a new network picks up a second season (HBO passed on the opportunity) we are unlikely to see anything as well done as The Outsider anytime soon.
Recommended Episodes to Nominate: All Eight Episodes as a Series
The Mandalorian – Season Two, Chapters 9 – 16 (Eight Episodes): Developed by Dave Filoni and Jon Favreau. Written by Dave Filoni, Jon Favreau and Rick Famuyiwa. Directed by Jon Favreau, Peyton Reed, Bryce Dallas Howard, Carl Weathers, Robert Rodriguiz, Rick Famuyiwa and Dave Filoni.
When we last left the Mandalorian Din Djarin (Pedro Pascal) and his young charge, The Child, he was in search of the mythical Jedi warriors, who, in turn, would see him safely returned to his own people.
Along the way, Djarin finds the protector of a small outpost with Mandalorian armor (Timothy Olyphant as Cobb Vanth), meet the would be leader of the rebirth of Madalor (Katlee Sackhoff as Bo-Katan Kryze), encounter fellow two bounty hunters who should be dead (Ming-Na Wen as Fennec Shand and Temuera Morrison as Boba Fett) and break a criminal he put into prison in Season One, out again (Bill Burr as Migs Mayfeld).
But little do the duo know that they are also being secretly tracked by the Imperial warlord Moff Gideon (Giancarlo Esposito), who plans to abduct the Child for his own sinister purposes when they least suspect it…
The most serious criticism I can possibly level at The Mandalorian is it's obviously a big lovely homage to American and Italian westerns, a genre I happen to be very fond of.
It's also Dave Filoni and Jon Favreau's dream Star Wars project, evidenced by how much detail and fan service they have poured into the production.
And even though this season may have finished one main storyline, it also has opened several larger ones in the Star Wars universe that will definitely be explored in the very near future, much to the delight of fans everywhere.

Recommended Episodes to Nominate: All Eight Episodes as a Series or Episodes "Chapter 15: The Believer" with "Chapter 16: The Rescue"
Star Trek Picard – Season 1 (Ten Episodes): Created by Akiva Goldsman, Michael Chabon, Kirsten Beyer and Alex Kurtzman. Written by Akiva Goldsman, James Duff, Michael Chabon, Kirsten Beyer, Alex Kurtzman, Nick Zayas, Samantha Humphrey and Ayelet Waldman. Directed by Hanelle M. Culpepper, Jonathan Frakes, Maja Vrvilo, Doug Aarniokoski and Akiva Goldsman.
Much has happened since we last saw Jean-Luc Picard in the last Next Generation film Nemesis (2002). Picard resigned from Starfleet when the organization chose not to help the Romulans when their homeworld was destroyed. That led to a cascading series of events that reverberated throughout the Alpha Quadrant.
Picard is drawn back into Federation politics when a synthetic lifeform (Isa Briones as Dahj Asha) based on the late Commander Data's programming is destroyed seeking his help. When he discovers she had a twin named Soji who may also be in danger, Picard recruits two former Starfleet officers (Michelle Hurd and Santiago Cabrera) an expert on synthetic life (Alison Pil) and a Romulan refugee turned warrior (Evan Evagora) to uncover a plot destroy all sentient life.
Star Trek:Picard is mainly the brainchild of Star Trek veterans Alex Kurtzman, Akiva Goldsman, novelist-screenwriter Michael Chabon and Star Trek Voyager novelist turned screenwriter Kirsten Beyer.
When initially approached with the initial concept of the show, Patrick Stewart rejected it but was enthusiastic enough after the followup pitch to sign for the resulting series. A redemption arc for Picard's character, who, after sitting in limbo for nearly two decades, gets a new spiritual lease on life and some well needed closure on the darkest period of his Starfleet career.
And let's face it, not only was it great to see Picard back on the deck of a starship, it was magnificent to see Patrick Stewart command the stage at eighty years of age, surrounded by a new set of intriguing of diverse characters but some old friends as well (Jonathan Frakes, Marina Sirtis, Brent Spiner and Jeri Ryan).
Recommended Episodes to Nominate: All Ten Episodes as a Series or Episodes 4 ("Absolute Candor"), 5 ("Stardust City Rag"), 7 ("Nepenthe") or 9 & 10 ("Broken Pieces"and "Et in Arcadia Ego").
Star Trek Discovery – Season 3 (Thirteen Episodes, only 1-12 are eligible): Produced by Michelle Paradise. Written by Michelle Paradise, Jenny Lumet, Alex Kurtzman and Others. Directed by Olatunde Osunsanmi, Jonathan Frakes, Hanelle M. Culpepper, Douglas Aarniokoski, Omar Madha, Chloe Domont and Norma Bailey.
At the end of Season Two, Michael Brunham (Sonequa Martin-Green) and the crew of the Discovery leaped 970 years into an unknown future to safeguard their databanks from Control, a malevolent artificial intelligence intent on destroying all life forms.
While Michael is relieved to land alive in the future, she is crestfallen to find that Discovery hasn't arrived yet. Falling in with a native activist/courier/smuggler Cleveland Book (David Ajala), Michael learns that dilithium crystals are in short supply due to a catastrophic event called "The Burn" and that the Federation she knew fell apart as a result.
When the Discovery arrives a year after Burnham, Captain Saru (Doug Jones) and the shell shocked crew are confronted by a new set of challenges; finding and gaining the trust of the remnants of the Federation, adapting to 32nd century technologies and battling the Emerald Chain, a criminal syndicate led by the ruthless Orion Osyraa (Janet Kidder), hellbent on destroying the Federation.
If there's one thing that distinguishes Discovery from any other iteration in the Star Trek family is that it's not afraid to put its emotional heart on its sleeve for everyone to see. And unlike all families, it has no problems showing some of internal conflicts every now and then, something the late creator of Star Trek, Gene Roddenberry abhorred to the extreme.
And yet, Discovery Season Three delivered its best episodes yet as the whole crew struggled to cope with the future they landed in and with the sacrifices they made jumping so far into the future. And while altverse Philippa Georgiou (Michelle Yeoh) reaches a satisfactory conclusion to her character arc on Discovery, Saru and Ensign Tilly (Mary Wiseman) are forging a deepening respect for each other and newcomers (and soul mates) Adira Tal (Blu del Barrio) and Gray Tal (Ian Alexander) are practically adopted by resident power couple Dr. Hugh Culber (Wilson Cruz) and Paul Stamets (Anrhony Rapp).
Star Trek Discovery has been renewed for a fourth season on Paramount Plus and I can hardly wait to see what's coming next.
Recommended Episodes to Nominate: All Twelve Episodes as a Series or Episodes 4 ("Forget Me Not"), Episode 7 ("Unification III"), Episode 9 & 10 (Terra Firma, Parts One and Two) or Episodes 11 and 12 ('Su'Kai" and "There is a Tide").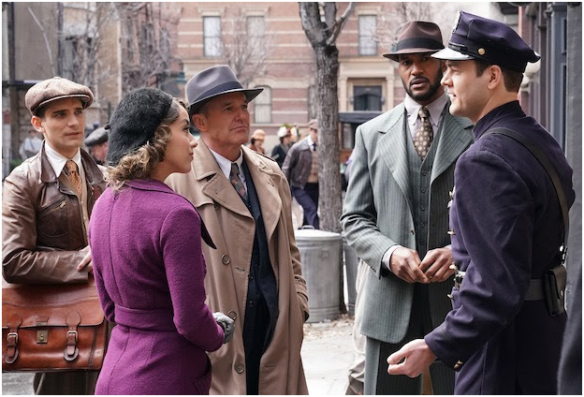 Agents of S.H.I.E.L.D. – Season 7 (Thirteen Episodes): Produced by Jed Whedon, Maurissa Tancharoen and Jeffrey Bell. Written by Jed Whedon, Jeffrey Bell and Others. Directed by Kevin Tancharoen, Eric Laneuville, Nina Lopez-Corrado and Others.
The final season of Agents of S.H.I.E.L.D. find the gang in New York City in the year 1931, where they battle the previous season's villains, the Chromicons, who make the first of several attempts to erase S.H.I.E.L.D. from the main timeline and claim the Earth for themselves.
As they skip through time in pursuit of the Chromicons, they pluck a doomed agent, Daniel Sousa (Enver Gjokaj from Agent Carter) from 1955 to help their quest.
As the agents skip further into the future, things become increasingly more complicated and the odds that they have become lost in time and will never make it home…
Agents of S.H.I.E.L.D. was always considered the runt of the litter in the Marvel Cinematic Universe. But, like the Little Engine That Could, it huffed, puffed and chugged its way to 136 episodes and into the hearts of the True Believers of Marvel Fandom (like myself).
It was mostly due to the chemistry of the amazing cast of Clark Gregg, Ming-Na Wen, Chloe Bennet, Elizabeth Henstridge, Iain De Caestecker, Henry Simmons, Natalia Cordova-Buckley and Jeff Ward. And what a long, strange, weird, wonderful trip it was. EXCELSIOR!
Recommended Episodes to Nominate: All Thirteen Episodes as a Series or Episodes 12 and 13 ("The End is At Hand" and "What We're Fighting For").
The Umbrella Academy – Season 2 (Ten Episodes): Created and Developed by Steve Blackman, based on The Umbrella Academy by Gerald Way and Gabriel Bá. Written by Jeremy Slater, Steve Blackman, Ben Nedivi, Matt Wolpertn and others.Directed by Sylvain White, Stephen Surjik, Tom Verica, Ellen Kuras, Amanda Marsalis and Jimmy Webb.
Like the Agents of S.H.I.E.L.D., the members of the Umbrella Academy, Vanya (Elliot Page), Luther (Tom Hopper), Diego (David Castañeda), Klaus (Robert Sheehan) and Five (Aidan Gallagher) are finding out that time travel can be hazardous to their existence.
Jumping from the present into the past to escape the global apocalypse unleashed by the eruption of Vanya's superpowers, the team find themselves assembled in Dallas, Texas in November 1963 shortly before the assassination of John F. Kennedy.
As they try to figure out how not to subvert the timeline and how to stop the end of the world in any era, they are stalked by their arch enemy The Handler (Kate Walsh), the head of a group time traveling busybodies, the Commission.
As the fateful date draws closer, the Umbrella Academy tries to put aside their differences, their egos and desires to preserve their sanity and still have enough time left over to save the world…
In a virtual ocean of science fiction and fantasy content on television and streaming online, it takes a lot to rope me into watching anything on a regular basis, much less consider it for a Hugo Award nomination. But I have been constantly surprised and delighted by the balance of inventive high jinks, quirky characters and dramatic swings of the first two seasons of The Umbrella Academy and I can hardly wait to sew where they go and what they do next.
Recommended Episodes to Nominate: All Ten Episodes as a Series.
Westworld – Season 3 (Eight Episodes): Created by Lisa Joy and Jonathan Nolan, Based on Westworld by Michael Crichton. Written by Lisa Joy, Jonathan Nolan, Matthew Pitts and Others. Directed by Jonathan Nolan, Richard J. Lewis, Helen Shaver and Others.
The end of Season Two chronicled the escape of the sentient, renegade host Dolores (Evan Rachel Wood) from the confines of Delos Corporation's Westworld compound and into the real world. As she plots to wreak havoc on the human race, she also seeks to understand her enemy by befriending an ex-soldier turned thief Caleb (Aaron Paul).
Meanwhile, two other escaped hosts Bernard (Jeffey Wright) and Maeve (Thandie Newton) are drawn into Dolores' plans; Bernard out of an altruistic need to thwart her plans and Maeve as the involuntary host hunter for the richest man in the world, Serac (Vincent Cassel).
When Dolores seeks to sabotage Serac's worldwide artificial intelligence program Rehoboam, a deadly chess game ensues with the fate of the human race on the line…
Told in a more linear fashion than the past two seasons, the third season of Westworld seems to be modeled on the flashy and stylized crime films of Michael Mann and Willam Friedkin. NOT that I'm complaining, far from it. Each episode plays out like a mini- Mission Impossible film; profane, bloody and extremely violent.
The redeeming value of all of this intrigue is not simply the thrilling narrative drive, but as a cautionary tale that should stir the viewer's emotions and sensibilities about how we choose to perceive each other and the machines that serve us.
Recommended Episodes to Nominate: All Eight Episodes as a Series.
Honorable Mentions
Utopia (Amazon Prime)
The Star Trek Lower Decks Season 1 (Paramount +)
Expanse (Amazon Prime) Season 5 (Episodes 1-5, only)
Doctor Who Season 12 (BBC)
Avenue Five (HBO)
Space Force Season 1 (Netflix)
The Good Place Season 5 conclusion (NBC)
Other Eligible Television Series of 2020
His Dark Materials Season 2 (HBO)
Devs (FX on Hulu).
Lucifer season 5 (Netflix)
The Boys Season 2 (Amazon Prime)
The Clone Wars Season 7 (Disney+)
Raised By Wolves (Apple+)
For All Mankind Season 1 (Apple +)
Tales From the Loop (Amazon Prime)
What We Do in the Shadows (FX)
The Magicians Season 5 (SYFY)
Supernatural Season 15 (CW)
Black Lightning Season 3 (CW)
The Flash Season 6 (CW)
Legends of Tomorrow season 5 (CW)
Locke & Key Season 1 (Netflix)
Outlander Season 5 (Starz)
The Walking Dead Season 10 (AMC)
Fear The Walking Dead Season 6 (AMC)
The Walking Dead: The World Beyond Season 1 (AMC)
Rick & Morty (Adult Swim)
NOS4A2 Season 2 (AMC)
Penny Dreadful: City of Angels Season 1 (Showtime)
Snowpiercer Season 1 (TNT)
Stargirl Season 1 (DC Universe)
Batwoman Season 1 (CW)
The Witcher Season 1 (Netflix)
American Gods Season 2 (Starz)
Doom Patrol Season 2 (DC Universe)
The Twilight Zone Season 2 (Paramount +)
Dispatches From Elsewhere (Netflix)
Cursed (Netflix)
See (Apple +)
Lost In Space Season 2 (Netflix)