Top Recommendations for the 2021 Hugo Award for Best Dramatic Presentation,
Part Two – Stand Alone Films
By Chris M. Barkley: Decisions, decisions, decisions…and time is running out.
In Part One of my Recommendations for the 2021 Hugo Award for Best Dramatic Presentation, I listed a relatively INSANE number of television series that were eligible in our pandemic year of 2020.
While the Covid-19 pandemic may have been box office poison (literally) for theater owners, movie lovers who were mostly confined to their homes had plenty of options, thanks to the abundance of premium and streaming channels eager to serve (and collect cold hard cash from) a captive audience.
But theaters aren't down for the count just yet; with several vaccines in circulation and the infection rates projected to drop precipitously by the end of the year, I have no doubt whatsoever that people (like myself) who are starving for a complete spectrum of theatrical experiences are definitely going out when it's safe and that going to the movies will be at the top of nearly everyone's to do list.
And thankfully, some of the highly-anticipated films postponed from last year will make their big screen debuts in 2021; Denis Villenueve's adaptation of Dune, Marvel's Black Widow, Morbius, Spider-Man: No Way Home and Shang-Chi, A Quiet Place Part II, Ghostbusters: Afterlife, DC's Suicide Squad sequel and the fourth film in The Matrix series are on the schedule.
But, before I reveal my BDP Hugo Nomination Ballot choices, let's contemplate these ten outstanding films from 2020.
The Invisible Man (Blumhouse Productions/Universal,124 minutes), with Elisabeth Moss, Aldis Hodger, Storm Reid, Harriet Dyer, Michael Dorman and. Written and Directed by Leigh Whannell based on H.G. Wells novel The Invisible Man.
One of the oldest storytelling tropes in the books is throwing an entirely innocent person into an impossible pit of problems and seeing if they can emerge from the ordeal relatively intact.
In this modern retelling of H.G. Wells' The Invisible Man, Cecilia (Elisabeth Moss) barely escapes from an abusive partner Adrian (Oliver Jackson- Cohen). And just when she thinks she's quite safe, Cecilia is beset by the odd feeling she is being observed and other strange occurrences. And by the time figures out she's being stalked by an invisible tormentor, her family, friends and most notably the police, think she has most definitely lost her mind.
This movie has everything going for it, a crackling script full of mayhem, murder and suspense, some impeccable direction and special effects and some superb acting from the lead actors, Elisabeth Moss, Aldis Hodger, Harriet Dyer, Michael Dorman and Storm Reid. Somewhere, Alfred Hitchcock is smiling because this is precisely the sort of film he would make if he were around today.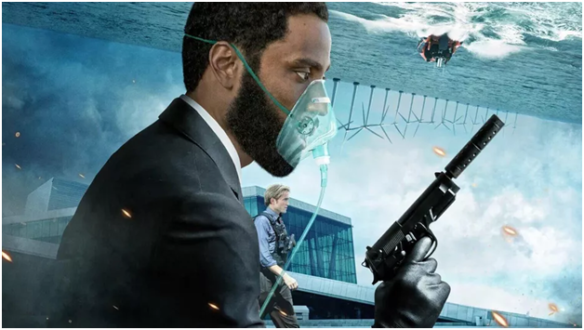 Tenet (Warner Brothers, 150 minutes), with John David Washington, Robert Pattinson, Elizabeth Dibecki, Micael Caine and Kenneth Branagh. Written and Directed by Christopher Nolan.
After an extraction mission in Ukraine goes disastrously sideways, an unnamed CIA field operative (John David Washington) is recruited into a mysterious organization called TENET, which is (seemingly) dedicated to looking into strange anomalies. "The Protagonist's" first case is to investigate who is receiving weapons being sent back through time from the future (through a process called "inverted entropy"). His "antagonist" is Andrei Sator, a ruthless Russian arms dealer, whose estranged wife Kat, (Elizabeth Dibecki) could hold the key to destroying his empire.
The plot description I outlined above is far, FAR more complex than I can possibly do justice to. What makes Tenet a fantastic film is that it is not only a "anti-James Bond" film, it is also essentially an "anti-time travel" tale as well, as it perfectly subverts genre tropes by setting a whole new set of cinematic rules. This high octane, mind bending thrill ride is certainly the equal of (or BETTER) than Inception, Christopher Nolan's 2010 BDP Long Form Hugo winner.
YES, Christopher Nolan is screwing around with our heads again and I am LOVING every moment of it.
The Old Guard (Netflix, 125 Minutes) with Charlize Theron, Kiki Layne, Marwan Kenzari, Matthias Schoenaerts, Luca Marinelli, Chiwetel Ejiofor and Harry Melling. Written by Greg Rucka, based on The Old Guard by Greg Rucka and Leandro Fernández, Directed by Gina Prince-Bythewood.
"Forever Is Harder Than It Looks" is the promotional tagline of The Old Guard, and a brilliantly realized adaptation of Greg Rucka and Leandro Fernándezo's graphic novel. If you think immortal beings have it easy, this film disabuses you of that notion from its bloody and brutal start..
Andromache of Scythia (Charlize Theron) and her crew of deadly mercenaries, Booker, Joe, and Nicky (Matthias Schoenaerts, Marwan Kenzari and Luca Marinelli are quick healing immortals who live in the shadows. Their activities and remarkable regenerative powers come to the attention of Merrick (Harry Melling), the head of a pharmaceutical firm who wants to capture and experiment on them. Things become even more complicated when they have to take a newly emerged immortal Nile (Kiki Layne) under their protection while constantly on the run from Merrick's forces.
What makes The Old Guard a cut above other entries in this genre is not the explosive action sequences (which it has aplenty), but an unusual amount of emotional heft (mostly delivered by the immortals in the cast) that other films are sadly lacking. This film demands that you sit up and pay attention to their plight and that is rare and noteworthy.
Wonder Woman 1984 (Warner Brothers, 151 Minutes) with Gal Gadot, Chris Pine, Kristen Wiig, Pedro Pascal, Robin Wright and Connie Neilsen. Written by Patty Jenkins, Geoff Johns and Dave Callaham, based on Wonder Woman by William Moulton Marston. Directed by Patty Jenkins.
It distresses me no end when armchair film critics and film fans on social media go out of their way to lambast a popular film when they have no idea how films are actually made.
Wonder Woman may have been created by psychologist William Moulton Marston in 1941, but today this comic book icon is the sole intellectual property of DC Comics and Warner Brothers. They, and corporations like them, are actually run by lawyers, agents, accountants and marketing drones, not creative artists.
And since they value it as a very valuable commodity, it took decades for a theatrical Wonder Woman film to be developed and made. And by an incredible stroke of good luck, they chose a gifted director, Patty Jenkins, to bring Wonder Woman to the big screen and grossing over $820 million dollars at the box office.
But Jenkins did not have total creative control of the first film; late in the filming, executives did think very much of the more subtle (and decidedly non-violent) ending she and the screenwriters came up with. Instead, they forced her to film a more bombastic endgame, figuring that audiences would just love a Die Hard-like finish.
Segue to filming the sequel; when Jenkins presented the new screenplay, co-written with Geoff Johns and Dave Callaham, the lengthy opening sequence featured a young Diana being taught an important lesson by her mother Hippolyta (Connie Neilsen) and aunt Antiope (Robin Wright). When the studio executives gave her notes indicating that that the sequence was unnecessary, Jenkins, having been burned once before, drew a line in the sand and said that the sequence was going to be done or she wouldn't be doing this project. The executives, fearing a fan backlash and no 2020 summer tentpole film to present backed down.
Wonder Woman 1984 finds Diana Price (Gal Gadot) still mourning for her lost love, Steve Trevor (Chris Pine) who sacrificed himself during the climactic battle of the first film. A chance encounter with an ancient artifact seemingly revives Trevor from the dead and attracts the attention of a fellow scientist Roberta Minerva (Kristen Wiig) and a power mad businessman Max Lord (Pedro Pascal) whose plans may bring on an apocalyptic event…
While the film itself received decidedly mixed reviews from film critics, a large number of fans were calling it a complete and utter failure. (As of this writing, WW1984 is rated 5.4/10 on IMDb, 59% on Rotten Tomatoes, 60% on MetaCritic and 67% on Google.com)
As for myself, I loved it and think it is quite as Hugo worthy as its predecessor. And yes, I plan on buying the Blu-Ray edition when it comes out at the end of the month. Enough said.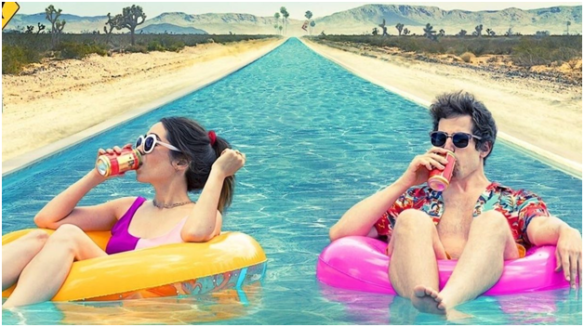 Palm Springs (Limelight Productions, 90 Minutes) with Christin Miloti, Andy Samberg, J.K. Simmons, Peter Gallagher, Tyler Hoechlin and Meredith Hagner. Written by Andy Siaraand Max Barbakow, Directed by Max Barbakow.
When I first heard about the buzz being generated by time loop comedy Palm Springs at the Sundance Film Festival in January 2020, I admit I rolled my eyes a little at the prospect. Because these tales of repeated time travel paradox have become its own sub-genre since 1993's Groundhog's Day and I can only account for a handful which are of any merit (Looper, The Edge of Tomorrow, Interstellar and Source Code being my primary choices on the subject.)
I also admit that I am not really a fan of Andy Samberg's work as an actor, at least until I saw Palm Springs. Samberg plays Nyles, a wedding guest who became trapped in a time loop. When he starts flirting with the bride's troubled sister, Sarah (Christin Miloti), she returns his interest. But their romantic interlude is interrupted when a mysterious stranger named Roy (J. K. Simmons) suddenly and savagely attacks Myles and Sarah finds herself trapped in the loop as well.
Besides being an outstanding comedy, Palm Springs is also an introspective character study of three people trapped in a circumstance that is seeming out of their control and mediation on love, relationships and drinking WAY too much alcohol at weddings. And seeing that it clocks in at ninety minutes, it's one of the rare feature films these days that can safely be nominated in the Short Form category.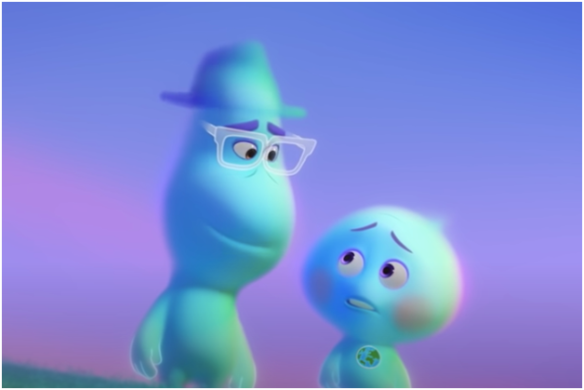 Soul (Pixar/Walt Disney, 101 Minutes) with Jamie Foxx, Tina Fey, Angela Bassett, Graham Norton, Rachel House, Questlove, Alice Braga and Phylicia Rashad. Music by Trent Reznor, Atticus Finch and Jon Batiste. Written by Pete Docter, Mike Jones and Kemp Powers, Directed by Pete Docter.
Just when you think the geniuses at Pixar cannot possibly outdo themselves, they damned well do it AGAIN.
Joe Gardner (Jamir Foxx) a middle aged, middle grade music teacher in New York
City is still dreaming of scoring his big break as a jazz musician. When his friend Lamont (Questlove) gets him an audition to play with the great contemporary jazz player Dorothea Williams, he impresses her with his piano prowess and gets a gig playing in her band. Unfortunately for Joe, he's so excited that falls down a manhole and finds himself struggling to escape "the Great Beyond", where all souls migrate to after death. With the help of 22 (Tina Fey), a pesky proto-soul trying to figure out her path in the universe, Joe just may make it back to Earth in time for his gig…
If I were going to introduce a child to a film that might instill a love of music, especially an enduring art form like jazz, I would definitely make sure they saw Soul (SORRY, Not Sorry, La La Land!). The ambient score by Trent Reznor and Atticus Finch combined with the original songs by jazz composer Jon Batiste are perfectly bound together. I can say without any hesitation at all that Soul is probably the front runner to be nominated and win the Academy Award for Best Animated Feature Film.
And the voice casting is spot on and the plot is light, airy, and not terribly scary, which makes it perfectly suitable for kids and the Hugo Awards final ballot as well.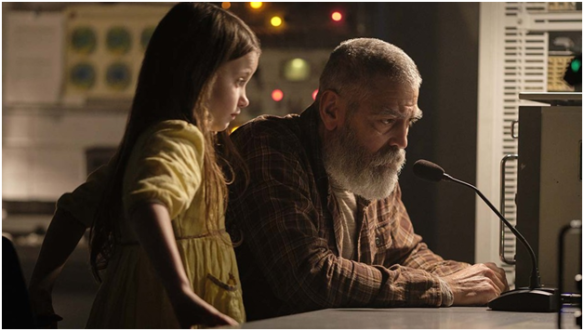 The Midnight Sky (Netflix/Smokehouse Pictures, 118 Minutes), with George Clooney, Felicity Jones, David Oyelowo , Kyle Chandler, Demián Bichir, Tiffany Boone and Caoilinn Springall. Screenplay by Mark L. Smith, Directed by George Clooney.
The Midnight Sky was yet another casualty of the COVID-19 pandemic, having a limited theatrical release last December followed by a quick turnaround to Netflix shortly thereafter. Almost immediately the word spread pretty quickly that it was either too slow, too episodic or too depressing. Of course, being the contrarian I am, I say nonsense.
George Clooney plays Augustine Lofthouse, a seriously ill scientist who is on his own after an Arctic research station is abandoned in the wake of an unnamed ecological calamity sweeping the Earth. He has given himself the task of making contact and warning off the Aether, a manned spacecraft with a crew returning from a successful mission from Jupiter. His task is complicated when he finds himself caring for a little girl who was supposed to have been evacuated earlier.
Meanwhile, aboard the Aether, the crew (Felicity Jones, David Oyelowo , Kyle Chandler, Demián Bichir and Tiffany Boone) are facing their own set of problems; despite their best efforts they have lost contact with Earth and have an unexpected course correction that takes their ship into an dangerous and uncharted section of the solar system.
Eventually, the story of these characters come together towards the end of this beautiful and poignant film which, through no fault of its own,had the bad timing to come out during a worldwide pandemic. Eventually, I hope The Midnight Sky will eventually find an audience that will appreciate it for what it is, a soulful parable about the endurance of the human spirit under crushing circumstances.
Sputnik (Vodorod Pictures/Sony Pictures/Hulu, 113 Minutes), with Oksana Akinshina, Pyotr Fyodorov, Fyodor Bondarchuk and Anton Vasiliev. Written by Oleg Malovichko and Andrei Zolotarev, Directed by Egor Abramenko.
While I have nothing but scorn and contempt for the political situation in Russia, I can easily and eagerly praise one of their horror films, which is one of the best genre films released in 2020.
Set in 1983, a Soviet space mission ends tragically when one cosmonaut is killed and another, Konstantin (Pyotr Fyodorov), suffers a traumatic injury. Quarantined at a remote military base, he is examined at length by Tatyana Klimova (Oksana Akinshina), a controversial neurophysiologist brought in by the base commander, Colonel Semiradov (Fyodor Bondarchuk).
Klimova soon finds out her true mission is to study and eventually find a way to control an alien creature inhabiting Konstantin's body so the military can deploy it as a biological weapon. But Konstantin, and the creature, have other plans…
I haven't watched very many foreign sf films until this past year and I more or less picked Sputnik out of the cornucopia of genre films made available on various streaming services. And I was quite surprised at how tightly scripted, well acted and directed Sputnik is. And on top of that, the production design, practical and visual effects are the equal of any other film made today. Sputnik deserves your attention as a potential Hugo nominee this year.
Possessor (Elevation Pictures, 104 Minutes) with Andrea Riseborough, Christopher Abbott, Rossif Sutherland, Tuppence Middleton, Sean Bean and Jennifer Jason Leigh. Written and Directed by Brandon Cronenberg.
One of the last movies I came across that really intrigued me was Possessor, which turned up on the Thrilllist.com and the Film School Rejects websites as highly recommended.
The setup is perfectly twisted; Tasya Vos (Andrea Riseborough) may seem like a divorced woman who still has some feelings for her ex-husband Michael (Rossif Sutherland) and her adorable son Ira (Gage Graham-Arbuthnot), but you would be dead wrong, in every sense of the word.
Vos is a cold blooded assassin who employs a high tech trick; she has her personality electronically inserted into a person who has access to the intended target who then kills and conviently commits suicide or is killed by the police. And Vos is pretty good at her job until she gradually starts losing control of her latest host, Colin Tate (Christopher Abbott), the fiance of Ava Parse (Tuppence Middleton). Vos is possessing him in order to kill Ava and her father John (Sean Bean) in a murderous power grab by their board of directors.
As Vos spirals out of control, she finds herself in a constant battle against her increasingly fragmented memories and personality versus Tate's traumatized and confused persona.
Possessor is the second feature film of Brandon Cronenberg, the son of the acclaimed Canadian director (and occasional actor) David Cronenberg. And from the looks of this film, we can see that the creative apple of this family fell VERY close to the trunk of the tree. If anything, the younger Cronenberg has taken his father's themes of body horror, self loathing, sexuality and questions of personal identity to the Nth degree. I am not very fond of horror movies on the whole but I must say that I will be very, VERY interested in seeing his next film project.
Hamilton (5000 Broadway Productions/Walt Disney, 160 Minutes) with Lin-Manuel Miranda, Leslie Odom, Jr., Phillipa Soo, Renée Elise Goldsberry, Daveed Diggs, Christopher Jackson, Jonathan Groff, Anthony Ramos Okieriete Onaodowan and Jasmine Cephas Jones as Peggy. Written and Composed by Lin-Manuel Miranda, Directed by Thomas Kail.
And finally, we have Hamilton.
Lin-Manuel Miranda's extraordinary musical dramatizing the life and times of Founding Father Alexander Hamilton is an incredible marriage of song, story and history.
I am not here to sell you on how brilliant the melding of hip hop, rap and traditional Broadway into the score is. Or how great the costuming, lighting, choreography and production design are. Nor am I going to tell you what this rendition of historical events is even more potent and heart rending as Peter Stone and Sherman Edwards classic 1776.
(But, C'MON MAN; Daveed Digg's electrifying performance in the double role of the Marquis de Lafayette AND Thomas Jefferson alone is worth a Hugo nomination. But, I digress…)
But what I am telling you is that when a cast made of mostly people of color portray some of the most famous figures in American history not only gives a new perspective on how troubled America's origins (and its subsequent action since then) are, it also is an infectious and energetic retelling that will inspire theater goers AND film fans for generations to come.
And through that particular lens I proclaim that this production of Hamilton most DEFINITELY qualifies as a tale of alternative history.
I am nominating Hamilton for a Hugo Award in the Best Dramatic Presentation – Long Form category.
Anyone want to duel about it?
---
Stand Alone Films: Honorable Mentions
The Vast of Night
Bird of Prey OR the Fantabulous Emancipation of Harley Quinn
Other Eligible 2020 Films of Note
Mulan (Walt Disney/Good Fear Productions)
Freaky (Universal/Blumhouse)
Onward ( Pixar/Walt Disney)
The Witches (HBO Max/Warner Brothers)
Vivarium (XYZ Films/Fantastic Films)
Time To Hunt (Netflix)
Archive (Vertical Entertainment)
Synchronic (XYZ Films)
Love and Monsters (Paramount)
Bill and Ted Face the Music (Orion/United Artists)
Save Yourselves (Bleecker Street)
Spontaneous (Paramount)
Sea Fever (Signature Entertainment)
After months of watching and research, filling in the ten slots on my Hugo Nomination Ballot was hard. In fact, the selection process was so tough, I'm not quite sure I've made my final choices. But, as of Sunday evening, I chose these productions as my nominees in the Best Dramatic Presentation categories:
Best Dramatic Presentation – Long Form Nominees
Dark – Season Three
Lovecraft Country
Tenet
The Midnight Sun
Hamilton
Best Dramatic Presentation – Short Form
Palm Springs
Star Trek Discovery – Terra Firma Parts 1 & 2
The Mandalorian – "Chapter 15: The Believer" with "Chapter 16: The Rescue"
Soul
Star Trek: Picard – Episodes 9 & 10 ("Broken Pieces"and "Et in Arcadia Ego").
To those of you who have read both of these columns, I hope you have found the information and opinions I have presented here helpful and informative. I urge everyone to nominate and submit their favorite books, stories, non-fiction works, films, tv shows and other dramatic works by the upcoming deadline, which is 11:59 p.m. Pacific Time (PDT) on Thursday, March 19, 2021.
Good Luck choosing!