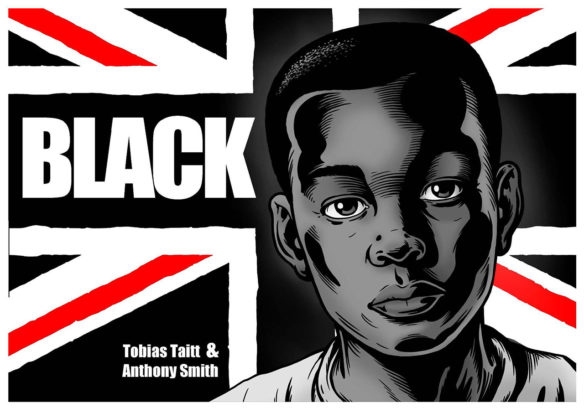 By James Bacon: This month I saw the Cartoon Museum hosting an exhibition for a brand-new comic, celebrating Black History Month, an autobiographical work, by Tobias Taitt and Anthony Smith, entitled BLACK. I happened to get in and see the exhibit, during a V for Vendetta event. 
I then met Soaring Penguin Press publisher Tim Pilcher at Thought Bubble and was minded that this comic deserves wider consideration as I had found it compelling in its honesty. I had wanted to get in to see the launch of the exhibit, but was driving trains, but when opportunity arose, I was very impressed.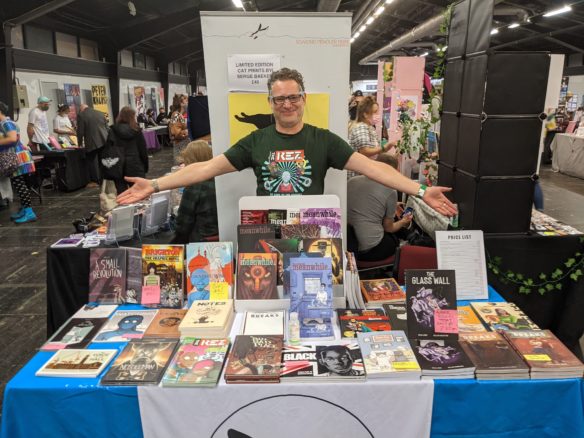 The museum itself is small yet, they have done a really nice dynamic display, utilizing space cleverly. The space is set out like a small bedroom, or cell, or institutional bedroom, and that makes it feel suddenly intimate, and the art is hung on the walls.
This is the story of Tobias Tait, and as his voice spoke to me from the screen in this exhibit space I was taken to another place, his place, his history, his predicaments and to his youth, a black boy in 1970s Britain growing into the 80's and to a life of crime.
A criminal… Such an erudite and obviously thoughtful man. BLACK had been serialised in the brilliant Aces Weekly digital comic platform l, which I highly recommend. It's a hard story but so well worth reading. 
Tobias Tait said:
This is an uncompromising true story of a boy growing up in a series of institutions in 70s/ 80s Britain. That boy happens to be me.
When I was three years old my mother killed my uncle, was sent to prison, and condemned me to spend my early life in a series of bleak children's homes.
But the highlights of my early years are as memorable as the low points. And the people that helped me, both black and white still shine brightly to me. I've worked closely with Anthony Smith to bring my past alive in a way that will hopefully resonate with people young and old. This is our way of contributing a small slice of history that may otherwise have been lost.
I'm honoured and deeply grateful that the Cartoon Museum is putting on an exhibition of the story that ran in Aces Weekly and has now been published by Soaring Penguin Press in a graphic novel.
But let me state clearly, this is no sob story or misery memoir. It's a celebration of my life and British history through the power of words and pictures.
BLACK, which has previously been serialized across several volumes of the acclaimed digital anthology Aces Weekly, is a tale of a dysfunctional family life and a childhood spent mostly in care. It touches on themes of class and race as the adolescent Tobias gravitates from care to crime.
Tobias spent his early years in a variety of children's homes in the South of England, where casual racism and brutality were frighteningly commonplace. As a black youth growing up in Seventies' Britain he learned first-hand that the world could be a cold and uncaring place for a child of the state. But he also learned to navigate—and eventually to buck—the system.
Discovering a life outside the drab institutions that held him, he began a descent into a life of crime, while simultaneously developing a love for literature, and all its possibilities that grew within him.
BLACK is a brutally honest true story of a child's struggle against overwhelming odds. Ultimately, it's a story of undiminished hope, and of how an individual can triumph despite having the odds stacked against them.
The autobiographical graphic novel overflows with reminders of a recent dark history, documenting a slice of a young British black man's life, very much in the vein of Steve McQueen's recent Uprising and Small Axe series of films. But this is no misery memoir – rather, it stands as a celebration of words and pictures with the power to elevate us. 
BLACK: The Story of Tobias Taitt – through January 15, 2022 at the Cartoon Museum, 63 Wells St, London, W1A 3AE, UK
[Based in part on a press release.]