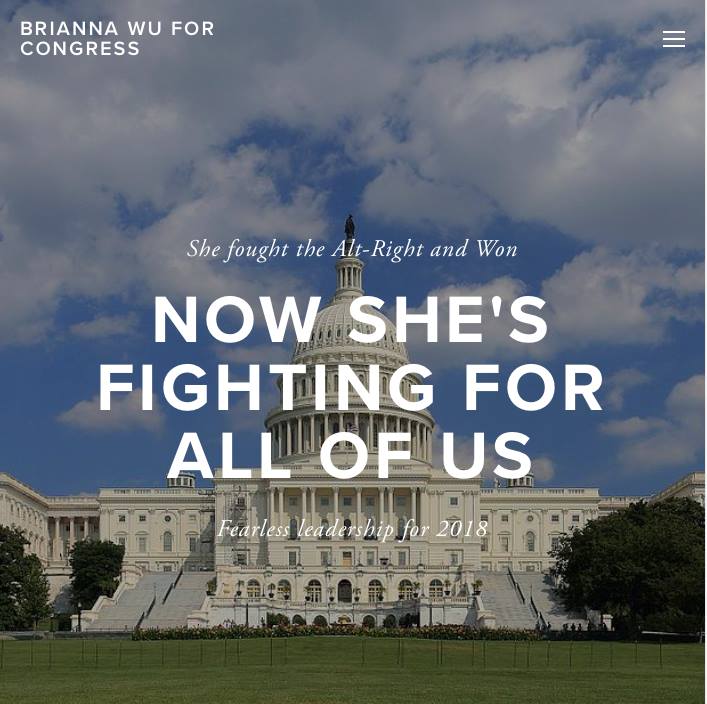 Brianna Wu has gone public on Facebook with her hope of running for Congress in 2018.
Along with Anita Sarkeesian and Zoë Quinn, Wu is frequently cited by the media as one of the targets of GamerGate supporters' harassment of women in the gaming industry.
She told an interviewer from Venture Beat:
"The reason I decided to run is simple: [President-elect Donald] Trump is terrifyingly now in the White House. I can't sit by making pleasant video game distractions for the next four years while the constitution is under assault. Hillary [Clinton] ran a brave marathon, and now it's time for women of my generation to pick up that baton and commit to public service."

"The other reason I'm running is because I'm ready for a bolder Democratic Party. I didn't personally support Sanders in the primary, but he tapped into a very powerful disconnect between our party's leadership and our base. We want leaders that will fight for us, and all too often the Democrats don't stand up to the fringe extreme of the Republican Party. I've been called a lot of names over my career, but I've never been told I'm scared of a fight. You know just how passionate I am about women in tech. But I believe we've hit an asymptote with what activism in tech can accomplish. People are aware of the problem, but all that's getting done is window dressing. We don't need more catered women in tech lunches, we don't need speeches – we need structural bias against us to stop. And I think women in tech serving in the legislative branch is the next step forward."
Wu says she has her eye on the 8th Massachusetts Congressional district, currently served by Democratic incumbent Stephen Lynch, just re-elected to his ninth term with 74% of the vote. He's regarded as a moderate Democrat, but says to those trying to categorize him, "Calling me the least liberal member from Massachusetts is like calling me the slowest Kenyan in the Boston Marathon. It's all relative."
Less than 5% of the district's eligible voters cast ballots in the 2016 Democratic primary (29,352). Wu says she feels she is capable of getting the necessary 10,000-15,000 votes needed to knock out the incumbent.