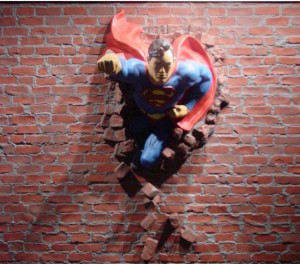 By James H. Burns: A thought occurred to me just a short while ago, as I was folding some shirts…
How do super heroes do their laundry?
If one's living at Avengers mansion, presumably there's no problem.  And elsewhere in the Marvel Universe, Reed Richards, I believe, rather famously created clothing consisting of unstable molecules, which have all sorts of uses (as well as, apparently, keeping an outfit pressed and free from soot!)
One would have to presume that Batman has all of these things taken care of neatly by Alfred, and I seem to recall that, in at least the original renditions, Superman wore a uniform made out of the blanket the Kents found him swaddled in, within his Kryptonian rocket. (Ma Kent, evidently, used sewing needles made from shards of the ship…)
But what if one isn't as well connected, or doubly blessed?
It's not as though one of the lesser known super-joes can just walk over to the dry cleaner, or even the local laundromat…
Do some of our favorite crimefighters, and galaxy busters, really have to stand over the sink, bottle of Woolite at hand, as they now fight grime…?