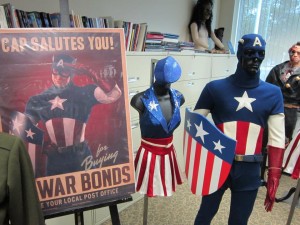 Captain America: The First Avenger Auction will be held by Profiles in History at the Chicago Comic and Entertainment Expo on April 14.
Over 220 lots will go under the hammer, including the Captain America hero costume, a three-piece custom suit  
consisting of long pants with elastic boot stirrups, a short, elastic-bottomed, midriff-length undershirt and red, white and blue sculpted upper body armor with built-in bracers, shoulder pads and patriotic star insignia on the chest. Includes brown leather gloves, ammo belt, holster (with rubber Colt .45 pistol), high brown boots and comes paired with the appropriate form-fitted, leather mask-helmet stenciled with the letter "A" on the front and abstract wings on both sides. The costume exhibits discrete battle distress, and is accompanied by an iconic, round Vibranium shield made of resin. This hero suit is the culmination of all other evolving versions seen on screen and is the hero suit seen in all scenes from the "invasion montage" onward. The suit is also used in most graphic advertising and promotional materials for the film.
Other headlined items are Johann Schmidt's hero Cube setup costume, worn during the scene when the Cosmic Cube power is first harnessed in Dr. Zola's lab, and the Hugo Weaving screen-worn Red Skull prosthetic makeup appliance. 
Also available: Hydra and Allied prop weaponry and equipment, several Hydra motorcycles and a full-scale steel-plated Hydra "Fastrac" tank built on a four wheel drive tractor chassis.
Items appearing in several more Avengers-themed movies will be sold, too.
From Iron Man 2: An original full-scale screen-used Mark II "Autopsy" suit appropriated by James "Rhodey" Rhodes, played by Don Cheadle, and disassembled ("autopsied") to examine the technology. The 75-inch- tall figure is the only complete Iron Man suit ever offered at public auction.
From Thor: The stunt Mjölnir war hammer belonging to Thor, with foam rubber head painted to resemble ancient forged metal. It is entwined with Nordic design and Runes, with a stout handle wrapped in brown leather with lanyard.
[Based on the press release.]