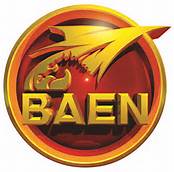 Baen Books publisher Toni Weisskopf revealed the winners of the Baen Fantasy Adventure Award at the start of the Baen Virtual Roadshow on August 2.
Due to the cancellation of NASFIC and the ongoing uncertainty caused by the COVID-19 virus, the Roadshow was broadcast live on Facebook.
The award winners, chosen from among the top ten finalists announced last month, were selected by Baen's editorial staff.
FIRST PLACE
"Humanslayer" by Scott Huggins
SECOND PLACE
"The Chilling Account of The Wolf-Bann of Krallenburg" by J. E. Tabor
THIRD PLACE
Update 08/03/2020: File 770 apologizes for getting the order of finish reversed in its original post.