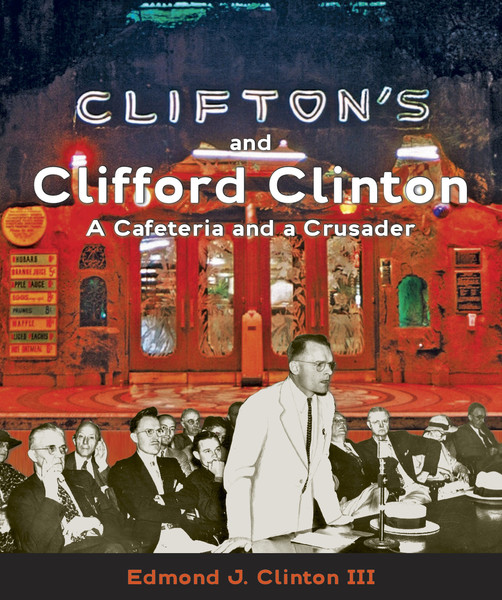 By John Hertz: On Wednesday, February 3rd, between Groundhog Day (doesn't that sound like someone who pitched a tent too wide?) and Chinese (and others') New Year, the Casa Verdugo branch of the Glendale Public Library hosted a talk by Edmond J. Clinton III, eldest grandson of the founder of Clifton's Cafeteria.
My local s-f club met at Clifton's in the 1930s. It was the early days of each. We go back to 1934. Clifford Clinton opened a Los Angeles cafeteria in 1931, with 2,500 recipe cards and $2,000.
If you know about names and numbers, you'll have already figured out that EJC III's father was EJC II, i.e. not named for EJC II's father (so not EJC Jr.) but for another EJC in the family (which was, in the Clintons' case, EJC III's great-grandfather).
Another restaurant in the family was called Clinton's. So the Los Angeles ones took half of Clifford and half of Clinton.
At one time there were eight Clifton's Cafeterias in town. They all ran for years.
Their history was glorious, by which I include the physical glory of neon lights – some of which were palm trees – and the moral glory of feeding thousands in the Depression days.
Clifton's was the Restaurant of the Golden Rule, which was, in the Clifton's case, if you didn't have any gold that didn't rule. A sign – neon – at the door said "Pay what you wish." It wasn't even qualified, as the Art Institute of Chicago sign was, "– but you must pay something."
In the Depression days some s-f fans couldn't pay anything. Some could. It's no secret that Forry Ackerman staked Ray Bradbury to a New York trip for the first World Science Fiction convention in 1939. Far more people had then heard of Ackerman than of Bradbury.
Clifton's at its peak had 15,000 diners a day. Everyone went there. Walt Disney. Mayor Hahn. Bradbury had his corner when his pockets were empty and when they were full.
Eventually all the Clifton's Cafeterias closed but one, Clifton's Brookdale at 648 S. Broadway down town, named for Brookdale Lodge 350 miles north in redwood country, near where its founder grew up. It was decorated accordingly, with wood and rocks and taxidermy. "Stuffed animal" did not then mean what it did when Chocolate Moose was the chair of Loscon XX in 1993 (okay, Elayne Pelz helped).
In 2010 the Brookdale was sold to restaurateur Andrew Meieran. He spent $10 million on a lot of restoration and a little renovation. He stayed open a few days a week as long as he could, then closed awhile. Before he was quite ready he powered up the lights for "A Night on Broadway" as noted here. Re-opening Day was October 1, 2015.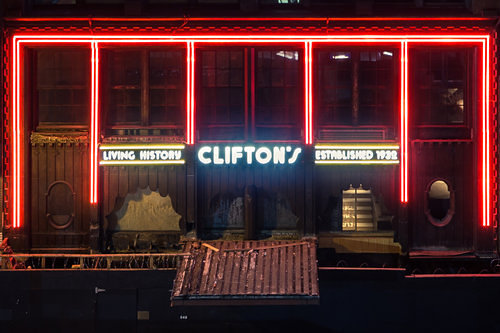 The original terrazo sidewalk is still in front of the door. The original tiles are still on the ground floor. There's a stuffed bison and a stuffed mountain lion and a waterfall and a giant redwood fabulous two ways: it's faux (it took a year to build), and it's wonderful, bringing you into the forest – or the Forrest.
The two bars are new, Mr. Clinton never served alcohol; the one on the third floor has a 250-lb. meteorite. Not that old, but old enough, is a neon lamp in the basement which was uncovered during renovation, still lit as it had been for almost eighty years and as it still is. The food too is old and new: hand-carved turkey every day, prime beef (in a cafeteria!), and pizza.
Also on the third floor you can recognize the Ray Bradbury corner. The handrail caps at the other three are animals; at his, an s-f widget which could be part of a time machine.
You may have known all that, particularly since Re-Opening Day. I didn't know the crusader part of Clifford Clinton.
I don't mean his parents' being Salvation Army captains and taking him with them to China. I don't even mean Clifton's Golden Rule.
I mean he exposed waste in the food service at County General Hospital, and spearheaded a mayoral-recall election. I mean he founded Meals for Millions researching then transporting a cheap nutritious soy food round the world, in which eventually the United Nations got involved so as to teach local folks about better feeding themselves.
That's in Edmond J. Clinton III's new book Clifton's and Clifford Clinton.
The Casa Verdugo Library kindly served refreshment, including Jell-O – lime Jell-O – savory lime Jell-O made with cucumber and sour cream and horseradish. Old and new.
At the end of the talk a man asked "Isn't it true that the guys who founded the Jet Propulsion Laboratory, and a bunch of science fiction buffs, were regulars at Clifton's?" EJC III said yes. Then he called on me and I said "Since you mention it, I'm here from the Los Angeles Science Fantasy Society, the oldest science fiction club on Earth. We met at Clifton's for years, Ray Bradbury and Robert Heinlein and just plain fans like me and maybe you."
So I made sure to dine at Clifton's on Thursday.