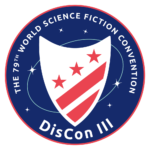 DisCon III, the 2021 Worldcon held last weekend in Washington D.C., emailed members today about four more individuals who have tested positive for Covid. Anyone with questions or concerns is asked to contect [email protected]. (Cases A through E are discussed in yesterday's post "DisCon III Covid Update".)
---
December 22, 2021 update
Case F & G – Married couple, one partner named with permission, John Skylar
Both reported a positive rapid test on Wednesday [Today]
Both are mildly symptomatic
Masked at all times in public areas except while dining and briefly at the Chengdu, Glasgow & Winnipeg parties while drinking
Full details of their movements can be found on this Twitter thread: https://twitter.com/JohnSkylar/status/1473670010149167110?s=20
Case H
Reported a positive PCR test on Wednesday [Today]
Staying off-site
Mild symptoms
Masked at all times unless specified otherwise
Attended the "Horror in Folklore Throughout the World" panel, as well as several concerts in the Empire Ballroom (Sara Henya, Seanan Maguire, and a few others they don't recall).
Attended the Gamer Symphony Orchestra concert, staying in the middle/back section all the way on the left.
Made a few stops to the Con Suite.
Went to several room parties very briefly, remaining masked the entire time – except for the China party, where they briefly unmasked on the balcony.
Walked the dealers room several times, and the art auction a few times as well.
Dined unmasked at the Indian place across the street, Rajaji, for brunch on Friday. Also ate unmasked at the Gourmand Grill for brunch Saturday and Sunday.
Case I
Tested positive on Wednesday [Today]
Mild symptoms
Masked at all times unless specified otherwise
Was staying at the Omni Shoreham from Wednesday to Sunday [Last week]
They attended the following panels: Worldbuilding Spacefaring Civilizations, Blue Room at 4pm Thursday, seated far back on the left-side of the center
They attended the following events: WMGSO concert, Thursday, front left in the fourth row, facing the stage
They staffed Press Relations spending most time in the Press Room and some time in the Communications office
They ate, unmasked, in the Mahayuel Mexican restaurant on Wednesday and Chipotle on Friday, both around standard dinner time